The Best Bang For Your Buck Gear Upgrades
Heading out the door? Read this article on the new Outside+ app available now on iOS devices for members! Download the app.
Participating in the sport of triathlon is not what you would call inexpensive. With gear needed for three sports, plus nutrition, massage, entry fees and more, the costs can quickly add up. So, where can you spend your money most wisely and get the best pay off in terms of speed, aerodynamics or versatility? Here are a few pieces of gear that provide great value for your dollar.
Race day speed
Tires
Don't take your tires for granted. Having the right tires on race day can make a very big difference in how well the power you put out is translated to real speed on the course.
In the past, the best race day tires were tubulars. This meant taking the time to glue them on properly, you couldn't re-use them once you took them off and any puncture meant throwing them away. Thankfully, the technology of clincher tires has increased to make them on par, and in some cases faster than a tubular. The fact is that you need tires, and having race day only tires makes sense now that you can easily take them on and off.

S Works Turbo Cotton Tires $80 Specialized.com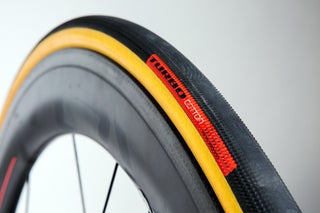 This tire has repeatedly been at the top of independent tests for rolling resistance. In a test done by VeloNews, the Turbo Cotton saved 7 watts (14 when you factor in both tires) over the 10th place tire, which cost only $5 less. A difference of 14 watts can save up to six minutes during an Ironman bike. Further backing up the claim as the fastest tire on the market, the Turbo Cotton tire with latex tubes was recently used by 2016 World Time Trial Champion Tony Martin. The only downside is that these are a race day only tire, so they do wear down quickly.
One Piece Tri Suit
Like most things in triathlon, even your race day suit has gone high tech. Companies now spend time in wind tunnels to place seams where they create the least drag and work with textile companies to find faster fabrics. The fabrics are also lighter, more breathable and reflect heat so companies can make longer sleeves that will make you faster but not hotter.

Orca RS1 Dream Kona Aero Suit $300 Orca.com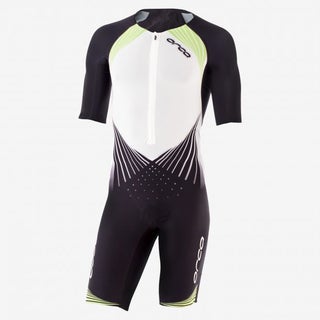 Though the longer sleeves and one piece construction may point otherwise, this suit was made specifically for the demands of long course racing in hot weather. The black panels are actually coldblack fabric, which reflects the sun to keep you cool. Up front is Orca's AeroSkin fabric, which they claim reduces drag in the water and on the bike. An unseen technology that has many advantages are bonded seams. Bonded seams use special glue along with heat and pressure rather than stitching. This creates a smaller, more aerodynamic seam and since there are no small holes, it makes it more hydrophobic and allow for the fabric to stretch more. Longer sleeves have been proven to be faster in testing. The only drawback is that there are no pockets.
Race day and everyday training
Aero Road Helmet
Aero helmets are undoubtedly one of the best dollar for speed upgrades you can make. But a full on aero helmet is not something you want to train in every day. Instead, try it's more versatile cousin, the road aero helmet. Early versions had problems with cooling, but newer helmets are solving the issue with strategically placed vents. For the cost a full aero helmet you'll use a handful of times you can get a helmet that is likely just as fast (helmet positioning and aerodynamics are very individual) and that you can use every day.
Scott Cadence Plus Helmet $225 Scott-sports.com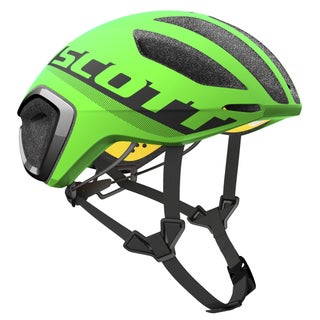 New this year and the choice of Sebastian Kienle for Kona, the Cadence Plus is Scott's latest aero road helmet. Scott claims the new helmet is up to 14 seconds faster over a 40k time trial at 40km/h (24.mph). Cooling is done by three large ports up front let air in, while five ports in the rear let it out and their testing points to the Cadence Plus being 4.5% cooler than the next aero road helmet. Scott also includes port plugs, which make the helmet another five seconds faster. It looks enough like a standard helmet that you can wear it for daily training, and the addition of MIPS (Multi-Directional Protection System) adds an extra level of protection should you need it.
Power Meter/Aero Wheels
A power meter is the single best way to measure your effort and improvement on the bike. There are many options available today, which has driven down the cost but also makes compatibility sometimes confusing. Plus, depending on your choice you may only be able to use your power meter on one bike. Aero wheels are one of the more costly upgrades, but the right wheel can tackle training and racing, so you get more miles out of your purchase. As two of the more expensive upgrades, combining them together in one package that can be used on any bike can make it easier to swallow the price tag.
PowerTap/Zipp 404 $2700 Powertap.com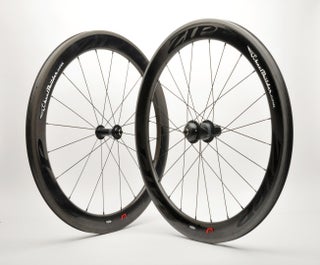 The PowerTap G3 / Zipp 404 combination brings superior aerodynamics together with power measurement in a package that can used every day and easily swapped across bikes. Zipp's FireCrest shape has proven to be able to make handling easier while maintaining the aero properties that cheat the wind. It's not too deep and will hold up for many miles so you can feel confident using it as an everyday wheel. While the Zipp rim creates speed, the PowerTap G3 hub records your wattage. Watts are the most accurate way to measure your effort, see your progress and plan your strategy for race day. The benefit here is that you get the most accurate way to monitor your power in a set of aero wheels you can also train on and swap across bikes. They are not exactly cheap, but they do offer a good value.