Ask Aaron: Shoulder Pain, Adjustments On A Budget & Clip-On Aerobars
This week, we cover bike fit questions and even bring in an outside expert for one. Retul bike fitter Mat Steinmetz and Aaron address shoulder pain, changing a bike's fit characteristic and handling problems that come from riding in clip-on aerobars.
Heading out the door? Read this article on the new Outside+ app available now on iOS devices for members! Download the app.
This week, we cover bike fit questions and even bring in an outside expert for one. Retul bike fitter Mat Steinmetz and Aaron address shoulder pain, changing a bike's fit characteristic and handling problems that come from riding in clip-on aerobars.
Q. Aaron,
I tend to get cramped up in my upper shoulders during hard long rides (40-plus miles). I've done two 70.3s, and I was miserable coming off the bike on one of them, my shoulders were so tight throughout the entire run. Should I experiment with pushing the aerobars forward more, or spreading them apart more? Is it a trial and error sort of deal with the aerobar position, or are there rules of thumb to go by? Thanks!
─Scott
A. From Mat Steinmetz:
Scott,
Sounds to me like your entire front-end setup needs to be revisited on your tri bike, because your shoulder problem could be a number of things. Ultimately, it is a trial and error sort of thing, but there are a few basic rules to follow with your bar position on the TT bike. Bottom line, if you still have pain or discomfort, adjustments are required until you are comfortable on the bike.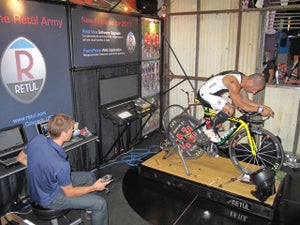 I'll address the possible culprits one at a time:
Reach, the horizontal distance to the bars: Reach is one of the biggest culprits of back, shoulder, and neck pain. A rider that is too stretched out will have to rely heavily on his/her erector muscles to support the weight on the aerobars. Especially if the rider chooses to ride a steep saddle position, which places more weight on the front end of the bike. I look to find a position where the rider is supported from the armpad almost directly under the elbow allowing the athlete to just fall into the aero position without effort. Placing the armpads up your forearm toward your wrist creates a fulcrum point that will need torque/leverage to support, which is usually taken up by the shoulder and hands. This is similar to placing your elbows on the floor or a chair while the body is in a plank position (a common core exercise). This position is easiest to support when you're supporting most of your weight with your skeletal system. But, the moment you start moving your elbows away from your body it becomes difficult to hold the position and your erectors take over the job of keeping you supported. This can lean to all sorts of upper body discomfort.
Drop, the vertical distance from the saddle to the aerobar: Excessive drop can cause upper and lower back pain, shoulder pain and neck pain. This is also dependant on where you saddle is positioned. The more forward you ride, the more weight you will have on the front end that will need to be supported. Even the most flexible riders can reach a point where the major limiter in the "how low can you go" game is the ability for them to see up the road. When the drop is too great, as a rider, you are essentially reaching for the drop and you'll get strain on your neck, back, and shoulders. This is usually the case for the athletes that have what I call periscope head…the back is nice and flat, but he drop is so low that the head is perched up high and in the wind.
Arm pad width: Arm pad width is something that may be a component of fit where you can compromise comfort in the short term. You might be able to deal with the discomfort of a narrow armpad width. Or, due to some sort of shoulder issue or flexibility/comfort issues, you might have a smaller margin of error. Again, this comes down to a support issue and finding a position that is slightly narrower than your shoulder width. Going too wide can also cause some discomfort.
Extension to pad relationship: Torque from the way your hand is orientated on the extension/shifter can also cause shoulder/upper back/neck discomfort. You want to have a neutral hand position on the shifter without having to twist your hand down to contact the extension. Aerobar manufacturers who's pad height is more elevated than the end of the extension will increase the likelihood of this being an issue and is a common problem with some low profile S-Bens and straight extensions). Nowadays, with the return to center and Di2 shifters from SRAM and Shimano respectively, it's easier to make traditional ski bends fit nicely.
─Mat

Mat Steinmetz is a Retul bike fitter, specializing in triathlon. He has fit Julie Dibens, Craig Alexander, Chrissie Wellington and Mirinda Carfrae, and countless age groupers as well. Retul.com
Click on "next page" to read Aaron's response to questions on making adjustments to a used bike and learning to best use clip-on aerbars.

Q. Hi Aaron,
I am on a very tight budget and therefore, do not have a lot of money to buy a triathlon bike. I have an aluminum frame Cannondale road bike that was given to me by some very generous friends, but it is too big for me. I still manage to ride it for 10-20 mile bike rides, but I know that the fit is not right. I have to stand on my toes when over the top tube and I have the seat post as far down as it will go. What type of adjustments can I make to give me a better fit until I have saved up enough to get a properly fitted bike for me?
─Jonathan
A. Jonathan,
You can swap a few components to effectively shrink the fit of a bike until you get one that fits properly. You can buy a shorter stem, aerobars that can be pulled back toward you such as the Bontrager Race Lite Aero Clip-on, or a forward seatpost such as the Profile Design Fast Forward. These components can reduce the reach from the saddle to the handlebars but, unfortunately, there is nothing you can do to shrink the frame so you don't have to stand on your toes at a stoplight. Your case sounds so extreme that you will have a tough time getting comfortable, no matter the changes your make to your components. It sounds like you really need a smaller frame. I wish I had a cheaper solution for you.
Good luck this season,
─Aaron
Q. Hi Aaron,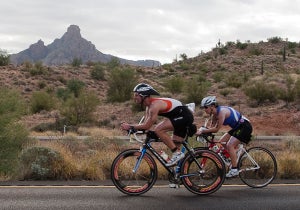 I just put some after-market aerobars on my road bike. The first time I tried to ride in the aero position I felt completely off balance and almost fell over. What is the best way to get used to this position so I can utilize it during a race?
Thanks so much,
─Kathryn
A. Kathryn,
Riding in aerobars puts extra weight on the front wheel. Road bikes are designed to handle well when the rider's weight is evenly distributed between both wheels, but aerobars put a wrench in that assumption. In addition to putting the rider in a more aerodynamic position, triathlon bikes are designed to allow the bike to handle more predictably (slower) with a lot of weight on the front wheel. The two best things you can do to improve the stability of your road bike when riding in the aerobars is to raise the arm pads or shorten the aerobar extensions. Both of these adjustments take some weight off the front wheel and will help the bike handle a little better. It may sound simple, but make sure your cables aren't wrapped around the aerobars. Also, logging more miles on the bike will help you get comfortable with its new handling characteristics. Make sure to ride on roads with a wide shoulder so you are safe when learning to control the new bike.
─Aaron