Ask Aaron: Cassettes For Climbing, Upgrades, And Swimskins
When you run out of gears, however, and start to pedal with a slower-than-preferred cadence, it creates much more muscular stress and fatigues muscles that you will rely on later in the race.
Heading out the door? Read this article on the new Outside+ app available now on iOS devices for members! Download the app.
Q. Hi Aaron,
I have a Cervélo P3 and one of my races this season is the Ironman 70.3 Pocono Mountains. That is going to be a very hilly course, so I was thinking of getting a larger cassette, possibly the Shimano Ultegra 11-28. However, I am worried about the extra weight on my bike. Do you think the extra weight is worth the better climbing gear or should I go lighter?
Thanks,
Theo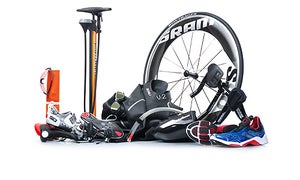 A. Hey Theo,
I am a huge proponent of climbing cassettes. Sure, they may add a tiny bit of weight—really, it's only a few grams—but they more than make up for that extra mass by preventing muscular fatigue.
If an athlete is able to maintain his preferred cadence during a climb, summiting a hill really isn't all that different than riding flat. As long as you don't go crazy and sprint up the bottom half, your effort while climbing will be only slightly higher than it is on the flats. When you run out of gears, however, and start to pedal with a slower-than-preferred cadence, it creates much more muscular stress and fatigues muscles that you will rely on later in the race. Research on the effect of cycling cadence on transition run performance is varied. One article showed no difference in running performance after cycling with cadences of 60, 80 and 100 rpm—but others dispute that finding. Personally, I find that my legs feel wobbly and weak if I am forced to grind up hills during the ride.
When racing on a flat course, I will use a cassette with a tight gear range—such as an 11-23—but I will always err on the side of having a granny gear that I might not need rather than using a tight cassette and running out of gears. There is an 11-25 on my personal disc right now, but I would swap it for an 11-28 in an instant if I were racing the Ironman 70.3 Pocono Mountains.
Good luck in the race!
Q. Aaron,
I am hooked on triathlon, but unfortunately I'm still operating at the low end of the gear quality spectrum. Could you prioritize upgrades gear-wise that would translate to improved performance?
Jeramy
A. Hey Jeramy,
Many of these choices come down to personal preference and comfort, but here is my list of priorities considering price, after you have a bike with slick tires, a road helmet and a pair of running shoes. I left coaching off the list because I think it falls into a different category.
1. Bike fit
2. Wetsuit
3. Clipless pedals and shoes
4. Tight race clothes
5. Aerobars
6. Saddle that allows you to ride comfortably in the aero position
7. Hydration belt for the run, if you race long-course
8. Aero helmet
9. Bike hydration accessories in addition to standard water bottles
10. Quick-close laces
11. Aero wheels (although these might be the most fun item to upgrade on the entire list)
Q. I am considering getting a speedsuit for Ironman 70.3 Florida. Are these things worth the money?
Thanks,
Ryan
A. Hey Ryan,
Swimskins—suits worn during the swim and removed in T1 that are legal in races with water too warm for regular wetsuits—have changed dramatically since Normann Stadler first wore one produced by Blueseventy in the 2006 Ironman World Championship. That first generation was made from very thin panels of  waterproof material. These suits are very similar to the ones used by swimmers that re-wrote the pool swimming world records in the years following the 2008 Beijing Olympics. There is no disputing their effectiveness.
World Triathlon Corporation, the company that owns and operates Ironman, changed the rules governing swimskins before Kona 2010, so the current generation of swimskins is now neutrally buoyant—they don't float. Despite this handicap, swimskins legal in 2011 still appear to make the swimmer faster.
We conducted a test on three swimskins of this style and, although the test procedure is far from perfect, I am confident that these suits do in fact make the swimmer faster. This article contains more details about swimskins, if you're interested.
Tom Demerly of Trisports.com conducted another test on swimskins and arrived at the same conclusion.
The bottom line is that there are dozens of products designed to make a triathlete faster, but pretty much every triathlete has a limited budget and every worthy product simply doesn't make the cut. If you compete in several wetsuit-illegal races a year, or one big race in Kona, swimskins appear to be effective and I think they are worth the money if you are concerned with maximizing performance. It's up to you if they are more worthy of your $200-$350 than any other triathlon product out there, however.