WTC Releases Final 2011 Ironman World Championship Qualifying Rules
Heading out the door? Read this article on the new Outside+ app available now on iOS devices for members! Download the app.
The World Triathlon Corporation (WTC) has released the final rules for how professionals will qualify for the 2011 Ironman World Championship and how prize money will be distributed. Earlier in the year the organization had established new rules for the way prize money is distributed, referred to by many as the 8% rule. After much debate about the fairness of these rules, the WTC emailed the professionals a set of proposed changes that would not only change the prize purse distribution policy, but would also completely overhaul the way professionals qualify for the Ironman World Championship.
After a few weeks of receiving feedback from the sport's professionals, the WTC officially released the new rules yesterday evening. The biggest change from the original proposal it that athletes will be qualified in two sets, July Qualifiers and August Qualifiers, so that those with enough points can start preparing for travel arrangements to Kona and training plans early enough in the season.
Check back to Competitor.com as we continue to follow this developing story.
See the complete set of rules below:
2011 IRONMAN PROFESSIONAL PRIZE MONEY & WORLD CHAMPIONSHIP QUALIFYING RULES – FINAL
With Comments for pro athletes
Introduction
The following rules and policies are final and will be applied during the 2011 qualifying season beginning with races after September 1, 2010. WTC thanks those who submitted their personal input. This has been a challenging process with many considerations (such as existing venue and sponsorship contracts) playing a role that may not be apparent to those outside our offices. The comments and ideas received were for the most part constructive and supportive.
We believe that these rule and policy changes are equitable and will provide a platform for the pro aspect of Ironman racing to grow and develop. We also recognize that some fine-tuning may be required after a full year's experience with these rules and policies. We continue to welcome the further comments of our pro members and expect to announce any modifications about this time next year.
Please note that in response to the weight of comments received, several changes were made to the draft that was circulated to our pro membership. Note also the comments below explaining why changes were/were not made to certain rules and policies.
I. WORLD CHAMPIONSHIP QUALIFYING
Pro Qualifying Program – Ford Ironman World Championship
Definitions
"Kona Qualifying" means qualification to the Ford Ironman World Championship held in Kona, Hawaii each year.
"Kona" means the Ford Ironman World Championship held in Kona, Hawaii each year.
"Races" means Ironman branded full-distance and 70.3 events worldwide that are authorized by the World Triathlon Corporation.
"Qualifying Year" means the period between September 1st and August 31st.
"Kona Pro Rankings" (KPR) means the ranking system to determine pro athlete eligibility for race at Kona.
All dates and times stated refer to Eastern USA time and date.
Effective September 1, 2010, the single-performance slot based system for pro athletes will be discontinued. Beginning with Races after August 31, 2010, pro athletes will earn points for Kona Qualifying correlating to their finish position. The top 50 male and top 30 female pros* in the KPR at the end of each Qualifying Year will qualify to race in Kona.
* The proportion of male to female pros may be adjusted in future years to reflect the then current percentage of male and female WTC pro members that are racing in BOTH Ironman and Ironman 70.3 events
Comment: The above note now clarifies our original intention that the number of pro members racing full-distance Ironman races will determine the split of slots between males and females.

KPR will be determined as follows:
a) Athletes will be ranked according to the number of points they accumulate during the Qualifying Year (see Points Table below).
b) Each athlete's five highest scoring Races will count toward their KPR. All lower scoring Races will be "thrown out."
c) Athletes may accumulate points from any combination of Races PROVIDED that each athlete completes a full-distance Ironman race during the Qualifying Year. A maximum of three Ironman 70.3 races can be included in an athlete's score.
d) Athletes are not required to do more than one full-distance Ironman race in the Qualifying Year to be ranked. Athletes may score five full-distance Ironman races.
e) Athletes finishing Kona will be awarded points that are retained during that Qualifying Year and can be included as one of the athlete's five highest scoring races.
f) Scoring points in Kona DOES NOT fulfill the requirement that each ranked athlete must score in a full-distance Ironman during the Qualifying Year.
g) No other points carry forward from one Qualifying Year to the next.
h) The 5% rule is no longer applicable.
i) The KPR will be posted at Ironman.com and updated weekly as Race results are finalized.
Comment: This new section specifies our intention and commitment to post updated rankings on-line. All relevant information will be hosted on a new independent web site to be launched in August – www.ironmanpromembership.com
July Qualifiers
The highest scoring 40 male and 25 female pros in the KPR as of July 31st will be qualified to race in Kona. These athletes ("July Qualifiers") are assured of a slot in Kona provided they enter the event according to registration procedures.
No more than 40 males and 25 females may be July Qualifiers. Ties resulting in more than 40 male or 25 female July Qualifiers will be broken by the Tiebreakers, below.
Example – As of July 31st, six male athletes are tied for 36th position on the KPR. The final five July Qualifier slots will be determined by Tiebreakers.
August Qualifiers
The highest scoring 10 male and 5 female pros in the KPR, not including the July Qualifiers, as of August 31st will qualify to race in Kona. No more than 10 male and 5 female pros may be August Qualifiers. Ties resulting in more than 10 male or 5 female August Qualifiers will be broken by the Tiebreakers, below.
Example – Athlete A has 2000 points as of July 31st and is ranked 40th on the KPR. Athlete A has qualified for Kona. In the final KPR standings (published after August 31st) 11 male athletes accumulate more than 2000 points and are ranked ahead of Athlete A. Ten of those 11 athletes as determined by the Tiebreakers will qualify for Kona.
Comment: The change to July Qualifiers and August Qualifiers is made in response to the most frequent comment that August 31st was too late for athletes to know if they have qualified for Kona. While our simulations indicated that the vast majority of qualified pros would have been assured of their qualifying slots well before August 31st, this change will provide an early resolution of most qualifying slots for pros by July 31st. Note that under the old qualifying system as many as 20 pro slots were awarded at August races.
We also liked the suggestion of automatic qualification for athletes meeting a point threshold at any time during the season. Since at least one year's experience with the system is required to set the threshold, this suggestion will be revisited for the 2012 Qualifying Year.
Automatic Qualifiers
Past Kona champions will receive an invitation/exemption to enter the pro division in Kona for a period of five years after their last championship. Past champions will not be required to qualify during this five-year period. Past champions entering as pros will be required to validate their entry by completing a full-distance Ironman race during the Qualifying Year.
Comment: The former champion exemption was increased from 3 to 5 years due to the weight of comments from pros who are not former champions.
In keeping with the tradition started by Valerie Silk, past champions will continue to have a lifetime invitation to race in their appropriate age group category. Past champions making this election will not be required to qualify or validate their entry. Past champions must abide by all WTC, national and international federations rules regarding professional and age group status and switching between these categories.
Automatic Qualifiers will be accepted into Kona in addition to the 80 pro slots. If, for example, a returning champion is ranked in the top 30 women, the 31st ranked woman will qualify for Kona.
Tiebreakers
Ties will be broken as follows:
1st Tiebreaker — The total of each athlete's (up to) five highest scoring full-distance Ironman events
2nd Tiebreaker – The athlete's highest scoring race
3rd Tiebreaker – The athlete's second highest scoring race
4th Tiebreaker – The athlete's third highest scoring race
In the event that two or more athletes remain tied after the 4th tiebreaker, all tied athletes will qualify.
Entry & Roll-Down
The final KPR will be published as soon as possible after the last Race of the Qualifying Year (end of August) but not later than September 3rd. Qualified athletes will have until September 7th to complete on-line registration for Kona. A roll-down will be held for any unclaimed slots with entries rolling down to the next highest ranked athlete. Details of the roll-down procedure will be made available at a later date.
Wild Card Entries
WTC retains the right to award "Wild Card" pro entries into Kona. While Wild Card entries may be awarded at the sole discretion of WTC, these entries, if used, are intended to "fix" any holes in the new qualifying system. Wild Card entries are not intended to provide any athletes relief due to injury, illness or other external factor.
Comment: This was the most misunderstood of the policy provisions. Wild cards are a failsafe system in case of a systemic failure and for this reason will remain undefined. Wild Card entries will not be used to recover or add any specific athlete (including Alexander, Wellington and Armstrong) if they fail to qualify. We expect to drop Wild Cards once we are assured that the system works. Many athletes were concerned that this provision would be used to qualify Lance Armstrong or other similar athlete into the pro division.

Another point that seems to be generally misunderstood is that WTC does not determine eligibility to race as a pro athlete. Professional/elite standards are set by the national federations. Just as a top triathlete cannot just show up and race in one of cycling's Grand Tours, no athlete can be "waived" into an Ironman pro field without first meeting their home country's pro or elite standards. As standards vary widely from country to country, WTC, through the KPR, is left to cull out those pros qualified to race in a world championship.
70.3 World Championship Qualifying
Pro qualifying for the 2011 70.3 World Championship will be based on a similar format with the primary difference being that full-distance Ironman races will not count in the pro rankings for this Championship. Details will be announced as soon as the 2011 70.3 World Championship race date is announced.
II. PRIZE MONEY POLICIES

All Ironman races will comply with these prize money standards. This does not include World Championship events, which have separate prize standards.
Championship Events
Ironman $100,000+ (Paying through 10th Place)
70.3 $75,000+ (Paying through 10th Place)
Includes Asia Pacific 70.3, US 70.3 and European 70.3 championships; regional Ironman championships to be announced
Ironman Series Events
Ironman Series events will offer prize purses in one of two amounts:
$75,000 (Paying through 8th Place)
$25,000 (Paying through 6th Place)
Comment: Paying through 6th place (rather than 5th) at the $25,000 races is responsive to many responses requesting deeper prize money.

70.3 Series Events
Ironman 70.3 Series events will offer total prize purses in one of two amounts:
$50,000 (Paid through 8th Place)
$15,000 (Paid through 5th Place)
· At minimum 2010 events will pay prize money as advertised.
· The 8% Rule is no longer applicable.
III. PRO MEMBERSHIP POLICY CHANGES
Pro membership will include entry fee waiver for qualified athletes into Kona.
One-Race Pro Membership
A one-race Pro Memberships will be offered for the following fees:
US$200 for a 70.3 race
US$400 for a full-distance Ironman race
One-race memberships may be "upgraded" to an annual membership with one-race fees credited toward the annual $750 annual membership fee.
Any athlete wishing to apply for a one-race membership or a first-time annual membership must do so at least 60-days prior to the stated event in which they are planning to compete. There will be no exceptions to this 60-day period.
Comment: Determining Kona qualifying on a point series plus the pro membership program requires that all participating pros be included in the drug testing pool on a year round basis. No longer can athletes achieve qualification with a single performance, disappear, and jump out of a phone booth before Kona. The 60-day membership requirement eliminates a loop-hole in the drug testing pool that would otherwise allow one-race and first-time annual members to wait until the last possible date before their first Ironman race to take out the pro membership and avoid inclusion in the drug testing pool in the lead up to the race. Once included in the drug testing pool an athlete may be tested at any time even after his or her one-race membership race.
Scholarship Program
Athletes from developing countries who can't afford to pay the membership fee may apply to their local Ironman race director for a pro membership scholarship that will waive or reduce membership fees. Local Ironman race directors will consider applications from athletes in their region and recommend deserving athletes.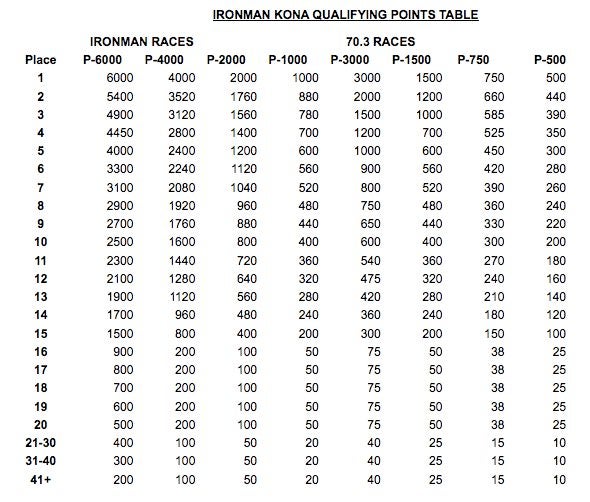 Comment: All the Ironman event points have been adjusted from the first circulated draft to provide added weight to full-distance Ironman performances. In the spirit of the automatic qualifications given to 70.3 World Championships in previous years, the podium places at the 70.3 World Championship and 70.3 Championship events have also been assigned additional weighting.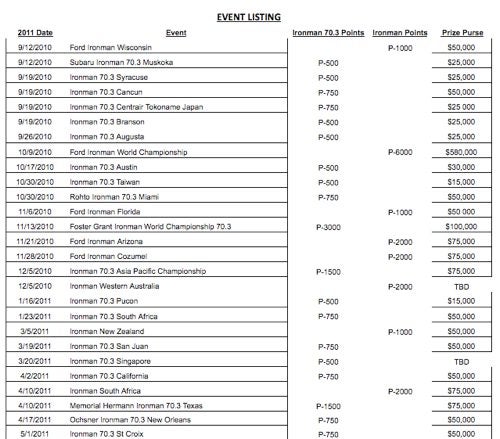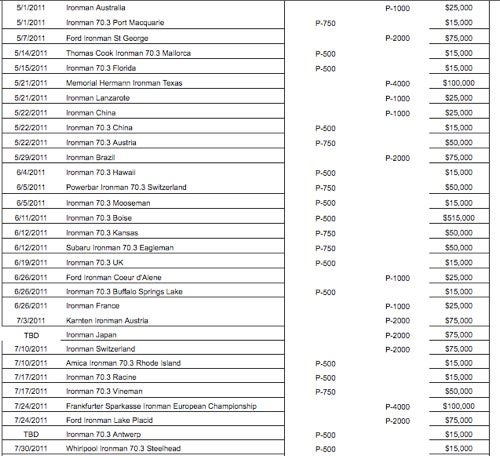 Comment: Please note that the prize money and points allocation of events are mutually exclusive. Whilst our ultimate goal is to have them standardized – due to various of operational, considerations, the allocations have been assigned accordingly. Additionally as new events are announced and details finalized this listing will be updated through direct communication with the Membership and on the new website.