What You Need To Know About Ironman's New Lottery Program
World Triathlon Corporation CEO Andrew Messick shares some exciting news about the changes Ironman is making to the Kona lottery.
Heading out the door? Read this article on the new Outside+ app available now on iOS devices for members! Download the app.
A couple days after the Ironman World Championship, World Triathlon Corporation CEO Andrew Messick shared some exciting news with the guys of the IM Talk podcast about the changes Ironman is making to the Kona lottery.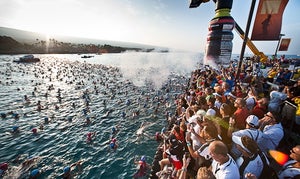 As the Ironman race roster grows, there are even more people contending for coveted spots to Kona. "The challenge that we have is that there are so many more people that want to race Kona than we can possibly accommodate," Messick says. "The question then becomes, 'what's the right mechanism for allocating an extremely scarce resource?'"
To answer this question, WTC has designed a two-part system to reallocate the 200 lottery spots (not including the five spots for physically challenged athletes) in 2012. We talked with Messick last week to get more details about the decision.
PHOTOS: 2011 Ironman World Championship
Legacy Spots
In his first 100 days as CEO, Messick spent a lot of time talking to age-groupers at races around the country and "anecdotally and unscientifically" noticed two broad classes of veteran Ironman athletes: Those who had been to Kona many times, and those who hadn't been to Kona at all. "There are an awful lot of people out there who race and are serious about the sport, who are important leaders of triathlon clubs around the world, but for whatever reason just aren't fast enough to qualify for Kona," Messick says. "We increasingly started thinking, 'Don't those people deserve a chance to race Kona once in their career?' Our thinking is, 'yeah, they do.'"
This realization led to the new Ironman Legacy Program WTC is instituting for 100 of the lottery spots in 2012: If you've raced 12 full Ironmans but have never gone to the Ironman World Championship, you're eligible to compete in Kona at least once in your lifetime. They'll start with the athletes that have done the most races and selection will be based on several criteria. (Note: You must have completed at least one Ironman event in each of the 2010 and 2011 seasons and be registered for an Ironman event in 2012.)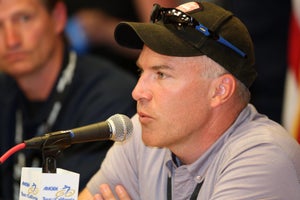 "Kona is a world championship event, but it's not just a world championship event," Messick says. "In a lot of ways, it's the birthplace of our sport. It's the place that has so much history and so much resonance that within the sport of triathlon, the Queen K Highway and Ali'i Drive are places of enormous spiritual significance in our sport. People who are serious in our sport deserve a chance to go to Kona once."
So how did they pick 12? Messick says their dirty little secret is that they're not entirely sure how many people in the world have done 12 Ironmans and haven't gone to Kona, but they're guessing there are around 300 at the 12 level and 500 at the 10 level. "We wanted the number to be high enough to offer certainty, but we didn't want it to be lower and have a situation where we had to go back to athletes and say, 'We can't get you a slot until 2017,'" he says.
PHOTOS: The Hawaii Ironman Swim
New Weighted General Lottery
Messick believes that anyone who enters the lottery should have a chance to go to Kona—but why not give those who have signed up year after year more of a chance? In the spirit of the NBA draft, WTC has decided to weight the lottery for the remaining 100 spots. If you've signed up two years in a row, you have double the chances. If you've signed up every year for the last 10, you have 10x the chance.
"As a matter of basic fairness within the triathlon community, this makes sense. I think it's fair that a person who is active in the sport and has signed up every year, for their odds to be better than someone who signed up on a whim," Messick says. "The guy who signs up on a whim still has a chance. But I think our loyalty should rest with the person who signs up year after year."
The new lottery system is one step toward a bigger focus on the athletes, something Messick has advocated since signing on. "These are life-changing transformative events. We can't ever forget for a minute, everyone in our company, that we are as committed to our athletes as they are to our races."
Registration for the 2012 Ironman Lottery and the new Legacy Program will open at noon ET tomorrow, Nov. 1, at Ironmanworldchampionship.com and will close on Tuesday, Feb. 28, 2012. Winners will be announced on Sunday, April 15, 2012, at noon ET on Ironman.com.
Click here to read the complete press release from the WTC.

RELATED: 2011 Ironman World Championship Coverage