The Los Angeles Triathlon's RD Visited 28 Neighborhood Councils to Make it Happen
Brennan Lindner brought triathlon back in a huge way to a car-centric city. A look into his strategy for winning back the city's trust in tri.
Heading out the door? Read this article on the new Outside+ app available now on iOS devices for members! Download the app.
Brennan Lindner's been putting on events in the Los Angeles region for the better part of the last two decades as co-founder and president of Generic Events, a self-deprecating name for a company that creates experiences that are anything but.
Michael O. Johnson is the triathlon-loving CEO of Herbalife, an L.A.-based nutrition conglomerate that has title-sponsored the L.A. Triathlon in the past and that, Lindner says, has excellent relationships with local government.
Through 2013, the race was the marquee multisport event you'd expect of the nation's second-most populous metropolis (say that 10 times fast), taking triathletes on an all-star point-to-point tour of the city from Venice Beach to downtown on streets usually jammed with cars. But over the last few years, relationships between the previous event producers and local governments soured, and the race disappeared from the Southern California endurance circuit. Because in the business of shutting down the major arteries of a car-centric city, relationships are key.
"It really got started with Michael Johnson saying, 'Hey can we do this?'" Lindner says of the effort to restore the event to its full, tour-of-L.A. glory. Lindner got involved at the end of 2015, kicking off conversations with the mayor's office. Final approval for this year's June race didn't come until late 2018. Here's a taste of what happened in between—a simple lesson, really, that showing up can move mountains. Or at least divert traffic on 20-something miles of pavement on a Sunday morning.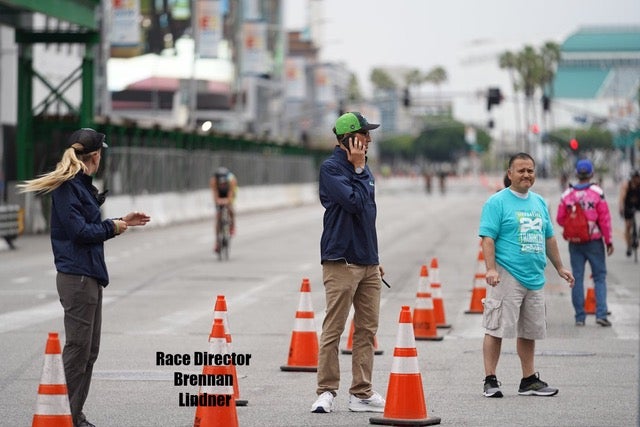 He shook hands
"There were six or seven council districts," Lindner says. "We really had to go in and meet with every council member and their team to get approval because when working with the Department of Transportation or police, they really won't start working on something until they know politically it has the support to make it happen."
He came prepared
"I have a background in architecture and planning, so I love getting traffic flows to work," Lindner says. He brought his plans to the L.A. DOT for approval, then the DOT figured out staffing. "The LAPD and DOT are fantastic," Lindner says, "They look for ways to make it happen."
He made friends
"I made a lot of maps. A lot of timelines, and a lot of specific maps based solely within a council's district area," Lindner says. "On top of that, I went to 28 neighborhood council meetings, the sub-councils within each city." They wanted to know who and how he'd notify residents of the road closures, and how emergency vehicles would get through if needed. Those meetings were time consuming, but one of Lindner's favorite parts of the process.
He loved the work
"I'm involved with the Venice Beach City Council, and their concerns are largely about gentrification and helping the homeless. Then I went to McArthur Park [in Westlake, near downtown], and that meeting was all in Spanish. Then I went to Pico-Union [adjacent to McArthur Park] which was a mixture of Korean, Hispanic, and white. Then I went to south of Robertson [Blvd.], which is a primarily conservative Jewish area. Everything was just so different, but they're all Los Angelenos. It was really kind of fun."