Pro Q&A With USA's Jillian Petersen
Jillian Petersen is one of the top American women heading into the USAT Elite National Championships this Saturday.
Heading out the door? Read this article on the new Outside+ app available now on iOS devices for members! Download the app.
Jillian Petersen is one of the top American women heading into the USAT Elite National Championships this Saturday. Petersen, who lives and trains full time at the Olympic Training Center in Colorado Springs, will be hoping to best her fifth place showing at last year's event. Inside Triathlon's Courtney Baird caught up with her recently.
Triathlete.com: You were fifth last year at nationals last year—how has your training been going heading into the event this year?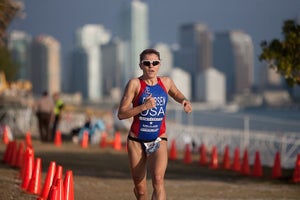 Jillian Petersen: There's a big difference. Last year I had a broken collarbone and I was 11 weeks out of surgery when I did nationals. It pretty much sucked. This year is definitely a huge difference. I've definitely had training, so it's going well.
Triathlete.com: Do you have any ideas of how the race will unfold this year?
JP: Going into these races we kind of have a pretty good idea. Knowing the athletes, Hayley [Peirsol] and Sara McLarty, they're both exceptionally strong swimmers so you can predict that they're going to be out of the water together. Pretty close behind them, if not right on their feet, will be Laura Bennett, Sarah Haskins and Sarah Groff, so, that's how I'm seeing it at this moment.
Triathlete.com: What's your strategy going into the race?
JP: This year there's a much bigger field than last year. I think the more people in a race, the better. I'm not one of the top swimmers, but if there are enough people in the race, it helps me out a little bit more. Jenna Shoemaker, Alicia Kaye, Mary Beth Ellis and Erin Densham [of Australia] are going to be there, as well—we're all pretty comparable. Hopefully, I'll be looking to them in the water and I'll get on the bike with them. They're strong cyclists, so hopefully we'll be working together [to catch up with the front pack]. (Editor's note: Besides being the elite national championships, the race on Saturday will serve as the Tuscaloosa ITU Triathlon Premium Pan American Cup.)
Triathlete.com: What's the rest of the season going to be like?
JP: I'll be almost done. I'm doing two more races after nationals: the Huatulco World Cup, which is two weeks after nationals, and the Puerto Vallarta Pan American Championships, which is the week after that. That'll be the last one.
Triathlete.com: You ended up 32nd in the World Championship Series rankings this year. How did you think the season went for you?
JP: I think it went OK. I wanted to do a little better then what I ended up getting. I'm not totally disappointed, all in all. After last year of being injured for the season it was nice to actually be able to go out and race and get the experience. I think I definitely learned a lot.
Triathlete.com: So how did you get injured last year?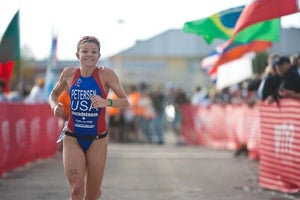 JP: I broke my collarbone in Oklahoma City at the ITU Pan American Championships. I broke it in five places and had surgery and now have seven screws and a plate in my collarbone. It was a rough crash—all impact not a lot of road rash. So that ended my season. I wasn't able to swim for two months. I had only swum about 14 times going into nationals last year. So it wasn't very good. I knew that kind of going into it, but I was trying to be as optimistic as I could. My first race back was London [at the World Championship Series race] the week before—it was a rough go. But I wanted to give myself some kind of experience and I was able to be race capable, so I was able to go to worlds last year in Australia. That was my first year at worlds and getting that opportunity after having been injured was nice.
Triathlete.com: So tell us a little about yourself for people who don't know you—how did you get into triathlon?
JP: I'm from St. Louis originally. Sarah Haskins is from the same area that I'm from and I kind of I grew up knowing of her from swimming and running. We swam and ran against each other in high school. Basically, when I graduated from college I heard she was doing triathlon and doing really well. In 2006 I decided to give it a try as well and that's how I got into triathlon. I actually kind of got in touch with her and she helped me out in the beginning.
Triathlete.com: What's your schedule going to be like heading into the Olympic qualification process?
JP: I think I like what I did this year—doing mostly the World Championships Series races. I think that's good for me to get more experience in the international field and that's what the Olympic Games are. It's good to get that experience. I want to focus on that again next year and do better than this year. I also did a couple of the non-drafting races in the states. Those are good tune up races. I would love to do the Lifetime Fitness series, but it depends on how that fits into WCS racing schedule.
See also:
Tim O'Donnell Talks USAT National Championship