No Love For The Ironman World Championships
Heading out the door? Read this article on the new Outside+ app available now on iOS devices for members! Download the app.
If an incredible moment in sports history takes place and no one hears about it, does it really happen?
Written by: Jim Gourley
Saturday, October 10.  Kailua-Kona, Hawaii.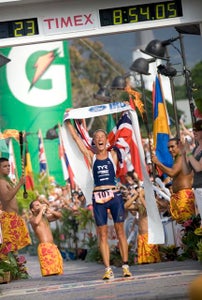 Chrissie Wellington breaks the women's course record and takes a stunning third straight win at the Ironman World Championships.  Combined with Craig Alexander becoming only the fourth man ever to win the event in consecutive years, it was an incredible moment in sports history.
Sunday, October 11.  Everywhere else in the world.
If an incredible moment in sports history takes place and no one hears about it, does it really happen?
The front page of ESPN's website was all football and baseball— not really a surprise.  But clicking on their "All Sports" category brought up the same Associated Press story that was posted two days earlier about Golf and Rugby making a comeback in the 2010 Olympics.  Typing "Ironman" into the site's search engine found nothing.  Searching "Wellington" finally uncovered an Associated Press story about her victory—in 2008.
Yahoo sports ran a story on Raiders coach Tom Cable attacking Randy Hanson.  The next biggest thing was the brew-ha-ha over Michael Jordan smoking a cigar on a public golf course.  Fox Sports?  Under their "other" column there are links for Air Racing and Formula One, but nothing for triathlon or anything remotely similar.  Finally, an article on Wellington popped up.  It was on the BBC website, in the sports section, at the bottom of the page.  There was an interesting tie for most ignominious aspect of the coverage; that they used an old photo of Chrissie for the article or if the lackluster Argentinean soccer team's recent victory was made the lead story.
After 140.6 miles, what more does a sport need to do to get some attention around here?  Apparently, encourage more people to take part in the underwear run.  Posted on October 9, a video discussing the event on CNN's "iReport" website had just under 51,000 views by mid-day Sunday.  Of course, that's 51,000 people who got to see Dave Scott give a negative view of the run during an interview and also say that he'd endorse it if "more women would run around in their underwear."  While controversy is sometimes good for business, one of the six viewer comments demonstrated triathlon's recognition in the world.  User "JonBon" posted "that grumpy guy in the beginning should lighten up."  So much for being 'The Man'.
By Monday afternoon, it was apparent that even the return of mainstream media reporters from the weekend break wouldn't give the event or its winners their due.  Ironically, the most attention garnered from the major news outlets at the 2009 race will most likely come months later and be given to a man who didn't even participate.
Lance Armstrong used the occasion to announce that he'll compete in the 2011 race.  In a video posted by Everymantri.com, Armstrong's long-time coach Chris Carmichael announced that Armstrong has set his sights on Kona in 2011, and he "plans to do more than win his age group."  There's as much triumph as tragedy in that irony, though.
Ironman (and triathlon in general) now have the most incredible media opportunity since Julie Moss' epic 1982 crawl to the finish, perhaps better.  Moss was a perfect fluke, one of those moments that would have been squandered if not for the good fortune of a camera at the right spot at the right time.  With Armstrong, the mass appeal is already there.  WTC and USAT have two years to get everything in place.  Consider the possibilities—the front page of ESPN, kids putting posters of Stadler and Potts up beside those of Michael Phelps in their rooms, even Nike Triathlon!
That kind of benefit doesn't come without its challenges.  The US Soccer team recently qualified for its sixth consecutive berth in the World Cup (another story that went ahead of Wellington and Alexander).  Many observers in that community cite the achievement as a direct benefit of the country hosting the 1994 Cup.  However, if US Soccer hadn't had the programs and resources in place to capitalize on the surge in popularity all those years ago, America might still be struggling against teams like Trinidad and Tobago today.  Here's hoping that USAT and Ironman are ready to move our sport center stage.