Your Next Bucket List Event is in Maine—and It's Not a Triathlon
The Casco Bay Swimrun is the brave triathlete's next big adventure.
Heading out the door? Read this article on the new Outside+ app available now on iOS devices for members! Download the app.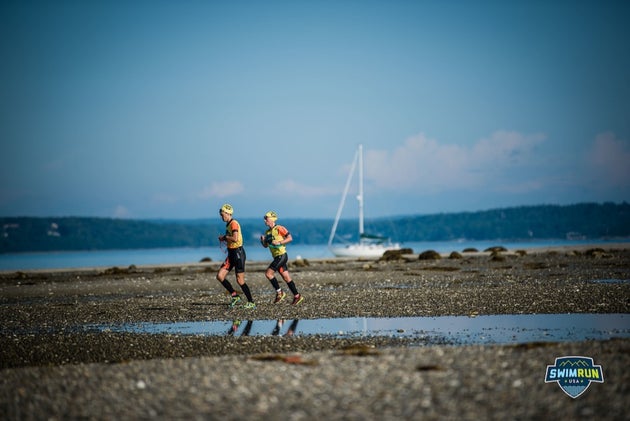 The Casco Bay Swimrun is the brave triathlete's next big adventure.
The sport of swimrun hatched in Sweden more than a decade ago over a drunken bet. The resulting event, called ÖtillÖ, or "island to island" in Swedish, covers 10K of swimming and 40 miles of running over 26 islands in the Stockholm Archipelago. It's the Kona of swimrun—the granddaddy of them all that's become so popular athletes must qualify to get in.
ÖtillÖ inspired the birth of a new sport, and if you want that epic experience here in the states, right down to the amusingly deadpan pre-race meeting, look no further than Swimrun USA's event in Casco Bay. We raced it to bring you the DL on the first ÖtillÖ qualifier in the U.S.
How it works
"It's all about not leaving your teammate behind," says co-founder Lars Finanger.
You and a partner run over an island, swim to another island, run across it, repeat. If the weather warrants, you must be tethered to your partner in the swim. No matter what, you cannot swim more than 10 yards apart to make sure you're looking out for each other's safety.
This race featured two distances this year: The long course covered 5 miles of swimming and 14 miles of running over 11 swims and 11 runs. The short course covered 2 miles of swimming and just shy of 7 miles of running in 4 swims and 4 runs. The longest swim on both courses is about a mile, the longest run just over 4 miles in the long course, just over 3 in the short course.
Home base is the fun, funky town of Portland, Maine, located two hours north of Boston. There's a mandatory pre-race meeting the night before the event where organizers go over the ins-and-outs, showing you photos of what to sight on—important info as swim exits aren't always visible from the shore.
"How many people have done an Ironman?" co-founder Jeff Cole asked racers at this year's meeting. Scores of hands flew up. "This is nothing like triathlon," he said, irking a few precious snowflakes in the crowd of about 400. His point: Course marking is sparse (a few spray painted red arrows on the roads, white flags in bushes, and yellow banners at two swim exits), there won't be volunteers at every turn, and the terrain can be downright gnarly. Think: Rock scrambles rather than trail or road running, choppy water, currents, and that partner dynamic.
Race morning, a ferry takes you out to the Casco Bay's Cliff Island for the start. When the ferry sounds its horn, you start running.
Gear up
Everything you have at the start must finish with you. You'll run in your wetsuit and swim in your shoes. Many athletes choose to wear hand paddles and bungee pull buoys to their thighs. Other mandatory gear: a tether, whistle, and a compression bandage.
The water temperature this year was about 59 degrees Fahrenheit, while the air temp reached 80. Choosing your wetsuit setup can be tough, but nearly all racers opted for swimrun-specific suits (Orca, a Casco Bay Swimrun sponsor, was the clear brand winner at this race), or chopped theirs off above the knees to prevent chaffing while running.
Why it's awesome
The magic of the original island-hopping event lives on in Maine and there's truly nothing else like the Casco Bay Swimrun in the U.S. A little history on the two-year old event:
ÖtillÖ straight up inspired this race, but Casco's roots are in triathlon. In 2014, longtime triathlon race director Jeff Cole saw a video of the Swedish race and called up his friend Lars Finanger.
Fifteen years ago, Finanger raced one of Cole's events that was a qualifier for the U23 world triathlon championships. Cole put him up in a hammock on his porch and the two have stayed in touch ever since. And when Cole called Finanger up about ÖtillÖ, Finanger responded that he'd just raced it—and that Casco Bay would be the perfect place to create a similar event in the U.S.
The challenges of putting on a true island-to-island swimrun in the states, however, are different than in Sweden, where land use laws are more lax, allowing the course to go through private residences without much hassle. What's very much the same: The production to ensure the waterways are safe for swimmers. Cole hunkered down in a building at the finish line with a Coast Guard captain where the two GPS tracked and talked to 34 boats that were monitoring the swims to ensure racer safety. All athletes have to do is enjoy the water.
"Wipe clear every preconceived notion you have of what an organized race looks like," Finanger advises triathletes itching to swimrun. "This is more of an adventure than a race. First and foremost, you have to put your teammate first. You're going to share the experience with someone else so you must always be thinking in the best interest of your team.
"The best approach is a laid back attitude—you're going to be hit with waves, wind, cold water, hot conditions. Running and swimming in your wetsuit is a goofy thing and you have to have a laid back attitude and roll with the punches throughout the day."
Want to go?
Next year's race will be in August, with registration opening in November.
Get some experience! Swimrun is now in several U.S. states, including California and North Carolina. In fact, race directors from New Jersey and Boston were in Casco Bay to check it out, so expect to see more locations open soon. To find a race (sort of, hopefully) near you, check out this calendar.
For more info on ÖtillÖ qualification, go here. Top finishers in their respective categories (male, female, co-ed teams) can expect a good shot at qualifying, while anyone with enough passion—and a Casco Bay finish—might be able to sway the ÖtillÖ gods into letting them in through a Director's Choice slot.