Last Weekend Now: Ironman Texas, ITU Bermuda, and Challenge Cancun
Contributor Brad Culp gives his take on the weekend of triathlon.
Heading out the door? Read this article on the new Outside+ app available now on iOS devices for members! Download the app.
Triathlon twitter has been fired up lately about professional races being too watered down because there's too many of them. I'm pretty sure Richard Murray started it. (He's basically the South African Andrew Starykowicz, for those of you unfamiliar.) I get it, but I also love seeing weekends like this past one, where pros from all over the globe didn't have to travel far to get a decent paycheck.
Challenge paid modest appearance fees to draw a handful of top-tier pros down to Mexico for the weekend; that's great to see. Ironman didn't dole out any appearance money (obviously), but instead had $150,000 and six Kona slots up for grabs at Ironman Texas. The ITU did its usual thing and brought 150 really fast kids to a really cool place to race for a share of 150 grand. Then there were races like Ironman 70.3 Marbella, Challenge Gran Canaria, and the legendary St. Anthony's Tri in St. Petersburg, Fla., which celebrated its 36th year.
I can't get to all those races. I've tested the limits of how many triathlons you can follow in one weekend, and the limit is three. Let's start with the Ironman Texas North American Championship in North America's least-enchanting Ironman destination.
Ironman Texas
Holy Jocelyn McCauley. I don't mean to take anything away from Daniela Ryf, who has now won all but one of the Ironmans she's finished (Rinny beat her in Kona once; people forget that). The big story from Houston's wealthiest suburb is that McCauley is having a breakthrough year—particularly given her dominant win at IMNZ eight weeks ago. I gave a standing ovation (from my standing desk) when I saw McCauley surge past Ryf in the final 10K of the bike, but I thought it was nothing more than the Cincinnatian-turned-Boisean having a little fun because she already had her Kona slot locked up. It turns out she's just ridiculously fit, and nearly held off the greatest of all time—until said GOAT made a gutsy, last-minute push to take the lead with just four miles to run.
Those who expected Ryf to go for the Ironman world record in the Woodlands may have been disappointed, but it was clear that wasn't in the cards after her coach posted a rant about the meaninglessness of the Ironman world record. Ryf will do another pre-Kona IM in Klagenfurt, Austria, in July, and it's another course with world-record potential, so we can look forward to another rant.
Now, let's talk about Patrik Nilsson. He's really fast, and he has better hair than you (I'm talking to you too, ladies). He has the speed across all three disciplines to be a top-five guy in Kona this year. He also raced with some stones, and his gamble to try to hang with Starykowicz on the bike paid off with the biggest win of his career.
Starykowicz, who finished third, had a little rant for his fellow pros in the moments before the swim start. "He had some very strong words on the start line," said Brit Will Clarke, who pulled out of the race after the bike. "Most people didn't like it, but I love the drama."
Starykowicz' speech was his way of "encouraging" his competitors to respect the 12-meter drafting rule, something he felt many of them didn't do in Ironman Texas last year. "Even when the draft moto disappeared on the last lap [in 2018], we all rode at the right distance because we respect each other—I don't want my fellow colleagues thinking I'm a cheating prick," Clarke added.
Pre-race pep talks aside, it appeared to be a very fair race. Starykowicz' 4:02 bike split earned him a massive gap on everyone except Nilsson, who reeled Starky in halfway through the run en route to a 2:42 marathon. Slovenian David Plese passed Starky to finish second and secure a Kona slot.
Plese spends a lot of time in Bahrain, which might sound odd, but it's probably a nice place to be if you're training partners with a prince. I'm also suddenly confused as to how to pronounce his last name. I was convinced it was "Please" for the past few seasons, but now Matt Lieto has me second guessing myself. Chances are Matt's done more research than me and his pronunciation of "Ple-sha" (like "Kesha") is correct.
Speaking of Chris Lieto's little brother, he might be the perfect person to do commentary for a nine-hour race where there isn't a ton of action. Somehow he was able to keep the Ironman Texas commentary mildly interesting and move the conversation along with co-host Dede Griesbauer when it started to come off the rails. From a filming standpoint, Ironman's Live coverage was pretty bad. There were hours at a time that they followed one or two athletes (either McCauley or Starykowicz for most of the day). Ironman has some catching up to do with the ITU, when it comes to live coverage, so let's get to them.
ITU WTS Bermuda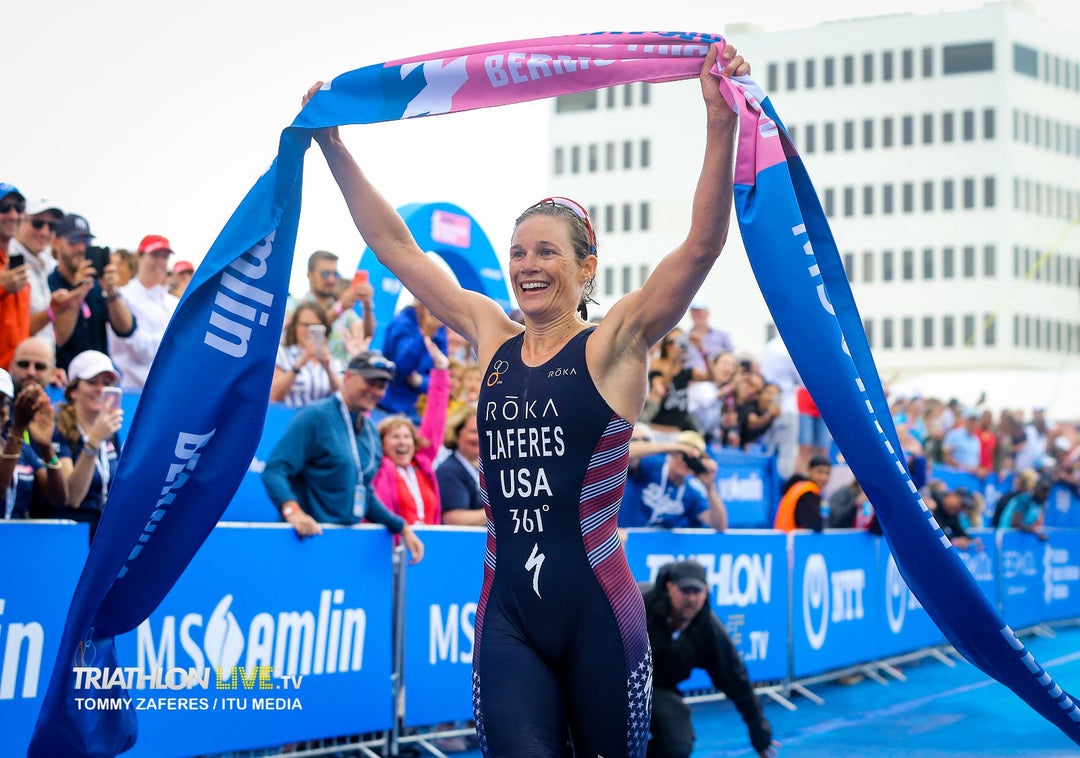 At the same time Ryf was reminding us that she's the most dominant Ironman athlete in the world, Javier Gomez was making his ITU WTS re-debut after a shockingly human fifth place at the New Plymouth World Cup last month; it turns out he can still run really fast. I think Ironman might have been too far outside of his comfort zone, as some athletes—like Alistair Brownlee and Ricky Bobby—just want to go fast. It's bad news for the fringe medal contenders for next year's Tokyo Olympics, because I think one medal is spoken for.
Adding to the list of fringe medal contenders, France's Dorian Coninx won his first WTS race, outsprinting Gomez and Norway's Gustav Iden, who basically tied for second and third. The makeup of the top 10 at WTS Bermuda was interesting: four Frenchmen, two Norwegians, two Spaniards, one Hungarian and one Portuguese. The biggest federations—USA, Great Britain, Australia, and Germany—might be left watching next summer's medal ceremony instead of celebrating it.
The situation couldn't be more different for the women, where perennial triathlon powers are likely to nab a medal or two in Tokyo. Heading into every Olympics, there's one athlete the rest of the world is trying to beat. American Katie Zaferes has become the one with the bullseye on her back, and it's only going to get bigger if she keeps beating up on everyone like this. What I love about the way Zaferes is winning is that she's not just running away from the pack after a group ride; she's riding away from the women who can run with her. She's at the top of the sport in all three disciplines, and she's going to be tough to beat for anyone but Flora Duffy, who unfortunately sat out her home-island race due to injury.
Next up for the ITU World Triathlon Series is Yokohama on May 18-19 where they'll return to Japan for the Olympic Test Event in mid-August.
Challenge Cancun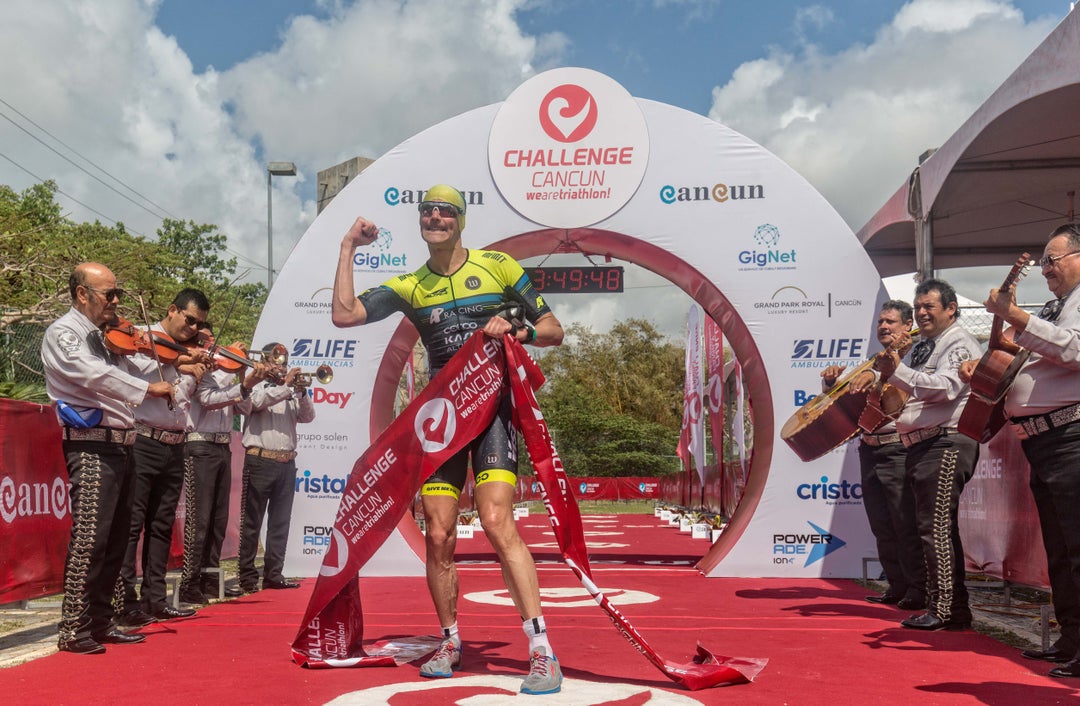 The best part of Challenge Cancun was when Challenge posted a video of the finishing line with the caption "the excitement is building," and there wasn't a single person at the finish. All of a sudden a mariachi band showed up, and then came Andy Potts, who did his obligatory leaping-fist-pump finishing move he stole from "Mortal Kombat." At 67-years-old*, Potts unleashed an impressive two-hour bike split to take a comfortable win over super-nerd Cody Beals and Ben Hoffman, who's afraid of racing on American soil.
Ellie Salthouse made sure the women's race was drama-free. It also helped that the top three women were all part of Siri Lindley's squad, enjoying a vacation from the spring snowstorms back in Boulder. Salthouse won by nine minutes over Mirinda Carfrae, with Yvonne van Vlerken another 16 minutes behind.
Come to think of it, maybe some pro races are a little watered down.
*Approximate guess