Kona Confidential
This article was a finalist in the "Best Published Written Triathlon Article of 2011" category at the Triathlon America Awards.
Heading out the door? Read this article on the new Outside+ app available now on iOS devices for members! Download the app.

This article originally appeared in the November 2011 issue of Triathlete magazine as a preview to the 2011 Ironman World Championship. It was recently named a finalist in the "Best Published Written Triathlon Article of 2011" category at the Triathlon America Awards. Read the other finalist from Triathlete magazine "Back To His Roots" by Julia Beeson Polloreno.

If reigning world champ Mirinda Carfrae could ask anything of the woman who's won Kona more times than any other person, what would she want to know? What advice would Tim DeBoom, the last American to win Kona, give to a top American prospect? And what unique insights can Chrissie and Crowie exchange as veteran Kona champions?
For this year's Kona preview issue, we didn't just want to talk to the who's who of the sport—we wanted them to talk to one another. We invited five pairings of triathlon's elite to have intimate, one-on-one dialogues where we were privy to every word. Excerpts of each conversation follow; view the full-length chats at Triathlete.com.

Mirinda Carfrae & Paula Newby-Fraser
The defending champ and Kona's most decorated champ
The reigning women's world champion shares a candid conversation with the woman who was queen—an unmatched eight times over.
Paula Newby-Fraser: From seeing the Ironman and having a perception of it, to actually going and doing it, what was the difference for you?
Mirinda Carfrae: Early on, when I knew it was years away, I thought, "This is going to be great! I know I can do X-Y-Z and that will put me in the front of the pack." But then getting close to actually racing—and I mean days before the race—I thought, "I can't do this distance! This is ridiculous!" But in the moment, I was so well-prepared that it wasn't as hard. … I was definitely a little bit shocked at how—not how easy it was, because it's not something that's easy—but how in your mind it seems like a mountain in the days leading into it. But when you're actually out there racing, it's different.
PNF: How many hours a week do you train? … It seems people train so much more than they ever did.
MC: Right now in the peak of it I'm at around 32 hours. I swim about 20–22K. I ride around 450K. And I run only 100K. …Those are my bigger weeks.
PNF: Wow! We used to think 20 hours was hitting the big, big time. I remember when Michellie [Jones] did Ironman and we were like, "Whoa! You did 24 hours of training this week! That's so big! It's amazing!" We were blown away, because the average week was more toward 16–18 hours. … I don't think there's a right way and I don't think there's a wrong way. There isn't. As long as you believe—if you believe in yourself and you think, "I just want to go out there on race day and I don't care how fast anybody else is. I just want to have that day that I have in training." You know those days you have where you go, "Oh my god, I rule the world! I rule the world!" I used to sometimes get off my bike, by myself, and go, "That was the best ride! That was awesome!" And that's all I wanted.
PNF: Don't look at your log from last year. Put it away. Because … it will grind you down. Get a new book and start there. Don't pull baggage. It's gone. It will never be the same as it was last year.
MC: So then, how do you make the steps forward in training? Do you just believe that the years building up on each other is enough to get faster every year?
PNF: Yes. And the biggest lesson that I learned, that turned it all around from that level where we were going around 9:40 and then made a jump right to the nine-hour level, was learning to differentiate my training. That when we go out easy, it's so easy. It was to a point that we would be dropped by age-groupers. But then when I went out to really go, I would go! I learned to make my training a little bit more black and white in terms of intensity, which I think is a big issue in triathlon: a triathlon epidemic, the perpetual hammering. But that's ego and greed every time. Nobody is going to give an inch, so give them a mile. Because then when your time comes you're a mile ahead of them.
PNF: Do some of the parameters that Chrissie's set—run splits, bike splits—do you and [coach] Siri [Lindley] look at that and plan accordingly?
MC: I watch all the results in Ironman racing across the world, and I see what people are doing. There are certain races, Roth's obviously one of them, where times are fast. So I don't put as much weight into a race like that. Obviously you look at it and think: Wow, she's running fast. But let's look at what Chrissie's done in Kona. I'm going to race her in Kona, and she's never gone faster than X-Y-Z. In fact in my second Ironman, my first place last year was a lot faster than she went her second year. And she's done 10 Ironman races; I've done three. So you see those results, and if you don't pull yourself out of that "wow" factor, you can be written off right then. You may as well not go. Kona's a whole different ball game.
Read the complete conversation between Mirinda Carfrae and Paula Newby-Fraser.

Tim O'Donnell & Tim DeBoom
The Americans
America's next great Hawaii Ironman hopeful, in his rookie Kona season, gets advice from the last American to win (2001 and 2002).
Tim O'Donnell: Nutrition was my biggest concern going into Ironman Texas [May 2011, O'Donnell's first ever Ironman], and I think it will be my biggest concern going into Kona with the heat.
Tim DeBoom: My main focus was always to create a strong stomach to be able to handle anything that's out there.
TO: I read that Peter Reid [three-time Kona champion] would eat a big plate of nachos before a run. Would you do that kind of stuff?
TD: Oh yeah. I'd go out for my second run of the day, shove a huge peanut butter and jelly sandwich in on my way out the door, just to get used to having that much food in my stomach. If you can get through that, then you pretty much know you can handle anything. I don't think I've ever done an Ironman where I haven't thrown up, or where I haven't thought: Oh god, here comes a cramp.
TO: What's the biggest difference I need to look out for in Kona?
TD: The hype leading into it. Turn your Internet off once you get over there. Watch bad movies or bad TV. Don't read anything. Focus on yourself. And think of the word "strong." Strong on the bike and the run—more than fast. I'd go do Austria or Frankfurt, and that was fast. Man, we were flying! But Kona—it was always just strong. Mentally strong and physically strong.
TD: I think the men would have broken eight hours by now if we paced it better. … I always preach to myself when I'm starting a run, even if I feel great: Hold back. Just hold back.
TO: That was the one thing in Texas—I felt fine at the beginning of the run.
TD: You usually do. If you're trained right, you should.
TO: My heart rate wasn't up, I wasn't breathing hard. But then all of a sudden, at 18, 19 miles, the brakes went on.
TD: When you start the run, hold yourself back. A six-minute pace should feel pretty easy to run, compared to what you're used to, but that's a 2:36 marathon. People don't do that in Hawaii. So run 6:30s. Pull back and then slowly build into it. I ran 2:43 there, and I started at a seven-minute pace.
TO: In terms of the pressure, it's kind of the flip side for me, going in with Rinny as the defending champ. I should maybe ask Nicole [DeBoom, Tim's wife and former pro] this, but what's that vibe like? It's going to be a circus around her.
TD: The best thing you can do is step aside and take care of yourself. As much as you'll want to be there for her, you can do that back in your condo. On the outside, you need to take care of yourself. You've got to hold that energy of your own the whole time you're in Kona. If you're giving it out, if you're walking around the expo shaking hands, all that stuff—you're giving away energy. If you're thinking about your competition too much, you're giving away energy. You've got to just hold onto that for yourself.
TO: I remember you said before Texas, "It's your first one, just have fun." I guess it's the same with your first Kona.
TD: Exactly. Have fun with it. Nicole taught me that. She'd say, "Just smile. If you're feeling rough, smile." It makes everything better. I had a shitty race last year, but I smiled a lot more than I ever have over there. That's what made it a worthwhile day. Every picture you see of Macca he's out there smiling away, grinning ear to ear. So there's got to be something to that. Just have fun with it. And it will change you. You'll want to do it again.
Read the complete conversation between Tim O'Donnell and Tim DeBoom.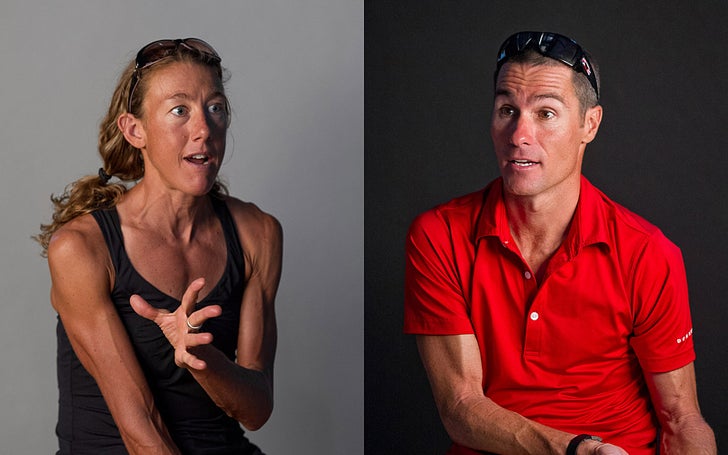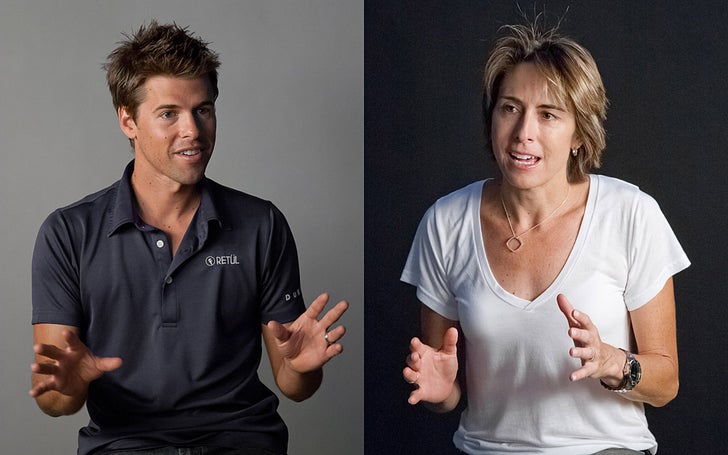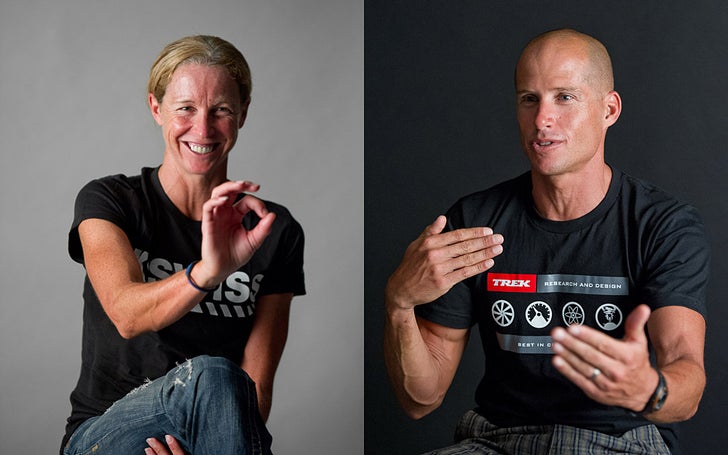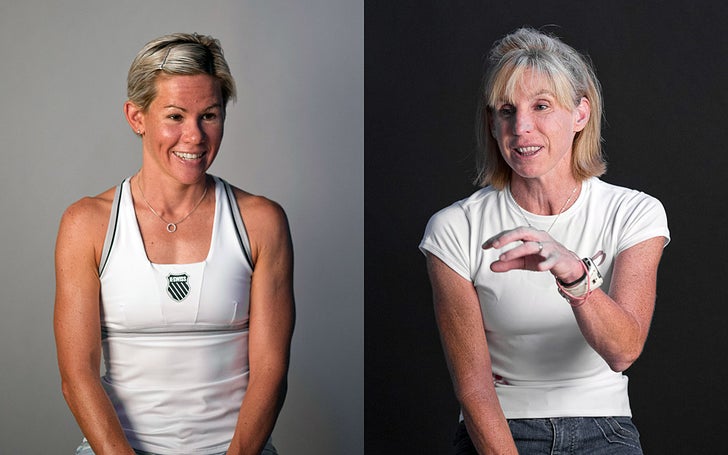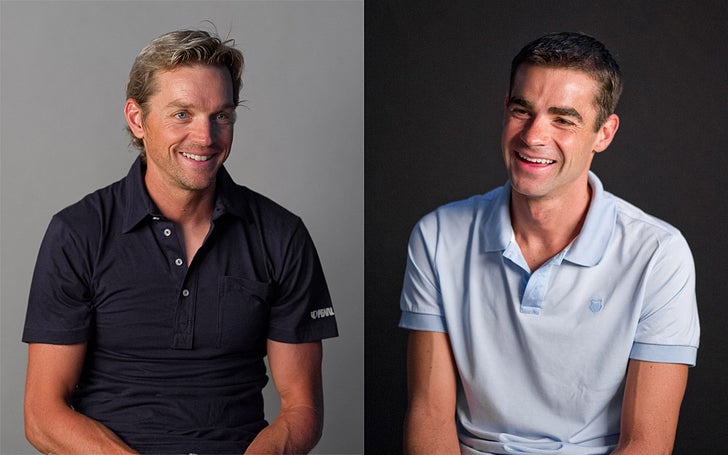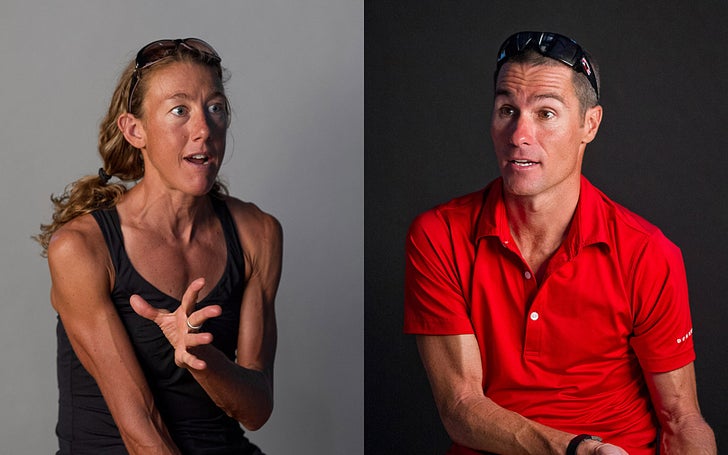 Chrissie Wellington & Craig Alexander
The veteran champions
With five Kona wins between them, Chrissie and Crowie chat about the pressures,  leasures and pursuit of perfection at triathlon's top level.
Chrissie Wellington: For Kona this year do you feel more pressure or less?
Craig Alexander: I feel less, to be honest. I felt pressure the first year because I was the reigning 70.3 world champion. … As you know, the common school of thought is that you don't have success immediately. I wanted success immediately, so there was a lot of internal pressure. Then after winning that first time, I didn't feel a lot of pressure to defend. Even though people kept reminding me that only three other males had been able to do it, I remember '09 being a fun year. I remember you saying the crown was not a burden; it was uplifting. That's how I felt. It was an absolute honor to have won that race once. Then when I defended and came back to go for a three-peat, I felt a lot of pressure. I felt like I was doing the rounds with the media every other week, and I got a little tired to be honest. The fun came out of it a little bit.
CW: I have to say my proudest year was my win in '08, because I wanted to prove to myself that '07 wasn't a fluke. … And then with the flat tire, that's the race result I'm most proud of. And last year, contrary to the rumor that I had a nervous breakdown, I really didn't feel that much pressure! The dynamic of Julie [Dibens], Caroline Steffen and obviously Rinny [Carfrae] upping her game—you know, it excited me rather than gave me pressure. … I just want to fight. I want a good, hard race. And they were going to offer me that. … I think going in this year I feel the least pressure, and that's largely because of the result I had at Roth. … I think confidence in your own preparation without being arrogant takes some of the weight off your shoulders.
CW: So with a wife and two kids, how do you do it? Prior to meeting Tom [Lowe], I couldn't imagine even having a boyfriend and being able to hold down a functional relationship.
CA: Neri and I have been together since before I was a triathlete. I don't know what it's like to be on my own in the sport. I think it evolves. We just keep adding people to the party, I guess! … I think it's uplifting. Whatever perceived disadvantages there are, the advantages swamp them and overwhelm them. I come home from training absolutely beat, and I see the kids and I get more energy. I don't know where I get it!
CW: I once had a conversation with Torbjørn [Sindballe], and I asked, "If you hadn't had the problem with your heart, when would you have chosen to retire?" He said, "When I had the perfect race." I said, "Do you really think the perfect race is possible?"
CA: Is that not a fairy tale?
CW: Yeah, because every time I finish a race—even Roth—I think it was perfect because I managed to overcome imperfections. There are areas where I think, well it was fantastic, but I can improve. … So I wonder when we all make that decision. I don't want it forced upon me.
CA: It's funny, when you get to my grand old age—I just turned 38—people ask you that all the time! To be honest, I'm still improving, physically, especially at the longer races. But there are other things obviously, aside from your physical preparation. Other things in your life. How motivated are you? Are you still prepared to do the things you did five years ago to prepare? And if not, why not? … I don't think anyone will have to get the big shepherd's crook out and get me to exit stage left. I think I'll know. Part of the fun is that I just love this sport. I think it's in my blood.
Read the complete conversation between Chrissie Wellington and Craig Alexander.

Julie Dibens & Chris Lieto
The über-bikers
The Trek/K-Swiss teammates, who face similar challenges and misconceptions, break down what it will take to run down Ali'i Drive as the champion.
Chris Lieto: So this will be your second Hawaii Ironman—your third total. Were there things you learned at [the 2011 Ironman] Coeur d'Alene that are going to help you in Kona?
Julie Dibens: I think if anything it just really highlighted how important my nutrition is and how I need to keep working on that. I definitely lost track of where I was supposed to be on the nutrition front, and it only being my second Ironman, it was good for me to be reminded of how important that is.
CL: Yeah, and you set a course record on the bike there as well, correct?
JD: Yes.
CL: And are you shooting to set a course record in Kona?
JD: I'm definitely not looking at getting a course record on the bike. I mean, if it happens, it happens, but that's not what's going to win me the race. I'm just looking at the whole race and how I think I can get faster. I know what time I did last year, I know what it's taken to win the past couple of years and if I want to win that race I know I need to find 15 minutes, maybe more. And I've looked at where I think I can get that time, and if I was to have the perfect day, I could do it.
CL: I hear a lot of [people say], "Hey, if you'd only back off a little bit on the bike, you'd run a little bit faster." My view is you have to get from point A to point B in the fastest time. Do you see yourself backing off on the bike at all, or will you just race your plan and bike to your ability?
JD: For me to win Kona, I know I have to bike at a high level because I'm not gonna run with Chrissie, because she's a phenomenal runner, as is Rinny, as is Catriona [Morrison]. So I have to use my bike strength to my advantage—same as you—but leave enough energy in there to do a good run. A lot of people say we're both bad runners. I don't think either of us are. Maybe compared to some of the awesome runners we are bad, but we're not bad. We're just not as fast as some of the other people. And people build up this perception of who's good at what, and who's bad. Sometimes it's a little harsh.
CL: Yeah, it's annoying sometimes. I look at my past run times, and yes, I can be a much faster runner. My approach to the race is different than yours in that the men's race is a little tighter, there's more game-playing, more tactical aspects to it on the bike. And so there are guys that'll conserve on the bike to have a good run, and I know that if I conserve my bike and sat in that group or just paced myself with that group, I would have a faster run.
JD: But would it be fast enough to win the race?
CL: Exactly! And that's the point: You have to get from start to end in the fastest time possible that's going to win you that race. So I'm going use my strengths to my abilities. If I go out and ride hard, which is in my ability, I'm gonna use that advantage to gap myself from the guys who can run really well.
JD: The women's race is so different from the men's in that there's never—maybe this year will be different—but there are hardly ever big packs. So there's so much less tactics that go on.
CL: But it all comes down to: Do you race your own race? You have to have your right nutrition and calorie intake—that's probably the biggest challenge, to get that in. And get the training in. Training's going well, the numbers are showing well, and running's been improving.
JD: And the hunger's still there.
CL: And the hunger's still there. Absolutely.
Read the complete conversation between Chris Lieto and Julie Dibens.

Siri Lindley & Mat Steinmetz
The coaches
Lindley (coach to top Kona contenders Mirinda Carfrae and Leanda Cave) and Steinmetz (coach to Julie Dibens, training adviser to Craig Alexander and well-known Retül bike fitter) share experiences and insights from their spot on the sideline.
Mat Steinmetz: Julie and Craig do a lot of riding together, so I get both of them kind of telling on the other one. For example, this weekend for Julie was supposed to be a long ride up in the mountains, nothing crazy. And I get reports from Craig that she's crushing everyone. She's dropping people on climbs. So it's good to have that information. But also, someone like Julie, unless she's feeling all fresh like on a race morning, nothing ever feels good to her. I'm going to hear, "Oh man, I'm smashed, I'm tired." So it's also good to get a report from someone else saying she's killing it.
Siri Lindley: I was actually a psychology major in college. I feel like it is all day every day such a massive part of what we do. Because every athlete is so different. You couldn't possibly give the same exact training plan to two athletes. People ask, "What's the secret to doing well in Kona?" Everybody has his or her own secret. What works well for Rinny could destroy Julie. Or what works for Julie could be totally the wrong thing for Rinny. Depending on their body, their psychology, everything about them … the plan for doing well in Kona has to be the perfect recipe for that individual.
MS: Both Julie and Craig respond a little bit to—I don't want to say anger, but you're able to fire them up kind of like a football coach would yell at his team during half time. … With Julie [in Kona 2010], … I was getting reports she was walking. When she came out of the Energy Lab I said, "Get your shit together at this next aid station and run. You're a tough bitch." I just kept on her, saying, "You're a tough bitch!" And she can take herself to that level where she thinks, "Yeah, I am!" And she keeps moving.
SL: [In the final miles last year] I drove way down the road and when Rinny got to where I was I said, "OK, you're doing awesome. But you know what? Let's friggin' go for the course record!" She looked at me like, "God! What?" And that always happens to us, where it's like, "What more do you want from me?" But she knew. That lit her fire, and she started picking up the pace.
MS: You're kind of going through it with the athlete. If they're having a good day, you're having a good day. If they're having a bad day, you feel for them. You don't think about yourself. You think about all they put in and how it just didn't go their way. And once that's worn off, you start to think, "What did I do wrong? Did they just have a bad day? What can we change?"
SL: You learn from the good ones too. I like to ask, "OK, so what was your mindset going in? How did you handle this situation? Do you remember how you pulled yourself out of that bad half-hour you were in?"
MS: Even if they win, I know my athletes will never be like, "That was a perfect race!" Immediately after they'll say, "We've got to work on this.""
Read the complete conversation between Siri Lindley & Mat Steinmetz.