King For A Day: Ireland's Èireman To Debut In August
Heading out the door? Read this article on the new Outside+ app available now on iOS devices for members! Download the app.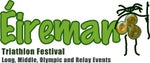 Jay Prasuhn takes a deeper look into the Èireman Triathlon Festival, which is set to debut in Wexford, Ireland on August 23.
When a triathlon takes place on a course where people's description of the course starts with "legend says…" then you know it will be an epic race.
Legend says that Madame Pele, the Hawaiian Goddess of Fire, is responsible for the heat and winds that come during October along the Kohala Coast. Anger her and your fate goes to the mumuku winds.
Legend also says that Lanzarote local Cesar Manrique had wanted to attune himself to the raw natural beauty of the rugged volcanic terra of the island. To plot a route for visitors to enjoy the beauty, he walked the island in the blistering heat-naked.
And of course, the birth of the first Ironman in 1978 as the result of a bar bet, is, well, legendary.
What is it about the upstart, the intrepid spirit of doing what has never been done before?
There's a new event on the horizon that I think promises to be that sort of epic event, called Èireman. Anyone who has a sense of adventure can agree that a triathlon in Ireland has the potential to be an unforgettable experience. There is a new Ironman-distance race being put together for August 23, and we're going to be there to see if this really is a legend in the making.
Why, you ask? Well, envision biking and running over that rugged, untapped escarpment, with a bit of misty rain in your face, and maybe a bit of crosswind. Race organizer Eoin Ryan says that although the area is called the sunshine coast, because it's Ireland there's a good chance for rain. But who said triathlons can only be held in 73 degree and sunny conditions? Why have courses like Ironman Hawaii, Ironman Lanzarote, Ironman 70.3 Monaco or Escape To Alcatraz become legendary events? It's because of the extreme heat or cold, or the topography and, in this case, it could be the rain.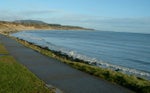 What else might make it legendary? I can only imagine the beauty of riding past castles, forts, abbeys, old monuments, prehistoric burial sites and thinking of just how really old that patch of green earth really is. Celtics, Vikings and Normans all fought for their piece of territory.
Those who were king and queen of this region in the past were called Èireman. So in theory, the man and woman who win Eireman will be, quite literally, the first king and queen of Wexford in hundreds of years. Is that not epic and legendary?
Of course, it always comes down to one question for those who would consider participating in the race: what's the course like? Ryan thinks this course will give Roth a run for its money as one of the world's fastest.
The race will take place in Courtown Harbour, County Wexford (south of Dublin on the southeastern tip of Ireland). The day will start with a swim in the calm Irish Sea in a counter-clockwise fashion. Wetsuits will not be recommended, they will be required in this cold swim.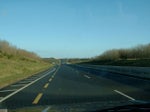 The bike is a four-lap, 112-mile course for the ironman-distance race. As advertised, the entire course will be dead flat and on fully closed highways. Having raced on closed highways for the first time at 70.3 New Orleans not long ago, there is no greater experience (and deterrent to drafting) than a fully open road for cyclists.
After a few snaking turns in the early miles, the run is flat and straight. The out-and-back, two-lap marathon moves you from Courtown Harbor inland to the town of Gorey and back.
While there's not much prize money to offer yet (this is an upstart race, after all), the winners will take up an honor not bestowed upon any other triathlon, Eireman, king and queen of Ireland. Epic.
The great part about this event is that the day also features half-ironman and Olympic-distance races. So one spouse can do the Ironman-distance event, with the other doing an Olympic, the half or a relay, and still be done in time to greet his/her spouse at the ironman-distance race finish line.
Inside Triathlon is thrilled to get a chance to document this inaugural event. Ireland is such a far-flung reach from the races we usually cover, that it will undoubtedly recall those early years of our sport, when it wasn't as heavily vested into marketing as the sport is today. It's not an m-dot event as yet-and maybe it's better that way. We'll be keen to see how legendary it can be.
To learn more visit Eireman.org.