The Promise
Bob Babbitt tells the story of Dustin Brady, who raced in Kona in honor of his fiancé Michelle.
Heading out the door? Read this article on the new Outside+ app available now on iOS devices for members! Download the app.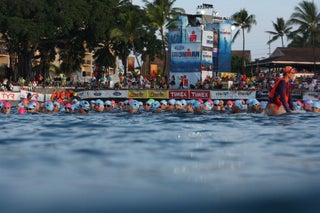 While he was in high school, Dustin Brady raced both mountain and road bikes. In 1996 he won the California Junior State Championship on the trails and his division at the Redlands Road Race. After a number of challenging training days, he could just tell that his body wasn't right. "It's not good when you get back from a ride and can't remember the last 10 miles," he admits. "It's just not safe."
He was diagnosed with Type 1 diabetes and would need to monitor his blood sugar for the rest of his life.
His racing career now on the back burner, Dustin headed off to college at Cal State Fullerton and started working for Shimano. Five and a half years ago, he met Michelle Weiser, the woman who would become his fiancé.
Two years into the relationship, Michelle was diagnosed with stage II breast cancer. The cancer then metastasized into her lungs and it became stage IV, the worst possible scenario.
"We tried to make the best of things," Dustin says. "Michelle was all about living life to the fullest. She always said that if there is something you want to do, do it before it's too late."
When Dustin went to Kona to support Shimano's Ironman athletes in 2008 and 2009, Michelle came along.
The two of them loved watching the last athletes finishing between 11 p.m. and midnight. "Michelle turned to me and goes, 'You should do this someday,'" he says. "I'm like, 'Yeah, it's on my bucket list.'"
Dustin found out before Michelle that she didn't have much time left. "She was having complications," he says. "We went to the hospital, but Michelle wasn't asking the tough questions. I asked a doctor what was going on and he told me that she had only weeks or months to live. He told me not to tell her, that I had to let Michelle ask the tough questions at her own pace."
When Michelle asked the tough questions—and got the tough answers—her thoughts turned to everyone else. How was her mom going to handle Michelle's death? How about Dustin? "I had gained weight and was pretty unhealthy," Dustin says. "Michelle, in her typical sassy way, asked me what I was going to do when she was gone, that I didn't have the life skills to handle things. I blurted out, 'I'll tell you what I'm going to do. I'm going to do an Ironman for you and for me.' She started to tear up, I moved in to hug her and she put her hand up to stop me. Then she put her hand out and goes, 'Do you promise?' I shook her hand and told her it was a promise."
Michelle passed away on July 5, 2010.
Dustin's dad made a compact container to hold Michelle's ashes, and Dustin had her with him throughout his Kona Ironday on Oct. 8, 2011.
He took the container out as he crested Palani and Michelle's remains were in Dustin's right hand for the last 1.2 miles. "It was overwhelming with all of these people yelling," he says. "I was like, 'How do they know my name? Oh yeah, it's on my bib!'"
He crossed the line in 16:40:01. All he remembers is announcer Mike Reilly telling him that he was an Ironman and almost tripping.
Two women were in charge of guiding finishers to the post-race area. Dustin broke away from them, took a detour and headed to the beach where his race had begun nearly 17 hours earlier.
Dustin waded into Kailua Bay, opened the container housing Michelle's ashes and scattered them into the surf.
"We spent the entire day together and I fulfilled my promise," he says. "Then it was time to say goodbye."
Bob Babbitt is the co-founder of Competitor magazine, the co-founder of the Challenged Athletes Foundation, the host of Competitor Radio and the 10th inductee into the Ironman Triathlon Hall of Fame. To hear his interviews with more than 500 endurance legends, visit Competitorradio.com.
Check out our complete 2011 Ironman World Championship coverage.