2017 Ironman World Championship Preview: Pro Men's Race
Germany's Jan Frodeno will be looking for his third-straight Kona title.
Heading out the door? Read this article on the new Outside+ app available now on iOS devices for members! Download the app.
We tapped TriRating.com's über stats geek Thorsten Radde for the rundown on who's primed for glory and how triathlon's most iconic race will go down. Read up, then place your bets. (Read the women's preview here.)
The Men
Jan Frodeno 
Germany, 36
"Frodo" is the clear favorite for this year's Kona. He's won two Ironman world championships and has hinted that his best Kona is yet to come. He's done some early-season 70.3s to get used to hard racing again and had a sub-8 validation race at IM Austria. It was almost a disappointment when a two-week break from training with a virus infection kept him from going for any new records. Even so, he won by more than 15 minutes. He will show up to Kona in his absolute best shape. If everything goes right, he may even be the first athlete to break eight hours in the tough Kona conditions.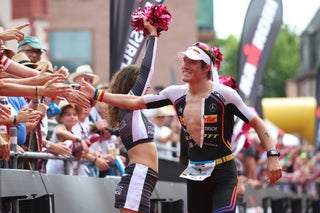 Sebastian Kienle
Germany, 33
Sebi's 2014 Kona win came off a fantastic 4:20 bike split, more than 10 minutes quicker than the rest of the top 10. He used a similar strategy in 2015, but all of his attempts to break away on the bike were shadowed by his main competitors, and he fell back to eighth place with a sub-par 3:06 run. He was running much better in 2016, allowing him to be a bit less aggressive on the bike—he was "only" the second best runner of the front pack and still finished three-and-a-half minutes behind Frodo. His 2017 summer race in Frankfurt showed that he has continued to improve in all three legs, and he's confident that he is no longer forced to go big on the bike to win races. He will still work to create a split in the front bike group, and there are very few athletes who will also be able to match his pace on the run.
Patrick Lange 
Germany, 31
Patrick's electrifying finish was the emotional highlight of Kona 2016. After he fell back with a five-minute penalty on the bike, he ran himself onto the podium with a 2:39 marathon, breaking Mark Allen's long-standing run course record from the 1989 "Ironwar." His 2017 has not been going well so far: A foot injury has kept him from putting in decent run training. Still, he validated his spot with a sixth place finish at Ironman Frankfurt in sub-8, but was forced to take walk breaks towards the end of what he described as a "brutal" 2:49 run. As long as he is able to stay healthy and train well until Kona, Patrick is an athlete that might change the dynamic of the Kona race. For the first time there is a potential front-bike-group athlete that Frodeno has to worry about on the run, possibly forcing Frodo to work a bit harder on the bike. If everything goes right for Patrick, expect to get him a lot more TV coverage than last year.
Andi Böcherer
Germany, 34
Andi has been on the podium at the European Ironman Championships in Frankfurt for the last three years. In 2016, he finished fifth in Kona after a long hard fight on the run with Ben Hoffman and Tim O'Donnell. He has been racing more often—and more aggressively—and a strong swim should set him up well for an impressive bike in Kona—probably what he needs if he wants to finish on the podium this year. If he and Sebi (who has the same coach) can form an alliance on the bike to put some time into Frodeno, then we can easily see Andi and Sebi fighting for the win in Kona.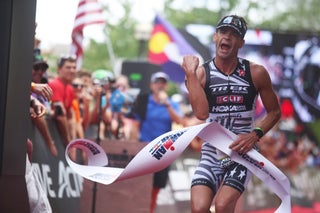 Tim O'Donnell
USA, 37
With his third-place finish at Kona in 2015, O'Donnell is most recent American male to podium. The last one to win was Tim DeBoom in 2002—and O'Donnell could easily be the next. Last year, he felt great running in third in the first part of the run, but then had two bad sections that still saw him finish in sixth. With his wife Mirinda Carfrae expecting their first child, O'Donnell chose to race closer to home, winning IM Boulder with a dominating performance posting the fastest times in all three legs. On a good day, O'Donnell can ride away from the field almost by accident, as he did in 2015, and in the Kona heat he is one of the most consistent marathon runners. It'll still take a special day for him to win, but with baby Isabelle born in August, O'Donnell can race Kona with extra "daddy power."
Ben Hoffman
USA, 34
Ben's breakthrough season came in 2014: After crashing his bike at IM Coeur d'Alene, he ran a 2:43 marathon to finish third. Less than four months later, he finished second in Kona, again on the back of a great run. In 2016, he won IM South Africa, and he was fourth in Kona after giving everything he had to hold off Andi Böcherer by 25 seconds on the run. After a battle with Nils Frommhold for most of the run, he won IM South Africa again this year, running a 2:42 marathon and posting the first sub-8 finish in Port Elizabeth. He'll come to Kona prepared to ride with the front group, stay with leaders in the initial fast section through town and then be the fastest runner in the mentally-tough second half of the run.
Matt Hanson
USA, 32
Matt has yet to nail Kona. Racing as an age grouper in 2013, he had three flats, and in 2015 he crashed early on the bike. After that, he was too anxious to race again and flat for most of 2016. This season, he's back to racing well: He set a new U.S. record at IM Texas with a 2:42 marathon and an overall time of 7:52:44. Texas also showed that he was able to improve his swim, meaning he has to do less work to join the front group on the bike. The Kona dynamics that traditionally have a lot of slightly slower swimmers trying to bridge up should work in his favor. He's probably the strongest runner of the U.S. athletes and could post the fastest marathon this year, so watch out for him if he can limit the time lost in the second half of the bike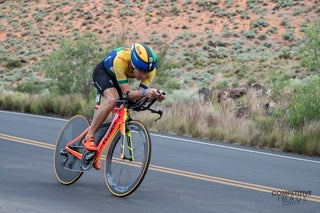 Tim Don
Great Britain, 39
For years, Tim has been one of the most consistent 70.3 athletes, often making more prize money crushing lots of lower-paying races than athletes focused on a few longer ones. He stepped up to Ironman racing in 2014, finished 15th in his first Kona in 2015 then DNF'd last year. This season, Tim made a big splash by winning the South American Regional Championship in 7:40, currently the fastest Ironman-branded time ever. Not only was he able to post a 4:06 bike split (more than 15 minutes quicker than he ever did before) but also a 2:44 marathon. If he is able to show this caliber of racing in Kona, he'll finish the bike with the lead group and will be running for a podium finish.
Lionel Sanders
Canada, 29
Lionel is the wildcard racer in this year's Kona. Last year, he was frustrated when his slower swim only allowed him to get within three minutes of the front bike group, ultimately falling back and finishing 29th. He used his frustration to win IM Arizona in 7:44, then announced he'd skip Kona 2017 to focus on 70.3 racing and work on improving his swim. By June, he had changed his mind, believing that the race dynamics in Kona (read: some slower swimmers willing to work with him to catch the front group) would be more favorable to him than at the 70.3 World Championships. To have a good chance to reach the front group, he probably needs to improve his Kona swim by roughly two and a half minutes—that's how far he was behind Boris Stein in 2016, who was the slowest swimmer to make the the front bike group. Reaching the front group would give him an extra boost, and when the race is on, he is one of the toughest fighters in triathlon.
Inside the Race: Pro Men on Their Strategies
Swim
There will likely be a large front group of 10 or more athletes entering T1 within seconds of each other, including Jan Frodeno and most other podium candidates. But how far back will the slower swimmers be? Sebastian Kienle should be about four minutes behind, and Boris Stein (best bike split in 2016 and the slowest swimmer of the front bike group) about six minutes. Last year, Lionel Sanders was eight-and-a-half minutes back, but this year he'll be hoping to be out of the water somewhere between Sebi and Boris in order to have a better chance of quickly reaching the front group on the bike.
Bike
Once on the bike, the men's race contracts—everyone gets closer again. The slower swimmers try to make up time to the front of the race. "The ideal pace is fast but not out of control," says Andy Potts of the first half. "It's inevitable that you get caught up in the pace of the group and roll with it–you need to stay in contact with the group if you want to have a chance at the podium." Potts says the experience of riding in a fast, big group is something most Kona rookies are not used to: "When the group rolls into an aid station, it can be difficult to get what you need. Bottles get inadvertently dropped, and volunteers get overwhelmed with the speed and amount of athletes coming at them. The athletes that don't swim as fast have the luxury of executing their plan without distractions. If you are solo, you get what you need and can actually say 'thank you.'"
There are typically a few drafting penalties early on. Moving ahead in the group usually means passing a whole group of athletes if most of them ride close to the legal distance of six bike lengths—overtaking one bike means that you're already in the next athlete's draft zone, so you also have to overtake the next athlete and so on.
Once the pack starts the climb to Hawi, athletes will start to drop out of the group. Sometimes athletes manage to ride off the front like Tim O'Donnell in 2015. Especially in the fast downhill section after Hawi, Sebastian Kienle will be looking for his chance: "The Kona winds play an important role, with crosswinds it makes more sense to put out a bigger effort to create gaps," he says. These gaps can be closed only so often, especially as the group gets smaller and smaller. After the front group shrunk to only seven athletes last year, Jan had to work hard to stay with the group, when he wasn't feeling his best. "I tried to attack towards the end, but some of my colleagues had a different plan," Sebi says. "When you can hold your effort in the last hour or your wattage only decreases by 5%, it looks like an attack—not because you are riding faster, but because everyone else is slowing down." The eventual winner will be probably among the front group of top five athletes in T2.
Run
The first part of the run—an out-and-back on Ali'i Drive—is always super-fast and typically breaks up any remaining groups after the bike: "Sometimes 'getting position' may be important early on, or separating from someone you don't want to get into a foot race at the end with," says the top U.S. runner, Matt Hanson.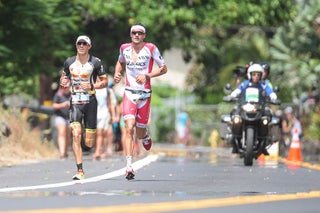 While Andy Potts prefers to hold a bit back in the first part of the run: "The reason everyone starts out fast is because we are happy to be off the bike, and there is so much energy in Kona that it is hard to control your speed. Also, there is some shade and a coolish ocean breeze. Once we climb up Palani and get up on the Queen K, reality sets in and everyone slows down. The ocean breeze turns into a hot dryer vent with no sun cover. I found that a focus on the back half is super helpful. When you pass someone on the second half you rarely see them again."
Matt Hanson divides the course into different sections: "Getting splits at the turnaround is the first place to gage how things are going. From there, it'll be settling into goal pace. Getting back to form and cooling down as much as possible after Palani is extremely important. Being smart on the rollers on the way to the Energy Lab is the next chunk. Getting final splits in the Energy Lab is the last place for a bit of a mental push. From then on, it is all about how bad you want to hurt."
Pro Men's Start List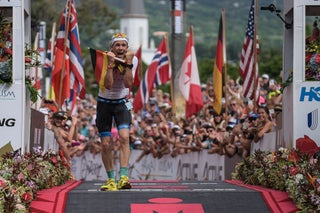 1 Jan Frodeno (GER)
2 Sebastian Kienle (GER)
3 Benjamin Hoffman (USA)
5 Patrick Lange (GER)
6 Timothy O'Donnell (USA)
7 Frederik Van Lierde (BEL)
8 Kyle Buckingham (RSA)
9 Tim Don (GBR)
10 Boris Stein (GER)
11 Pete Jacobs (AUS)
12 Matthew Hanson (USA)
14 Andy Potts (USA)
15 Terenzo Bozzone (NZL)
16 David McNamee (GBR)
17 Matthew Russell (USA)
18 Bart Aernouts (BEL)
19 James Cunnama (RSA)
20 Nicholas Kastelein (AUS)
21 Josh Amberger (AUS)
22 Braden Currie (NZL)
23 Ronnie Schildknecht (SUI)
24 Tim Reed (AUS)
25 Nils Frommhold (GER)
26 Patrik Nilsson (SWE)
27 Joe Gambles (USA)
28 Tyler Butterfield (BER)
29 Ruedi Wild (SUI)
30 Lionel Sanders (CAN)
31 Brent McMahon (CAN)
32 Ivan Tutukin (RUS)
33 David Dellow (AUS)
34 Cyril Viennot (FRA)
35 Michael Weiss (AUT)
36 Marko Albert (EST)
37 Alessandro Degasperi (ITA)
38 Tim Van Berkel (AUS)
39 Igor Amorelli (BRA)
40 Thiago Vinhal (BRA)
41 David Plese (SLO)
42 Marc Duelsen (GER)
43 Harry Wiltshire (GBR)
44 Jan van Berkel (SUI)
45 Ivan Rana (ESP)
46 Kirill Kotsegarov (EST)
47 Reinaldo Colucci (BRA)
48 Patrick Evoe (USA)
49 Cameron Wurf (AUS)
50 Daniel Fontana (ITA)
51 Jesse Thomas (USA)
52 Markus Fachbach (GER)
53 Giulio Molinari (ITA)
54 Denis Chevrot (FRA)
55 Michael Fox (AUS)
56 Kaito Tohara (JPN)
58 Chris McDonald (AUS)
59 Eneko Llanos (ESP)