Honest Thoughts On The Kona Pro Rankings Straight From The Pros
With the season in full swing, we asked several top pros how they feel about the Kona Pro Rankings systen now.
Heading out the door? Read this article on the new Outside+ app available now on iOS devices for members! Download the app.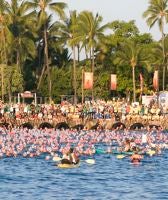 Beginning with Ford Ironman Wisconsin and Subaru Ironman 70.3 Muskoka on September 12, 2010, professional athletes earned points towards their Kona Pro Ranking (KPR) based on where they finished in each Ironman and 70.3 event. The top 40 male and top 25 female pros in the rankings were offered spots to qualify in the Ironman World Championship as the first qualifying group on July 31. Ten more males and five more females will also be offered qualifying spots on Aug. 31 as the final qualifying group. Additionally, all world champions who earned their title within the last five years are allowed to compete. All professionals, including the former champions, must have validated their entries by completing an Ironman race (other than Kona) within the qualifying year. With the season in full swing, we asked several top pros how they feel about the ranking system now.
Mirinda Carfrae
Mirinda Carfrae is an automatic qualifier thanks to her win at the 2010 Ironman World Championship. She validated her spot by finishing Ironman New Zealand earlier this year.
Triathlete.com: Have you changed your racing schedule to do more Ironman events to get points for Kona?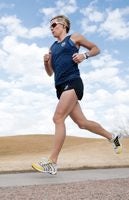 Carfrae: The only change I made was to add in an Ironman to be eligible for Kona. Since I won last year I only needed to validate my spot with an Ironman finish so I don't really have to hunt for points. Although my schedule always includes a number of Ironman 70.3 events.
Triathlete.com: What was your initial reaction to the KPR?
Carfrae: I think they are on the right track in some respects. I agree with limiting the field so that only the very best athletes are toeing the start line in Kona. But I am not sure this points system is the right way to go about it. We are not racing Olympic-distance events where you can race weeks in a row. Ironman takes it out of you and I fear that some might turn up to Kona already cooked from chasing points all year. I am not sure what the solution is, but for a start I think they should allow us to include Kona as our Ironman race for the year.

Kelly Williamson
Williamson was ninth in the rankings as of July 31st and was offered a spot to the Ironman World Championship.
Triathlete.com: Have you changed your racing schedule to do more Ironman events to get points for Kona?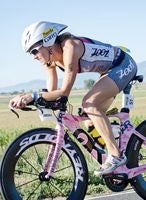 Williamson: I would not say I changed my schedule so much as when I created my race schedule for the 2011 season, I took the points system into consideration. In terms of how the points dictated what I did, the most significant way was that I made Ironman Texas my focus for the first part of the year. I would naturally pick an Ironman like Coeur d'Alene or even Lake Placid due to the hillier terrain, but Ironman Texas had many things that made it appealing. It was loaded with points (which I needed after not racing much after Kona last year); it was almost in my backyard (a short three-hour drive); I would be very familiar with the climate—living in Austin and it was nice and early. So it just made sense; I would have been an idiot to have passed it up!
I also chose some of the higher point 70.3 events, which are also the higher prize purse events, to complement Ironman Texas, such as San Juan 70.3, California 70.3 and Lonestar 70.3. My whole goal going into the season was just to get enough points to get back to Kona; I do not have any interest in trying to have the most points possible because I want to race as few Ironmans as I need to. I am lucky that Ironman Texas put me in a position to feel comfortable where I am sitting and also allows me to do more of what I really love for a few months, and that is the 70.3 distance, even maybe an Olympic-distance race if possible.
Triathlete.com: What was your initial reaction to the Kona points system?
Williamson: My initial reaction was "Ugh, not back to the points chasing!" I raced ITU from about 2002-2005, and that all revolves around chasing points for a world ranking. I felt like that mindset takes away from racing to race, and just racing to win; there is always this points standing looming over you. However, in the big picture, if you win races (or perform well) then you will be fine in the points standings. At first I was very resistant to it. I am the first to call myself out; last fall, I said, "I'll never chase those points. I am going to race the races I want to race and if I get back to Kona, all the better." This was prior to me experiencing Kona! And as it does many, it grabbed hold of me and made me want more. I am still not entirely sure where I stand on my opinion of the points system. The good thing is, it gives a bit more credibility to getting to Kona as a professional. You must perform well consistently, to acquire the points to qualify. It should be tough to toe the line in Kona—it is a world championships.
On the other side of the coin, if you go and race five Ironmans and you do decent in all of them, you may be able to edge out someone who has raced slightly less but raced very well, since they will take up to five Ironman points (from what I understand). The bad thing about this is that it can reward someone who is racing a lot, and if they get to Kona, they will likely be fried. So, I think there needs to be something to address this aspect. I see where it is going and I like raising the bar to get to Kona. But I think a few things may need [to be] smoothed out for future years to truly get the best field assembled, and at that, a field that is ready to put down strong, fast performances.
Triathlete.com: Now that you are in your racing season, has your opinion changed and if so, how?
Williamson: One thing that I find a bit sad is that some awesome races will not get the quality of fields they deserve. For example, Ironman St. George was a very small race among the professionals. You take an extremely tough course and it would make sense that anyone winning a race such as this is a top-notch professional; one who deserves to race Kona. Unfortunately, with lower points and the timing of this race (many others sandwiched around it), the field was smaller; similar to an Ironman Coeur d'Alene. A nice, hilly, honest course that will break up any possible packs of cyclists—yet at a race with only 1,000 points, the field will likely not be as competitive. Again, there are so many bits and pieces to this system. On the flip side, Ironman Texas likely had similar conditions to Hawaii (minus hills); therefore, maybe it was a good race to help people land Kona spots. I am still forming my opinion of this system. It has parts that are very good, but it also has parts that I don't think will work out well in the long run. I would like to see good, honest, challenging race courses hold a bit more points and prize money, as they should be true determinants as to who can compete at a world championship event.
Terenzo Bozzone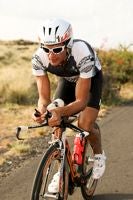 On the July 31st deadline, Bozzone sat in 51st place and was not offered a spot to Kona.
Triathlete.com: Have you changed your racing schedule to do more Ironman events to get points for Kona?
Bozzone: I have not changed my race schedule for 2011. I figured getting a couple solid results under your belt would guarantee you enough points to get on the start line. Now… after battling with an Achilles injury, I am starting to think I should have thought a little more about the points. The points system has definitely changed a lot of the professionals' approach, which has been evident by the number of guys doing early Ironmans and the strong fields at Oceanside, Galveston and New Orleans 70.3s.
Triathlete.com: What was your initial reaction to the Kona points system?
Bozzone: Initially I was a little blown away by the sudden change, but after putting a bit of thought into it I can see the potential.  It will be interesting to see who does and doesn't make it to the start line in Kona and what worked and didn't work with the other athletes' approaches and race schedules.  I still think there is room to improve the prize purses (while there are races that have upped the anty, I am a little disappointed to see a number of races decrease their prize money to fit into the lower brackets). I would also love to see a big sum of money pumped into the series where the top five men and woman after Kona on the points system are rewarded for their season of racing.
Triathlete.com: Now that you are in your racing season, has your opinion changed and if so, how?
Bozzone: My opinion hasn't changed but I would love to get hold of a few more points… any suggestions?
Dirk Bockel
Bockel earned a spot to the Ironman World Championship thanks to his placement as the 31st man on the list.
Triathlete.com: Have you changed your racing schedule to do more Ironman events to get points for Kona?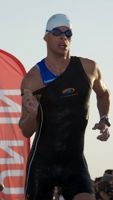 Bockel: Not this year as I had a good result in Kona 2010 and am pretty safe with my points. It only sucks if you don't do well in Kona and need to hunt down the points to make it.
In 2010, I did have to change plans and had to race (meaning, finish) another Ironman event.  Since points were not a real issue, I chose a 1,000 point race—Ironman Florida—directly out of Kona.  It was not much fun, but I had to do what I had to do in order to secure my qualification for 2011 and enable me to race whatever races I wanted later on.
Triathlete.com: What was your initial reaction to the Kona points system?
Bockel: I believe that the top 10 in Kona should automatically qualify.  Why should the best athletes in the world have to race another Ironman to prove that they are the best?  The athletes have to run around and collect points and I don't think it's very fair.  But of course the WTC is concerned with making money and profiting as much as they can.  I believe that the whole system only works if pros and amateurs are treated the same.  As of now it feels like the WTC is trying to reduce the number of pros racing at the world championships.  The current points system makes it impossible for many pros to focus on Kona, so the "World Championships" may end up being "Kona Championships"—not really the best in the world, but only those athletes who decided to run around and collect points to race in Kona.
After competing at the Abu Dhabi International Triathlon, athletes are starting to realize that they deserve to be treated better.  Being a pro triathlete is a lot of work—and it is about time that athletes are recognized for this tremendous effort that they put out there every day.  Less and less athletes are finding it important to race at the world championships in Kona and less are able to afford to fund their travels from race to race.  Athletes are jogging Ironman races in order to "finish"—and this is not good for anybody.
Triathlete.com: Now that you are in your racing season, has your opinion changed and if so, how?
Bockel: Not really. It's good for me right now, but that's not the point. I am free to race whatever races I want this year, but look at some other athletes that are trying so hard to make it. You will find some names missing in Kona and that will definitely be a sign that something needs to change. Athletes need to be involved in the decision making—it effects all of our livelihoods and to me, it is only fair that we have a say in how things are run.
Chris McCormack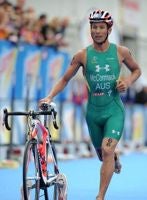 Although ranked 12th in the KPR, McCormack has stated he will not be chasing Kona this year. He is looking to qualify for Australia's 2012 Olympic team.
Triathlete.com: What is your opinion on the Kona points system?
McCormack: I think the WTC implementing change and a system that is for qualification for Kona is a good step forward. My only issue with the system is the rush to formation that it seemed to be developed under. So many sports around the world have great qualification systems, and unfortunately with the point system that the WTC has presented, it really seems to push an athlete to over racing and over reaching just to qualify for a single event. First, the biggest flaw our sport currently has is the simple fact that we have only one event in the world that brings credibility to a career, and this is Kona. It is this simple fact that the system is broken. I think the focus on the WTC with the implementation of changes like this should have been firstly about developing two to three other huge events globally (you start with the professionals to do this, as they will bring the attention to the event that will give it the history to build its reputation on) and create a bunch of marque races that hold the same sort of water as a Kona win. Tennis has this; golf has this; surfing has this. It is the norm. Then you structure a points system and qualification system around multiple events, and athletes have the opportunity to shine and develop without throwing all their eggs in one basket called Kona, and kill themselves just for the chance to compete [there]. We need more races that have history and hold water. It is up to the sport to develop these and it is so easy to do. We have so many races with such a rich history that we can just add to now. These events exist; the sport has a solid foundation of history now. It is just up to the sport (WTC) to tell the story, market this, and it is a slam dunk.
Leanda Cave
As the sixth athlete on the women's Kona Pro Ranking list, Cave received an offer to register for the Ironman World Championship.
Triathlete.com: What was your initial reaction to the Kona points system?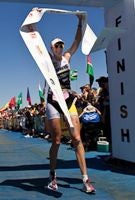 Cave: It's a double-sided sword.  On the one hand, I like it because it offers a very high quality field in Kona.  However, on the flip side, it crushes a lot of athletes' dreams as they know Kona is now out of reach.  But this enables such athletes to do the bucket load of other races that are not Ironman and still earn money from the sport of triathlon.

Triathlete.com: Now that you are in your racing season, has your opinion changed and if so, how?
Cave: My big disappointment is regarding the prize money being reduced in the lower point scoring Ironman events.  I don't think this was necessary.  Ironman is a massive corporation and all they have done is juggled the money around to offer the higher scoring races more.  They have not injected more money into the pro circuit.  For this reason, I didn't race Ironman Florida 70.3 for the first time in five years because it was only $3,000 to win.  Now when I take away my expenses, coaching fees and taxes, I'm left with about $1,000 to live off, and that's only if I win!