Chris McCormack's Analysis Of The Kona Contenders
Macca offers his honest inside perspective on the athletes racing for the win in his absence.
Heading out the door? Read this article on the new Outside+ app available now on iOS devices for members! Download the app.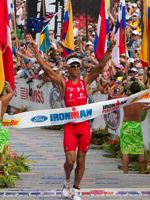 Macca offers his honest inside perspective on the athletes racing for the win in his absence.

For more of Macca's thoughts on the race, watch Breakfast With Bob.
Craig Alexander
Crowie is the overwhelming favorite. I don't know his mindset, but I think Crowie needs to stay relaxed and not prove a point by going, "Look, I'm a biker now" and close every gap. These guys like Andreas Raelert and Rasmus Henning to some degree, Eneko Llanos and Andi Boecherer, [Chris] Lieto, they can change the face of the race and how these main key players use the other strong athletes to their advantage will ultimately dictate the outcome of the event. It's working out within your own team, how is [the athlete] going to win. I look at Crowie, he and I have spent some time together this year. We're at peace, we've chatted quite a lot this year and he's calm and confident. He knows what happened last year. And he thinks the problem is solved. That's half the game; it's what you think about the race. That's what I keep telling these young kids. Kona doesn't know names guys. Kona doesn't care. You've got to step up thinking you're going to win and until you really do believe it's not going to happen. I'm wondering if the rest of these main players think they can [win], but I know one guy does and that's Crowie.
RELATED: Training Day With Craig Alexander

Chris Lieto
Is Chris Lieto good enough to win?
Not playing the same card he's been playing. If I were Chris Lieto I would look at playing a similar card but taking the horsepower [of the other strong riders with him]. The days of Lieto's huge bike ride and everyone being way behind is over because there are five or six guys that are in between the [trailing] group of fast runners and Lieto. He needs to make sure that horsepower—the five or six guys in the middle—goes with him initially and takes that speed out of the run group. When you get the Faris Al Sultans and those guys at the front of the group of [runners], they keep the runners in the game. Lieto should be talking to people all week saying, "Okay this is where I'm going to go man, come with me and help take that horsepower out of the running group." Crowie's going to try and stay with that fast group. If Crowie does decide to go, [Lieto] needs to keep the pressure on and hurt those legs and once you take the power out of the running group, that gap is big enough for Lieto to win it. He's better off running against [other strong cyclists like] a [Maik] Twelsiek and a Ronnie Schildknecht, that kind of guy. The problem with those guys is they keep the runners in the game. And if you start behind from the swim you've got the Michi Weiss' and Maik Twelsieks that can pick you up and bring you back to the game again. It's an interesting game and Lieto needs to change his plan. It's not as simple as just running quicker, you know. I think his strategy is smack on. It's just where he's putting out his power how he's going about it, how the race is unfolding behind him and how he can influence it in a way that to best suit his strengths because a biker can still win this thing and Lieto is by far the quickest biker. And he can run. He can run, he just needs more time on the pure runners.
RELATED: Chris Lieto's Ironman Hawaii Bike

Pete Jacobs
Last year, that run was amazing, but he's never put two together. He's either had a great bike and a bad run or a bad bike and a great run. He tends to do two of the three disciplines well and he's trained really, really hard this year. He's sort of my dark horse. I spent time with Pete this week. In his head he is convinced he's going to win this race and that is half of the battle. You know, that's why I put him as a dark horse but I'm worried. Some times Pete is a strange guy in the sense that he doesn't always appreciate the strength and power of his competitors. And I'm hoping he's not so confident that he swims with Potts and thinks he's going to ride away from the field, because he's not. He needs to race more tactically, but if it comes down to it, man this guy is running for the win. He's not here for anything else and he's made that pretty clear to me. Pete's the kind of guy that when you speak to him before a race he tells you just how he's feeling. And he believes it.

Eneko Llanos
Why hasn't Eneko Llanos won yet?
Jeez, why hasn't Eneko won yet? He's definitely the guy that was heading that way. I think in years past he's raced too frequently and come in fatigued. Even last year he went to [Ironman] Lanzarote again, and I'm thinking, "Every year you've done Lanzarote you've had a bad race and the only year he didn't do Lanazarote he got second. What are you going back to that formula for?" I felt last year he was chasing money but I spoke to one of his closest friends in Frankfurt who said, "No, his whole focus was Hawaii." Well I look at it and he's done 1, 2, 3, 4, 5 massive long distance races. I thought he was great at [Ironman] Texas this year, but I think he's a safety player. He's just going to knock people off. He hasn't pulled the trigger and gone, "This is it and I'm prepared to pay the ultimate price." And the problem you have with all the pros and all the amateurs is that they've all read the articles and watched the coverage and every single piece mentions the horror stories. The Jurgen Zacks who have walked, the Tim DeBooms who have walked, the Peter Reids who have walked, the Chris McCormacks who have walked, Mark Allen trying to win seven times, Paula Newby-Fraser collapsing, and the athletes are looking at the [coverage] and they're thinking, "Shit" and you start second guessing yourself— then you're more reserved and conservative than you are at any other race around the world. Sometimes your athletic instincts are your biggest weapon, and [fear of the race] takes that out of the game. It's like Rasmus, you know?  Here they're timid and I think Eneko is like that too because in Europe he'll take chances, he has go's. And it comes down to pulling the trigger and saying it's first or it's walking. That's the mindset that will get you a win here.

Marino Vanhoenacker
Marino will try and escape on the bike, he does every year, push and try to escape. He's got the run and the confidence to win it. [He was right there last year].

Rasmus Henning
I wonder what Rasmus is here for this year. Is he here to silence the demons of what happened last year and will a 3rd or 4th place be good enough for him? Or is he prepared to have a crack at it this year and walk to the finish line and have two bad Kona's. That's a difficult thing and that's what I'm wondering. Because when you're suffering you're thinking those things. It's just you talking to you, and these are the things that go through your head. Does he say, "Second's good. I can blow up if I go for it and walk." Or does the guy say, " 5th man, there's three blokes up there and I'm having a crack [at the win]." That's why my only question with Rasmus. On paper the guy should win this race. Engine wise, he's huge but you've still got to do it.

Tim O'Donnell
O'Donnell is a smart cookie. There's no reason why he can't be first American if Lieto doesn't come into the equation. He's clever. He'll tag someone like Crowie and put himself around the right people in the race. He's a patient guy, a very hard worker and of all the rookies that have come to Kona in the last couple years he's definitely one that I think thought has all the [attributes] to get right up there, maybe a top 5 if it plays out well. I was so impressed with Tim. And I think he has all the right [skills] to race this style of race. He can be patient and when these other guys go. He's got that type of patient mindset and he's got an impressive girlfriend to learn from.

Joe Gambles
I don't know Joe that well, but I think the distance might get him. And the enormity of the race. I don't know if he's as mature an athlete as Tim. Tim tends to conduct himself in a race more maturely. Tim seems more attentive and Joe is more reactive and the pressure in his mind could get to him a little.

Matt Reed
I think with the size of Matty, he's going to find the race to be tough. Even though the weather has been mild all week, he did Arizona and thought Arizona was hard. This is a completely different ball game. The thing with Matt, he's such a good swimmer he's going to be [with the leaders at the bike turn-around] in Hawi and it's what happens between Hawi and back. He's going to find as a big guy that if you get a bit of wind out there that it's a long day. It's hot. The ride from Kawaihae home is horrific and I don't know… If I was told that I don't have the body for this race—and I don't know if Matt does—but you'll see him at the front. I don't know whether he'll be a player in the end though. I hope he doesn't hit me in the head for saying that. I hope he proves me wrong.

Ronnie Schildknecht
[Timo] Bracht could do something. He's sort of been a silent achiever but I'm thinking about Ronnie. I spent two weeks training with him this year and Ronnie raced Timo at [Challenge Walchsee-Kaiserwinkle] and absolutely decimated him. Ronnie's a mate of mine. He's a powerhouse on the bike, he's a solid runner, his swim is a bit weak but this year he has Weiss, Twelsiek, Tom Lowe, that kind of crew back with him, and they are some of the biggest bikers in this field. I said to Ronnie, "That's your ticket, that's your cab fare to the front [of the field.] Don't you be the idiot getting up there." And that brings guys like Weiss into the game. And if Ronnie Plays it right, he was 4th in 08… Ronnie's a confidence guy too. If he's feeling good and he's suddenly in the game it feeds itself and it could push him into the top four. Now I've got 10 people in my top 4.

Michi Weiss
Weiss is impressive. He has really come a long way in the past few years. I think he can get there and get past [the rest of the cyclists], but I don't think he can give himself the distance to outrun an [Andreas] Raelert or a Marino [Vanhoenacker], but he's definitely a top 10 contender, maybe top 8.

Andi I think has a lot of pressure on him, if anyone can do it Andi can and so can Marino. I just question how is Andi going to break them. Every ironman he's dominated at. I was in the race at Frankfurt (Ironman Frankfurt 20120), and he was gone from the start. That's not going to happen here in Kona. In fact there's going to be five guys up the road. There's going to be no chance to separate from the field and focus. He's going to have to get away [from the other racers]. I wonder where he is going to make his break, how is he going to make his break and whether or not he has thought about it. I don't know if he's addressed it or if he's just going to bully his way like Faris [Al Sultan], just push, push, push.
Last year I rode with Andi out of town and he tried to match Chris Lieto and I was thinking, "what are you doing mate? I just raced you in Frankfurt you ain't going anywhere." Those were my exact thoughts. I wonder if he learned from that or if he's saying, "Jeez, last year I was this far off winning, if I do the same race again I'll win." If he does the same race again, instead of coming against me going down Palani [in the final stretches of the marathon] and it's going to be Craig Alexander and I'll be all in that Crowie beats him. Andi has to be clever. He has to work out a way to get away [from the field].