12 Hours In Kona
We take a look at a day in the life of the biggest week in triathlon.
Heading out the door? Read this article on the new Outside+ app available now on iOS devices for members! Download the app.
We take a look at a day in the life of the biggest week in triathlon.
Ironman is a 2.4-mile swim, a 112-mile bike, and a 26.2-mile run, and while it seems like a lot to most people, the Ironman World Championship is actually much more than that. For racers simply trying to focus on Their Big Day, Kona should be a laserbeam line pointing straight toward Saturday morning, 7:05 m.m. But that's not the way Kona works. On race week, the small town of Kailua-Kona transforms from a tiny tourist destination to a living, breathing triathlon organism. We've entered the belly of the beast to take an inside look at a day in Kona life.
Oct. 10, 2017, 6:09am
It's not even sunrise yet, but half a dozen swimmers have already broken the glassy surface just east of the Kailua Pier. The tide is so high that Dig Me Beach only appears sporadically between waves. Though the shops on Ali'i are still sealed up with steel shutters, and there are four times as many fishermen on the pier than swimmers in the water, 50-year-old Quebecois Pierre Heynemand steps into the water for his morning swim.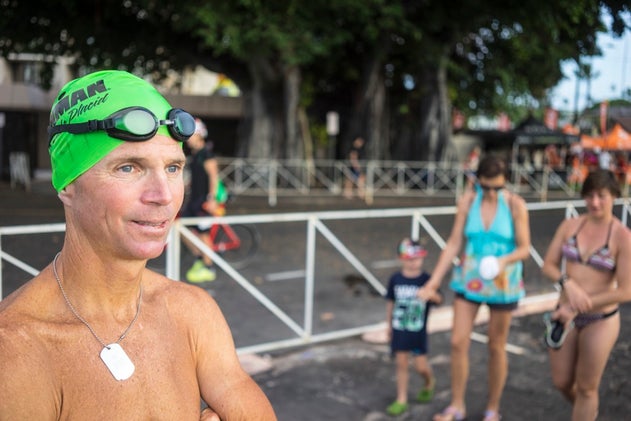 Heynemand has been here seven times before, usually with his family, but this time alone. Despite his experience, he wanders, looking slightly lost, with no support system to guide him or guard his gear. His chapped lips and dangling dog tags betray him as someone who spends time training outside. Behind him, 11-time Kona veteran Linsey Corbin walks by to no fanfare.
Oct. 10, 2017, 6:47am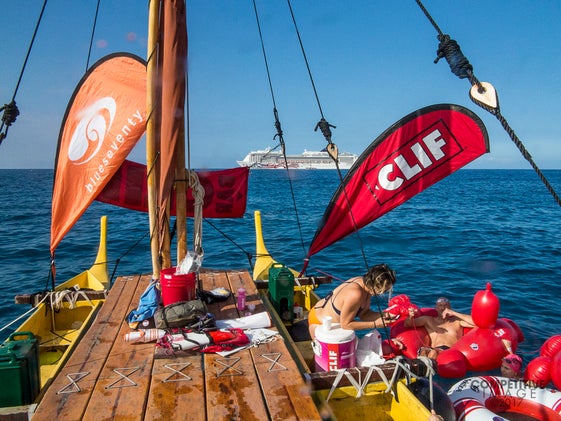 The swim course slowly awakens. The Clif Bar/Blueseventy coffee boat pulls out from the dock on the west side of the pier. On board is a man sometimes called "Captain Awesome", but formally known as Guy Crawford—the veteran seaman/barista on the 20-foot pontoon sailboat.
The crew guides its vessel approximately 600 meters out from Dig Me Beach, just west of the marked swim course. Paddlers prevent overeager swimmers from beelining straight to the boat and too close to the pier, but eventually hundreds of triathletes will find their way out to the free coffee. (Little known fact: it's Starbucks.)
In the more carefree days of coffee-boating, they served Coffees of Hawaii coffee, grown and roasted locally, brewed fresh early each morning. Crewmembers also used to play games with the swimmers, like Get A Free Pair Of Goggles If You Swim To The Bottom And Bring Back Sand. But too many German nosebleeds ("It's always Germans," says Crawford) put an end to that. And yet the new changes haven't tempered the caffeinated enthusiasm that sees the boat's crew churn through eight to 12 gallons of coffee in less than four hours during race week.
Oct. 10, 2017, 7:51am
Less than a mile from the coffee boat by water, Bob Babbitt is in the parking lot at Huggo's On The Rocks unloading boxes out of a Land Rover. Babbitt is one of the sport's iconic figures, a ubiquitous presence in all things Kona-related. This morning he's setting up for his live daily raceweek video show, Breakfast With Bob, that captures him interviewing pros and personalities from the sport.
Babbitt was one of only 108 people to compete in the 1980 version of Ironman Championships—back when the race was held on the island of O'ahu. Since then, he's written books, produced radio shows, and for the last eight years hosted this program on a deck with a view of the iconic swim course.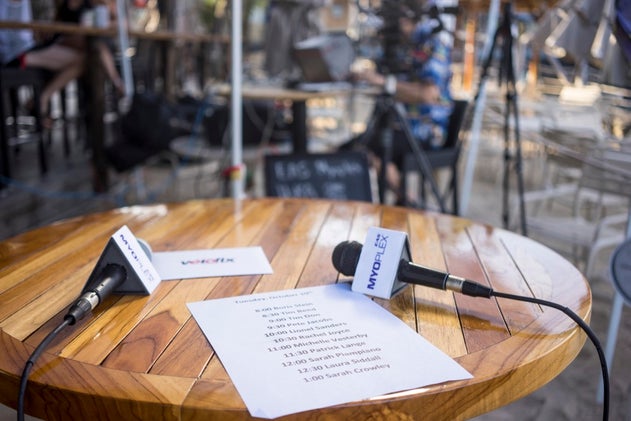 At 66 years old, Babbitt hasn't lost a step. The consummate host, he glides around the deck bar, making conversation with the day's guests, offering smoothies, and chatting with his musical sidekick of eight years—a fifth-generation Hawaiian ukulele player known only as Panchoman. At the stroke of eight, Babbitt takes a seat next to his first guest; Panchoman plays, Bob smiles, and the camera rolls.
Oct. 10, 2017, 9:38am
If you were to draw a straight line from Bob's Seat at Huggo's to the recently depleted coffee boat, you'd hit the top deck at Daylight Mind Cafe. While Lava Java still holds the de facto crown as the historical Kona meetup spot (though a recent relocation/expansion puts its status in question), the swanky Daylight Mind plays host to intimate press conferences with appropriately cautious pros.
Here is where most people will catch their first stationary race-week glimpse of last year's champion, Daniela Ryf. Ryf doesn't do more than just the absolutely required media appearances, so this event at Daylight Mind is significant. She steps up the stairs, all five-foot, nine-inches of her—muscular, with Swiss skin that incredulously looks yet-untouched by the sun.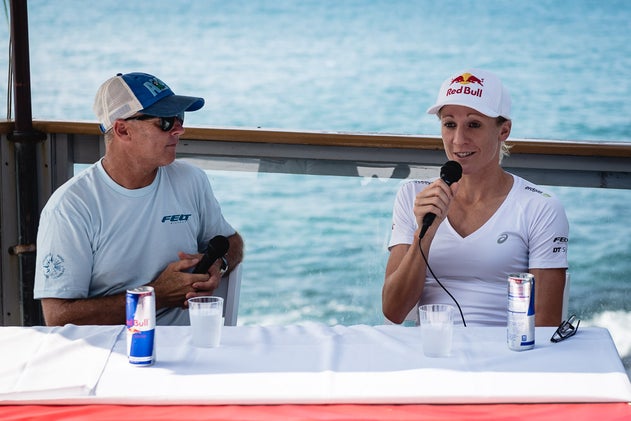 Here, Ryf fields questions all while deftly managing cheeky Welchy banter (as in 1994 IMWC Greg Welch). Ryf is very confident about her chances on Saturday; the German press is aggressive (it's always the Germans); and at the end, she spends a few minutes privately chatting and laughing with three-time IMWC Mirinda Carfrae, with whom she had previously experienced a slightly icy relationship.
Oct. 10, 2017, 11:26am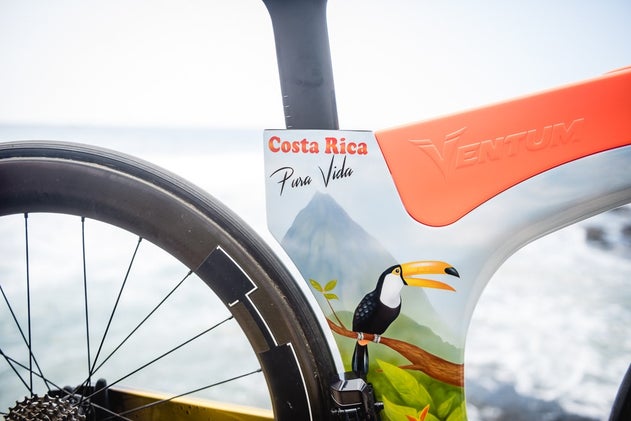 In the commercial Iron-heart of Kona stands the race expo. Here, a short, excited, bordering-on-agitated triathlete named Eduardo Blanco buzzes around his latest toy: A custom-painted, Costa Rican-themed Ventum superbike. Blanco takes countless pics and selfies with his prized tri-machinery; he even does a personal reveal show for friends on Facebook Live. It's the toast of the expo and a reminder that triathletes love them some gear, here in Kona, and more than anywhere.
Oct. 10, 2017, 7:14pm

The day is winding down, but the Triathlon Machine is still running strong. If 12 hours of tri still isn't enough, a small group of diehards converge inside Humpy's Bar on Ali'i drive for a tri trivia night. Among the small crowd sipping mostly waters but some beers sits arguably the Most Ironman above all others, John Wragg.
If Wragg crosses the line on Saturday, it'll be his 228th iron-distance finish. That's a staggering average of eight iron-distance events per year, since his first at Ironman New Zealand in 1988, and 32,000 total miles of iron-distance racing
Wraggs tri-excitement gets the best of him at trivia night, and he yells out the very first answer of the evening, rather than writing it down like everyone else. Instead of a clever team name for the scoreboard like the other groups, he sits alone and asks to go by "just John." Facing a tough question, Wragg shuts his eyes, leans his head back, and appears to fall asleep; after a troublingly long pause, he finally reopens them, as though the solution has slowly percolated up to the outside of his brain. His Ironman knowledge, like his Ironman experience, runs deep, and he winds up winning the grand prize. As the day finally comes to an end, John Wragg stands up, accepts his new watch, and just thanks everyone for coming out.