I Hit A Car In Kona, Here's My Story
Heading out the door? Read this article on the new Outside+ app available now on iOS devices for members! Download the app.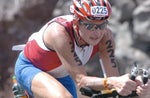 After Roger Little had his race day woes broadcast on national television, he reached out to Triathlete in an effort to set the record straight on how he ended up underneath a car in Kona.
The day started out fine for my 11th Ironman Hawaii. I had a good enough swim, headed out of the water and started to ride. The sun was intense without a cloud in sight. I rode out easy, trying not to push myself too hard too fast. My nutrition plan for the race included drinking water and having a PowerGel every 30 to 45 minutes, but it didn't work out that way. I had stomach issues again. It seems like with every passing year, my digestion slows down even more than my legs.
By mile 30, I was gagging on gels. I drank only water until I reached Hawi, where I picked up a diet coke and a water bottle full of chicken broth. I drank them both, but then I got sick just before Waikaloa and had to pull back even on water. I thought that I could make it in, but heading back the head winds were as strong as I can remember.
I planned to push it for the last 25 miles, but with my stomach issues I just couldn't. I was obviously dehydrated, and I began to have trouble holding my line. By the time I got to the AP, I was all over the place. A medical van stopped in front of me and offered me a ride in, but they said they couldn't take my bike in so I declined and kept going. A second medical van came up beside me about 10 miles out and coached me through to the finish line. The NBC camera crew followed us in a convertible. They must to have been on me for 20 minutes. From the Energy Lab on in, I was Julie Moss on a bike.
At one point I stopped to get water from the van, fell and rolled under it. At least I thought I rolled under it. I vaguely remember my head against its front wheel and someone from the van talking to me. I had to ask them to back it up. They should have thrown me in the back but maybe they were caught up in the filming. Later I found out watching the telecast that it wasn't the van at all that I was under but a white car. And I didn't roll back to the front tire but it drove up to me. Yikes!
I got back up and somehow I made it to the top of Makala and flew down. I remember wondering exactly where I was. I don't know how I negotiated that fast down hill without killing myself.
I finally got to the hot corner at Palani and turned right on the sharp, short downhill to transition. It must have surprised me. I went flying down with little control. I hit the brakes just before hitting some orange safety cones, and went flying over the bars. In the process I got a cut over my right eye and crunched my shoulder.
It was this crash—not the first one—that beat my face up for the NBC telecast.
I walked the 50 feet to the finish line. A doctor grabbed me and put me in the medical tent. There were five doctors around me at one point. A plastic surgeon from San Francisco sewed up my eye. They plugged me into an IV. They did an EKG on me found that I was in atrial fibrillation, which I had probably been in for an hour out there. I was shipped 45 minutes away to the Kona Community Hospital's emergency ward in Captain Cook. There they injected medication into my IV and, I was able to finally resume a normal heartbeat.
I stayed in the hospital another four hours to verify that my heart was OK. Having nothing but a messed-up racing singlet and bike shorts, they were kind enough to give me a pair of jeans and a T-shirt from a good will bag. As I stood on the steps of the hospital at midnight I was so freezing that I went back inside, found a garbage bag on a janitor's cart, chewed a hole in it to fit my head through and made a makeshift poncho while I waited for a cab. Eventually I got back to the King Kamehameha Hotel.
When I returned to the mainland and  had my stitches removed, I found out that I fractured the tip of my scapula when I crashed.
I had my bike tuned just before the race and the brakes were too snug. I like them a lot softer but I would have had to loosen the cable so I didn't bother. Shortly before I hit the cones near the finish of the bike, I must have jammed the brakes, which locked the back wheel and made me fly over the top. My body damage and the fact that only the right aero bar was bent on the bike indicates that I must have gone completely upside down, slamming my head and shoulder to the pavement.
It was so frustrating to put so much into an event like Ironman Hawaii, only to have allowed dehydration to supersede training, gear, rest and diet. I know, I know, I should have been a lot smarter. I've already qualified for Kona again in 2009, so I'll try to redeem myself. I have devised an IV that is supported by a rod and attaches directly to my bike seat to avoid this problem again.
I fully recovered soon after the race and was even able to compete in the Ironman 70.3 World Championship in Clearwater, Fla. three weeks later.