Hy-Vee Triathlon: Men's Pro Preview
When the pre-race favorites have met earlier in the year it seems a different man has come out on top every time.
Heading out the door? Read this article on the new Outside+ app available now on iOS devices for members! Download the app.

The men's pro race at the 2011 Hy-Vee triathlon, set to take place Sunday, Sept, 4, is wide open.
Written by: Sal Farruggia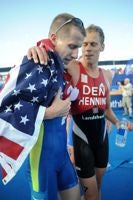 Click here to read a women's race preview.
When the pre-race favorites have met earlier in the year it seems a different man has come out on top every time. Matt Reed, Andy Potts, Filip Ospaly, Cam Dye, Paul Matthews, Kris Gemmell, Ben Collins, Stuart Hayes and Tim O'Donnell each have a win in a non-drafting Olympic-distance race this year. It has been a long season in the 5150 series since the Miami International Triathlon in March and the winner of Hy-Vee will have to have planned his season peak just right. Several strong swim/bikers will be on a mad dash to T2 trying to bank time against the fast runners, while racing among themselves for primes in the race-within-a-race. The best runners will have to pursue the field with heart pounding vigor if they want to take home the $151,500 check at the sport's richest race.

Greg Bennett (USA)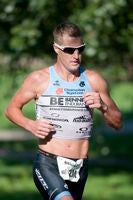 How he qualified: NYC Qualifier
3rd at Boulder
2nd at NYC Tri
It's hard to tell where Greg Bennett is in his training. He's raced three ITU World Championship Series races, raced at altitude at the Boulder 5150 and then later caught a transatlantic red-eye to make it to the NYC Triathlon after cheering on his wife, Laura, in London. At age 39, Bennett might not have the firepower to take on this highly talented field, but it would be foolish to discount the most successful racer in the history of Olympic non-drafting.

Ben Collins (USA)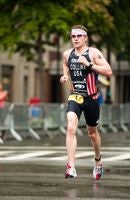 How he qualified: 1,250 points in the 5150 series
3rd at Miami International
5th at St. Anthony's
1st at New Orleans
Collins has done amazing things to transform himself from a collegiate swimmer to an elite triathlete. In his podium finishes Collins has used the swim and bike to distance himself from the field and then has hung on for 10K of running. With all of the best triathletes in the world assembled in one race, it's hard to see Collins going into T2 with any significant lead and from there the pure runners will have their chance to chase him down.

Cameron Dye (USA)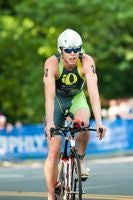 How he qualified: 1,550 points in the 5150 series
4th at Miami International
3rd at St. Anthony's
2nd at Memphis in May
Dye is a big fan favorite for his aptitude on the bike. Dye is almost a guarantee to have the top bike split on the day. He has out-split all of his fellow competitors by more than a minute in Olympic-distance races this year and may do the same on Sunday. Dye's run has been fairly inconsistent, largely due to injury. His chances of success on Sunday will depend on how well he can take it to the 10K.

Kris Gemmell (NZL)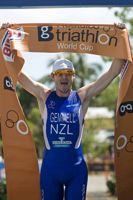 How he qualified: 1,135 points in the 5150 series
7th at St. Anthony's
2nd at New Orleans
1st at Memphis in May
Gemmell was able to secure his Hy-Vee spot in one four-week trip to the United States. He squeezed three races into 22 days to make it happen. He has had great success at Hy-Vee finishing fourth and second in the two years prior (when it was a draft-legal race). He will surely be in the front pack on the swim. The big question is how he transfers from ITU riding to time trialing, and how his legs move after a 40K solo ride. At St. Anthony's the 40K got the best of him and his normally fleet legs were zapped of energy. He got the hang of it at New Orleans and Memphis in May, but did not face as stiff of competition.

Stuart Hayes (GBR)
How he qualified: 1,800 points in the 5150 series
4th at St. Anthony's
2nd at Klagenfurt
1st at Liverpool
In ITU racing Hayes is known as a strong biker, but when he comes to the United States to race non-drafting it's Hayes' run that is his weapon. The top qualifier didn't face very tough competition in the European qualifiers, but did finish fourth at St. Anthony's. He'll have a shot of winning it all, but will have to put up a monumental effort to hold off separate charges by the non-drafting bike studs and then the super fast 10K runners.

Rasmus Henning (DEN)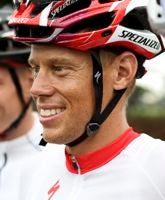 How he qualified: Invite
The two-time Olympian carved himself a nice career in ITU and then successfully transitioned into racing long distance. Henning's most recent result is a win at Timberman 70.3 in late August. Henning's not-to-long-ago short-course pedigree combined with his current long-course authority make him a threat. A Kona-focus and season of arduous long-course training cools his chances. Even though his two victories at Hy-Vee (2007 and 2008) came when the race was draft-legal, that experience will prove valuable.

Hunter Kemper (USA)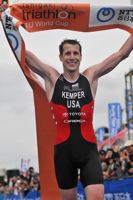 How he qualified: Invite
After competing in three Olympic games it's no surprise Kemper had the fastest run time by over a minute at the Cap Tex Tri back in May, but what is most impressive was Kemper's bike split. While most ITU racers have a reputation for being weak on the bike, Kemper matched the pace of super-riders David Thompson and Andrew Starykowicz. At Cap Tex Tri, Kemper finished ahead of Hy-Vee contenders Dye, Reed and Ospaly so one must consider Kemper to be a big contender for the overall win at Hy-Vee. Kemper should be at or near the front throughout the race if he is in top form.

Paul Matthews (AUS)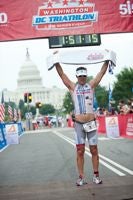 How he qualified: 1,550 points in the 5150 series
8th at St. Anthony's
1st at Washington DC
2nd at Boulder
Paul Matthews is dropping down from his preferred 70.3 distance to try his hand at another Olympic-distance race. He used his incredible cycling skills to blow past competitors at the DC and Boulder 5150 events. His cycling skills have translated well from the half marathon to the 10K, but his running prowess is more suited to go 13.1 miles. Expect his bike split to be one the race's best, but there should be at least a few runners who pick him up along the 10K.

Chris McCormack (AUS)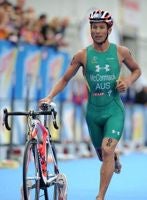 How he qualified: Invite
3rd at Zurich
The two-time Ironman world champ is sure to like his chances going into Hy-Vee but as history shows, it is extremely tough to drop down in distances. In his recent Olympic quest, Macca has twice DNF'd due to a slow swim. While there is a distinct possibility of McCormack getting out of the water several minutes behind only to ride himself through the field, he concedes that his 10K isn't what is used to be. On top of that, McCormack has been dealing with a nagging hamstring injury. It's great to have him in the race but a top 10 is much more plausible.

Tim O'Donnell (USA)
How he qualified: Invite
1st at Boulder
O'Donnell gave up his Olympic-distance focus for longer-distance ambitions in 2010 and it has played out well for him. O'Donnell has been on a tear and his ability to get on podium after podium has been impressive. With amazing proficiency at all three disciplines, O'Donnell has few weaknesses and should be considered a strong contender for the win. But with Kona the focus of O'Donnell's season, and only a month away, how did he prepare for Hy-Vee?

Filip Ospaly (CZE)
How he Qualified: 1,150 points in the 5150 series
1st at St. Anthony's
7th at Klagenfurt
Osplay won St. Anthony's against the most formidable field assembled for a non-drafting short course race this year. He cruised to victory with a smoking fast 10K and then followed that up with a baffling seventh at Klagenfurt. Ospaly's results prove his success lies in his running ability, often coming from behind on the bike. At Hy-Vee he can't let the cyclists get too far ahead. If Ospaly is on his A game he can get it done.

Andy Potts (USA)
How he qualified: Invite
6th at St. Anthony's
Potts has had a well-balanced season racing in Olympic-distance and 70.3 races. He's now turning his focus on to preparing for next month's Ironman World Championship and may be racing on fatigued legs. Potts, a former Olympic trials swimmer, should come out of the water with a healthy lead from the main pack and will hope to hold that lead to the finish line.

Matt Reed (USA)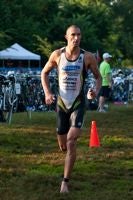 How he qualified: 1,425 points
7th at Miami International
2nd at St. Anthony's
6th at Boulder
Reed pulled off an amazing double, winning the Life Time Minneapolis Triathlon and finishing sixth in the Boulder 5150 all in the same weekend. Reed has been dominating at some of his races, but has flopped at others. He was second at St. Anthony's and won in Minneapolis, two of the most competitive races of the season. Some of his lackluster performances include a seventh-place finish at Miami International and a sixth-place finish at Capital of Texas. His swim/bike/run combo has the potential to put him on top of the podium, but Reed is strangely susceptible to bad days.

Jarrod Shoemaker (USA)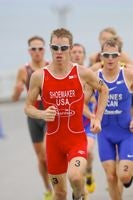 How he qualified: Invite
He was a 2008 Olympian and is looking to make his way back onto the Olympic team for 2012. Shoemaker has had some very nice international finishes in the draft-legal style of racing thanks to his strength on the run. Shoemaker's weakness is on the bicycle and that will be magnified in the non-draft style.
Other Competitors
Josh Amberger (AUS)
How he Qualified: 1,225 points
Bertrand Billard (FRA)
How he Qualified: 1,250 points
Alessandro Degasperi (ITA)
How he Qualified: 1,055 points
Kevin Everett
How he Qualified: NYC Qualifier
Brian Fleischmann (USA)
How he Qualified: 950 points
Chris Foster (USA)
How he Qualified: 1,050 points
Jordan Jones (USA)
How he Qualified: 840 points
Martin Krnavek (CZE)
How he Qualified: 1,450 points
Csaba Kuttor (HUN)
How he Qualified: 1,275 points
Kyle Leto (USA)
How he Qualified: 925 points
Ritchi Nicholls (GBR)
How he Qualified: 950 points
Marcus Ornellas (BRA)
How he Qualified: Invite
Tim Reed
How he Qualified: NYC Qualifier
Igor Sysoev (RUS)
How he Qualified: 920 points
David Thompson (USA)
How he Qualified: 1,065 points
Kaleb VanOrt
How he Qualified: 780 points