Ben Hoffman On the Sheer Relief of Surviving Cape Epic
"I can honestly say that I don't remember a single other event in my sporting career that made me feel this way."
Heading out the door? Read this article on the new Outside+ app available now on iOS devices for members! Download the app.
"I can honestly say that I don't remember a single other event in my sporting career that made me feel this way."
When the Ironman Foundation reached out to Ben Hoffman to see if he'd be interested in competing in the grueling, eight-stage Cape Epic mountain bike race in South Africa, there was only one person he had in mind to be his partner. He's spent plenty of time training with Sebastian Kienle in Tucson over the past few years, and he knew all about the 2014 Ironman world champion's prowess when it came to off-road riding. It turns out Kienle was the other athlete the Foundation had in mind for the two-man race, and he was just as eager as Hoffman to try something new at the start of the 2018 season.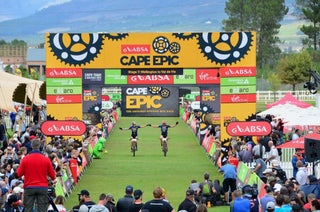 Both Hoffman and Kienle came down with a stomach bug in the days leading up to the prologue and it stayed with them throughout the week. It made for a few moments when each athlete wanted to call it quits, but they were racing to raise money to support the rural villages they'd be riding through, and that was reason enough to keep going. They managed to finish 25th overall in a field that included a slew of UCI professional mountain bikers. We caught up with Hoffman, who is remaining in South Africa to defend his title at the Ironman African Championship in Port Elizabeth on April 15.
Triathlete.com: How did the idea of doing Cape Epic first come up?
Hoffman: I was in Maui after XTERRA worlds and got an email from Dave at the Ironman Foundation to see if I'd be interested. I just had this realization that life is short and you always say you're going to do these races when you retire or whatever, but I thought it might make more sense to do it when I'm actually fit and have the opportunity. I emailed back and said, "yes I'm interested, and I know how important it is to have the right partner for something like this and there's only one guy in mind." I asked if they had any one particular in mind for my partner, and it turned out Sebi was the guy we both had in mind. That's the only person I would do this race with.
Triathlete.com: Did it change the way you approached this season or was your training still similar to what it's been the past few years?
Hoffman: I reached out to my coach, Ryan Bolton, to see if it could actually be done. He said it could definitely be done and it might even be good for me before Ironman South Africa. We wanted to keep the focus on Ironman, but obviously I had to ride my mountain bike more. Basically, we replaced one longer road ride with a long off-road ride each week, and occasionally I'd do one of my recovery rides off-road. In all honesty, my focus was still basically all Ironman. Even in the days leading up to Cape Epic I was doing my regular Ironman training.
Triathlete.com: Were you more nervous before the start of this than you are for an Ironman because it was something entirely new?
Hoffman: One-hundred percent more nervous. I've been trying to figure out a way to describe it to people. It was like holding your breath all week long. It was stressful—and not fun in a lot of ways. Both Sebi and I knew how stupid it would be to get seriously hurt, and we realized after the prologue how intense this race is and how real the possibility is that we could get really hurt. That realization is there every minute of every day. On top of that we were both pretty sick. I wouldn't call it like living a nightmare, but it was like being in a bad dream all week. It was hard to enjoy it because I didn't feel 100 percent, the race was kicking my ass, and I had to be so vigilant every moment not to crash. Then when we did finish, we couldn't relax because we had to get up and do it all over again the next day. I know I'm not painting a pretty picture here, but it was an intense emotional and physical battle. I can be honest and say that I totally underestimated it when I signed up.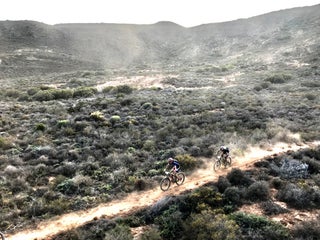 Triathlete.com: Did you have any minor spills or major crashes?
Hoffman: I had a handful of minor spills and one kind of big crash. I was following one of the pro riders. Sebi and this guy's partner were a little up the trail. I was following his wheel super close and he went around a rock on the side of the trail. I never even saw it but I jammed my pedal into it and launched off the side of the trail into a boulder field. I was really fortunate though. I hit my ribs and my hips. It was just scratches and nothing too serious. I dodged a major bullet there. It seems funny to talk about it as a serious crash though because at this race there are way more serious crashes. People break bones and grit their teeth and finish the race. Overall we were both pretty lucky.
Triathlete.com: Was the finish on the final day even more satisfying because there were so few fun moments throughout the week?
Hoffman: I think the proximity of the race is still too close to really answer that. I think I'll probably feel different a week from now or two weeks from now. It's definitely "type-2 fun." I think that's what people call this kind of stuff. Maybe I'll be able to look back and think it was fun. Finishing was more about sheer relief for both of us. I can honestly say that I don't remember a single other event in my sporting career that made me feel this way. Maybe I'm just still processing it, but right now I'm not sure I would ever do this race again.
Triathlete: Sebi is one of the funniest guys in the sport. Did his personality provide any comic relief along the way?
Hoffman: On the bike we were both pretty serious the entire time. But off the bike he was an exceptional teammate to have because of his personality. There were a few funny moments on the bike—and maybe there would've been more of that had we both felt more like ourselves—but maybe not because that risk of injury was just always there. It's not an easy feeling and it's hard to relax. It definitely darkened the mood a bit. But Sebi is a badass. That's why I wanted him as a partner. I knew he'd be tough and help carry me on the days when I was really struggling.