11 Things You Must Know About This Weekend's Collegiate National Championships
Here's what you need to know about collegiate tri and its biggest event.
Heading out the door? Read this article on the new Outside+ app available now on iOS devices for members! Download the app.
Triathlon is gearing up to be a legit NCAA sport, but the path to success is a tad confusing. Here's what you need to know about collegiate tri and its biggest event.
Who will compete?
A record field of more than 80 student-athletes representing 11 varsity and 10 club teams will compete. Last year's race in New Orleans, La. consisted of 48 finishers from 10 total schools (varsity and club).
Why is it in Tempe?
The defending national champion Arizona State University Sun Devils won the bid to host this year's race.
"It's truly an honor and very exciting for ASU to be hosting the National Championships here in Tempe," said head triathlon coach Cliff English. "I am thrilled we are able to play a part in growing the sport of triathlon through our actions at ASU and hosting nationals will allow us to showcase these incredible young women as they compete on a truly world-class course at Tempe Town Lake."
This is the third Women's Collegiate National Championship since triathlon became an NCAA Emerging Sport for Women in 2014. The 2015 inaugural race was in Clermont, Fla., and last year's event took place in New Orleans, La.
Why are there varsity and club teams competing?
The goal is to eventually have the Women's Collegiate National Championship be an NCAA-only event, but until there are enough programs to make up a competition, club teams will be included. With the 18th program being added last week, it's likely we'll see an NCAA-only championship in the near future.
What is the format?
The race will take place in and around spectator-friendly Tempe Town Lake. Athletes will kick the race off with a 750-meter swim, followed by a three-lap 4.37-mile bike course spanning through downtown Tempe, along Mill bridge, and through the scenic Papago Park. The two-lap 1.53-mile run course will run along the lakefront.
How did athletes qualify?
Both varsity and club teams had the opportunity to qualify for Nationals through one of three qualifiers held throughout the fall season. Arizona State University earned victories at both the Central Regional Qualifier in Naperville, Illinois, on Sept. 4, and the East Regional Qualifier in Sarasota, Florida, on Oct. 7. The University of California at Berkeley, a club program, earned the title at the West Regional Qualifier in Berkeley on Sept. 30.
Is it just a collegiate race?
No! An age-group draft-legal race, the Ignite the Fork Triathlon, will be held on Sunday prior to the big event. Athletes will cover the same sprint-distance course as the collegiate women, and the first wave is set to go off at 7 a.m. MST. Part of the potential success of NCAA triathlon rides on the fact that schools will be able to cover their costs by hosting age-group races in conjunction with the collegiate races.
What's the difference between this and the collegiate race that occurred earlier in the year?
There will be several athletes competing on Sunday who also raced at the Collegiate Club National Championships back on April 22 in Tuscaloosa, Ala. That competition consisted of only club teams, while this Sunday's event serves as a springboard for what will eventually be an NCAA-only competition.
Where does triathlon stand on its path to becoming an NCAA sport?
That's not a simple question, and it's one we plan to explore in the coming weeks on Triathlete.com. The short story: there are 18 active NCAA programs, with several more needed to reach the goal established by the NCAA. By 2024, at least 40 NCAA Division I, II and II institutions must adopt the sport at the varsity level.
How can I follow along?
Live coverage of the Women's Collegiate Triathlon National Championship will be available at Usatriathlon.org and on Twitter at @USATLive. The race will begin at 10:30 a.m. MST. Serving as announcers at the Women's Collegiate Triathlon National Championship are 2016 U.S. Olympian Ben Kanute and USA Triathlon National Team Member Renée Tomlin.
How does the scoring work?
All triathletes who finish the race will be given an overall finish place starting with the first place athlete receiving a score of "1", second place receiving a score of "2", third place receiving a score of "3", etc. A team must have at least three athletes to be eligible for the team standings. The total team score will be determined by adding the total points of the first three finishing triathletes on their team. Awards will be presented to the top five teams overall, the top-placing Division I, Division II and Division III teams, and the top-placing Division I, II and III individuals.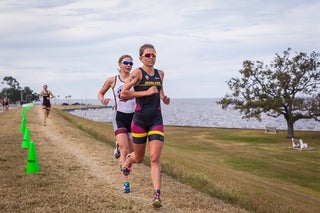 Who are the favorites?
ASU took home the overall and Division I titles last year, with four Sun Devils finishing in the top 10. Charlotte Ahrens, Sarah Quintero and Delaney Bucker return to the start list for ASU after placing seventh, ninth and 14th respectively in 2016. Last year's overall runner-up Katie Gorczyca is sidelined with an injury.
Ahrens has had a strong 2017 season, earning the individual win at September's West Regional Qualifier, while newcomers Hannah Henry and Kyla Roy have also reached the podium individually this year. Henry won the Central Regional Qualifier, and Roy placed third at both the East and Central Qualifiers.
The University of West Alabama was the top-placing varsity Division II school at Nationals in 2016. The young team is led by Caitlyn Muncher and Julia Bergmann, both returners from last year's National Championship squad.
North Central College (Naperville, Ill.) is the defending Division III champion, and top-30 finishers Grace Miller and Jennifer Hufnagle both return to the start list.
Other strong teams this season include East Tennessee State University, a Division I program that took third overall at the East Regional Qualifier, and Trine University, whose standout Hannah Blystone placed top-15 at both the Central and East Regional Qualifiers.
All of these NCAA programs will face off against several strong club teams. See the complete list of teams below:
Division I
Arizona State University
East Tennessee State University
Division II
Southern Wesleyan University
Colorado Mesa University
Black Hills State University
Daemen College
University of West Alabama
Division III
Trine University
Centenary College
North Central College
Concordia University Wisconsin
Club
University of California – Berkeley
Cornell University
University of Colorado – Boulder
University of Minnesota
Queens University of Charlotte
Club athletes will also compete from North Carolina State University, the University of California at San Diego, the University of Southern California, Arizona State University, the University of Georgia, and the University of North Texas, but will not figure into the team competition.