Why This Triathlete is Dedicating Her Ironman to Battle the Stigma of Addiction
Caitlin Martin will race Ironman Arizona to honor her family's journey through addiction.
Heading out the door? Read this article on the new Outside+ app available now on iOS devices for members! Download the app.
From the outset, the Martin family of Poughkeepsie, New York, conveys the image of perfection. Four siblings, born four years apart, each gifted with good looks and athletic talent. One Instagram post after another show the siblings with beaming smiles at the finish lines of triathlons and marathons, Mylar blankets draped around their shoulders and medals hanging from their necks. Their parents, Denise and Jerry, always there to support their kids with handmade signs, matching T-shirts, their adorable dogs in tow.
Indeed, the Martin family is extremely accomplished. And extremely close—the images that pop up on social media aren't just for show. But a few months ago, the youngest of the Martin crew, Caitlin, scrubbed away a bit of that glossy veneer when she posted a video documenting her family's deepest secret: Denise is an alcoholic and has been battling the disease for decades.
With Denise's blessing, Caitlin, 30, decided to come forward with her family's struggles to showcase not only her mom's resiliency—she is now nine months sober—but also to break the stigma of shame that so often surrounds addiction. And on Sunday, Caitlin will take it one step further by dedicating her race at Ironman Arizona to Denise and everyone else who may be facing similar battles.
A Unique Bond
Perhaps because she is the youngest of the family, or maybe because it often seems like she was cut from the identical genetic cloth, but Caitlin has always shared a unique bond with her mother.
"We're just really close. We always have been," says Caitlin. "We talk every single day. She is the first person I call to complain about a bad training session or a really good day on the bike."
So it's not so surprising that Caitlin developed an uncanny ability to detect her mom's sobriety over the years.
"Even if I had just one drink…just one beer…she'd know it by my voice," says Denise, who had at least five different stints at various rehab centers from the time Caitlin was in grade school. "I'd be thinking I was totally fine and Caitlin would say, 'Mom, you've been drinking.' She can read me like a book. But she never got angry with me."
In her early twenties, Caitlin earned a degree as a Credentialed Alcoholism and Substance Abuse Counselor (CASAC) in an attempt to better empathize with her mom's issues. "I wanted to learn what she was going through and understand it," she says. "It allowed me to flip the switch. Instead of holding it against her I was able to look at my mom and say, 'You're not intentionally doing this to our family. You are sick. This is a disease.'"
Around the same time, Caitlin discovered triathlon. And, true to her passionate nature, she went all in. She cashed her bonds to buy a bike and began racing up and down the east coast, often with her brother, Colin, who quickly rose through ranks of elite age-groupers. Her sisters, Meghan and Kiersten caught the endurance bug, too. Denise became their number one cheerleader, rarely missing a race even when she was in throes of her battle with sobriety.
"We'd have these epic times together. And there was always so much love. But at the end of the day there was this big burden behind us all," says Caitlin. "We were all holding on to this secret for 20 years."
The Ultimate Escape
For Caitlin, triathlon lightened the heavy load of that secret. She used racing as an emotional outlet, training through the mental anguish from watching her mom struggle.
"I was running away from my own pain," she says. "I am not the type to wear my heart on my sleeve. But it was hard for me. I felt like I had given everything to my mom and devoted so much time to help her and save her. But there was only so much I could do. You can't save someone from addiction who doesn't want to be helped."
A year ago, Caitlin began eyeing Ironman Arizona. The late-season race worked with her schedule, and the flat course suited her skillset. But there'd be a dual purpose to this specific event.
"I needed to free myself in a way," she says. "Registering for Arizona gave me a year to train, a year to focus on something else. Things were really rocky for my mom and there was nothing I could do. Arizona was meant to be the ultimate escape race."
Herren Steps In
Caitlin couldn't see it coming, but Denise was about to shift that narrative. In February, she and Jerry attended an event with Chris Herren, the former NBA star and motivational speaker, at the school where Meghan teaches. There was just something about Herren that captivated Denise. As he candidly shared his own story of drug and alcohol addiction, she felt as though he was talking directly to her.
As it turns out, Herren was set to open a Wellness Center in a month's time, and Denise wanted to be there. She was the very first person to register.
Denise's time at the Herren Wellness Center, set in a massive historic home on five acres in Seekonk, Massachusetts, was game changing. Herren's no-B.S. approach to recovery, in which he encourages self-discovery and reflection, uncovered the root of Denise's addiction, allowing her to face her issues head on.
"In the past, I would go through rehab programs and skate by, tell them what they wanted to hear, and they'd think, 'she's good.' Then I'd be drinking again a few weeks later," she says. "Chris wouldn't let me get away with that. I'd never dealt with the 'why'. Why can't I live without alcohol? He helped me figure that out."
Last week, Denise marked her ninth month of sobriety. She has been sober before, but the family believes that Denise is more dedicated and healthier than ever. She attends weekly support meetings and took up cycling over the summer, sometimes riding alongside her daughter. She still checks in with Herren, who calls frequently.
"Even that 30-second, 'Hey, how are you doing today?' is all she needs," says Caitlin. "The powerful connection they share has been huge for her recovery."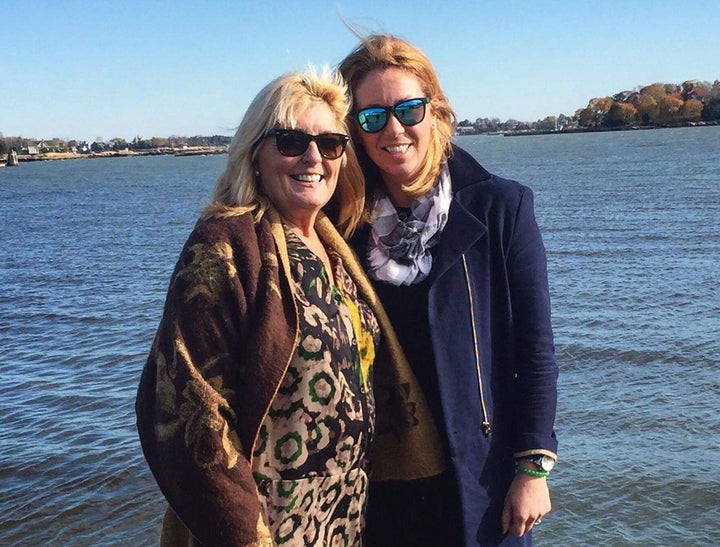 Sharing the Story
With Denise's health on the upswing, Ironman Arizona will no longer be a vehicle for Caitlin to run away from her family's struggles, but more so as a way to quietly honor their journey. And a way to offer encouragement to anyone who may be going through a similar battle. She took the first step towards doing that by creating the intensely personal video about her mom's recovery, which she posted on her 30th birthday. The response she has received since has encouraged Caitlin to continue sharing their story.
"So many people have reached out to me telling me how much our story resonates," says Caitlin. "I've also been able to put families in touch with the Herren groups and hopefully get them some help. It's overwhelming in the best way possible."
Caitlin is also an ambassador for the Herren Project, a non-profit dedicated to a "one person, one family" approach to addiction recovery. She's raised about $5,000 for the group so far.
This weekend, Denise will be in Tempe, eager, as always, to support Caitlin. And no matter what difficulties may unfold throughout the day, she has no doubt her daughter will conquer this race with the same persistence and passion in which she confronts so much in life.
"Caitlin has such strength and willpower and that comes across in everything she does," says Denise. "She never, ever gave up on me. I keep my hopes and dreams held higher because of all that she is and all that she is doing."