What Does it Take to Complete 52 Triathlons in One Year?
British triathlete Rob Starr completed 52 swim/bike/runs last year for charity—sometimes braving 46-degree F water in the pitch-black early morning hours.
Heading out the door? Read this article on the new Outside+ app available now on iOS devices for members! Download the app.
Rob Starr was at a charity event in his hometown of Brighton, U.K. in December of 2021 when he had a lightbulb moment. Earlier in the evening, he'd been chatting with Nathan Freeman, then a 19-year-old with a dream to play wheelchair tennis in the Paralympics. Born with cerebral palsy, Nathan came to him about the ways in which Starr's charity, Starr Trust, could support his journey financially, to the tune of about $20,000. That's when the idea popped into Starr's head.
"Hey, what if I did 52 triathlons this year to raise money for you?" Starr said to Nathan and whomever else was listening. "That's just about 1,000 [British] pounds per triathlon, that seems doable."
Later, Starr worked the room with Nathan. People's ears perked up. By the end of the night, he had $20,000 in pledges already lined up.
Starr, 53, who has been competing in triathlon for about a decade, hadn't thought about the logistics. ("I tend to jump and then when I'm falling, I look to see where I'm landing," he said, laughing.) He hadn't considered what completing a weekly Olympic-distance triathlon would even look like. Or feel like. Or how he'd get it done. All he knew was that he'd done things in the past—publicity stunts, some may call them—that got people's attention and got them to open up their wallets for charitable causes. He'd swam across the English Channel just two years after learning to swim. He'd done an Iron-distance race, triumphing over his own health struggles, including arthritis, osteoporosis, and Crohn's Disease. So why would this be any different? He'd get it done, one way or another.
Initially, Starr didn't see the long, winding, and sometimes lonely road that would unfold before him as he set out to complete 52 triathlons in a year. He only saw an intriguing challenge—and a way to help a young friend's dream come true.
An insurance and mortgage broker by day, Starr began the Starr Trust in 2008 after setting out to donate part of his late father's estate. Throughout his life, Starr's father instilled in his son that anything is possible. In turn, Starr wanted to inspire others—especially underserved youth—that this belief applied to their goals, too. Those like Freeman, who Starr, a father of two, had been championing for several years at that point.
There was nothing glam or splashy about Starr's 52-triathlon quest. He didn't make a big announcement on social media or even invite anyone to tag along to cover it, for that matter. After mapping out a schedule (he registered for about a dozen local races in the spring and summer months, but the rest would be solo ventures), Starr simply set up a fundraising account, and posted about each triathlon—including screenshots from his Strava files for accountability—on his blog. With the exception of those local races, which he did on weekends, most of his other swim/bike/runs were done pre-dawn on Friday mornings, which allowed Starr time to get to work on time.
RELATED: An Expert's Guide For How to Build Your Own Do-It-Yourself Tri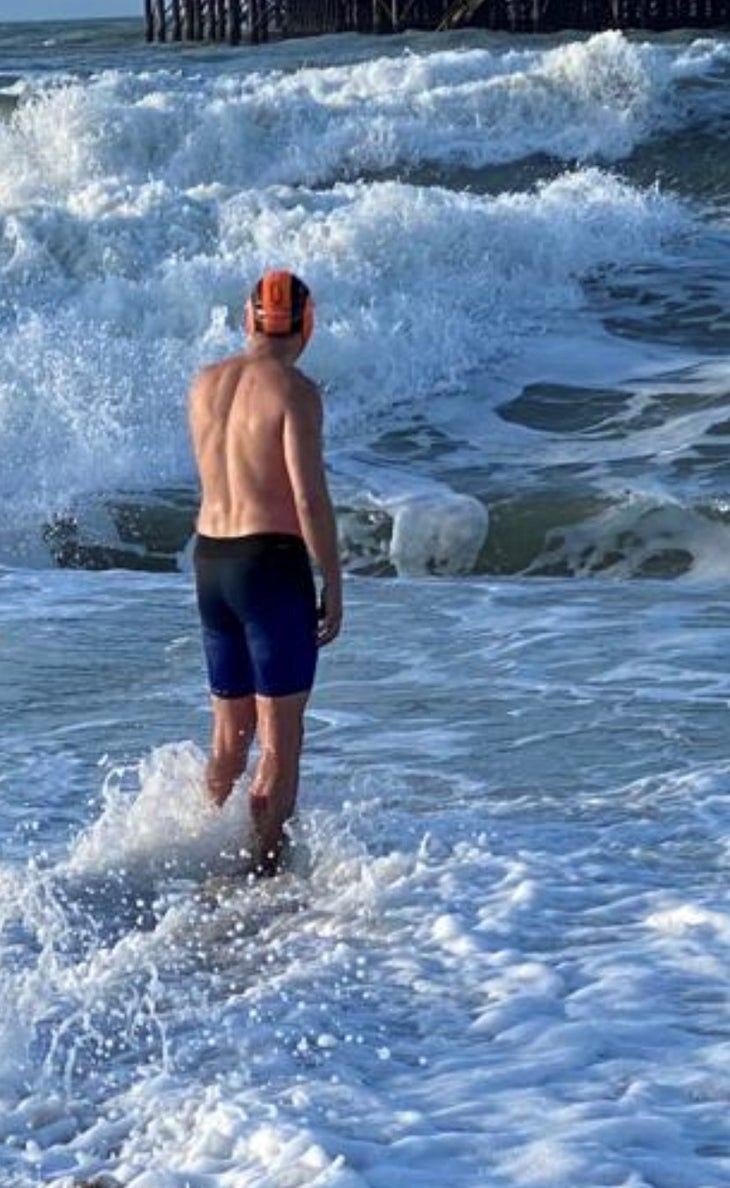 "It became my thing, just me and my thoughts at 5:00 in the morning," Starr said, adding that he never had a tire puncture or other major mechanical on the bike, and even wore the same shoes, goggles, and swim trunks for all 52 triathlons. "I had some interest from friends who wanted to join, but I couldn't quite convince them to get in the sea in the pitch dark. So I did it mostly by myself. It did get a bit lonely at times." 
To keep things simple, Starr stuck mostly to the same few routes: A .93-mile swim in the chilly Brighton Sea on England's southern coast (never wearing a  wetsuit, he'd immerse himself in temperatures as low as 46 °F), a 24.9-mile bike ride around Brighton, and a 6.2-mile run along the seaside or in his neighborhood. He didn't set out to race all-out each time, but he did keep an average time goal of 3 hours, 30 minutes in mind. 
"I'm not that fast, but I have standards for myself," Starr said. "A good day, I could go three hours. On others, maybe three-and-a-half. I really just wanted to be sure I could get it done and get to the office on time."  
Sure, there were days that Starr didn't feel like waking up and setting out for a three-hour journey. There were rainy mornings, there were wintry mornings when he had to sit around and warm up after his swim so he could get the blood flowing back in his hands and toes so he could properly ride the bike. (On the coldest days, he hit the gym and did everything inside, but those occasions were few and far between.) His Crohn's would flare, causing jolting back spasms and knee pain, or he just wouldn't feel well. But Starr stayed focused on the big picture—and his why. "Having the outside motivation of my commitment to the cause kept me going," Starr said. "Once you start, you can't really stop, can you?"
So Starr didn't stop. He continued this quest for nearly 11 months (some weeks, Starr doubled up his triathlons to ensure he'd get them done in time, while keeping his regular training routine up in between races), completing number 52 on the last day of November, 2022. That morning, his wife, Sharon, asked that he finish the run specifically at 10 a.m. and specifically at home. When he crossed the makeshift finish line, he was surprised by a crowd of his family, some of his best mates (including fellow Brighton resident and Olympic gold medalist decathlete Daley Thompson, who joined Starr on the occasional run), and a crew from the BBC.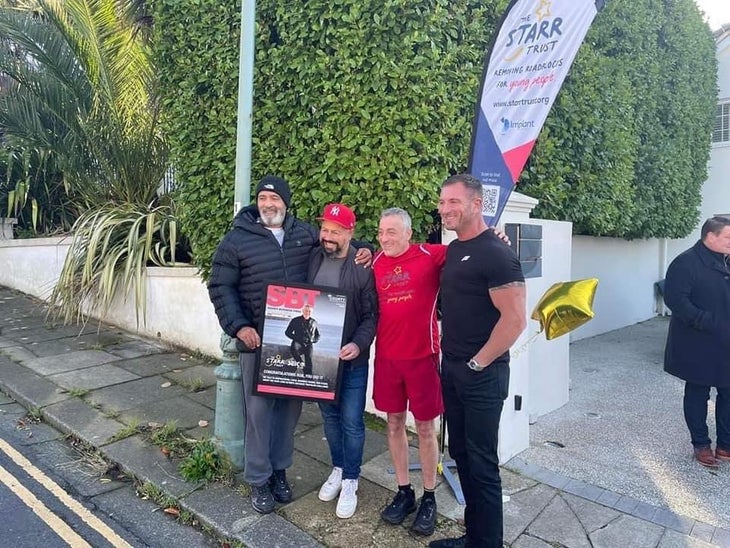 All told, Starr raised more than $127,000 (106,000 British pounds) to support Nathan's paralympic journey and those of others like him. Personally, Starr earned a priceless lesson in perseverance.
"Movement is medicine for me, and I feel my best when I'm exercising. But still, this was a huge undertaking. It was exhausting at times. And if I looked to the finish line too early in the process, it all became too much. A mountain," he said.  "So I just set out bit by bit, and found my rhythm. And I got there."
RELATED: Triathlete's Guide on How to Manage Back-to-Back Races