Was The First Aerobar Really Not The First?
Heading out the door? Read this article on the new Outside+ app available now on iOS devices for members! Download the app.
If a picture tells a thousand words, then a single capture from ABC's broadcast of the
1984 Race Across America is a bit of a novel.
Written by: Jay Prasuhn
The Internet. The place where truths, half-truths and lies miraculously become truths, at the mere touch of a keystroke.
If you believe Dan Empfield of Slowtwitch.com, Montana resident Boone Lennon earned credit for the invention of an apparatus that would launch a thousand tri bikes: the aerobar. It was designed and patented by the ski coach, licensed to ski brand (and budding bike brand) Scott USA, and it, by default, gave Lennon the honor of being forefather of the aero movement—case closed.
If you follow the notoriously user-distorted word of Wikipedia, SoCal ultradistance cyclist Pete Penseyres is credited with being the first athlete to create and ride the modern aerobar, an item he used to win the nation's centerpiece endurance cycling event. That apparatus, the aerobar, has undergone countless iterations—from in-line brake systems to s-bend extension, from hand-bent alloy to molded carbon fiber—during its more than 25 years of existence.
And there is yet a third heir to the crown as inventor of the aerobar. It's thanks not to an Internet claim, but a simple photo. The photo, circa 1984, shows a cyclist with road drops, and a novel set of bars to make the rider more aero. Of course, as with everything these days, a simple online search does bring results—in this case, a listing of equipment used by athletes taking part in the Race Across America. Chris Kostman at Adventurecorps.com yields this nugget about the 1984 running:
Another seemingly minor item used, which was in a way foreshadowing the shape of things to come, was an armrest system utilized by fourth placer Jim Elliott. These rests projected back from the bars behind the brake levers and provided a more comfortable position with a more aero posture.
It was followed by this 1986 race equipment chronicle:
Penseyres also utilized an evolved form of the arm rest system, which first appeared under Jim Elliott in '84. Pete's system was a carbon fiber platform mounted in front of the bars between the brake levers with resting trays for his arms mounted atop. This gave Pete a very comfortable position, which induced an aerodynamic flat-backed posture.
So who's this Jim Elliott character with his aero armrests? Which begets the question of who, really, invented the aerobar? That then leads to greater questions—legal ones—when considering that the invention became a business, and licensing defenses may have kept the development of a technology to a privileged few.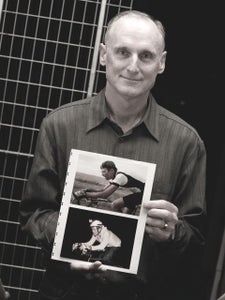 Enter Richard Bryne. Known best as the inventor of the Speedplay pedal, Bryne was also a member of the infant Race Across America, or RAAM, clan. And as an athlete, coach and general tinkerer, he developed a product for his RAAM athlete designed to put the rider into an aero position. It was the product in a 1984 photo. While Bryne admits he may not have had the marketing gusto back then—he was just looking to improve the performance of his athletes—but he isn't looking for royalties, or even a pat on the back for creating the first aerobar. He'd just like to set the facts straight.
"There's a lot more to the aerobar than Boone Lennon," said Bryne. "He was late to the party." A lightly regarded file wrapper for Lennon's patent shows this might be the case.
The story begins not in '80s triathlon, but in '70s Switzerland, with Toni Maier. Maier is best known for creating the first Lycra cycling short in the 70s in Ticino, along the Swiss-Italian border, where he began Assos cycling apparel. While testing the shorts versus woolen ones (and nude athletes' skin) at the wind tunnel to determine that yes, Lycra was the future in cycling apparel, he also felt the position on time trial bikes could be better, that there had to be a better solution to road drop bars in a race against the clock.
In 1976, Maier created what's commonly called the cowhorn bar—predecessor to today's basebar. Well into the '80s, roadies took part in European time trials on "funny" bikes, with odd-sized wheels (usually a 700c rear and 26" front wheel combo), adorned off the front with the ubiquitous cowhorn bar.
Cycling slowly grew in popularity in America, not just in the domestic road scene, but also the budding mountain bike scene, as well as with "outlier" events, such as the Race Across America. Debuting in 1982, this sleep deprivation contest pitted athletes against one another as they raced their bikes coast-to-coast from California to New Jersey. Due to its penchant for covering events of sheer lunacy, "ABC's Wild World of Sports" was there to chronicle the newborn ultra-event.
Plus, in 1984, the event's third year, broadcasters had an actual race on their hands in the event. Penseyres was a known quantity headed into the race; he'd finished second to Lon Haldeman the previous year. After 10 days of racing, the gap between lead rider Haldeman and Penseyres was just 5.5 hours. If there was potential for Penseyres to be a foil to Haldeman's reign, ABC was on it.
But no one bargained on Arizona cyclist Jim Elliott. The guy was a monster on the bike. His coach, Richard Bryne, had trained him to a 24-hour velodrome record (of 502 miles) earlier that year. Making his first attempt at RAAM, Elliott marked Penseyres out of California and across Arizona. When Elliott made his move to pass Penseyres and assume the race lead, ABC cameras captured Penseyres looking incredulously at Elliott, who was laid out with forearms on some sort of contraption, his body down and out of the wind.
It has been referred to as a "lay-down apparatus," but for all intents it was meant to get the upper body of 6'4" Jim Elliott out of the wind. The "bar" actually consisted of two rods bolted to a standard road drop bar at the turn from bar top forward toward the hoods and drop. The horizontal hinge allowed them to be folded inward, like sunglass arms, when not needed (on climbs and descents) then back out again when Elliott was on the flats. The bar kept Elliott's arms in line with the brake hoods for safe, easy access. A piano wire affixed from the medial section of each armrest to the bar near the stem, prevented the elbows from forcing the armrest out laterally.
"And of course we had good ol' Tennessee chrome over the Spenco gel armrests," Bryne said with a grin, referring to the use of duct tape.
"In Kansas, when the wind was blowing 20 miles per hour, I made up so much ground," Elliott said. "I'm 6 or 7 inches higher, but my position was lower—everyone else was fighting the wind."
And Penseyres knew the game had changed.
"His back was flat and he was comfortable," Penseyres said. "For something like RAAM, after you've burned through your glycogen stores, you go to what we call RAAM speed—it's just a fuel supply problem at 350 calories per hour. You can burn it all with a hard effort, or make it last as efficiently as possible. As soon as I saw what Richard [Bryne] had done for Jim, it made a lot of sense, to get as much as you could aerodynamically."
Almost instantly, Penseyres scooted forward on his saddle and laid his forearms on his bar tops, trying to replicate Elliott's low position through the plains states. But his self-adjustment "wasn't comfortable because I hadn't trained that way, and it sure wasn't safe," Penseyres said. However, it worked well enough; Penseyres won the race, with Elliott taking an impressive fourth on debut.
"I thought, 'Wow, this thing is pretty special,'" Elliott said. "To look back and know I was one of the first ones out there—the first one—and compare it to all the bikes today, it's really neat."
Some consider Bryne's contraption the first aerobar. The San Diego resident has done it all. He traveled as an 18-year-old to the 1972 Tour de France, such a novelty that French papers reported on the fact that an American had come to watch Le Tour. He set human power-vehicle world records in a fully enclosed prone recumbent, earning him a bit spot on the television show "That's Incredible." He invented (and licensed to helmet magnate Skid Lid Manufacturing) the world's first Turbo Trainer. And, of course, he developed the unique Speedplay pedal. A lifelong tinkerer, he didn't earn an engineering degree, but learned as an apprentice in an engineer's machine shop.
"Instead of going to engineering school, I just worked with a genius engineer in Steve Toll and watched over his shoulder," Bryne said. "We built the first Turbo Trainer in his garage, for me, and it was just because I was going to school, working, racing, starting to coach and trying to do the HPV [human-powered vehicle] thing. I was a complete type A. I thought if I could create this trainer, it'd be better than rollers—I wanted something where I could just close my eyes and burn calories."
And enamored with cycling, he was always looking for solutions like the Turbo Trainer. Like the Ouija bike—a fit bike with adjustable top tube length and seat angle, and like the Speedplay pedal.
And as a coach, like the aerobar he created for Elliott. It was with this protégé he applied new, different thinking. Like a bicycle with a steep seat angle and short headtube—the predecessor to what Dan Empfield would later develop into the modern-day triathlon bike.
"He was so strong it was insane," Bryne said of Elliott. "I took him on as a project, worked with him on bike handling skills. I wanted to use some of what I'd learned about aerodynamics with him, so I put him on the Ouija bike to see if I could make him more aero than on a traditional bike frame." Elliott said he felt better in a steeper seat angle position. So Bryne went to work.
"I built a bicycle to get his back flat with a longer downtube and seatstays and the bottom bracket back. I had to hand-build the lugs—cut lugs in half, tig-weld them back together and braze the bike. I made a blueprint, sent the measures to his frame sponsor and they built his bike."
Before RAAM, Elliott's big break was breaking the 24-hour velodrome record. "I trained him for hours on a fixed gear with that steep seat angle, sometimes for eight hours at a time on the velodrome. He put up with the pain."
"It was hard," Elliott said of the training, "but he always said, 'You'll hate me now but love me later.'" With the 24-hour record in hand—he smashed Ron Haldeman's previous record by 50 miles—Elliott next faced RAAM, and Bryne had a solution.
"What we learned from that 24-hour record was that with that steep seat angle, it's difficult keeping your upper body up. All of your torso weight is on your hands," Bryne said. His solution was the bracket setup; Elliott could take advantage of his flat-backed aero position, comfortably.
"We were working too fast and didn't have any time to protect the designs, but bike builder Bill Holland and I made a new bike for him before the race—a secret bike nobody had seen yet," Bryne said.
In the race, "Lon Haldeman had always taken the lead by the California border and ran away with it from there," Bryne said. "[Even] John Howard, all these top riders, nobody could stay with him. Once we got out of the hills on the bike, [Elliott] set the 24-hour record on and into Baker, Calif., on the second day, we switched bikes, onto the secret bike."
The bike wore the same geometry as his 24-hour bike, but the handlebars had these add-on bars. Elliott flipped the bars out, laid out and settled in. "It was the first bike to ever use aerobars," Bryne said. "The idea was that he could lie down into an aerodynamic position for a 3,000-mile time trial. The other guys were so tired, they would just lock their elbows and plow through the air, and here was Jim, punching a smaller hole."
Bryne was a visionary—and knew he had something valuable, even before Elliott proved his invention held water. In January 1984, Bryne had Excel Marketing president Ken Miller and Miller's industry rep, Phil Patrick, sign a non-disclosure agreement before showing them his aerodynamic bar.
Miller wasn't a bike industry guy as much as a marketing company guy. So he put all his faith in Patrick's opinion.
"I showed them the aerobar and Phil, whom Miller told me knew everything and everyone in cycling, said, 'Nobody will ever buy that!' Ken ended up telling me he thought the aerobar was a great idea, and he'd love to do it, but he didn't know enough about the cycling industry and had to rely on his consultant—so he had to pass."
Bryne's one effort to create an aerobar failed. On to other things.
His downfall? He didn't patent the design or concept. "Yeah, the problem was it was broadcast on 'ABC's Wide World of Sports,'" Bryne said, "where the whole world saw it."
THE PENSEYRES EVOLUTION.
Penseyres, who took a respite from RAAM in 1985, still thought there was something to this new bar add-on. He crewed for his brother, Jim, a machinist at a nuclear power plant in '85, and the brothers created a setup similar to Elliott's from the year before.
"My brother made his with bi-directional joints, so he could flip them up—but they tended to go out as well. What we hadn't seen in photos of Jim Elliott were the two wires installed in an X-shape so that the bars didn't go out. So we passed him Allen wrenches on the bike, then Loctite'd them. We learned as we went,"Penseyres said.
But he felt it could be better. "I wanted to improve the design on what Jim had, and tested a bit," Penseyres said. "I was riding home from work one day with my heart rate monitor on, and I just dropped my forearms across bars and locked my thumbs together, watching HR and speed. My 20 mile per hour speed went up over a half mile per hour, at the same heart rate."
After a few repeats, Penseyres was sold; he was set on making something that was efficient, fast and comfortable—and different. Instead of going behind the basebar, the arms would extend forward. "It was one of those 'ah-ha' moments—you don't go back, you go forward! I then had to make it comfortable enough to use the position for long periods of time."
Penseyres enlisted his father, a woodworker, in the project; they created molds from plywood boxes to create forearm supports. They'd be wrapped in towels, plaster of Paris molds, then fiberglass. The rods were Heliarc welded onto aluminum Cinelli drop bars, then fiberglass armrests were clamped to the handlebars in a U-shape, at a nearly 45 degree angle. "I went out on a nine-hour training ride," Penseyres said. "and when I came home my shoulders were sore!"
Knowing he needed more than one set for his back-up bikes, Penseyres enlisted Scott Gordon, Chet Kyle and Gary Hooker (of Hooker auto header fame) from neophyte bike wheel company Aerosports to produce another set of armrests, which he installed on a randonneur bar. "Chet was just excited about the bar," Penseyres said. "He rode it up the road, and came back with one arm behind his back."
Penseyres made two last tweaks. He added a bracket near one extension end for a horizontally oriented brake, so he could stop at red lights and stop signs during the race without breaking from his aerodynamic position. "The thing I was concerned about was there were no brakes out there, so I disabled the rear brake, took a piece of handlebar, hammered an end flat and installed it at the front end." And finally, after a 24-hour ride during which he was irritated by the reflected gleam of the shiny silver aero extensions, he spray-painted the bars flat black. "As soon as I saw it finished, I knew it was gonna be great."
In 1986—the year before Lennon filed a patent for the aerobar—Pete Penseyres showed up in Huntington Beach, Calif., to race RAAM again—this time armed with his wholly improved aerobar—and won the race.
Despite his bike sponsor suggesting he patent his design, Penseyres had no intent to manufacture his creation. "I kept getting calls from the marketing manager at Raleigh [Bicycles], which was taking my bike around the country that year, saying I should patent the bars," Penseyres said. "I thought about it for a while, but there were a number of reasons I didn't. I wouldn't have known how to even file a patent, for one. Another was they looked really dorky, and road riders wouldn't use them.
But really, I just thought that while I could ride them, to sell them to the public would be dangerous—I just didn't think they were safe for average bicyclists to be using, and I wouldn't feel good if someone using my bar was ever in an accident.
"I never thought about triathletes, though. I missed that one completely," Penseyres added. "It was only starting to be big in '86, and I thought even if there was a market, it wasn't big. "To that point, the concept of the aerobar had died—or so Penseyres thought. "I had no idea anybody else was thinking about this," he said. "I don't know for sure when Boone came up with his ideas, and I wasn't aware that Boone was doing anything until I showed up for a bike show in January of '87, and Scott had prototypes there. I didn't know Boone's name."
The controversy that has lived on until today was sparked by what happened next.
AEROBARS GO MASS MARKET.
Boone Lennon, the head coach of the U.S. World Cup Alpine Ski Team, was himself an aerodynamics tinkerer, constantly adjusting hand and forearm position of his athletes, as a smooth breakwall of wind around the skier's body while descending a mountain at 80 mph. It was while observing skiers bent over in an aero tuck that Lennon realized a rider could do the same on a bicycle—with the right piece of equipment attached to the bike.
A story by Charles Pelkey in the April 1997 issue of Inside Triathlon said that Lennon contends he worked on designs for an aerodynamic position on standard road drop bars as far back as 1981, with inspiration coming from his background as a skier.
"It was scary at first," Lennon was quoted in the article. "The first few versions put me way out over the front of the bike. It made handling a little unnerving. I think it's a lot like the Superman position is now." The article says Lennon had developed to two designs in 1986: a one-piece bar designed to completely replace the road bar, and a clip-on that could attach to standard road drop bars.
The one-piece saw the bar extend perpendicular from the stem like most bars. They then turned forward and down, then up again and forward, with the extensions snaking outward. Scott's forearm pad was a simple set of ski grips, slid onto the bar. The design was meant to make for a longer reach, lower frontal profile and a narrower frontal profile, moving the forearm pads in toward the stem a few inches closer than Penseyres' or Bryne's creations. Therein lay the specific difference between Lennon's aerobar and his predecessors'.
In January 1987, Lennon patented his aero handlebar design. A July 1996 Triathlete magazine article titled "Aerobirth" by Roy Wallack said Lennon presented the patent and a carved cherry wood prototype to Scott USA, which licensed the design from Lennon. Licensing to that particular company made sense; Scott USA was a predominant force in the ski equipment industry, and Lennon was, from '84 to '86, the head coach of the U.S. World Cup Alpine Ski Team.
Scott produced for the public the DH Aero bar, ranging in price from $50 to $75. And with that patent, Scott ruled the world. If anyone wanted to make his own aerobar, he was required to pay royalties to Scott as the sole owner of the patent. Attempts to breach what was on paper as Scott's proprietary design were met with threat of a lawsuit. And yes, there were many cease and desist letters out of the Scott USA offices.
When Bryne was at Interbike in 1987, he saw a set of bars at the Scott booth, and he wasn't the only one who noticed the striking similarities between it and the bars he had tried to market three years earlier.
"Somebody said, 'Someone's got a copy of your bar at the Scott booth.' I said to Sandy Lyman, who was working for Scott, 'Where did these bars come from?' and he pointed at Boone, saying, 'This guy invented them.' He wandered over and I turned to him and said, 'Did you invent these bars?' He said 'Yeah.' And I said, 'No, you didn't—I did.' He kinda went silent."
FROM RAAM TO TRI.
How did the aerobar go from an odd apparatus in an odd ultradistance bike race (and summarily ridiculed and shunned by the road racing realm) to a piece of gear triathletes would embrace? Thank Johnny G. Yes, that's Johnny Goldsmith, the creator of Spinning indoor cycling training programs. Goldsmith took part in RAAM in 1987 and was attuned to the aero benefit that a guy like Penseyres could derive. Goldsmith was able to acquire one of Scott's new DH aerobars, and while training near his home in the mountains around Malibu, Calif., happened upon a pro triathlete also out on a training day. Goldsmith and the triathlete, Brad Kearns, started chatting.
"He was training for RAAM and said he came across Boone at a trade show, got a set of bars and was really enthusiastic," recalled Kearns. "Johnny would not stop talking for 100 miles, no joke, about these bars. He said, 'This'll be the greatest innovation in cycling since the derailleur.'"
In the winter of 1987, Kearns asked Lennon for a pair to try, and received them in the mail the day he was leaving to race in the Desert Princess Duathlon. With one little 15-minute test ride under his belt, he got into his car, giddy about the prospect of what would happen. "When I talked to Boone, he sent me his brochure, which had him in the aero position, juxtaposed with a skier in a tuck with ski poles. It was an exact parallel," Kearns said. "You took one look at the brochure and it was like, 'Holy crap.' The ones he sent were uneven, built by hand, but I was excited to see how they'd work."
And what happened was game changing.
"I was off that day and dragging ass the first run—but I got to pass 25 guys on the bike," Kearns said. "I remember all the looks—looking to the side at this aero position for the first time. I caught up with (Mike) Pigg, then rode side-by-side Andrew McNaughton, and he said, 'Damn, you look comfortable!'"
Kearns won the race, and his competitors wanted what he had.
From there, it was an arms race for pro triathletes to get their hands on this clearly advantageous product.
"[Scott] Molina came to my condo after the race, busted in there with a beer and said, 'How can I get a pair?'" Kearns said. "Andrew got his the next week, went to Crawfishman in Louisiana, rode into the wind after the turnaround and put five minutes into Pigg. And it was the same thing for Andrew: Pigg came across second, and said to Andrew, 'Where'd you get those bars?'"
The results spoke for themselves: McNaughton won his first seven triathlons in 1987. When Pigg got hold of a set of the Scott DH bars in April, Pigg then went on a run, winning seven of his own.
"At USTS Miami, Pigg just dropped everyone," Kearns said. "By that time, people were approaching me, and for a short time they were hard to come by—the pros were getting [aerobars] one by one. And I just freely gave out Boone's number anywhere I went—and he was glad to accommodate. It was interesting to see the trend take hold. It just took off."
TECHNOLOGICAL ACCEPTANCE.
Before 1989 traditionalist road cyclists would have nothing to do with the so-called "dork bars" that triathletes were riding. They were on the crazy bikes, riding the disc wheels, wearing neoprene wetsuits. To roadies, these bars were just the icing on the cake. "I did a lot of training in L.A., and the roadies would have so, so much disdain for our weird-looking bikes," Kearns said. Penseyres saw the same. "There was a lot of animosity; the roadies would drop the triathletes, but if they did get dropped, they'd just hunker down into those bars and ride back onto the wheel—then ride off the front of the roadies."
But the global launch (and consummate global acceptance) of the aerobar took place during a singular event: the 1989 Tour de France. In the race's finale, a 24-kilometer time trial, Greg LeMond, with his aero helmet and Scott DH aerobars, used his tech advantage to overcome a 50-second deficit to win the Tour de France by what still stands as the narrowest triumph in race history: eight seconds.
The victory cemented the aerobar's place in the bike industry. With the road segment finally accepting the design (albeit kicking and screaming), Scott's sales took off—especially since it had the market cornered. The only other brand legally under license—Profile Design—was sending royalty checks to Scott. The brand's 20-year reign in the industry was a gold mine. "I've seen some of the royalties for aerobars," said current Scott marketing manager Adrian Montgomery. "There were some big payouts over the last 20 years."
But now, 25 years later, it's questionable whether Lennon's patent was ever really valid. Patent No. 5,138,893 can easily be found online. But legal experts on patent law say that just because something is patented doesn't mean it was necessarily the first of its kind. According to U.S. Patent Law, after an inventor debuts a product he has a grace period of one year to have it patented before it falls back into public domain. "For another inventor of a similar product to later patent his invention, he must prove it is new, useful and not obviously the same invention," said John Busche, a property lawyer in San Diego. Every patent comes with a patent wrapper, which contains, in Lennon's case, 97 pages of minutiae including fees, drawings and other generally dry info. It also includes an information disclosure statement in which the patent applicant must disclose and describe any previous references to "prior art" and denote their similarities. In the file wrapper, Lennon did refer to some other art, including benign reference to armrests for an automobile steering wheel and a luggage carrier.
Bryne's 1984 aerobar was not mentioned. "Maybe he genuinely hadn't seen or heard of the aerobar I made," Bryne said. However, Penseyres' 1986 creation was twice referred to. The references read:
Outside magazine (November 1986) at pages 56-57 describe and illustrated a handlebar used on a bicycle by Mr. Pete Penseyres during a bicycle race called 'Race Across America' which commenced July 6, 1986.
Bicycle Guide magazine (November/December, 1986) is another report concerning the Penseyres bicycle. At page 45 it states that he 'built special forearm cradles so he could ride the bike leaning on the handlebars, with his hands relaxed.'
Granted, the bars Lennon presented had a different shape than the bars Bryne and Penseyres had created, and the armrests were more inwardly located on his creation, putting the forearms in line with the torso. Lennon said as much in Wallack's July 1996 article in Triathlete, with the article reporting that Lennon and Penseyres chatted at the 1987 Interbike in Long Beach, Calif., at the Raleigh booth.
"Pete came at it from a comfort point of view, so he had his arms wide," Lennon is quoted as saying. "I came at it from speed, so my design stressed narrowing the shoulders," adding, "My work predates all the stuff Bryne did, period, and it's all in the patent."
But there were inconsistencies. The disclosure notes that with submitted photos (thanks to the fact that the bike had been on display at Raleigh events after the race), it was deduced that, "There is a platform which requires downward force to remain fixed," and that the bar "appears to be designed with comfort in mind for a touring bicycle." Patent filing doesn't require outside expert verification, and the patent attorney does not have to be an expert in the field, so it was Lennon's descriptions, which could be construed as misrepresentation, which made up his patent.
The irony lay in the fact that Penseyres' creation was represented as having application for use on touring bikes, while in the same paragraph the disclosure states the bar was used in a race: Race Across America. Both Penseyres and Bryne consider the wording to be at the very least a misrepresentation of Penseyres' creation.
"Aerodynamics—that was the main reason I made 'em," Penseyres said. "Yes, it also had to be comfortable for very extended periods of time when doing a race as long as RAAM, and it resolved problems those doing the race were having to that point, like carpal tunnel syndrome. But to say that just because my forearms were in a wedge shape, that it was not aero? It's way aero. My frontal area was so much lower."
And Lennon's claim that the platform needed to be pushed down to stay fixed? "No … it was bolted on with conduit," Penseyres said. "It was certainly fixed."
And finally, Lennon's work that pre-dates Bryne that Lennon said is in the patent? There is no hard evidence (time-dated images or prototypes) in the patent outside anecdotal statements to indicate this.
"It's curious that he would suggest it's for touring, when the only reason Pete did it was to win the race," Bryne said. "We knew [Penseyres] knew about aerodynamics, because he was emulating Jim Elliott's position two years earlier by leaning on the brake hoods—and by no means was he doing that for comfort. It was for the aerodynamics.
And giving Pete credit—the record average speed he set that year has never been broken! I wouldn't call that touring. [Lennon] really marginalized it by saying it's for touring and comfort."
Few would argue that Scott USA's patent stalled advances in technological development of the aerobar through the 1990s, since only a scattering of brands—Scott USA and Profile Design (and much later, Syntace)—were permitted to produce their aerobar creations.
But it wasn't for lack of trying. Before it bought into the patent, Profile Design attempted to create aerobars and was summarily threatened with legal action. Then, Italian parts manufacturer TTT (also known as 3T) created an aerobar, and was summarily sued for patent infringement by Scott USA.
Profile Design and 3T learned both Bryne and Penseyres had a previous creation. Bryne was deposed by both companies to present photos to contest Scott's patent as being invalid on the grounds of "prior art." Years later, Vision Tech, also learning of the prior art, completely disregarded the patent, and went into the aerobar business.
Penseyres, who was provided bars by Profile Design, was happy to show his wares on Profile's defense. "Scott was suing everyone who tried to make similar bars, but I thought there was enough difference between Profile and Scott bars," Penseyres said. "I didn't think it was fair that they would be able to lock up the competition; I knew that first patent wasn't filed until January of '87, and I won the race in '86 on aerobars, my brother rode aerobars the year before, and Richard had his in '84. It wasn't fair."
Ultimately, Scott dropped the suit with Profile Design and settled out of court—but not to the end Penseyres had hoped. "Then, the two of them filed a patent infringement against everyone else, which wasn't what I wanted," Penseyres said. "I wanted to see it open up to everyone, to see the development and advancement of this bar grow."
It wasn't until 2006, when the patent expired, that Vision Tech produced an aerobar. It was the first brand outside Scott, Profile Design and 3T to hit the market. Then the floodgates opened, with names including Hed, Bontrager, Zipp, and, ironically, a newly-reinvented 3T, rolling out exceptional new designs. The market had opened.
Was Lennon's idea truly a product of ideas in his mind since 1981? Do any prototypes or time-stamped images exist to lend veracity to Lennon's statement that he's the father of the aero movement in cycling?
Boone Lennon declined to comment for this story. But in his July 1996 interview with Wallack he said he was simply surprised that anyone else was working on something similar. "We'd been testing for some time in the fall of '86 when a guy said to me, 'Hey, did you know a guy (Penseyres) was in that position in the Race Across America last summer?' It shocked me."
So back to the original question: Who created the first aerobar? Perhaps it's semantics. It could go to the man in the spirit of design, or the spirit of advancement or the spirit of the law. Penseyres doesn't lay claim to it and didn't have any interest in the hassles of patent application, but he has his thoughts.
"You have to give Boone the credit for recognizing their utility in triathlon," Penseyres said. "It had to be the triathletes; it wasn't going be the RAAM guys who'd make it fly. It had to happen outside RAAM, and clearly outside road cycling."
Bryne says it's all irrelevant at this point. Considering his failed marketing efforts—as inventor of the steep seat angle bike, Ouija bike, suspension treadmills akin to today's AlterG treadmill among them, but most importantly, his inability to market his aerobar—and thanks to dogged drive and luck, his one major success (Speedplay), Bryne was evidently a victim of being ahead of his time.
But why divulge his aerobar design and the accompanying story that has, for all intents, lay in fallow for the last quarter century? "Well, because it's more pertinent now than it ever was, and everyone has adopted it," Bryne said. "At the time, people were arguing back and forth whether aerodynamics mattered or not, or whether they should ride in this forward position. That's all behind us now. If you look at every tour TT bike, they're pushing the envelope."
Penseyres agreed that whatever the back story, the sport simply received a paramount technological rocket booster. Perhaps it was he and Bryne who provided the spark, perhaps not, but he doesn't doubt the fact that its take off was thanks to the work of Lennon.
"I don't know if Boone honestly had the idea before us. But I really don't care. I don't envy Boone for the recognition or money he and Scott made, because I had no desire to market the things, and he did so much work getting them to market and convincing Greg to use them in the Tour," Penseyres said. "It was fun being involved with the whole process, because the product did improve speed. Aerodynamics has always been free speed, and the things we were doing with speed on very limited power in RAAM made for a new career of athletic engineering.
"But I do remember one odd thing," Penseyres recalled. "The Scott USA owner walked by the Raleigh booth at the Long Beach show [in 1987], as I was handing out posters, and said 'Thanks.'"
Bryne's thoughts?
"I give credit to Boone for popularizing aerobars—but that's about it," he said. "If he can show me some photos, real hard evidence that he had been working on something ahead of me, I'm happy to give him all the credit for the work. But his patent doesn't show it. Like I said, I just think he was late to the party."