Vote For Triathlete's Next Cover Star!
Each of these 10 athletes deserves to be on our June cover—but we can only pick one, and we need your help!
Heading out the door? Read this article on the new Outside+ app available now on iOS devices for members! Download the app.
We asked you to help us find the most inspiring triathlete in all the land to put on our cover—and you delivered! You nominated people who inspire you, encourage you, make you laugh, and overall make your triathlife rad. Picking 10 finalists from the hundreds of incredible entries we received was nearly impossible. Each of these 10 athletes deserves to be on our June cover—but we can only pick one, and we need your help! Read their amazing stories below and then vote for your favorite. Votes will be combined with editors' picks and we'll announce the winner on Monday, Feb. 12. Prepare to be inspired.
Voting has concluded! We'll announce the winner by the end of Monday, Feb. 12. Thank you to everyone who voted!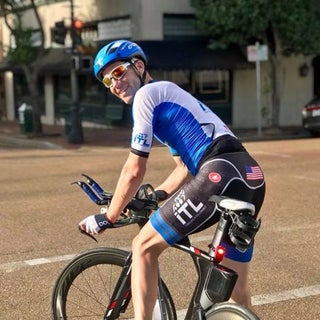 Adam H.
Atlanta, Ga.
Submitted by: Kristi M.
Three words: Empowering, Entrepreneurial, Sober
In July 2008, Adam went for a swim in the Gulf of Mexico. This wasn't a training swim though; it was a swim so far out, that he could not return back. Adam had hit rock bottom and was trying to end his life. After multiple DUIs, felony counts of narcotic possession, and numerous arrests, Adam was given a second chance and committed to turning his life around. He chose a life of sobriety and worked to find his recovery in endurance sports and the triathlon community. From mug shots to finisher photos, I am nominating my coach and friend Adam Heiser.  Adam is the founder of ITL Coaching and Performance, a triathlon team built on helping athletes set and reach their goals while giving back to the community.  ITL or "In The Lab" was inspired by Jason Lester's book Running on Faith, where the Laboratory is a custom-created training environment, a lifestyle' and a sanctuary. Adam's leadership and passion for being #inthelab has fostered a unique and dynamic group of athletes who shine both on race day in their communities. Adam is selfless. He's the person who shows up on big bike day driving his truck around for over eight hours for sag support for his athletes. He's the friend who stays until midnight at Ironman competitions to help support and cheer the last athlete to the finish line. He's the coach who commits to making your goals and aspirations his own.  Adam is the impressive athlete who still finds time to train, race, and win the 444 mile Natchez Trace race in less than 24 hours. Adam is awesome! Adam and ITL have had a big impact on the greater Atlanta community. ITL athletes participate in service projects, charity events, and fundraisers throughout the year. The ITL community has financially supported, sponsored, and volunteered for numerous organizations including Camp Twin Lakes, the Kyle Pease Foundation, Team in Training/LLS, Lakeside High School, and Sosebee Cycling Park. In his vision for ITL, Adam created a culture and community that promotes inclusion, hard work, and giving back. Adam has inspired so many people to become not only better athletes, but better humans. Adam's ability to overcome adversity and addiction has been remarkable. He had a choice of "F.E.A.R." Forget Everything And Run or Face Everything And Rise. Adam chose to rise and continues to raise each person he crosses paths with.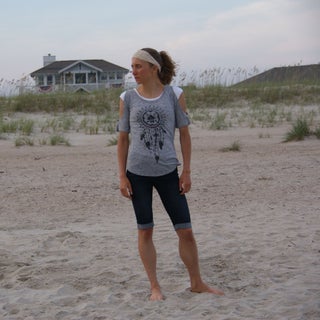 Alyssa C.
Charlotte, NC
Submitted by: Husband Brandon C.
Three words: Grit, Persistent, Genuine
Aly and I met on the BYU Triathlon Club and were the first of several "tri couples" that ended up getting married. Both of us agree that part of the reason we were attracted to each other was our ability to make goals, keep commitments, and inspire others to meet their goals. Since then, Aly has continued to be an inspiration for me in my life. I believe that a number of experiences have helped Aly obtain the necessary "grit" that a triathlete needs to be successful. While a high school swimmer, Aly underwent a major heart surgery that went poorly. Doctors were afraid that she would be paralyzed. Thankfully, she is not, but this setback did not stop her from doing everything she could to get back in the pool. More recently, as she was training for her first half Ironman, she fractured her elbow on a training ride. Six months later she completed her goal. Late last year, she underwent brain surgery for a brain aneurysm that was discovered, but you'd never guess based on her daily workout regimen that she diligently keeps. As a Masters student in human nutrition, she is dedicated to learn all she can and apply it in her life. Aly is the epitome of persistence and grit, that stick-to-it-ive-ness that every triathlete needs to succeed in life and in their races and I am proud to call myself her husband.
Andrew H.
Yuma, Ariz.
Submitted by: Josh W.
Three words: Generous, Selfless, Badass
Andrew is a combat veteran with a service-related disability. He founded a non-profit for veterans and their families, reducing veteran suicide. He is an athlete, body builder, crossfit, and triathlete. He raises money in many different avenues to support others. He has competed in 12 triathlons and walked away with a lot of hardware without any coaching. This year he signed up for 70.3 in Utah as a fundraiser for human trafficking. He pays for all of his races and gear using donations only for the cause he is supporting. He is a man I look up to. He has supported my family and my dreams, has supported countless veterans, and always puts himself last. He is deserving of much more than I could ever describe and is worthy of receiving some recognition.
Austin L.
Madison, Miss.
Submitted by: Cheryl L.
Three words: Loyal, Faithful, Brave
Austin is an amazingly strong man, entrepreneur by nature, and strong willed and determined from birth. In 2012, he developed a passion for the triathlon world. Austin and his wife, Lauren, gave birth to their own little triathlete in December 2012. Ryan LaSource was born, and he soon became Austin's lucky charm at each race. In June of 2013, soon after Austin completed his first half Ironman, Ryan, now 5 1/2 months old, was diagnosed with AML leukemia. Austin fought hard to stay active while he and Lauren spent weeks at a time in the hospital with Ryan, and then isolated at home with an immune-compromised infant. It had to be unbelievably difficult to balance all that Austin was managing, with work, a very ill child, and the rollercoaster of emotions he was being forced to endure. He managed to train for his first full Ironman, despite the challenging obstacles. I believe that Austin felt that quitting was not an option for him, because Ryan did not have the option to quit. The dedication and perseverance that has always shaped Austin's character, was being modeled for his young warrior, who was fighting daily to stay alive. We have always been inspired by Austin's abilities to overcome adversity and draw strength from his faith in Christ, and this difficult journey proved to be no different. Austin's own words tell the rest of the story best. "In 2014, my 15 month old son, had relapsed and was now in his second fight against leukemia. At that point, I did what any father would I turned all of my attention to helping my son fight this terrible disease. Little did I know, that at the same time, a group of friends were working behind the scenes to help me reach my goal of completing a 140.6 distance triathlon. Ryanman was born, and I along with dozens of supporters, finished the inaugural 2014 Ryanman. My name is Austin LaSource and I am a Ryanman." Austin, and Lauren, faced the toughest challenge ever awarded to parents through the loss of their son Ryan. He handled the entire journey with the same integrity and persistence, that he lives his life. Austin had a dream to become an Ironman, but willingly and lovingly surrendered it all, for the sake of his son.  He now continues that passion and dream, through the foundation and triathlon he founded, called The Ryanman.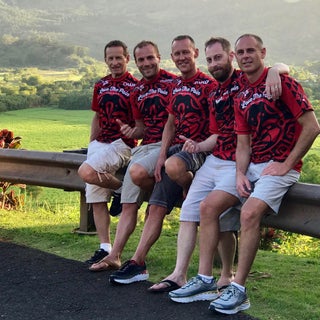 Chad E.
Mosinee, Wisc.
Submitted by: Jennifer S.
Three words: Selfless, Inspiring, Determined
Although triathlon is an individual sport, Chad E. works to bring people together through it, whether they dive into the sport themselves, take on their own new challenge in a different realm, or simply rally around the triathlon community. Last May, Chad successfully completed the Epic5 ultra endurance challenge (5 iron distance triathlons, on 5 different Hawaiian Islands, in 5 days!). The community support and engagement that was created throughout this event was overwhelming, encouraging, and inspiring not only to Chad, but to all involved. As Chad has given motivational talks after returning from Epic5, he's found people have been inspired to take on their own "epic challenges." We've heard time and time again of the amazing things people have found the courage to try, just because they were inspired by his story. Out of this idea, Northern Soles was born, a team with the philosophy of "no limits", "just try it", "why not" with the goal of encouraging and helping others to achieve this mindset as well. With this idea of "no limits", Northern Soles has created an unprecedented Wisconsin challenge, in which Chad will be a participant this coming September, the Northern Soles 1000. The Northern Soles 1000 challenge consists of 7 days of iron distance PLUS triathlons across the state of Wisconsin totaling 1000 miles. Chad will swim 2.4 miles, bike 112 miles, and run a marathon (plus a little extra mileage here and there each day, because 984.2 isn't enough!!), across Wisconsin, for a total of 1,000 miles by the end of day 7. But in true "Chad fashion", just doing the challenge isn't enough. He wants to incorporate special events throughout the communities he will pass through where community can join in on the event with him and come out to support a local charity for the day. Then to add to the unprecedentedness of this event, Day 7 will end with another first of its kind. On Day 7 Chad will be teaming up with a My Team Triumph captain to complete Ironman Wisconsin together. Typically My Team Triumph is required to be a relay team effort for an Ironman, however special approvals have been granted. Chad wants to make sure that while he achieves his dreams, someone else is achieving theirs too. Also his nickname is "Hollywood", so how can you NOT have him on the cover! 🙂
Erica S.
Highlands Ranch, Colo.
Submitted by: Husband Todd S.
Three words: Strong, Resilient, Radiant
My wife Erica is the strongest person I know. She has had an endless number of health problems come her way but rather than complain or hang her head, she has said "this doesn't define me." Erica was a runner when she was diagnosed with Rheumatoid Arthritis, a degenerative autoimmune disease.  Having seen the devastating effects it had on her aunt, she overcame her initial depression and began to return to exercise, first with swimming and biking, then slowly adding running. She finished her first sprint triathlon. Then out of nowhere, in 2009 she was diagnosed with breast cancer at the young age of 35 years old. With two young children and a whole life in front of her, her future was now uncertain and scary. But she persevered. She continued to work during treatment and exercise when she was able to. When the chemo started to rob her of her hair, she met me at the door with hair clippers and said "shave it off!" After chemotherapy and a double mastectomy plagued with complications, she celebrated her five-year cancer free mark and 40th birthday in style with a proverbial middle finger to both, completing her first Ironman in Boulder. As if this wasn't enough, she has dealt with high blood pressure and Raynaud's disease, which makes cold-water swimming difficult. While training for her second Ironman in 2014, she had a major flare up of her Rheumatoid Arthritis, just five months before the race. She couldn't train for two months as she fought for control of her body. Yet she resumed training when her body allowed it and was able to finish Ironman Louisville on just three solid months of training. 2017 would be one of her toughest years yet.  In March she lost her mother suddenly. But again, rather than falling into despair, she registered for Ironman Arizona, christened her new bike "Babs" after her mother, and raced in honor of her, finishing her third Ironman. Throughout this she has maintained a positive attitude when it would be very easy to feel sorry for herself.  She is an amazing role model for her two children, to always work hard, never give up, and to see the sun through the trees, even when it seems dim and hopeless.  And now she is training for Ironman No. 4, a return to Boulder, Colo.
Julie B.
Temperance, Mich.
Submitted by: Husband James B.
Three words: Passionate, Dedicated, Fun
I would like to nominate, Julie, my wife and my favorite training partner. She has been competing in triathlons for 10-plus years and is the one who inspired me to get in this amazing sport. However, she has not just been an inspiration to me but also to both of our boys, Christian and Jacob. Both of our boys have autism so our life is very busy and we are not your typical family to say the least. Yet, she still finds time to train and be a very competitive age grouper. She has also made triathlon so integrated in our family, creating a healthy lifestyle and finding a hobby that has brought us all closer together. Because of her, I am now proud to say our youngest now participates in triathlons (on a tandem) and our oldest is running. If having two boys with autism isn't enough of a challenge for her, she also has Type 1 diabetes. This adds another level of complexity to an already complex sport, so she spends a lot more time planning to ensure her blood sugar is managed before, during, and after her races. She never complains and keeps pushing herself to new limits. Please select Julie to be on your cover for this year's contest. Thank you for consideration, James, Christian and Jacob.
Lisa L.
New York, NY
Submitted by: Shekera S.
Three words: Inspirational, Determined, Role Model
Lisa has been my triathlete role model since our first interaction. I met Lisa at an orientation for the  All Women's Triathlon Team. Her passion for the sport was infectious. She has shown me that not only is this sport open to diversity but that African-American women can and do excel in the world of triathlon. I was skeptical at first but as she helped me perfect my swim, increase speed on the bike and even run a little faster—I became hooked on triathlon too! She makes every small step seem like a big accomplishment and I appreciate the support and inspiration. Even on bad training days, Lisa does not allow me to wallow in self pity but makes me focus on why I have grown to love the sport. As a coach, she takes her skill seriously and teaches not only physical endurance but mental endurance as well. She is constantly perfecting her performance and competes on a level that I aspire to reach someday. She lives the triathlon life and is more than happy to show others how to do the same. She leads by example. She calls herself the Lone Wolf, but she truly leads a pack of women who have come to love the sport and compete at every level.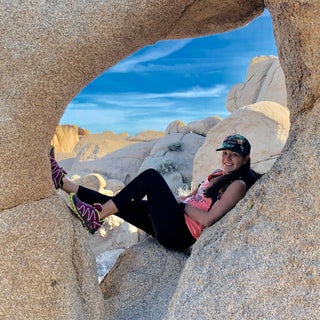 Melissa T.
New York, NY
Submitted by: Susan B.
Three words: Determined, Focused, Loving
I first met Meli when I joined KIS Performance Team in 2016. We quickly bonded over both having lost our fathers at a young age and immediately understood each other in a way that others wouldn't. She's not only become one of my best friends and a trusted confidante, but also an inspiration as a triathlete. Meli is the type of person to puts the needs of others above her own. The way that she cares for her loved ones is astounding! She is tough, but also vulnerable. She is never afraid to tell someone she cares, or hold someone's hand, or offer support readily. She takes care for her mom, her siblings, her nieces, and her friends, and still thrives at a job where she provides therapy to couples and families, and most importantly—kicks ass in this sport! She initially started her triathlon journey to see if she had the ability to do something greater than what she thought I could do, but now it's become even more significant. It keeps her grounded, focused, and gives her an exceptionally healthy outlet. She's done 12 triathlons over the last five years and will tackle Ironman Florida in November 2018, but her biggest contribution to this sport is the inspiration that she gives fellow triathletes like me and raising money for several different charities in order to make the experience more meaningful. This year she will race for a cause that is near and dear to her heart: Epilepsy—a condition that she's dealt with since I was 11. When she was first diagnosed, she was having seizures a few times a week and had to take several different cocktails of medications to regulate the episodes. She was told she could never do sports due to her condition, but she made the decision to defy the odds to prove to herself and others that she was capable of more. Triathlon has helped her to keep the seizures at bay for almost 10 years now, and she wants to give back to that community and raise awareness for those suffering from this condition. This is why Meli is such an amazing person and an even more amazing triathlete. She embodies everything that makes an Ironman and overall athlete: an unyielding endurance, a fighting spirit, and the ability to make the impossible possible.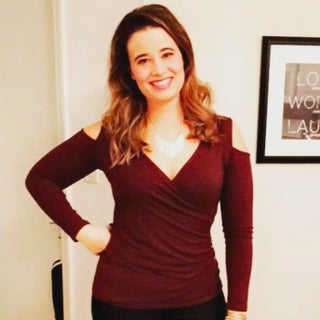 Mia C.
Mundelein, Ill.
Submitted by: Mom Margie C.
Three words: Determined, Compassionate, Relentless
This triathlete is my daughter. She has inspired her father, myself and her three brothers like no other human being I have known. As a testament to her character, there were many friends, co-workers, and many family members that honored her by witnessing her first Ironman in September. Mia had a fierce, burning desire to reach her goal of finishing her first Ironman. She trained for 15 months and overcame seemingly insurmountable obstacles. Mia has physical limitations due to two prior brain surgeries. Mia did not set limits on herself. She possesses perseverance and tenacity like I've never witnessed before. This is what a triathlete is all about: persistence, resolve, resolution. Mia has touched every person she knows and has changed their lives and how they tackle their own lives. As her mother, she has taught me so much about living life to the fullest.