#Trispo: From Bike Crash Victim to Racing for a Cause
A freight truck nearly killed her. Then she set her sights on racing.
Heading out the door? Read this article on the new Outside+ app available now on iOS devices for members! Download the app.
A freight truck nearly killed her. Then she set her sights on racing.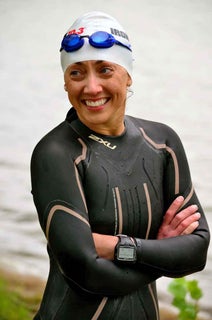 At first glance, Colleen Kelly Alexander looks like any other age-group triathlete; one whose Instagram is filled with post-race selfies proudly displaying finishers' medals and snaps of her swimming, biking, or running alongside her husband, Sean.
What you won't see behind her bright smile and warm blue eyes are scars she bears from a horrifying trauma in October 2011 that nearly ended her life. Technically, Alexander died, twice. While biking near her home in southern Connecticut, she was struck by a 30-ton freight truck whose driver ran a stop sign. Alexander had to be fully resuscitated two times; a team at Yale-New Haven Hospital performed CPR for 20 continuous minutes and filled her body with nearly 80 pints of blood to bring her back to life. (The average human body contains about 10 pints of blood.)
When she emerged from a medically-induced coma five weeks later, Alexander learned that her midsection had been nearly destroyed by the weight of the truck. Her bike seat had impaled her—almost ripping her body in half—and her femoral artery had been severed. The extent of her other injuries, including damaged leg muscles and a shattered pelvis, made doctors question her ability to ever walk again. It would take 29 surgeries, several months of painful recovery, wound care, and physical therapy just for Alexander to get back on her feet—first taking careful steps with a walker, and then, slowly regaining the strength to walk unassisted. But walking wasn't enough: Alexander wanted to run. And swim. And bike.
"I just needed to set some sort of goal for myself," says Alexander, now 42, of her laser-like focus to get back into triathlon. "At first, the pain was profound, and I was hardly able to pick up my leg because I had no stability in my pelvis or hips."
Biking came back gradually, first on a hand-crank bike, then a seated recumbent. A year and a half after her trauma, she got on a road bike and rode a rail trail with her husband, a competitive triathlete himself. Now, in the six years since her trauma, Alexander has completed 40 triathlons, including four half-Ironman events.
Still, life is far from normal for Alexander. A buildup of scar tissue and bone calcifications on her hips limits her mobility. She also has to cautiously monitor her pulse while she races and trains, as a spike in blood pressure can cause her damaged kidneys to malfunction.
Ongoing surgeries have lead to physical setbacks, and Alexander also suffers from PTSD which can be triggered by tangible reminders of her trauma, like the smell of exhaust or the rev of a truck's engine.
"By now, my friends who I ride with know to leave me alone if I have a breakdown. I'll pull over, cry, hyperventilate, then I'll get over it," Alexander says. While she typically does most of her rides indoors on her trainer, she often joins group rides to advocate for cycling safety. "Getting out on the bike is a way I can honor every single bicyclist who has died. I refuse to be one less cyclist on the road."
This tenacity has fueled Alexander's comeback. She fundraises for causes close to her heart, including the American Red Cross, and gifts every one of her medals to her heroes: doctors, medics, and families of cyclists who have died on the roads.
And though she doesn't mind standing out as a pillar of perseverance, Alexander's ultimate goal as a triathlete is to simply blend in.
"I want to get to a point where I get to a triathlon, I'm not last, and I don't hear 'Oh, good for her,' when I cross the finish line," she says. "I'm a competitive athlete. I want to get better and faster."