Triathlon's Danger Sign: Ventricular Tachycardia
Heading out the door? Read this article on the new Outside+ app available now on iOS devices for members! Download the app.
Ventricular tachycardia can trigger skyrocketing heart rates, blackouts and even sudden death. While racing in the 2009 Ironman World Championship 70.3, the author, a former Ultraman and DecaIronman world champion, got a close-up look at "V-tach," a condition that has put a halt to more than one world-class triathlon career.
Written by: Erik Seedhouse
I woke up in an ambulance, dazed and confused. Beside me, a paramedic asked questions. "Do you know what day it is?" and "What's your name?" I dredged my mind for answers but  came up blank. I tried to turn my head but it was clamped by a spinal collar. Now I was scared.
The paramedic repeated the questions. "The ninth. It's the ninth of November," I replied. The paramedic looked disappointed. "Try again," she said. Waves of pain washed over me. My ribs hurt like hell, but I tried to concentrate. "It's the 14th of November and I was competing in the world 70.3 championships. I'm in Clearwater, Fla. I arrived on the 11th of November and I'm staying at the Marriott," I said. "Please, you've got to turn around and put me back on my bike. Please."
It was a typical athlete response.
In 1995 I blacked out on the bike turnaround while competing in an Ironman race in Klagenfurt, Austria. I was unconscious for more than 20 minutes, but the paramedics judged I was fit to continue. I went on to finish the bike and followed that with a two-hour 53-minute marathon split.
Back in the ambulance in 2009, the paramedic looked at me incredulously. "I'm sorry, but we can't do that," she replied. At the time, I didn't realize I'd been unconscious for more than an hour.
Then the events of that morning flooded back. I'd had a decent swim and I'd been flying on the bike. My average speed at halfway had been more than 25 miles per hour. I remembered that at Mile 32 there was a group of 10 riders 10 yards ahead of me and a single rider five yards behind. I couldn't have made wheel contact, otherwise I probably would have been sharing the ambulance with one or two other athletes. The road we were cycling on was smooth as glass, so it was unlikely I'd hit a pothole or manhole cover. Mechanical malfunction was equally unlikely. "I blacked out, didn't I?" The paramedic nodded. "That's what we think," she replied.
In an instant I went from being a world-class athlete to an invalid. As an exercise physiologist, I've read the case reports of elite athletes who have fainted during exercise. Exertional syncope (exercise-related blackouts) is one of the syndromes. Most athletes who suffer from exertional syncope usually wake up after the event. Those who suffer from ventricular tachycardia (often called V-tach), have more serious end results. I searched my memory for the details of the case studies. I was probably too old for it to be aortic stenosis or hypertrophic cardiomyopathy. It had to be V-tach.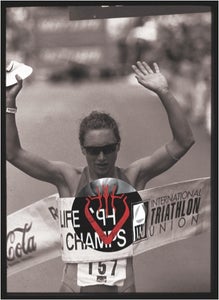 This was bad news. I remembered that Greg Welch retired because of V-tach. Emma Carney was diagnosed with the same condition and had a pacemaker fitted to regulate her heart rhythm. I remembered the reports, but I never imagined it would happen to me. In the 1990s I'd won the World Double Ironman Championships, the World Endurance Triathlon Championships and Ultraman Hawaii. Hell, I'd even won the DecaIronman, which was why GQ magazine voted me the fittest man in the world in 1997. I had no history of heart problems, my family had no history of heart disease and all my echocardiograms checked out. This wasn't supposed to happen.
We pulled up to the hospital and the paramedics wheeled me into a casualty room. I just couldn't make sense of it.
Careers cut short.
Believe it or not, some of the most accomplished endurance athletes' careers—and, in some cases, their lives—have been cut short in recent years because of cardiac arrhythmias. Those who have been involved in triathlon for a while will remember Greg Welch's case. There have been few athletes who have brought as much life and color to the sport of triathlon as the diminutive Aussie. One of the most decorated triathletes in the sport, Welch won more than 100 of the 300 races he entered, including his memorable win at the 1994 Ironman World Championship. But it all went wrong for him in 1999 when a rare and life-threatening heart condition forced him to retire.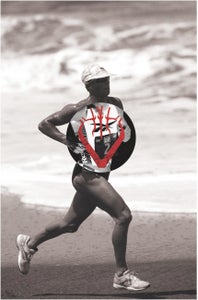 Welch's first inkling that something was wrong occurred 2 miles into the swim when he thought he was suffering an asthma attack that left him feeling light-headed and dizzy. He considered dropping out but instead continued. He suffered a dozen more attacks during the bike and three more during the run. Incredibly, he still finished 11th overall. Most athletes would have ended up in a body bag. In Australia he continued to suffer similar problems and was admitted to a hospital where he underwent chest X-rays, angiograms, ECGs and even a heart biopsy.
The diagnosis? V-tach. He was finished as a competitive athlete.
Welch isn't the only high-profile endurance athlete to suffer the blow of a diagnosis for a syndrome many people don't even know exists.
In 2004, Australian ITU champion Emma Carney retired from competition after her V-tach diagnosis. She was fitted with a defibrillator to stabilize her condition and has slowly made her way back into the sport, though she will never compete at the highest levels of the sport again.
Welch and Carney were among some of the most physiologically gifted athletes on the planet. They had strong hearts but were struck down by this potentially fatal arrhythmia.
The Condition.
V-tach is an abnormally rapid ventricular rhythm, usually in excess of 150 beats per minute. Depending on the cause, onset of V-tach can be paroxysmal (sudden) or nonparoxysmal. The arrhythmia originates in one of the ventricles of the heart and can be a potentially life-threatening condition because it can lead to ventricular fibrillation—a condition in which there is uncoordinated contraction of the heart, making the ventricles tremble rather than contract properly—and sudden death. Symptoms are usually similar to those of cardiovascular collapse, and immediate treatment is invariably with advanced cardiac life support (ACLS). For survivors, treatment consists of managing the underlying condition by monitoring ECGs and sometimes with a pacemaker.
In some cases, the condition might be exercise-induced. In some victims the attack might be precipitated by stress, while in others V-tach might be caused by lack of sleep or the ingestion of stimulants.
While there are a number of triggers, in a significant number of cases there is no apparent reason for the condition to occur. In athletes unlucky enough to be diagnosed with V-tach, the outcome is grim. First there are the endless rounds of medical examinations. X-rays, MRIs, angiograms, calcium scores, electrophysiological study tests, ECGs and heart biopsies are performed in an effort to identify why a superbly conditioned athlete simply blacks out. In some athletes the condition is traced to a malfunctioning area of the heart. Treatment can involve inserting a catheter into the heart and cauterizing the offending area, effectively killing it, using a procedure called radio-frequency ablation. In patients without structural heart disease, radio-frequency ablation produces cure rates approaching 90 percent. If cauterization is not possible, there is the option of implanting a pacemaker.
The implantable cardioverter defibrillator—more commonly known as a pacemaker—is made up of a pulse generator and one or two leads. The pacemaker is implanted beneath the skin near the collarbone and the leads are placed inside the heart, or on its surface, and are attached to the pacemaker. After the device is implanted the patient must undergo various tests to ensure that it is working. Once implanted, the leads monitor the heart rate. If the device detects V-tach, it sends out a controlled burst of impulses, and if that doesn't work, the pacemaker shocks the heart to restore a normal rhythm. In some cases, pacemakers allow athletes to engage in light to moderate exercise, but in many cases athletes are advised not to exercise again. It depends on the severity of the condition.
Most athletes have difficulty accepting that they can never exercise again. Carney was such an athlete. Unwilling to face a life without sport, Carney entered the 2008 299 kilometers Melbourne to Warrnambool Cycling Classic in Australia. Just 20 km into the race, her heart went into arrhythmia and her pacemaker kicked in, restoring a normal heartbeat and thus saving her life. Unfortunately, the pacemaker's charge also scared her out of the race. Carney survived and continues to train and race, most recently at the annual 1.2 km Pier to Pub swim in Lorne, Victoria, Australia.
The Cause.
There are several theories that attempt to explain why an athlete might succumb to V-tach. Some scientists have suggested that acute bouts of ultra-endurance exercise might result in cardiac cell damage and adversely affect left ventricular function. While the clinical significance of these changes is not fully understood, the theory appears sound.
It makes sense that prolonged endurance exercise could produce a degree of cardiac stress or damage, causing deleterious consequences for cardiac health, either in the short or long term. Unfortunately, the significance of chronic exposure to ultra-endurance exercise is unknown, but it has been suggested that the development of myocardial fibrosis might be an outcome of chronic exposure to repetitive bouts of endurance exercise. It is a hypothesis supported by a limited number of studies reporting postmortem studies in athletes and an increased prevalence of complex arrhythmia in veteran athletes.
The Risk.
Several types of arrhythmias occur in athletes, many common and benign. In fact, many of you reading this article may have experienced a curious, brief sensation in your chest from time to time. These sensations are nothing more serious than a premature atrial or ventricular contraction. But the less common and potentially more serious V-tach often results in a marked reduction in performance. While devastating to an athlete, survivable V-tach is better than the fatal version, which inevitably leads to death.
An athlete with V-tach is a rare facet of sports cardiology, but the risk depends on the symptoms. Athletes at risk of sudden death tend to have structural heart disease, whereas athletes who experience V-tach along with symptoms such as light-headedness and palpitations might be curable. In between these two categories are those who experience more severe symptoms such as resuscitated sudden death and syncope. Today, the only athletes with V-tach who can be cured are those who have no structural heart disease. For the others, invasive treatment is required and, in most cases, competitive sport of moderate to high intensity is restricted.
Since my medical emergency in Clearwater, I have recovered from four broken ribs and two pelvic fractures as a result of losing consciousness. I don't know what caused my blackout. I never experienced even the subtlest symptoms during training or during previous races, and I experienced no symptoms whatsoever during the Clearwater race.  Since returning to my home on the Niagara Escarpment, Canada, I have been working with a NASA flight surgeon, Dr. Gary Gray, to try to determine if I have V-tach, or if my problems are the result of some other heart condition. I have undergone numerous tests, including several CAT scans, ECGs and an MRI of my heart, but so far the tests have all come back normal and therefore I have no real conclusions.
Despite these uncertainties, in December my wife, Doina, and I climbed Mount Kilimanjaro in Kenya, and if all goes well during our summit bid of Tibet's Cho Oyu in 2011, we will attempt to climb Mount Everest in 2013 as part of our quest to climb the Seven Summits.
Some might argue that I abused my body by running 100K races and tackling crazy events such as the DecaIronman. They might be right. The truth is, swimming, cycling and running do not kill athletes. Ignoring your body, training through illness and failing to recognize the subtle signs of arrhythmias can kill athletes suddenly and in the prime condition of their lives.
Whatever the cause of my blackout, I woke up. Others haven't been so fortunate. If you suspect that you might have an unusual breathing problem, or if you experience chest pain or subtle heart palpitations, do yourself and your family a big favor and see your doctor. A simple ECG just might save your life.
Dr. Seedhouse is a research scientist specializing in space life sciences and environmental physiology. He was a professional athlete from 1995 to 1999, during which time he won the World Endurance Triathlon Championships, the World Double Ironman Championships, the  DecaIronman and Ultraman World Championships in Hawaii.
This article appeared in the May/June issue of Inside Triathlon. To subscribe to Inside Triathlon click here.