Triathlon History: The Sport's Roots
Heading out the door? Read this article on the new Outside+ app available now on iOS devices for members! Download the app.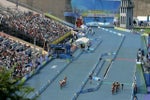 Written by: Ian Murray

The moment an athlete falls in love with this sport is a beautiful thing to witness. Very often it happens at the finish line of the first triathlon, a race entered on a dare or a whim or a bold, self-inflicted challenge. Whether you've just been bitten or the hook was set deep years ago, it is most fulfilling to be a complete triathlete. Learning the roots of multisport history is part of that.
Balance your participation with triathlon knowledge, and you'll find a deeper connection, greater inspiration and deeper roots in your lifestyle as a multisport athlete. Here are some tri facts everyone should know.
•    Triathlon started in September 1974 in San Diego, Calif., when members of the San Diego Track Club organized an event that involved running, cycling and swimming. Extra Credit: The entry fee was $1 and 46 athletes competed.
•    The first Ironman was on Oahu in February of 1978. Extra Credit: the idea was to combine the Waikiki Roughwater Swim (2.4 mi), the Around-Oahu Bike Race (115 mi) and the Honolulu Marathon (26.2 mi). A bunch of athletes sat around arguing about which race demanded the most fitness, so what the heck, they strung  them together.
•    Triathlon made its Olympic debut in Sydney in 2000 and was featured in Athens in 2004 and Beijing in 2008. Extra Credit: North Americans who have medaled in Olympic triathlon: Canadian Simon Whitfeld, who took gold in Sydney and silver in Beijing; and American Susan Williams, who took the bronze in Athens.
•    Know your acronyms:
o    USAT: USA Triathlon, our national federation
o    WTC: World Triathlon Corporation, which owns Ironman and Ironman 70.3 races
o    ITU: International Triathlon Union, the world governing body for draft-legal racing and for non-draft World Championship amateur events that are not M-dot (Ironman)-related.
o    USOC and IOC: U.S. Olympic Committee and International Olympic Committee. Their names say it all.
o    Extra Credit: XTERRA – while not an acronym, it signifies the off-road race series. XTERRA is down and diiiiirty; get ready to be bitten all over again.
•    USAT has more than 100,000 annual members and is growing. Extra Credit: in 1986 that number was only 5,000.
•    There are more multisport formats that you can shake a stick at:
o    Duathlon is running and cycling.
o    Aquathon is swimming and running.
o    Aquabike is swimming and cycling.
o    Extra Credit: Biathlon is ski 'n' shoot and out of our purview; but we have winter triathlon, which includes running, mountain biking and nordic skiing, all done on snow.
•    Future speculation: If running events in the Olympics span everything from the 100m to the marathon it's conceivable that we might have more than one distance of triathlon in future games. Extra Credit: The Hy-Vee ITU event in Des Moines, Iowa, this year featured a team relay triathlon that was a thrill to watch.
Ian Murray is an elite-level USAT coach and the writer and host of the DVD box set TriathlonTrainingSeries.com.