What Do Triathlon Coaching Credentials Mean?
They can cost thousands of dollars, and some programs don't require hands-on experience.
Heading out the door? Read this article on the new Outside+ app available now on iOS devices for members! Download the app.
They can cost thousands of dollars, and some programs don't require hands-on experience. Chris Foster takes a hard look at the growing market for triathlon bona fides.
Kelly Thomas' introduction to the sport of triathlon was unusual. While working as a physical therapist in Wilmington, N.C. in 2012, she started seeing an increase in patients with triathlon-related injuries around the time of the local (and now defunct) Beach To Battleship half- and full-iron distance events. An interest in helping her multisport patients led her to learn more about the sport, and after her patients challenged her to actually do the race, she was hooked.
From there, Thomas couldn't stop extolling the virtues of the multisport lifestyle. She loved the fact that almost anyone can do a triathlon, and she loved showing people that the sport doesn't have to take over every part of their lives. Her lifelong desire to educate others—Thomas was a former gymnastics coach, an aerospace physiology instructor and a community college teacher—meant that triathlon coaching was a logical next step.
Fast forward to 2015 when Thomas was living in a hotel in San Antonio, Texas. Her husband, a first lieutenant in the Air Force, had just taken a new posting that would mark their third move in three years. This time, they were headed to a place less than 200 miles from the Arctic Circle: North Pole, Alaska, a town of roughly 2,500 people just a short drive away from Fairbanks. It's a place known for its beauty and isolation but not for its tri scene, though there is one, centered around four Fairbanks races that are part of the Arctic Tri Series. The move also put Thomas hundreds of miles from anyone resembling a triathlon mentor, so she relied on the Internet to educate herself on the sport. That's where she found Ironman University.
Ironman University is one of a handful of triathlon coaching credentialing programs based in the United States. These programs can run from less than $100 for an online course to thousands of dollars for an all-inclusive personal certification from a well-known coach. They're hardly a new concept; the practice of giving credentials in the fitness world dates back to 1975, when the American College of Sports Medicine began offering an "Exercise Specialist" certification.
The point of a credential is similar to that of any degree: It means you've learned something and others can rest assured you've put in hours or years of study. But like with any degree, you've got to make a call if it's worth the cost—and the institution giving it matters a lot when making that judgment. There's a difference between a certificate from Bubba Gump University and Harvard.
Credentials can offer many things, from better liability insurance and credibility to improved prospects when coaching in a corporate setting. But there's always the argument that to be a great coach, you've got to have a special something that can't be taught, leaving many to question the need for coaching credentials.
---
Launched in 2015, Ironman University costs $699, and at the end of 14 hours of "seat time" coaches take an exam and, if they pass, earn their certification. After becoming Ironman certified, coaches are then able to join the Ironman Coaches Association: The basic membership costs $108 per year and allows access to more educational materials; the premium membership costs $440 per year and also adds coaches to the CoachMatch directory, which allows athletes to easily link up with (and ideally hire) them after setting up a free Ironman account.
The controversy stems from the fact that Ironman U is online only—many other certifications, like USAT's, require in-person learning. Fellow uncertified coaching celebrity Brett Sutton once railed against Ironman University in a long blog post from 2015. The most tame excerpt reads: "14 hours of online study does not make you a coach, and it sure as hell shouldn't qualify you to take on athletes preparing for the biggest endurance test of their lives." Sutton has since introduced his own coaching certification program (cost: $2,499) with a three-month online syllabus, mentoring and two weeks of hands-on training.
For Thomas, the flexibility of the program not only made it ideal but essential, given her semi-nomadic life. She found the pacing perfect for her busy lifestyle. If she missed something while her toddler sought to make an escape attempt, she could go back and see it again. She also loved the renowned coaches that were brought in to teach the Ironman University online modules, including Matt Dixon. "He is my coaching mentor and he doesn't even know it," she says of the esteemed coach highlighted in Ironman U—a coach who, somewhat paradoxically, never feels the need to list his own credentials.
"It certainly wasn't an active decision not to become certified," says Dixon, who's been coaching athletes in the multisport world for 15 years (he was a swim coach starting in 1996). Dixon considers himself lucky because he had extensive experience with hands-on coaching—himself a product of an army of coaching mentors. In his capacity as head guru at Purplepatch Fitness, Dixon has worked with athletes like Rachel Joyce, Linsey Corbin, Luke Bell, Tim Reed and Jesse Thomas; his group has churned out almost 200 Ironman World Championship qualifiers. However, aside from his master's degree, Dixon has no triathlon coaching certifications that he feels compelled to mention by name. "My biggest certification was rolling my sleeves up and coaching, on deck, on a daily basis," says Dixon.
And Dixon isn't alone; more than a few famous U.S.-based coaches in the sport—Siri Lindley, Dave Scott, Roch Frey and Paul Huddle for instance—don't advertise having any major tri certifications and are all USAT certification-free as of February 2017. They're people with years of personal insight into the sport—either from training as world-class athletes themselves, or as triathlon gadflys that have been in the scene since the sport's nascent years.
Though Dixon may come off like an opponent of coaching certifications, he's quick to point out that learning through apprenticeships is not necessarily the norm. As triathlon boomed over the last 15 years, the need for guides did too, and the population of novice coaches has greatly outpaced the masters. In fact, Dixon believes so strongly about the need to improve the quality of coaching in the sport that he helped develop a new and somewhat controversial coaching certification.
---
At first, I was hesitant of the motivations and potential of the program," Dixon says of Ironman University. "I was outspoken on coaches not being able to be made from behind a computer." But Dixon was impressed with Ironman's approach—they were not simply looking for something formulaic, instead giving contributing coaches a voice in the curriculum. As an Ironman "master coach," a title that Dixon earned by being one of the core experts who helped develop the curriculum, Dixon was just about to travel to IMHQ in Tampa, Fla., in February to help plan the second act of the program that he says will involve a "more applied approach and real-world education." Dixon is joined in his duties leading the Ironman U program by Dave Scott, Mark Allen and Paula Newby-Fraser, among others.
Dixon is also quick to note that the online program is not a one-and-done situation. "Ironman fully embraces that a simple online course doesn't make a great coach, and there is a need to continue to develop, counsel and help coaches," he says. Part of the draw of the Ironman Coaches Association is access to the continuing education materials like monthly webinars. The last benefit of an online-only certification is also the most obvious, and Thomas knows it well: Anyone, anywhere can take it at any time. But of course it can also leave those who need to learn in a social setting wanting more. Enter USAT's in-person program.
---
Though Thomas enjoyed Ironman University and the webinars they continued to offer post-graduation, she wanted more. She wanted to pick the brains of real-life instructors and meet other coaches like her. In May 2016 at 1:15 a.m. (the most common flight time out of Alaska), Thomas boarded a plane with her 3-year-old to make the 12-hour trip from Fairbanks to Colorado Springs to take the USAT Level I certification.
Unlike the Ironman U classes, USAT's certifications can only be earned at one of its clinics in person. For the first level—Level I—candidates go through an application process before registering for the two-day event. In an ironic twist, to become a coach, one must already be a coach. Despite being the lowest level of certification, coaches are only admitted to the Level I program with proof of education in sport science, club involvement, service to the sport, a letter of recommendation from a current coached athlete and coaching experience.
Thomas thrived under the experience, interacting in person with other experienced coaches, learning from dietitians and networking. It was a rare opportunity for the newly minted Alaskan to bounce ideas off of other people from the same profession but with different backgrounds in other sports.
For 2017, USAT offers nine Level I clinics in locations across the U.S. (none in Alaska, unfortunately), and costs $565 plus USAT membership ($50) plus a background check fee ($20). To retain the certification, coaches must remain members in good standing ($50 per year) and renew their certification ($95 every two years). After reaching Level I status, coaches are immediately listed on the USAT coaching directory, provided they keep their certification.
Unlike Ironman University, USAT offers cascading tiers of certification: Level I, II and III. The requirements for each get more and more difficult, and the costs compound as well. Every time a coach levels up, they must pay $675 and pay for additional classes to meet the rising requirements of continuing education. If a coach went as fast as possible (five years) to attain Level III, costs can easily climb well above the $4,000 mark between renewals, continuing education and other required certifications. This number doesn't even include travel and lodging to each of the in-person clinics. According to USAT's figures, as of February 2017, there are 2,130 actively certified Level I coaches and 180 in Level II. Only 20 coaches hold a Level III certification, and only they can say if the years of study—and the expense—were worth it.
---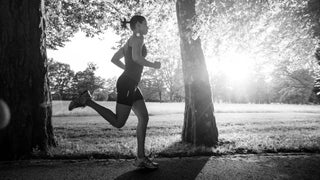 If Thomas is the certification novitiate and Dixon is the convert, then Ian Murray is the abbot of the order of credentialed coaches. Murray began his coaching career as a certified 17-year-old ski instructor in his hometown of Aspen, Colo. Even then, he was a credential hound—achieving a Level III certification with the Professional Ski Instructors of America organization before leaving the sport at 21 years old. Murray says he learned the value of education as a skier, and when his passion for coaching was reignited by the sport of triathlon years later, he took the same approach. "I think coaching is a sort of calling for some people," says Murray, who now lives in Los Angeles. "There was no way I was going to jump into a new coaching career without education."
In person, Murray talks like a well-read professor, taking time to explain each point of pretty much everything. He's patient but loaded with confidence on the topic of triathlon. Since getting his first USAT certification 19 years ago, Murray quickly climbed the ranks of the educational ladder. He became a Level III coach after passing the grueling requirements six years ago.
"Just the eligibility to go to the [Level III] exam was a big deal," Murray says. Applicants must be a Level II coach for at least 12 months prior, and a USAT-certified coach for at least five years. The coach must also be working with an extremely high-level athlete (like a top-10 overall amateur Kona finisher, or a member of the U.S. elite national team). There are a host of other requirements just to apply, and Murray describes the actual clinic as "brutal."
"They made it clear on the first day that everything you do here is part of your exam—participation, asking questions, everything," says Murray of his experience at the certification. At the end of the session, potential candidates are put up against a figurative firing squad. "We had to stand in front of a panel of six examiners," says Murray of the final day. "They gave us a fictional athlete with all of her details and wanted us to give them an idea of what her fourth week would look like. As you spoke, they would just stop you on the spot to ask questions, like, 'Why did you decide to do that? Justify it.'" After explaining the program to the panel, candidates are still required to present a final paper via phone or Skype. Of the nine people in Murray's program—a program that's now held every other year, beginning again in 2018—only six passed the certification.
Justifiably, Murray is proud of his credentials. Going through the USAT cert process was a rewarding learning experience. But he also understands that just because he's one of a few Level III coaches, it doesn't mean instant fame and fortune. "I don't think the minute you take hold of a Level III that athletes are knocking down your door," says Murray. Both Dixon and Murray agree that age-group athletes very rarely ask about their credentials; no one has asked Thomas about hers yet. But there's one group of triathletes to whom USAT credentials matter a lot.
"It's far more important to be certified when dealing with kids," says Murray who is one of roughly 200 USAT youth and junior certified coaches. "There's just greater risk. It's inherently more important you get it right with a kid because there are so many ways to screw up a kid's progression." Murray says that parents are usually more interested in certifications because naturally they worry more about who is in their child's life., and another huge advantage to USAT's certification system is that coaches must pass a background check.
Clearly, there are advantages to investing in an Ironman or USAT credential. But there are other tri certifications lurking out there that are more suspect.
---
Thomas' certification progression built beautifully from one to the next while avoiding
lesser-known online-only programs like the ITCA (International Triathlon Coaching Association) certification. ITCA is the triathlon division of the National Exercise & Sports Trainers Association (NESTA), a company that sells certifications for Muay Thai fitness, Spencer Pilates and Battling Ropes instructors, among others.
ITCA has no affiliation with USAT or any other triathlon organization (on the topic, the ITCA website simply says, "We recognize USAT as the governing body of the sport of triathlon in America. All ITCA grads must follow USAT rules"). The programs are entirely
online-based and generally more focused on the business side of coaching than the art. For $500 (then $150 every two years), ITCA's website reads, clients will learn "how to make a strong six-figure income with one-on-one coaching, group coaching, online coaching, clinics and coaching retreats." After 32 days, 16 modules and passing one test, customers "can legally hold the title of a 'Certified Triathlon Coach.'"
Other similar triathlon certifications are offered by catch-all fitness organizations like the National Personal Training Association promise that you can "earn your cert in 1–2 hours." Programs like these may offer some insights into managing a coaching business, but they don't carry much weight within the sport.
---
Upon moving to North Pole, Thomas had suddenly become the only living, breathing triathlon coach in at least a 350-mile radius. With her bag of hard-won certifications in tow, Thomas is now working with nine athletes, including three in the North Pole area. She says she's never felt isolated, mostly due to social media and the virtual company of her online coaching mentors. She also says that while the training is year-round for Alaskans, given the strong cross-country skiing and fat bike scene in her area, she's already looking ahead to the next "breakup"—the Alaskan term for the first thaw—and the next step in her coaching education. Her plans are to get her USA Cycling certification and to reach Level 2 in TrainingPeaks credentials.
Clearly she has learned much from her online sensei, Dixon, whose life philosophy goes something like this: "The day one thinks they have everything worked out is the first day of decline," he says. "I always think I can learn, and actively seek to improve and educate myself from inside and outside the sport."
Ultimately, he says, "coaching is not an exact science, and you cannot learn it from a textbook or course. You can create foundational principles and guiding truths, but the best will then develop with this information, as well as lessons and observations from their own experience and hard graft."
---
Top Certifications in the U.S.
USA Triathlon: Founded in 1996 and boasting more than 2,000 certified coaches, USAT's program is not only the oldest, but goes the deepest. To get in the door, coaches must already have experience working with athletes. USAT's certification requires that coaches have background checks and must attend in-person clinics—ensuring a higher level of commitment to the sport.
Ironman University: Only two years old in May, Ironman U has quickly grown to 1,600 certified coaches in a short time. While it is online only, Ironman U pulls from the knowledge base of many of the sport's top minds. For an additional yearly fee, coaches can be listed in the Ironman CoachMatch database to help them link up with potential clients. There are currently 400 coaches in Ironman's coaches association, and about 200 in CoachMatch.
TrainingPeaks: Launched in 2012, TrainingPeaks' cert program requires applicants already possess a hard-won credential from a national governing body like USAT. The biggest benefit to the credential is practical: Graduates become experts in the TrainingPeaks software that so many coaches already use.