Triathlife with Jesse Thomas: Why I'm Racing Kona
In a weekly series leading up to the Ironman World Championship the 140.6 champ will address training, racing, nutrition, mental prep, and gear.
Heading out the door? Read this article on the new Outside+ app available now on iOS devices for members! Download the app.
Jesse Thomas is back! In a weekly series leading up to the Ironman World Championship the 140.6 champ will address training, racing, nutrition, mental prep, and gear—and how he's fitting it all in while running Picky Bars, the business he co-founded with his wife, Lauren Fleshman, and being a dad with a second baby on the way.
7 weeks to go to Kona 2017
As some of you already know, I found out I qualified for Kona–in the last spot in the July cutoff! Phew! Preparing for and racing an Ironman is a challenging, and honestly lonely pursuit, and having my family, friends, and DOZENS of "crazy ass" fans along for the ride makes it more worth it. I hope that by providing you guys with some info and context, you'll gain insight and perspective into your own pursuits, and I'll also feel like this pursuit isn't just for myself. We'll see how it goes.
So…Why am I doing Kona?
Every challenge should have a purpose, a goal, right? That's where it all starts, and without a clear goal, the work and struggle of pursuit isn't worth it. Last year I raced Kona, and said it was without a doubt the hardest thing I've ever done. I won't make a lot of money going to Kona (unless I win, which even the craziest ass of you will admit is highly unlikely). Finally, Lauren and I have a baby due in October two days after the race…clearly NOT ideal from a family perspective! So, why am I doing it?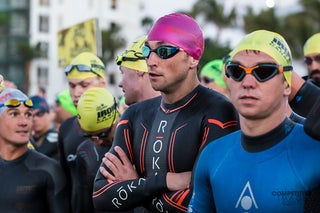 Well, a few reasons:
I'd like to get a top 10, and think I can. I feel very fortunate to have had the career I've had. At this point, the only thing I'd like to add from an "accomplishment" standpoint is a top 10 in a World Championship. I was 16th at Kona last year, 12th at 70.3 Worlds in 2014, and got a penalty at 2015 70.3 Worlds, which I think cost me a top 10. It would be awesome to accomplish that goal as the final check mark on my career.
I want to see if it can be done while also balancing business and family. Some of my competitors are fathers and know it's a tough balance to strike at this level. Like I posted a couple of days ago, kids want time, energy and fun, basically the three things you don't have while training for an Ironman! But on top of being a dad, I also own and run a business, Picky Bars, and I made the conscious decision a few years ago that I wasn't going to give that up for an uninhibited pursuit of triathlon. As far as I know, none of my competitors (outside of maybe TJ Tollakson at Dimond, not racing Kona this year), are also balancing the professional load I carry with owning and managing a business. Picky has 11 employees and will be in the mid $2M range in revenue this year, all organically grown (bad pun) with no outside investment. That's a legit small business that takes a LOT of my time and energy. I know everyone balances various aspects of their lives outside of triathlon, but I do believe that this pursuit is mostly unique in the top ranks of the sport. If I can have a great showing at the highest level of the sport, all while balancing the demands of biz and family, I'll be pretty stoked.
I think it could make a great story that (hopefully) inspires others. I think my situation with family and business better mirrors the majority of age groupers out there. I've learned throughout my career that wins and losses come and go—but the storytelling is forever! Haha, as dumb as that sounds, I mean it. I learn from writing and sharing my experiences, and I CERTAINLY learn from the questions, comments, and stories I hear from others in response to those experiences. So ultimately, if I tell the story, I can't lose, even if I lose! And hopefully some of you will win, even if I lose!
I'm not getting any younger! While I started in the sport late (30), and I'll probably still mostly improve over the next couple of years, I am 37 now and can feel age and the 7 years of hard training start to wear on me a bit. And with another baby coming in October, I know that realistically my chances are few at this level of competition.
So anyway, that's why I'm doing it basically. And now to the hard part…
How do I get better at Kona?
Well after I finally recovered from the delusional haze of last year's race. I talked with Matt Dixon my coach and we wrote down our quick thoughts on what went well and what didn't. Some of you may find those complete thoughts interesting, so here they are. But the quick summary is:
I felt tired in the weeks leading up to the race, and on the day itself. I didn't feel like I could get as sharp as Lanzarote (my best race ever) 5 months prior.
The heat crushed me.
I didn't pace the race properly (went out wayyyyyy to hard on bike).
I was still happy with (and kind of amazed at) my finish to be honest given all that.
So Matt and I basically took those thoughts and made all the big picture strategies this year around trying to improve upon those top couple of weaknesses from Kona 2016. In this blog I'll talk about the approach Matt and I took to feel better on the day. In the coming weeks I'll talk about hydration/nutrition, some equipment choices for cooling/heat, and pacing.
How To Feel Better on the Day
1 – TAKE A BIGGER BREAK
So last year, I trained super hard for Kona obviously, I had some great workouts throughout the summer but by the beginning of September I started feeling pretty flat and tired. Matt and I were planning that I'd bounce back after some rest going into the race, but my body just didn't seem to respond—it felt hard and stale for a lot of the lead up. And on the day, I still felt flat. That happens sometimes and it doesn't necessarily mean you're in a bad spot, but some of my other IM's (Lanzarote 2016, Wales 2015), I "felt" much better in the race, so we're trying to replicate that approach.
The main mistake we think I made was coming back into hard training too soon after IM Lanzarote last year. Prior to IM Lanzarote in 2016, I took 6 weeks off after Wales 2015, and broke my toe in November, which kept me from running for another 8 weeks. I had probably the best race of my life, ran a 2:46 marathon and won!
But after that race, I only took six days off and was back riding hard within a couple of weeks. (I actually set a 30 min power PR and rode 2-3 times over 100 miles!) This wasn't prescribed by Matt, a lot of it was my fault. I think I was excited about the success at Lanzarote, had no injuries, was super motivated, and wanted to get cracking on Kona. I think that eventually caught up to me in late August and September.
So this year I took a much bigger break after my third place at Lanzarote. I took 10 days completely off and didn't do over an hour of exercise a day for 3.5 weeks! Plus ALL of it was EASY. I let myself get out of shape, like I do during the winter. I treated June like November. I gained more weight, drank a LOT of beer, and enjoyed more family and Picky Bars time. I even was "aided" by a foot injury that kept me from running for about 6-8 weeks, yay! See the images below, in total I trained 26 hours less during the month of June than I did last year, and all of it at a MUCH lower intensity.
2 – RACE MORE
Matt and I also think I went too long training without racing. I only raced once last year in the leadup to Kona, Santa Cruz 70.3, and like expected, I felt tired from all the training! My training was great, but races give you a natural way to cycle the training because you have to rest going into and out of the race. We think the continuous weeks of training, while they looked great on paper, contributed to the general fatigue and "staleness."
So this year, after taking an extra month off and starting my training later, I'm racing the same weekend as last year –at 70.3 Worlds in Chattanooga. Then I'm ALSO racing 2 weeks later at Augusta 70.3, which is 3 weeks prior to Kona. I'll do some "extra" training on the back end of those races to get in some Ironman volume, but the natural cycle of racing we think, will help keep me fresh mentally and physically going into Kona.
Next week: 70.3 Worlds Preview, Hydration/Nutrition changes, Questions!
That's it for this week! Heading into Kona, my draft schedule looks something like this:
7 weeks to go – Why I'm Racing Kona, Goals, Biggest picture changes from 2016
6 weeks to go – 70.3 Worlds Preview, Hydration / nutrition changes + updates
5 weeks to go – 70.3 Worlds Recap + Equipment / Cooling
4 weeks to go – 70.3 Augusta Preview + Key IM workouts & training
3 weeks to go – 70.3 Augusta Recap + questions + next steps
2 weeks to go – Final prep + questions
1 week to go – Kona preview and final thoughts
After the race – Kona recap
I will also attempt to answer questions on Facebook, Twitter, etc. I may even do a Facebook live session or two. We'll see.
Hope that makes sense and helps some of you guys! So far the training has been going really well (you can literally see all of it on my Strava page if you want), and I'm excited to race 70.3 Worlds in a week and a half. I know I won't be at top capacity, but that's good, I'll still have five weeks to go to Kona, and am trying to delay that sharpness to just the right point!
I'd love to answer questions as you guys have them, as the point is for this to be valuable to you, so please ask questions on Triathlete's and my Facebook, Twitter, or Instagram, and I'll either answer or do a follow up on Facebook live. Hope all is well and thanks for following!
Jesse