Two Beautiful Mountain Triathlon Training Destinations
Epic landscapes? Check. Killer terrain? Check. Way too cold to tri in the winter? Yep.
Heading out the door? Read this article on the new Outside+ app available now on iOS devices for members! Download the app.
Epic landscapes? Check. Killer terrain? Check. Way too cold to tri in the winter? Yep. Welcome to two of the most beautiful mountain training destinations in the U.S., prime for late-summer adventures.
Tahoe City, CA
With moderate temperatures, stunning views, and challenging terrain, the Lake Tahoe region offers an inspiring natural setting for summer training and racing. Straddling the California-Nevada border, the 191-square-mile lake is the scenic centerpiece for just about every activity, while the rolling hills and mountains make Tahoe City—on the northwest side of the lake—the ultimate triathlete getaway.
Weather: While temps typically reach the mid-80s in August, cool nights in the low- to mid-40s make for refreshing early morning rides and runs. Very brief scattered afternoon showers can be common, but August is one of the driest times, typically getting less than a quarter inch of rain during the entire month.
Where to Swim: There are plenty of places to swim in Lake Tahoe, but Lake Forest Beach, at the end of Bristlecone Avenue off of Lake Forest Road, is the best. Although a bit secluded, it's a family-friendly beach with a sand and pebble shoreline. The water is typically calmer in the morning and evening before twilight sets in. Bonus: Usually chilly Lake Tahoe can climb into the low 70s in August.
Where to Bike: The Triangle is a 50-mile road ride that connects Tahoe City, Truckee, and Kings Beach via Highway 89, Highway 267, and Highway 28. There are a couple of hefty climbs, but it's mostly a flowy, intermediate route with stunning lake views. For a slightly more ambitious 72-mile ride, consider the Tour de Tahoe course that circumnavigates the lake with two massive climbs and 4,000 feet of total vertical gain.
Run: While there are plenty of flat and rolling roads in and around Tahoe City (and a track at North Tahoe High School), running along portions of the 165-mile Tahoe Rim Trail loop are a must. An epic 20-mile section starts in Tahoe City and rambles through thick forests, grassy fields, and ancient lava flows on its way to a trail junction at Brockway Summit.
Where to Race: The Lake Tahoe Triathlon is a two-day event that offers five different races, including sprint-, Olympic-, and 70.3-distance tris—plus a duathlon and an aquabike event. It's based out of Ed'ZBerg Sugar Pine State Park in Tahoma, about 15 minutes south of Tahoe City. Another option is the XTERRA Lake Tahoe Off-Road Triathlon in nearby Incline Village. It's one of the best XTERRA courses on the circuit, with a 1,500-meter swim in Lake Tahoe, an epic 22-mile mountain bike ride, followed by a relatively flat, scenic course that includes lush forests and a few creek crossings.
Get there: The closest major airport is in Reno (about a 60-minute drive), but flying to San Francisco (about 4 hours with moderate traffic) is also an option. Another option is taking a train from Reno to Truckee (about 1 hour) and renting a car there for the 30-minute drive from Truckee to Tahoe City.
Eat: Have a meal at Sunnyside, a restaurant and lodge on the shoreline that offers casual food from its Mountain Grill and more formal cuisine in its Lakeside Dining Room. Both menus feature their lauded fried zucchini and fish tacos. Fire Sign Café and Café Zenon are ideal brunch spots for fueling up after morning workouts.
Stay: Close to running trails, road riding routes, and the lake, Basecamp Hotel in Tahoe City is a modern 24- room lodge geared toward athletic-minded customers with cozy outdoor patios and a variety of craft beer taps in its lobby bar.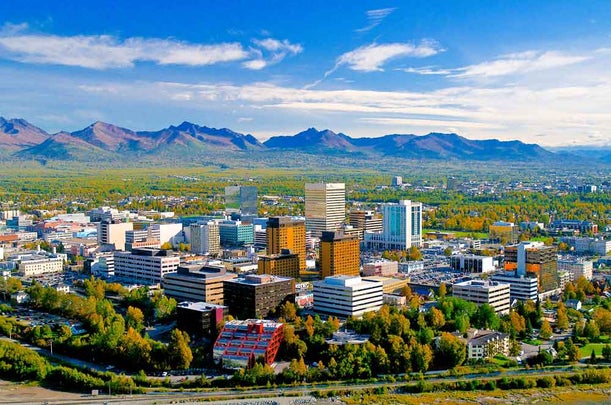 Anchorage, AK
Triathlon training in Alaska? You bet! The triathlon scene in Alaska is surprisingly large for its small, spread-out population and sometimes not-so-friendly weather. Although Alaska has more land mass than any U.S. state, Anchorage is a smallish city with a strong endurance sports community. Moderate summer weather, breathtakingly scenic training locales, and good local races make it a fun way to enjoy The Last Frontier State.
Weather: August is one of Anchorage's warmest months, with afternoon highs in the mid-60s and evening lows between the upper 40s and low 50s. Yes, it's also the rainiest month with an average of 11 rainy days, but you can use any wet weather you encounter to build your mental strength—and your training photography portfolio.
Where to swim: In Alaska, every open-water swim can feel a little like a polar bear plunge. The Alaska Triathlon Club hosts open-water group swim sessions every Monday night in the summer at 6 p.m. at Little Campbell Lake at Kincaid Park, where the water is usually in the 50- to 55-degree range.
Where to bike: Road biking in the Anchorage area is extremely scenic and typically replete with wildlife sightings (bear, sheep, moose, and even whales, depending on the ride). Two of the most popular rides are a 45-mile round trip to the Eagle River Nature Center and an 80-mile round trip route along Seward Highway south from Anchorage to Girdwood.
Where to run: There are a lot of great trail running spots on the outskirts of Anchorage, including Wolverine Peak Trail, Flattop Mountain Trail, and O'Malley Peak Trail located inside 495,000-acre Chugach State Park. Other running workout options include the free weekly pub-runs organized by the Skinny Raven Sports running shop (800 H. Street, Skinnyraven. com) every Tuesday evening in the summer and the Tuesday night cross-country races put on by the Anchorage Parks and Recreation Department in the fall.
Race: The Olympic-distance Moose Nugget Triathlon (Aug. 12) is a summer staple of the local tri community. It starts with a two-lap, 1,500-meter swim in Jewel Lake, followed by a mostly flat 40K bike ride and concludes with a flat, out-and-back 10K run. For a much bigger quest a few hours to the south, try the Alaskaman Extreme Triathlon (late July), a 141.6-mile event in the remote town of Seward that includes a 2.6-mile swim in 50- to 55-degree water, a 112-mile bike ride with 5,100 feet of elevation gain, and a 27-mile run on roads/ trails with 6,000 feet of climbing.
Get there: There are direct flights into Anchorage from many U.S. cities, including Seattle, San Francisco, Los Angeles, New York, Denver, Chicago, and Houston.
Eat: Stop by the Snow City Café for a yummy brunch with stuffed French toast and reindeer sausage. Simon & Seafort's Saloon & Grill earned best steakhouse in the state honors from The Daily Meal and Thrillist in 2017. Meanwhile, both Glacier Brewhouse and 49th State Brewing Co. feature traditional and local fare (ever had a yak burger or Alaska seafood chowder?) and many tasty local brews.
Stay: While Anchorage has numerous national hotel brands within its city limits, Hotel Captain Cook is a premier lodging property in the heart of the city and close to running, riding, and swimming spots. A Wild ower Inn o ers a more cozy and laid-back B&B option near the city center.