Tempe's Rise From Desert Scar to Triathlon Star
How this urban town best known for triple-digit temperatures and a massive university became a modern multisport mecca.
Photo: Competitive Image / @CompImagePhoto
Heading out the door? Read this article on the new Outside+ app available now on iOS devices for members! Download the app.
How this urban town best known for triple-digit temperatures and a massive university became a modern multisport mecca.
Close your eyes and imagine your ideal location for a destination triathlon. Odds are you pictured something tropical, with pristine crystal waters for the swim, scenic rolling hills for the bike, and a picturesque tree-lined trail for the run. The reality is that triathlon's latest go-to spot has none of those things.
Tempe, Arizona, is a vertically rising suburb, 20 minutes from downtown Phoenix, located directly under the flight path of the state's largest airport. For a third of the year, the average temperature hovers around 100 degrees or more, and shade is scarce—it's the desert, after all. In the early to mid-aughts, the city was more likely to make headlines for being home to the nation's biggest "party school," Arizona State University, than it was for hosting any endurance events.
Yet over the past few years, this town has emerged as a heavy-hi ing triathlon mecca, hosting some of the sport's most notable events, from sellout races like Ironman Arizona to conferences like Triathlon Business International and the new Outspoken: Women in Triathlon Summit (of which Triathlete is the title sponsor). Not to mention, it's now home to the nation's most dominant women's NCAA Division I collegiate tri team.
How did this urban desert city become such a triathlon oasis? The answer has to do with a potent combo of passion, forward-thinking civic leaders, and a physical transformation more than 40 years in the making.
***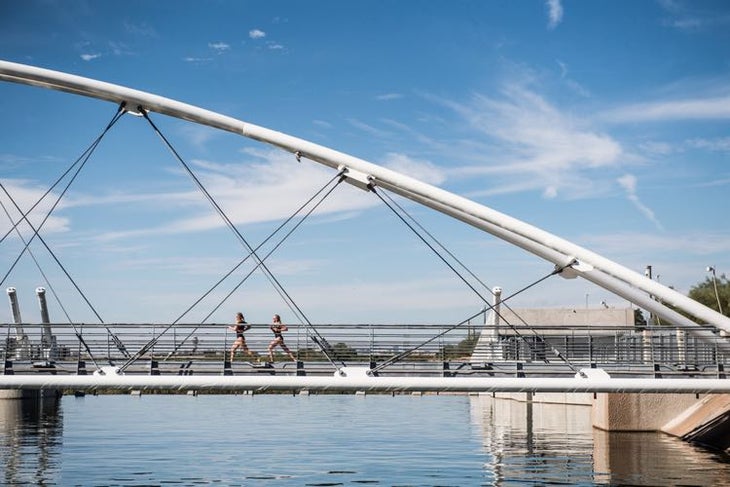 Let There Be Water
Once upon a time, a river called the Rio Salado (or Salt River) flowed freely through the Tempe area, bringing farmers and immigrants to settle the region. In 1871, Tempe founder Charles Trumbull Hayden brought business (a flour mill) and infrastructure (a ferry and railroad) to the area, but constant flooding wreaked havoc on the region's progression. In 1911, construction on Roosevelt Dam was completed in a canyon 60 miles to the east, so over time water was completely redirected away from the Rio Salado to be used for agricultural, industrial, and domestic purposes. A desolate riverbed remained, earning the area a reputation as an "urban scar" and a "barren wasteland."
Determined to bring vitality back to the area, while still maintaining the necessary flood control, the dean of ASU's College of Architecture challenged a group of architecture students in 1966 to create a plan that would do just that.
"The Rio Salado has given Phoenix its life," they wrote in their final report. "Now Phoenix can return life to the river and bene t greatly from that act. For men of vision and leadership, this is a noble goal. One that is within reach."
After years of planning and processing for an elaborate parks system that would span a lengthy section of the riverbed, in 1987 the decision to build it finally went to the voters of Maricopa County, which encompasses the Phoenix metro area. The vote overwhelmingly failed—except in Tempe.
Leaders in Tempe envisioned what the project could look like within their city limits. The vision puttered along until Neil Giuliano became mayor in 1994 and made the project a priority; construction officially got underway. On June 2, 1999, water began flowing, and on Nov. 7 that same year, Tempe Town Lake officially opened to the public—a 2-mile-long, 1,000-foot-wide oasis in a desert metropolis.
Just a few years later, thanks to the efforts of a few tri-minded visionaries, Tempe would be on its way to becoming the place where tens of thousands of triathlon dreams would come true.
***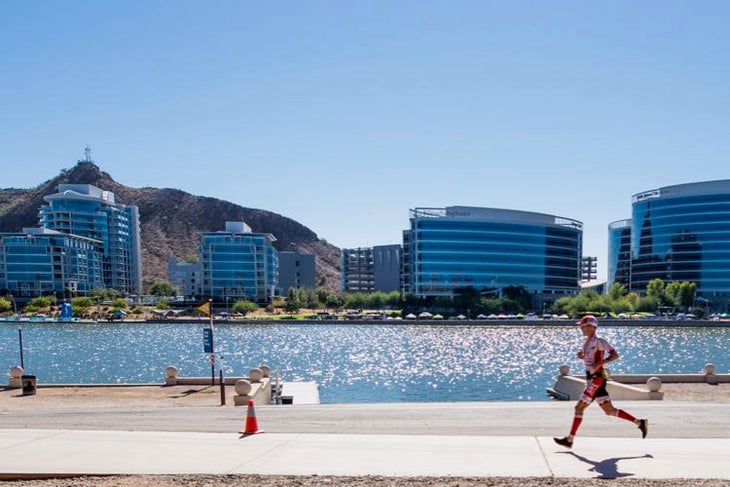 Planting The Seed
3Disciplines events director Kenny Krell, who split his time and race-organizing efforts between Michigan and Arizona, saw a sketch of Tempe Town Lake in a local newspaper before it was completed and reached out to the city with the idea of bringing triathletes to the lake.
"I saw the rendering and immediately thought, 'This is triathlon central,'" Krell says. City administrators initially balked at the notion, so Krell took the idea to the next level. "I felt we were at a no-pass zone, so I made a packet that was 10 or so pages," he explains. "I took a couple of photos from the Chicago Triathlon, a couple of events that were overseas, a couple of Ironman events, and I said, 'We can turn Tempe into the triathlon mecca at least in the Southwest, if not in the United States, once this lake is built.' I sent it to each individual council person, including the mayor. A couple of months went by and then I got a handwritten letter from the mayor that said 'This is exactly why we're building this lake. I want you to make this happen.'"
According to Krell, there were approximately 35 people in an initial meeting to discuss details of the first triathlon, and ultimately they ended up with a bit of overkill—both in committed resources and in road closures. Tempe Town Lake created the perfect swim and transition venue, and the surrounding running paths were ideal for tri's third leg, but the lake is very much in the middle of an urban area; road closures for the bike were a contentious point, and the city ultimately closed several lanes on each stretch of road to ensure athlete safety. "I remember our budget for that season was $50,000, and the police bill alone for 72 officers was $42,000," Krell recalls.
In May 2001, Tempe Town Lake hosted its first triathlon ever, with 1,900 athletes competing in the inaugural Olympic-distance Tempe International Triathlon. "Our biggest triathlon before that was about 500," Krell says of his other race ventures outside of Tempe. "It was a huge learning experience, but it went off perfectly and everyone loved it."
An October half-iron-distance race (the Cactus Cup Challenge, which later became the Soma Triathlon) joined the Tempe International Triathlon, and cemented themselves as the first and only race dates on the Tempe calendar for four years. Then Ironman brought in its 140.6-mile race in April 2005, and triathlon boomed; several race directors soon followed suit.
From 2007 to 2012, Red Rock Co. was the premier triathlon organizer at the lake with co-owners Kimo Seymour, Tim DeBoom, and Mike Melley. The three struck the right balance of quality and community, while taking complete advantage of the lake's prime location close to Sky Harbor International Airport within a greater metropolis of about 1.5 million people—not to mention weather that's sublime when much of the U.S. gets frosty.
"I think in my days of producing events in Tempe, the advantage is how centrally located the venue and the course is," Seymour says. "For years I refused to go out and try to put on events at Saguaro Lake or Lake Pleasant [both more than 35 miles from the airport] because it's just hard to get people to travel that far to do events. The infrastructure to support it—like the hotels and restaurants—Tempe is just a great location to host events."
While Red Rock Co. dominated the local event scene with several races each year—including the wildly popular half-iron-distance Soma Triathlon (which Krell used to run)—Ironman Arizona started to build a reputation around the world as a fast, mostly flat course ripe for a PR.
The 140.6-mile event really found its groove in 2008 when organizers moved the date from April to November; the improvement in race conditions (cooler and less windy) and the fact that East Coast athletes could now train and then escape to a warm destination ahead of the holidays have made it the most popular event on the North American race calendar. The 2017 race welcomed athletes from all 50 U.S. states and 40 other countries, as well as hundreds of volunteers eager to get priority registration access for the 2018 event that was guaranteed to sell out as it had in previous years. (The record for the quickest sellout came in 2012, when every slot for the 2013 Ironman Arizona triathlon was gone within 40 seconds of registration opening.)
While Krell initially struggled to get the city on board, the decision makers have since fully embraced the upsides of bringing multisport enthusiasts to the area. "The city and the mayor, the city council, the tourism groups, and the sports commission groups in any city are the people who make the sport successful or not," explains USA Triathlon CEO and former Tempe resident, Rocky Harris. "It really takes leadership. When you have a city that's as innovative and vibrant and active as Tempe—our sport matches perfectly with the DNA of Tempe."
Seymour agrees. "We've always had great support from the mayors on down through the city," he says. "That's what differentiates Tempe."
That said, it hasn't been all rainbows and never-ending sunshine growing the sport in Tempe. It's taken a lot of work for race directors and city officials to wrangle the star of the multisport show: the lake itself.
***
The Day The Dam Broke
Since the beginning, the water quality of Tempe Town Lake has constantly teetered on the edge of being unsafe for athletes to swim in. Rain, warmer weather, and (more recently) golden algae blooms have all wreaked havoc on the water's pH levels. An April 2018 scheduled splash-and-dash was canceled at the last minute due to unsafe levels, but the city was able to treat the water in time for the Cactus Man Triathlon to happen just a few days later.
"Tempe does a fantastic job of monitoring the water quality," says Seymour, who dealt with this issue several times as a race director. "They certainly have to meet certain city and county water quality standards before they would authorize people to get in the water. It was always a nail biter. They were always having to treat the water to make sure it stayed within the confines of the water-quality standards. That was always challenging."
Seymour's Red Rock Co. was strongly affected by an event even more dramatic than the wavering water quality. On the evening of July 20, 2010, one of the rubberized pieces of the inflatable dam system burst, sending thousands of gallons of water gushing into the riverbed and emptying Tempe Town Lake. The lake was repaired, filled, and reopened on Oct. 26, 2010—less than a month before that year's Ironman Arizona triathlon. While Ironman was spared, three of Red Rock Co.'s events weren't so lucky.
"I jumped in the car and drove out there and watched it drain for a couple of hours," says Seymour of the moment he found out about the break. "It took us a while to recover from that for sure."
While Red Rock Co. was able to bounce back, Seymour and the other owners still sold the company to Life Time Fitness after the 2011 race season. Since then, several races—including Life Time's Leadman Tri—have come and gone as costs for producing triathlons continue to rise.
The area around the lake has become vibrant with vertical expansion that includes several condominiums and business headquarters, making it more expensive to close the heavily trafficked roads around the lake. The city has worked hard to bring in big-name businesses. One example: A $600 million office development known as the "Marina Heights project" lured State Farm to make Tempe its new regional headquarters in 2013. Where there used to be large parking lots along the lake for overflow ASU football parking, there are now shiny, swanky high-rises with restaurants, shops, and 1,600-square-foot condos selling for more than $500,000 each.
"It's not an inexpensive venue," says Seymour, who accepted a position with Life Time as part of his company's sale. "Not only Tempe Town Lake, but I would say any city streets around it. Certainly, any bike course, you have a lot of road closures, a lot of barricades, a lot of police, a lot of fees—so the expense of putting on an event in Tempe is cost-prohibitive in a lot of ways, but it's really grown dramatically over the years."
Long-distance races have also struggled with the expense of trying to access longer stretches of road for the bike courses. The Beeline Highway is a staple of Ironman Arizona's 112-mile bike section, but it's not feasible for smaller races to pay the hefty fees to cross the Salt River Pima-Maricopa Indian Community and get over to the state highway section.
The resulting looped course is less than ideal. Ironman 70.3 Arizona (formerly Soma, which was taken over by Ironman as part of a bigger deal with Life Time) still includes 24 turns and U-turns on each of its three laps (adding up to 72 total) to reach the 56 miles.
With all of these challenges and tri participation settling into a sustainable groove after 14 years of exceptional growth that hit its peak in 2012, the Tempe Town Lake triathlon calendar has settled into an annual schedule of six events—about half of the number it had during its apex. But while the race calendar has been pruned, the city has risen to support the sport in exciting ways that are making an impact, reaching far beyond the local triathlon community.
***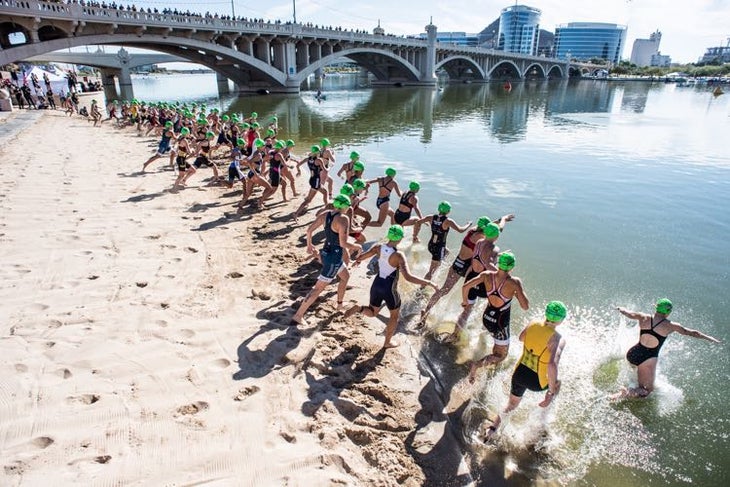 Tempe's Tri Boom 2.0
In April 2015, Arizona State University became the first Power Five Conference NCAA Division I school to add women's triathlon as a varsity sport. Then the COO of Arizona State University's Athletic Department and an age-group triathlete himself, Rocky Harris zeroed in on the benefits of having triathlon at a university. Nicole Truxes, a university student at the time, brought a USAT grant opportunity to the attention of the athletic administration, and they were quick to jump on it.
In addition to the substantial funding available (USAT's Women's Triathlon Emerging Sport Grant totals $2.6 million), it's fairly easy to put together a quality team of 10 to 12 triathletes compared to other sports—like an 85-player football team. Harris points out that the biggest advantage to triathlon on a campus is that—for most schools—there is zero need to add facilities because their current setups include a pool and a track. Another huge—and unexpected—advantage has been the new donor pool that triathlon is revealing to universities. "The average household income for [USAT's] members is over $140,000 per year," Harris explains. "That's a great donor group to tap into to help grow the sport. We got a six-figure gift a couple of months after announcing the sport at ASU. That donor had never given to ASU and was never planning to. Because we added a sport he loved, he gave us a large sum."
The program, led by head coach Cliff English, has dominated the scene since day one. In November 2017, USA Triathlon announced its new Project Podium: a men's elite development program that will be based at Arizona State University starting in fall 2018. Project Podium is designed to develop top young American male triathletes with the goal of achieving medal performances in major international competition and, ultimately, the Los Angeles 2028 Olympic Games.
"You have the most innovative university in the country right there, with an athletic director in Ray Anderson who believes in Olympic sport," explains Harris of the partnership. "He stepped up, and he's offering us his facilities, his trainers, and academic support—this is unprecedented stuff."
Tempe will host the Women's Collegiate National Championships again this year, and Harris says the city has also shown interest in placing bids on the 2019 High School National Championships and Collegiate Club Championships (which Tempe hosted in 2013 and 2014). In the coming six months, Tempe will host the USA Triathlon Art and Science of Triathlon International Coaching Symposium, the inaugural Outspoken: Women in Triathlon Summit, and the Triathlon Business International Conference (which Tempe also hosted in 2018).
Clearly, combining the political capital of the City of Tempe and Arizona State University—one of the biggest universities in the U.S.—has propelled Tempe to a status in the triathlon community that is not seen anywhere else in the nation.
***
Looking Ahead
As a sport that's often complicated, costly, and confusing, triathlon only succeeds if there are passionate people who understand the benefits it brings to a community, including tourism and a glowing example of healthy living that gets passed on to all residents.
Since that first triathlon in 2001, Tempe has been blessed with people—from civic officials to race directors and local triathletes—willing to fight for triathlon's presence. Bidding on several championship races, building a powerhouse NCAA team, and hosting conferences for the sport's thought leaders are a combination of moves no other city has been able to make. With that unprecedented momentum and areas of untapped potential—like the draft-legal-friendly setup on the north side of the lake—it seems the best is yet to come in Tempe. "I could see a future World Cup or World Triathlon Series event there, just because the venue is so good," Harris says.
Regardless of what exciting developments we might see in the future, one thing's certain for now: "Tempe has evolved to become one of the ho est triathlon cities in the U.S.," Harris says, "and maybe the world."
***
Our Picks For…
Where To Eat
Breakfast: Ncounter (Ncounter.com)
A casual spot on Mill Avenue, just steps from all of the triathlon events
Try: The Red-Velvet Waffle
Lunch: Culinary Dropout (Culinarydropout.com)
A new hotspot with a covered patio, live music, and lawn games
Try: The Soft Pretzels & Provolone Fondue
Beers: Four Peaks (Fourpeaks.com)
A family-friendly brewery with the best beers and equally delicious food
Try: The White Ale
Dinner: The Keg Steakhouse + Bar (Kegsteakhouse.com)
Only the finest cuts of steak, in a relaxed—but classy—environment Try: The New York Strip
Where To Stay
Tempe Mission Palms (Destinationhotels.com)
Right in the heart of the action on Mill Avenue
Marriott Courtyard Tempe (Marriott.com)
A comfortable, convenient, and more affordable option steps from the Ironman race course
AC Hotel (Achotels.marriott.com)
A sleek, European-inspired hotel with views of Tempe Town Lake
Tempe Town Lake Condos (Vrbo.com or Airbnb.com)
Several residents put their premium lakeside condos up for rent
Where To Play
Phoenix Zoo (Phoenixzoo.org)
The largest privately owned, non-profit zoo in the United States sits just north of Tempe Town Lake
ASU Gammage (Asugammage.com)
A multipurpose performing arts center that welcomes the best traveling Broadway shows in the nation
Tempe Marketplace (Tempemarketplace.com)
Shopping, dining, and entertainment just down the road from Tempe Town Lake
Mill Avenue District (Downtowntempe.com)
Channel your inner college student with the fun and funky stretch of restaurants and shops
***
Tempe Town Lake Timeline
500 A.D. to 1450 A.D.
Prehistoric Hohokam Indians created an extensive desert valley canal system.
1700
The river was named the "Rio Salado" (Spanish for salt river) because of the salty taste of the fresh water.
1871
Charles Trumbull Hayden started the Hayden Ferry crossing at the Salt River "Narrows," now the entrance to downtown Tempe.
1880s
Construction of the first railroad bridge.
1902
Floodwaters weakened the railroad bridge, causing it to collapse.
1911
The Roosevelt Dam is put in place to slow and divert the flow of water, turning the river bed in Tempe into a barren wasteland.
1966
Arizona State University architecture students come up with a concept to use the dry river bed, known as the Rio Salado Project.
1987
After a long 20 years of planning and studying, the project goes to a vote. It was voted down by most cities involved, but Tempe voters supported the project. A feasibility study for Tempe begins.
1997
Construction begins on Tempe Town Lake.
1999
Tempe Town Lake is filled and opened to the public.
May 2001
The first-ever triathlon, the Tempe International Triathlon, takes place.
April 9, 2005
The first Ironman Arizona triathlon takes place.
2008
Ironman Arizona is held in both the spring (April) and fall (November) to accommodate the permanent move to November for cooler weather.
July 20, 2010
The dam breaks, draining the lake and causing most of the fall triathlons to be cancelled.
Oct. 25, 2010
Tempe Town Lake reopens in time for 2010 Ironman Arizona.
April 23, 2015
Arizona State University becomes one of the first eight schools to receive the Women's Triathlon Emerging Sport Grant and start an NCAA triathlon program.
Nov. 5, 2017
Tempe hosts the USA Triathlon Collegiate National Championship.
Jan. 26-28, 2018
Tempe welcomes the 8th annual Tempe Business International Conference.
Nov. 30-Dec. 2., 2018
Tempe to host the first-ever Outspoken: Women in Triathlon Summit.