This Triathlete Traded a Destructive Path for an Inspiring Legacy
From drug binges to Ironman veteran, Todd Crandell now uses the sport to helps others.
Heading out the door? Read this article on the new Outside+ app available now on iOS devices for members! Download the app.
Like a lot of triathletes, Todd Crandell had an Ironman epiphany watching the race on television. "Holy s***," he thought, "that looks pretty extraordinary. I want to do that someday."
Crandell was 20 years old at the time, a full-blown drug addict and alcoholic. He was watching the Ironman while sitting on a sofa in his Sylvania, Ohio, apartment, snorting lines of cocaine from the glass surface of a framed photograph. He had gone beyond noticing that the pic was of him—a gift from his father—gloving a high shot as the star goalie on the Sylvania Northview High School hockey team.
Ironman was a nice thought. Stupid, but nice. Hockey was old news—a fading memory of great potential that had been muddied by drugs and drinking, run-ins with local police, and a relentless string of troubles at school. For the moment, he was too busy destroying himself to care much about either sport. He finished his drugs and went looking for a chaser.
Clean and sober now at 52, Crandell has never been drawn to half-hearted attempts—at either success or failure. As of last count, he's finished 29 Ironman-length triathlons, including two in Kona, plus an Ultraman in Penticton, Canada, in 2009. He holds multiple licenses as a professional counselor and is the founder of Racing for Recovery, a substance-abuse counseling, and treatment program based in Holland, Ohio. His story has drawn international media attention, including a critically acclaimed documentary, Running with Demons.
He started drinking and using in the eighth grade. Two sips of beer one day turned into an entire fifth of Jack Daniels on the second. He was a popular kid—a talented good-looking athlete with lots of friends. But there was a dark side too, boiling with confusion and self-doubt. His mom had been an addict and ended her own life at 23. At the time, Crandell was not yet four years old. He couldn't get his head around her death. Or the fact—despite a lot of evidence to the contrary—that he might be worth something.
"Every time I drank it was chaos," Crandell says. "It wasn't partying, it was self-destruction. I didn't like who I was, and I didn't want to wake up in the morning."
The turmoil lasted for 13 years. On April 3, 1993, he was arrested for drunk driving for the third time. He decided he'd had enough. "It was like a gift. Maybe it was God. I like to think my mother had something to do with it. But that gift was a mindset, a desire to get better. That's all I needed. I just took off and went in another direction," Crandell says.
That direction was, improbably, a normal life: a wife, kids, a steady, well-paying job (ironically) as a pharmaceutical salesman. The Ironman thing came along in 1999 when he decided to sign up for Ironman Florida in Panama City. He didn't know how to swim, and he didn't own a bike, but seven months later, there he was at the finish line with his daughter Skyler in his arms, and 140 miles in his back pocket.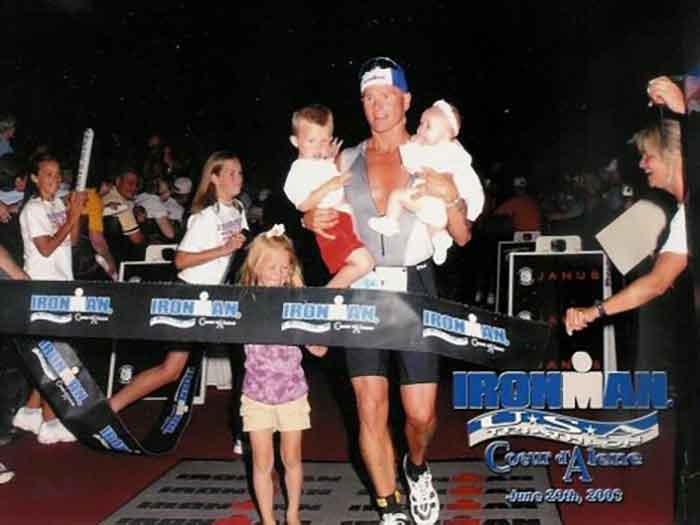 Today, nearly 20 years after Racing for Recovery was founded, Crandell continues to race and confront the complicated needs of his organization's clients. He has saved lives and inspired thousands, while his own devils still lurk. The booze and the drugs are gone forever, but he's still convincing himself that he's worth all the fuss. His self-confidence ebbs and flows like a tide, so he pushes even harder; his voracious passion for helping others held in check only (and sometimes just barely) by the emotional needs of wife Melissa and their four children.
Crandell is the first to admit he's still a work in progress. Which is, after all, the best definition of an endurance athlete. Or, for that matter, a human being.
"People say, 'I survived the Ironman.'" Crandell says. "But that's not what I'm talking about. I survived myself."