This Stretch of Road Creates Champions
The story of how an unassuming one-mile section of red dirt road outside of Boulder, Colorado, has become the proving grounds of legends.
Heading out the door? Read this article on the new Outside+ app available now on iOS devices for members! Download the app.
There are some places that transcend their geographical coordinates and become so iconic that they live on in the hearts and minds of athletes as symbols of the sport.
These are spots like legendary Ali'i Drive in Kona, the Champs-Élysées in the Tour de France, or Heartbreak Hill in the Boston Marathon.
There's another special place, perhaps not as well known, but one that holds just as much significance to the athletes who train and race on its hallowed grounds. It's the one-mile stretch of road that creates champions: Monarch Road in Boulder, Colorado.

What's so special about a one-mile road?
Unlike other locations that have gained notoriety from being part of an important race course, Monarch Road is unique because it's a training ground for pro triathletes, age groupers, and elite runners.
Sitting just northeast of the Boulder Reservoir (or "Boulder Rez" to locals)—a 700-acre space used for swimming, biking, running, and more—Monarch is a red dirt road with a section that's uncannily measured at almost exactly one mile from 63rd to 55th street. "Technically, it's just under one mile for those data geeks, but if you run from stop sign to stop sign, it's a mile," says pro triathlete and Boulder resident, Justin Metzler.
When Metzler moved to Boulder in 2014, Monarch Road had become such an iconic segment that he started doing the majority of his run sessions from the Boulder Rez or nearby Tom Watson Park. "Even to this day, I meet up with training partners to run there," he says. "Whether it's a long, easy run or something race specific, Monarch Road is very special. I've spent many hours on that section of road."
But how did a humble dirt road become legendary?
Pro triathlete and Boulder resident, Dede Griesbauer, says it has a lot to do with two, record-setting, Australian triathletes named Craig "Crowie" Alexander and Mirinda "Rinny" Carfrae.
"I think what made Monarch Road 'famous' is when Crowie was training in Boulder for Kona," Griesbauer says. "He did a lot of his key race sessions there. He'd do a big ride and then finish with a time trial that ended at Monarch Road with a series of 6-10 one mile repeats at race pace. Then, Rinny started doing it with him. Because of that, this stretch of road became well-known."
Metzler remembers growing up watching videos of Crowie and Rinny doing mile repeats on Monarch back in 2010. "Bob Babbitt did a video segment with them on Monarch Road. I think it was even sponsored by 'Got Milk?' and it was a super inspirational piece for me," Metzler says.
Since then, Monarch Road has become a community gathering spot where age groupers can train alongside pro triathletes and local track clubs can rub elbows with elite run squads.
"I remember seeing guys like Richie Cunningham and Leon Griffin (Boulder studs back in 2014-2015) doing mile repeats on Monarch," Metzler says. "But there are people of all abilities out there on a Sunday morning doing their thing, from those running a 12-minute mile to those running a 5-minute mile. If you're doing anything related to endurance sport in Boulder, you will find yourself somewhere around Monarch Road"
The stats

Because the mile is such a popular training interval, Monarch Road is a great place to dial in race pace with structured run sessions. "Also, it's part of a bigger looped system where you can do long runs, tempo efforts, or drop a bottle and do 5K repeats from Monarch to 55th, to Niwot Road, to 63rd, back to Monarch," Griesbauer says. "It's a relatively closed loop, and it challenges you in certain ways because it's a net uphill one direction and a net downhill the other."
It's easily accessible to the Boulder Rez and Tom Watson Park, with a parking lot and restrooms nearby. The isolated location means there isn't much traffic, except for the occasional gravel cyclist, and the dirt surface provides a reprieve from hard pavement. "It's a nice change of pace because it's soft underfoot and a little rutted. You have to mind your footing and train that feeling of getting off the pavement and onto the dirt where your footing isn't as secure," Griesbauer says.
Also, the road is virtually flat (a rarity in Colorado) with a slight grade of 2%. The elevation is the same as in Boulder proper (5,430 ft.), which is the main reason why so many elite triathletes, runners, and cyclists call Boulder home.
Griesbauer has lived and trained in Boulder for over 10 years and says she still feels a noticeable shift when she comes down from training at altitude. "I get a little confidence boost, because everything feels slightly easier. We're just high enough here that you have to monitor your recovery a bit more, but it's not like living at 8,000 ft. where you can't actually do the work."
Battles on Monarch Road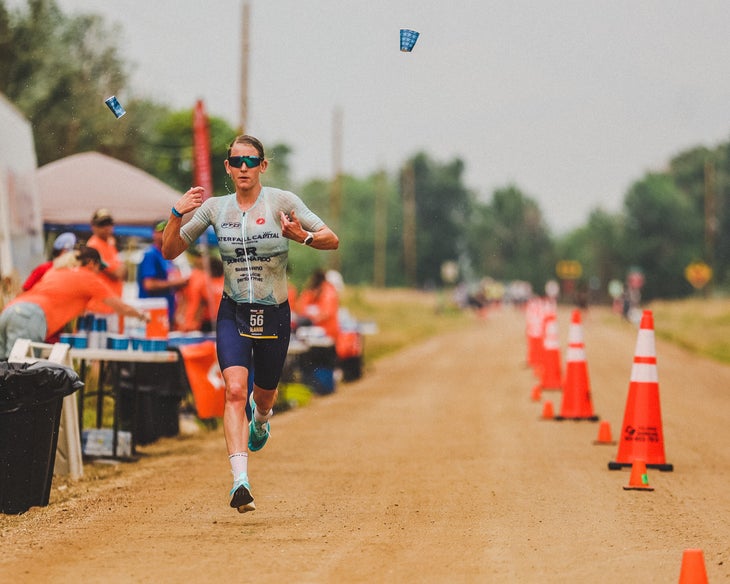 Ironman 70.3 Boulder always incorporates some stretch of Monarch Road into the run course, which has served as a battleground for many close races.
"Aside from being a really iconic place to train, some of my closest battles have been on Monarch Road," Metzler says. In 2017, Metzler ran side by side with Ben Hoffman for eleven miles before being dropped on Monarch. In 2021, Metzler battled back and forth with Bradley Weiss before succumbing once again. The third time was the charm in 2022 when Metzler was able to make up two spots after Monarch Road and placed second.
"I think Monarch is such a unique place, because it's a long stretch where you can see almost all the way to the end," he says. "In the race itself, you can get a good idea of where people are and count a split. Also, it's a hot corner for coaches, friends, and supporters."
Griesbauer says Monarch is the one place on the Boulder 70.3 course with a decent amount of shade, so it's a welcomed reprieve for athletes and spectators alike. But make no mistake. Just like any other iconic location in triathlon history, Monarch is not a forgiving place. It's a stretch of road where your greatest strengths can be amplified, or your biggest weaknesses exposed.
"Everybody has stories to tell of great runs on Monarch Road, but if you look under the weeds, there's also the blood, sweat, and tears, and a number of pro triathletes who have lost their proverbial sh*t on Monarch Road," Griesbauer says.
 Catch all the action at Ironman 70.3 Boulder on June 10 – the free livestream of the race will be available exclusively on Outside Watch. Become an Outside+ member today and get access to the full library of race videos on demand.