This 9/11 Responder Is Using Triathlon to Fight His Way Back to Health
Two weeks of digging through rubble has resulted in health issues—but that's not slowing this athlete down.
Heading out the door? Read this article on the new Outside+ app available now on iOS devices for members! Download the app.
Like any triathlete, Kelly Dillinger occasionally gets annoyed with cars that pass too closely, or drivers who think it's cute to honk as they pass. But the automotive sound that bothers him is one many of us never think twice about: "Dump trucks. That's what gets me. That sound was constant," he says.
On September 11, 2001, Dillinger was working as an agent at the Drug Enforcement Agency's New York office. It was his first posting with the agency, and he was still learning the ins-and-outs of the job. As soon as his bosses heard what had happened at The World Trade Center, all the agents were called into their office, about 20 blocks from Ground Zero. "They made sure we were all accounted for, and then they released us," he remembers. He and most of his colleagues headed straight into Manhatten to help. He was on the scene by noon.
Their first task presented itself immediately. A firefighting crew badly needed a break. Dillinger and his colleagues took over, grabbing the hose. Within minutes, they realized this was not a job they were at all prepared for. "The core of the fire was like 1,200 degrees. The steam melted our boots and our jackets," he remembers. When another fire crew came to relieve them, the firefighters looked at DEA agent's melting clothing and couldn't believe what the DEA agents had endured. "But we didn't want to be seen as the guys who gave up," he remembers.
Dillinger spent the next two weeks working as a "digger." The job is exactly what it sounds like. From 3 p.m. to 3 a.m., he sifted through debris and rubble, hoping to find someone—anyone—who might still be alive.
The things he saw were gruesome. The smells were haunting. Having to hide among the bodies to give search and rescue dogs a chance to find someone alive and keep them from sinking into doggie depression broke his heart over and over again. But it was the constant sound of dump trucks that, nearly 20 years later, still haunts him.
Of course, the sound is just a mental trigger. Dillinger, like the 24,907 others who have filed September 11th Victims Compensation Fund Claims, has lasting physical effects from his time spent digging, too.
Four years ago, a dermatologist spotted something that looked suspiciously like melanoma. A little research revealed that this is one of the cancers covered by the Victim's Compensation Fund, since many other first responders have also developed skin cancers. Then he was diagnosed with gastroesophageal reflux disease—which, again, is common among 9/11 responders.
With his health starting to falter, Dillinger decided it was time to make a change. "At the time I probably weighed about 230 pounds," he remembers. He resolved to lose 30 pounds and get in shape by entering a local triathlon. "I told myself if I lost 30 pounds I was going to sign up for an Ironman." He lost the weight. He did an Ironman. Then another. He has two more on his schedule: Arizona and Texas.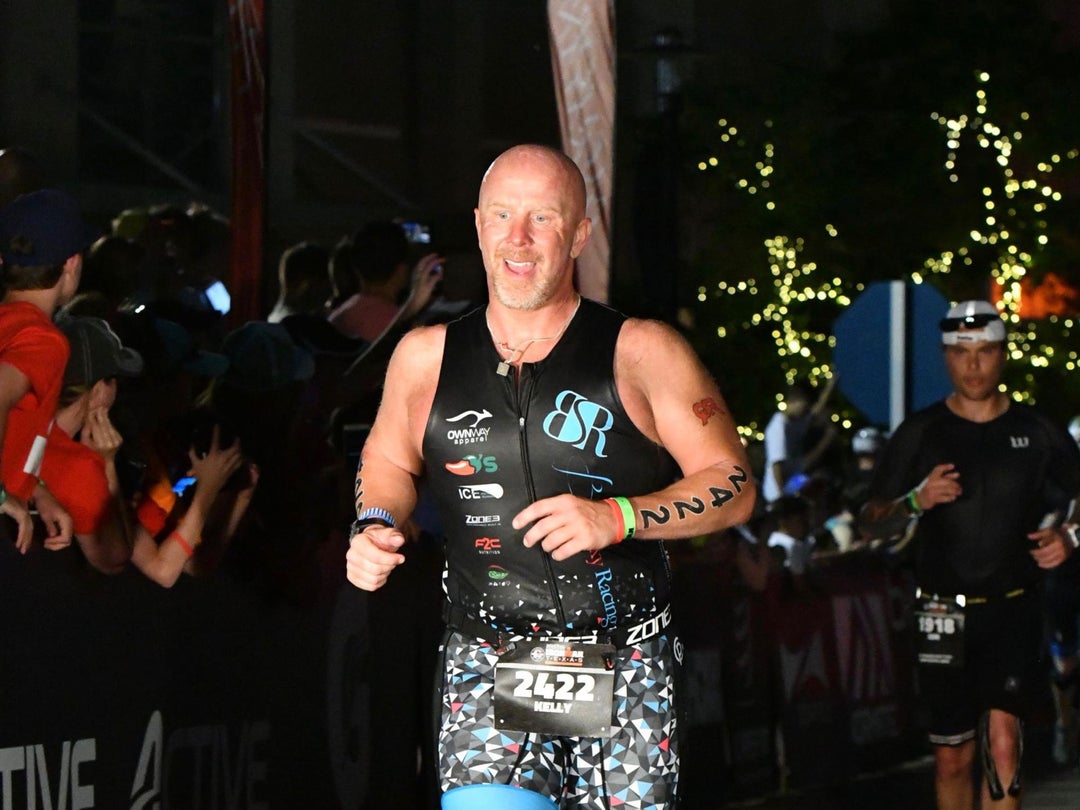 But his training keeps getting interrupted by other, September 11th-related issues. In November of 2018, a doctor found another malicious-looking spot on his jaw. This time he was diagnosed with basal cell carcinoma. Most recently, he's been undergoing treatment for squamous cell carcinoma, yet a third type of skin cancer. He has one last treatment left to fully be clear of it.
"To be in the pile for two weeks sucking in all this stuff; to have three cancers already, I know statistically that the risk of something much worse is there," he says. But that's only driven Dillinger deeper into the sport of triathlon. "I believe in eating healthy and strengthening my immune systems so it can fight off a lot of this stuff," he says. His theory is simple: If he's strong enough to kick butt at an Ironman, he's as strong as he can possibly be for whatever comes next. He is literally trying to become an iron man.
Mentally, it's helpful too. "I think triathletes really have that attitude of living life to the fullest," says Paul Wolf, Dillinger's training partner. "And Kelly just really wants to live life to its fullest."
Still a DEA agent, now based in Dallas, Dillinger is certainly doing that. He knows he may someday deal with a more sinister cancer. He also knows that he may not have as much time with his family as he could have, had he not jumped in to help. But "There's nothing I would have done differently that day," he says.