The State of Gravel Triathlon
It's been a few years since the first gravel-specific triathlon debuted. Is this niche-within-a-niche-sport still growing?
Heading out the door? Read this article on the new Outside+ app available now on iOS devices for members! Download the app.
Some years ago, John Mosey got lost on a training ride in Northern Michigan and wound up on a seasonal jeep road with his skinny-tired tri bike. His takeaway from his unintentional off-road adventure: "Wow, this would make an awesome race."
Flash forward to 2018 and the start of the Ugly Dog Gravel Triathlon—a swim, gravel bike and trail run event held in Grass Lake, Mich. This specific genre is still in its early days, but typically a gravel triathlon is on the shorter side (read: not 140.6 miles) and includes an off-road bike leg—which you could race on several different non-triathlon bikes—and a trail run.
The Ugly Dog and its sister event The Dirty Mitten are both a part of USA Triathlon's new gravel triathlon series, which debuted in 2022 and continues this year with a nationals competition in Fayetteville, Ark. on June 2-3 (no qualification required). As the sport's national governing body, USAT CEO Victoria Brumfield sees the organization's role as growing the sport, but also creating pathways for performance. "It was really important to me that if we create a gravel series—which is to amplify the existing races out there—we also needed something at the top, so we created a gravel nationals," she says. "There isn't a world-level nationals, but I think it's going to come."
Brumfield has high hopes for gravel tris and USAT's investment in it will continue beyond this year. "Not only is gravel the future of the sport, but multi-sport is the future of the sport," she says. "I think that's it's really easy if you're not close to the sport—or even if you are—to think that triathlon is just long-distance racing and you have to have a triathlon bike. What's important to us as we think about growing the sport is to make sure people recognize how accessible it is, both in distance and in format."
RELATED: Dear Coach: I Want to Get Into Gravel Riding. What Do I Need to Know?
Growth of gravel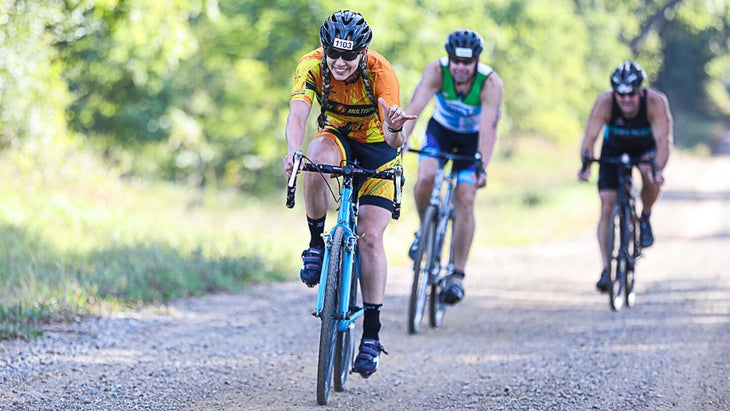 The growth of gravel biking and racing has been well-documented by national outlets such as the Washington Post, NPR, and Forbes in recent years. The New York Times pointed out that gravel bike sales jumped 109 percent from 2019 to 2021, and Life Time's popular Unbound in Kansas grew from 2,600 riders in 2021 to 4,000 in 2022.
"When we think about making the sport more accessible, it's making sure that we're leaning into trends and leaning into formats that are more inviting," Brumfield says. "And to capitalize on the number-one selling bike: You can use a gravel bike on the road, you can use it on the dirt, it's more stable, it's more comfortable, you feel safer, and you have the ability to go more places."
Last year, XTERRA created a new long-distance format allows athletes to opt for gravel or cyclocross bikes. The first four events took place in Europe in 2022 and are on the calendar for 2023: XTERRA Super Besse (France), XTERRA Ardennes (Belgium), XTERRA Sumava (Czech Republic) and XTERRA Sardegna (Italy).
Professional triathletes have also been drawn to gravel-focused races. Rach McBride has woven standalone gravel events into their training for over a decade, Angela Naeth has found success in the dirt, Cam Wurf scoped out Unbound in 2022 and Alistair Brownlee tackled the remote 466-mile Badlands gravel challenge and recently raced an XTERRA in the U.K.("I ride off-road, whether it's mountain bike or gravel, most weeks anyway," the former gold medalist says). Heather Jackson started racing gravel in 2022 and just won the Belgian Waffle Ride in April.
Jan Frodeno took it one step further and created his own gravel triathlon. After asking his Instagram followers for an event suggestion to replace the postponed Ironman World Championship in 2021, he organized the first SGRAIL100 in Girona, Spain. More than 150 people showed up the first time (including a handful of other professional triathletes) to race the 1500-meter swim, 88k gravel bike and 10.5k trail run. In 2022, more than 300 athletes joined. This September, the first U.S. SGRAIL50 will debut in Big Bear, Calif.
RELATED: Cam Wurf on the Challenges of Crossing Over from Road to Tri to Gravel
The vibe difference
Although Canyon already sponsors Frodeno as an athlete, sponsoring the SGRAIL race was a proactive decision, says Devin Riley, the brand's VP of Sales and Marketing of North America. "Jan's events are positioned within the spirit of gravel," Riley says. "They're creating a cultural shift from triathlon, which tends to be a bit more serious. It's Hawaiian shirts, it's a rolling party, but it still has that competitive drive that triathlon does. They're getting the mix right in terms of party to performance."
Generally, the energy at a gravel race "brings that laid-back feel to triathlon," Mosey says. "It is the most fun I've had at an event as a director or a participant. It's not as Type-A as a normal triathlon so we can have fun with it." Mosey says after a buoy snafu at his first race, his team just decided to eyeball the swim course and turn it into a contest: Whoever comes closest to guessing what the distance is wins an entry to the race the following year. "And people don't care. If you did that at a big triathlon, people would lose their minds."
"I don't know if it's just the fact that it's in the dirt, or if it's the fact that they're just smaller, more inviting, less intimidating, and typically more festivalized," Brumfield says, but she compares the difference between a traditional and gravel triathlon to that of a road bike and a cyclocross race. "Even though they're small, road bike races are intense and you show up at the line ready to throw elbows. You show up at cyclocross and people are in costumes, handing out Fireball, and the whole thing is about fun."
RELATED: SGRAIL100 and the Case for Gravel Triathlons
Barrier to entry: Is it actually lower?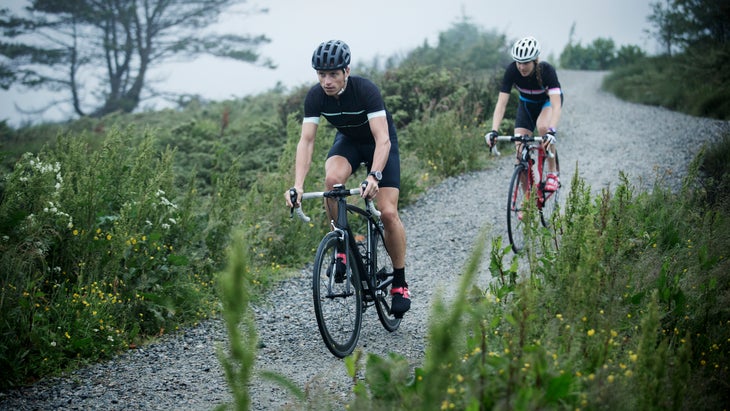 In theory, a gravel triathlon should be less intimidating to join than a road triathlon, where a tri bike is recommended, or an off-road race where mountain bike skills are key. But part of challenge is to educate people that they don't need special equipment, Mosey says. "We've had people do our races on 40-year-old Schwinn beach cruisers with baskets in the front. It doesn't matter—you could have a fat bike, a gravel bike, a mountain bike or a hybrid. It's good to research the course, but on the shorter ones, anyone can do it on just about any bike."
Often a "gravel" race just means riding on packed dirt roads, which requires less skill than technical single-track. (Although you definitely need to practice riding on a combination of on- and off-road surfaces in training.) With a similar geometry to a road bike, the switch to gravel isn't nearly as jarring as going to a super-aero tri bike or full suspension mountain bike. Plus, with less cars and engaging natural surroundings—it's understandable why so many athletes fall in love with off-road possibilities once they give it a shot.
RELATED: What Gravel Equipment and Gear Do You Need for Your First Gravel Ride?
Looking ahead
There is not yet a definitive list of gravel triathlons around the world, and to date USAT has just tracked off-road races in general—which includes triathlons with mountain biking—and there are less than 30. Swimrun events have been around a bit longer, and according to Swimrun.com, in 2022 there were more than 300 distinct races on six continents across 25 nations. Does gravel triathlon have the potential to catch on in a big way?
"I think it'll continue to grow, but I don't know if it's going to take off and get into 5000-person races," Mosey says. "I think people are very averse to riding on roads nowadays, so once you get that education out of the way—that any bike will work—they're hooked."
Brumfield believes that what the U.S. is doing—supporting more races in more areas to get more participants—will inspire other countries to follow suit. "Europe has embraced off-road formats for a while, and now that gravel is booming in the U.S., it's also growing internationally," she says. "National federations will follow our model. Now that gravel bikes are out there and so much more prevalent, there will be more demand and interest in starting the races. That's my hope."
RELATED: How to Train for Gravel Triathlon