The Best Jobs for Triathletes
Happiness is the opportunity to work on something that fulfills you creatively and intellectually—and maybe even nab a free entry to your favorite tri, courtesy of your CEO.
Heading out the door? Read this article on the new Outside+ app available now on iOS devices for members! Download the app.
The best jobs for triathletes? You'll find them at these four companies.
Your job is probably killing you. According to a recent CDC study, only three percent of Americans sit less than four hours a day, and one in four sits for more than eight hours a day. If sitting is the new smoking, then we're all on a pack-a-day bender. Couple long hours at a desk job with the unhealthy eating choices that often go along with it ("Everybody to the break room—we're having cake for Carol's last day!"), and it means there's a good chance your work life isn't helping your life life.
But there's hope: More and more companies are taking a fresh approach to health and happiness. It's been a century since the dawn of the desk job, but many employers have finally realized that a healthy employee is a happy one, and happy people tend to get a lot more work done.
"Employers should present their employees a variety of wellness options, and they have to be flexible with what their employees need to stay on track," says professional triathlete-turned-professional doctor Amanda Stevens. "People are motivated by different things, so imposing some mandatory wellness program isn't going to do it for most people."
We've highlighted four American companies—from a San Francisco start-up with fewer than 200 employees to a nutritional giant canvassing half the globe—that have a thriving culture of endurance among their very happy staffs.
Dream Jobs for Triathletes: SRAM
Headquarters: Chicago, Illinois (with 14 additional offices worldwide)
Employees: 3,500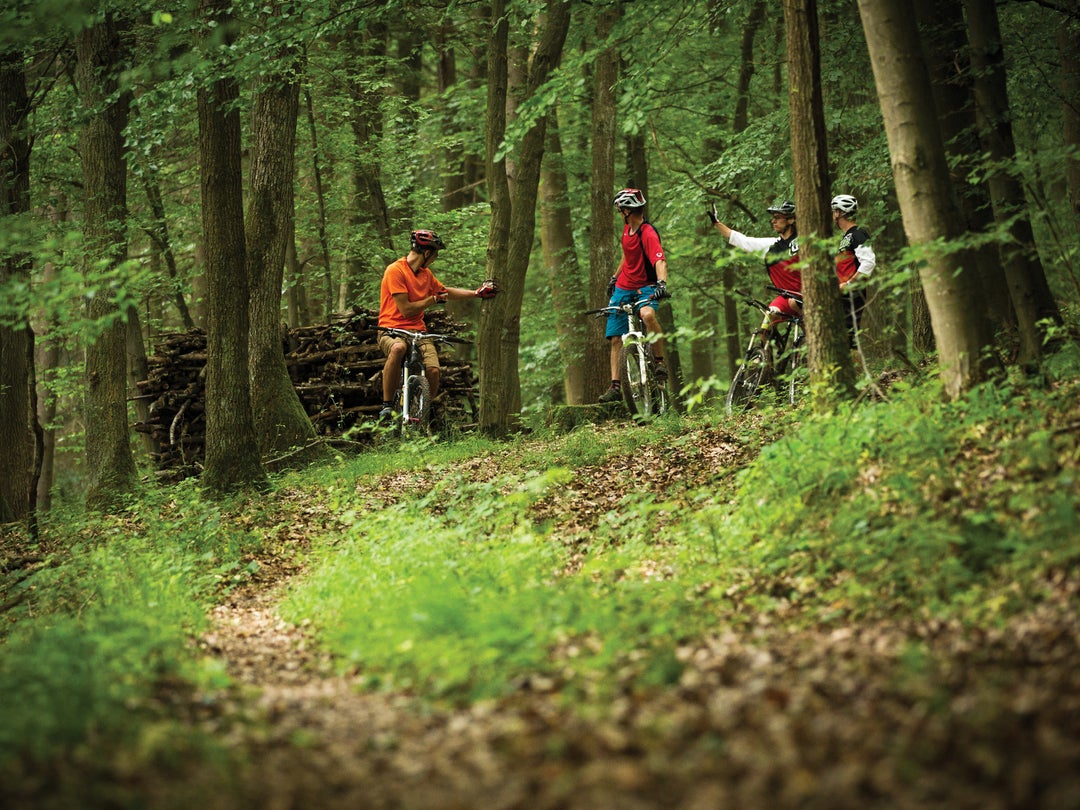 We believe in the power of bicycles. It's a simple mission statement, and it perfectly sums up the culture at the bicycle component behemoth. SRAM was founded in 1987 with the aim to make everything on a bike better (except the frame). Through creating or acquiring brands like Zipp, Avid, RockShox, Truvativ, and Quarq, it's become one of the largest and most successful companies in the cycling industry. Whether you're managing marketing campaigns at the Chicago headquarters (recently relocated to share a building with Google's sleek, new Chicago office) or you're crash-testing wheels at Zipp in Indianapolis, Indiana, SRAM is a demanding company to work for. But with those demands come plenty of perks for people who love living life on two wheels.
"I'd say 10 percent of our staff are casual riders or commuters, 80 percent ride pretty regularly, and the last 10 percent are highly competitive," says senior public relations manager Michael Zellmann, who has been with the company for 16 years and falls in the latter group. "Everyone is encouraged to ride because enjoying bikes is central to what we do."
"It starts at the top," Zellmann says. "Our management knows that if riding is important to an employee, then making it easy for them to find that time is critical to keeping them engaged and productive."
Almost every company outing is organized around bikes. Sometimes it's relaxed, like a picnic with some easy gravel riding. Other times it's a bit more strenuous, like at the annual SRAM Olympics held at each of the company's worldwide locations. The fork-rebuilding and tire-changing competitions can get particularly intense, as you might expect when you pit hundreds of competitive cyclists against one another.
Dream Jobs for Triathletes: Herbalife Nutrition
Headquarters: Los Angeles, California (with employees and/or independent distributors in 95 countries worldwide)
Employees: 8,000 (with 3.2 million independent distributors)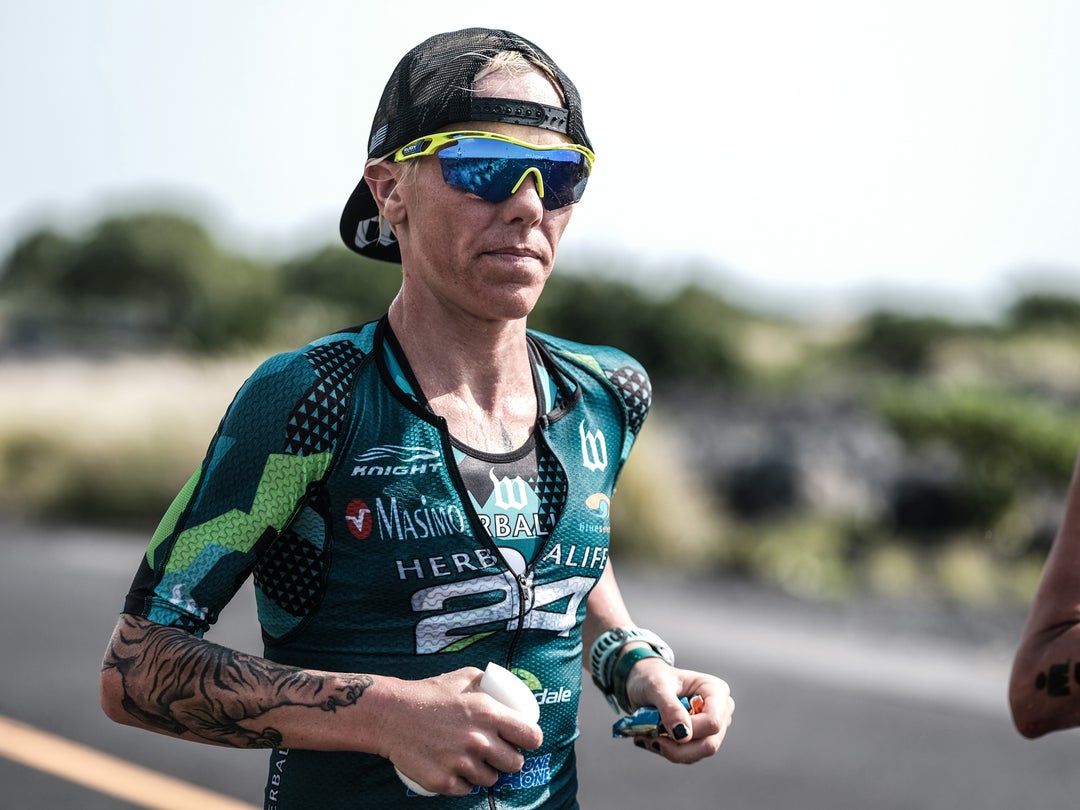 Many triathletes know Herbalife best as the brand decked out all over Heather Jackson's kit, or as the previous (and now on-again) title sponsor of the L.A. Triathlon. Unlike core endurance nutrition brands like GU or Hammer, Herbalife has aimed for a different audience over the past four decades. With a focus on general nutrition and weight loss for your average John and Jane Doe, Herbalife has grown to a multi-billion-dollar business with three million independent distributors covering more than half the globe.
But it's not just some big, bad corporate giant. It's actually a pretty cool place to work, especially if you're into endurance sports and are lucky enough to work at the L.A. headquarters. Herbalife has gone all-in on triathlon in Southern California, sponsoring the Malibu Triathlon and bringing back the L.A. Tri this June. Employees have their registration fees covered for both races and are provided with coaching, nutrition consultation, and a race kit, all free of charge.
"We want to give our employees the tools to participate in the kinds of events we sponsor," says Dr. Dana Ryan, head of Sports Performance and Education at Herbalife. "We want them to live the lifestyle that we promote, and it's not just because healthy employees are more engaged. There's a camaraderie that comes with training for an event together, and that creates a sense of teamwork that extends way beyond the office."
Herbalife's new wellness campaign is called "Find your inner athlete," and it's something Dr. Ryan and her team advocate for the company's thousands of employees and millions of independent reps. The idea is to encourage athleticism, whether that's walking a 5K or racing an Ironman. It helps to have a world-class gym at the L.A. HQ, where athletes like Jackson stop by and provide frequent pep talks.
"It's why it's great to work with events as well as athletes," Dr. Ryan says. "An athlete like [Jackson] can relate to our employees. They can see that she started in endurance sports right where they are and that can really lift them up. I've seen people start with something as small as taking the stairs. Next thing you know, they're signing up for a triathlon."
Dream Jobs for Triathletes: Johnson & Johnson
Headquarters: New Brunswich, New Jersey (with 250 subsidiaries in 60 countries)
Employees: 136,000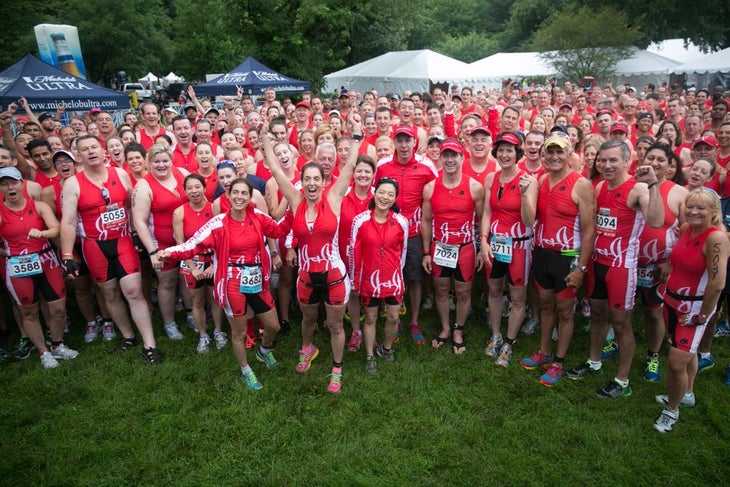 In the 1920s, the thought of going for a swim to relieve some stress in the middle of the workday was unfathomable. That is unless you worked at Johnson & Johnson, which has had an on-site health club at its New Jersey headquarters for more than a century. While it can't take credit for the corporate wellness trend now embraced by most of the world's Fortune 500 companies, it can claim to have been doing it much longer than anyone else.
It turns out that keeping your workforce fit is a good way to bring in more than $70 billion in revenue per year. The healthcare giant has appeared on Fortune's "Most Admired Companies" list for 16 years running, appearing as number one in the pharmaceutical category last year. You know it best as the company behind Tylenol, Band-Aid, and every baby product ever, but more than 130,000 people know it as a pretty nice place to work, especially if you're an athlete. Need a new Garmin? The company's policy to reimburse employees for fitness trackers extends beyond your basic Fitbit. Want to ride your bike across Ireland? J&J organizes an annual ride for employees between its Limerick and Cork offices, which has become a favorite among the company's throngs of cyclists and triathletes. As a longtime sponsor of the late TriRock Philadelphia Triathlon (RIP), employees received complimentary race entries, kits, and VIP treatment at the event—with more than 800 J&J employees participating at its peak. It helps that J&J CEO Alex Gorsky is a certified endurance junkie who participated as well.
"I think I've had four conversations with [Gorsky] in my time at J&J and all of them were about triathlon or cycling," says triathlete Sam Baldwin, who works in supply chain strategy. "I think part of the wellness culture at J&J cascades out of his attitude toward health and fitness, and it's propagating throughout the company. My closest friends at J&J are ones that I've met through triathlon. Any morning of the week, it's easy to get a group together to knock out 20 or 30 miles of riding before work."
In addition to gyms at all of its major offices (including a ridiculously nice one at HQ in New Brunswick), J&J has provided free health and wellness training to more than 78,000 employees through a program based on a performance course taught at its Human Performance Institute, which is essentially J&J's own corporate wellness company with locations in Florida and Singapore. The JJHPI has trained employees from hundreds of other companies to become more physically and mentally fit—both at work and at home—and recently announced an $18 million expansion at its Orlando facility. So not only has J&J set out to have the healthiest workforce in the world by 2020—it's helping everyone else catch up too.
Dream Jobs for Triathletes: Strava
Headquarters: San Francisco, California (additional office in Denver)
Employees: 175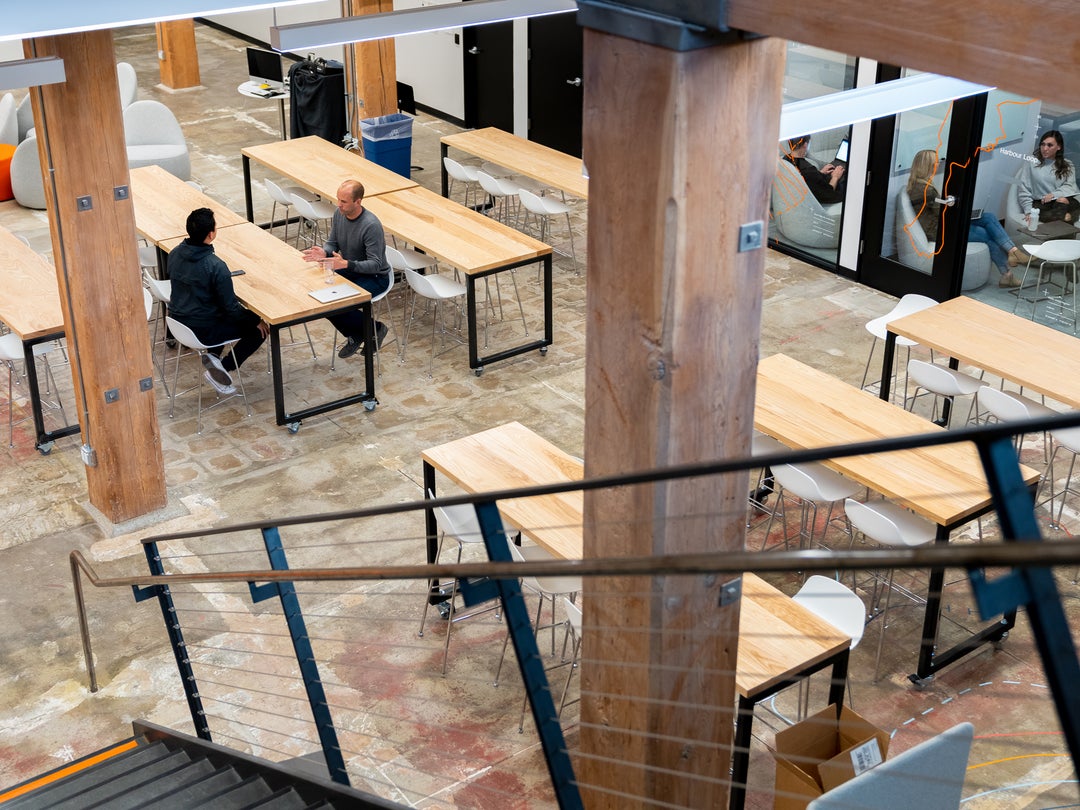 If it isn't posted on Strava, did it really happen? That's become the prevailing logic among cyclists and runners alike as the social exercise app has boomed in popularity since its launch in 2009. The company doesn't disclose how many users it has but claims to add one million new users every 40 days, so you could say business is going well. The app aims to help people become more engaged in their fitness, and it helps that all 175 employees are active users of the app they're building.
"Every Strava employee fits our definition of being an athlete," says David Lorsch, Strava's VP of Strategy and Business Development. "We like to say that if you sweat, you're an athlete. And our team likes to sweat."
Strava makes it easy for employees to sweat about as often as they'd like. There's the "WOW" run every Wednesday (Workout Of the Week), where more than a quarter of the staff run all-out along the San Francisco Bay to see who can reach the highest Su er Score—the app's way of measuring how hard you go in a given workout. The following morning, another 40 or 50 Strava employees can be seen riding across the Golden Gate Bridge to tackle some hills in Marin County before work, as they do every week.
The endurance culture at Strava is about more than just a couple of organized workouts each week. It's one of the few companies in the world that can say most employees ride or run to work on a daily basis. On any day of the week, Strava's bike room is exponentially more crowded than its parking lot. It's also one of the few companies in the world that helps its hired help ride to work, providing an annual stipend for bikes and gear. Strava also provides reimbursements for events from 5Ks to Ironmans, and covers the cost of gym memberships.
"It's not so much about the amount that we're giving," Lorsch says. "It's about signaling that we value these things, and we're living by the mission of the company. And of course it supports Strava as a business to help our employees be as active as they want to be."
Dream Jobs for Triathletes
Meet four people who have taken their love of endurance sports and transformed it into a career of health, happiness, and hanging out with some of the fastest athletes on the planet.
Franko Vatterott
Age: 43
Resides: Castle Rock, Colorado
Job Title: Founder, Human Interest Group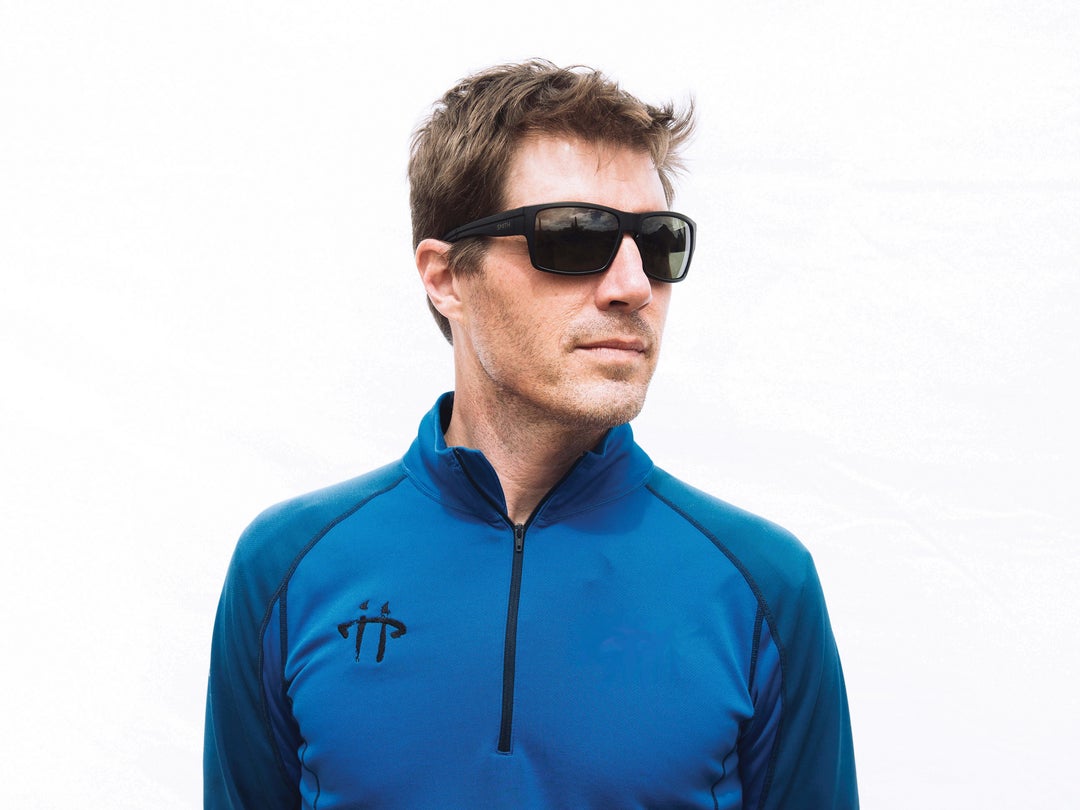 Frank Vatterott has worn a lot of hats in the triathlon industry. His introduction was as "the altitude tent guy," traveling around the country as a sales rep for Colorado Altitude Training. That forged a relationship with Ironman champions like Tim DeBoom and Peter Reid, and then he convinced an Emirati sheikh to fund the Tri Dubai professional triathlon team, which had a hell of a run for two years. Then his sheikh became prime minister, and he and the team were cut off overnight.
"I felt like I was on top of the triathlon world—we swept the men's podium in Kona in 2006!" Vatterott says. "Then it just died, and I was embarrassed and had no idea what to do next."
Ever the entrepreneur, Vatterott reconnected with a former colleague from his altitude tent days and bought into a revolutionary new fit system called Cyclepath, which he quickly rebranded as Retul. While negotiating an agreement to make Craig Alexander Retul's first sponsored athlete, Vatterott realized he had a knack for making deals, and he convinced "Crowie" that he should be his agent.
In 2013, he sold Retul to Specialized to focus full time on his sports marketing firm Human Interest Group, and now he manages a slew of top-tier triathletes and distance runners. "Sponsorship is changing rapidly in our sport," Vatterott says. "You have the rise of the Instagram model, who attracts corporate sponsors in a non-authentic way. Then you have a world-champion athlete—that used to mean something, but now it's all about how many followers they have. You have to create compelling stories. It's a challenge but it's one of the things I love most about what I do."
Chris Yu
Age: 33
Resides: Morgan Hill, California
Job Title: Director of Integrated Technologies at Specialized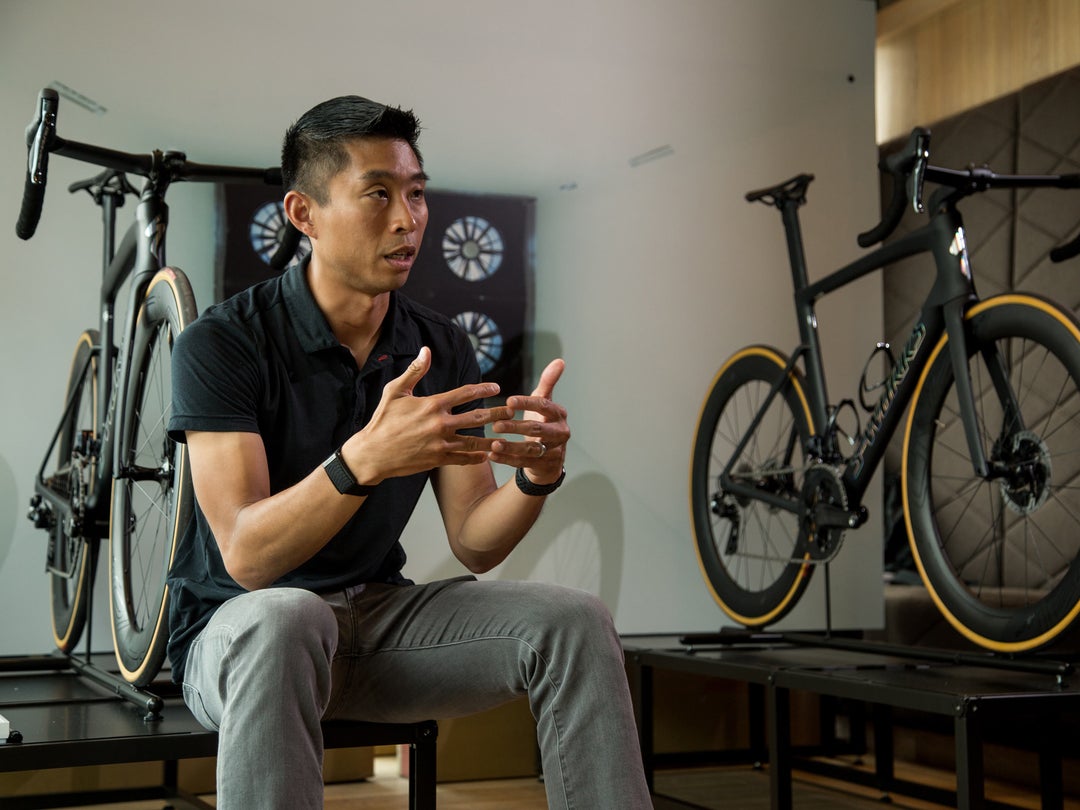 "We're thinking of building a wind tunnel—you in?" That's how Specialized offered a job to Chris Yu, who at the time was finishing his Ph.D. in Aeronautical Engineering at Stanford. A lifelong fascination with things that go fast had Yu pointed toward a career in the aerospace industry, until he started riding bikes and landed an internship with Specialized, where he was quickly designated "the super intern." Yu came on board full time as an aero engineer seven years ago, and his first order of business was to help design and build Specialized's very own wind tunnel (the "WIN Tunnel"); now he gets to play with his magnificent creation every day.
"No one is building wind tunnels anymore," Yu says. "So as an aerospace geek, having the opportunity to come here and help build one was unique. In the aerospace industry, you work on projects that can last 20 years, and you're part of a team of thousands working on a little part of something extremely complicated. Working [at Specialized], I get to go out on the weekends and see people enjoying themselves with products we've created, which is pretty exciting."
Matt Lieto
Age: 40
Resides: Bend, Oregon
Job Title: Coach, writer, podcaster, and Ironman Live commentator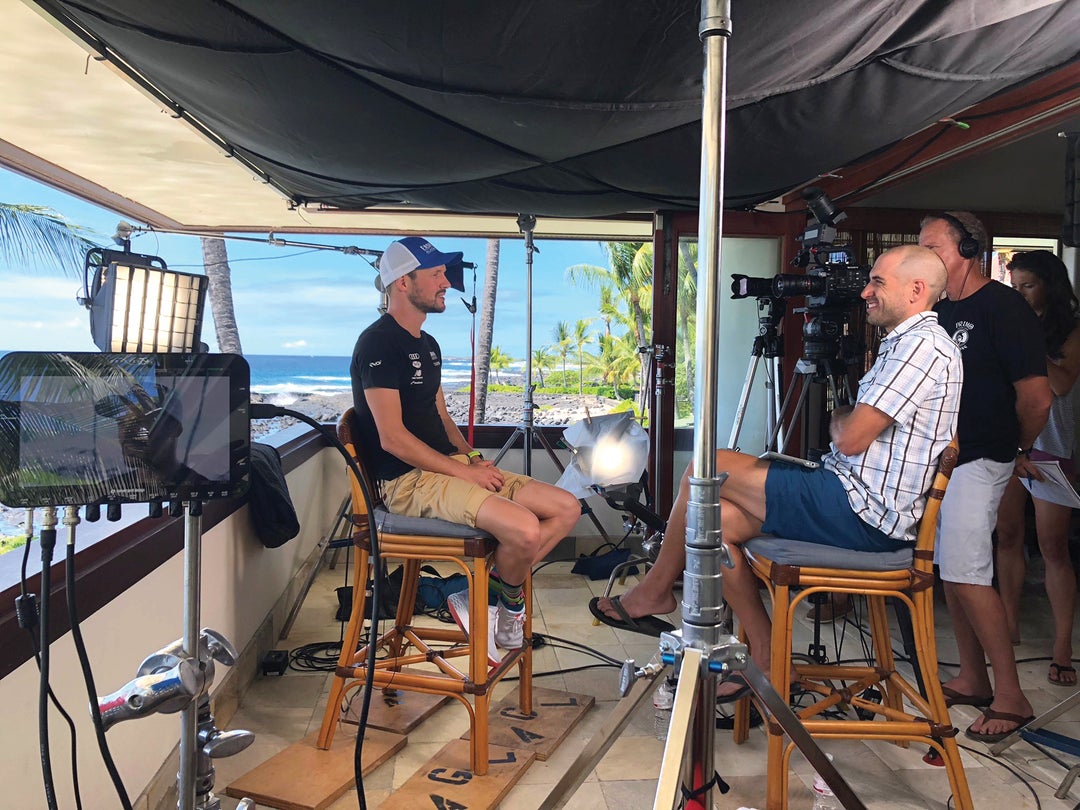 "People don't believe me when I say it, but my default is that I'm really shy. I never thought I'd be doing anything on camera," says Matt Lieto.
As Ironman has continued to expand its live coverage over the past decade, Lieto has become one of the sport's most recognizable faces and one of its most popular personalities. The younger brother of 2009 Kona runner-up Chris Lieto, his introduction to the sport came as part of his brother's support crew.
"I was the ultimate spectator for a long time," Matt says. "Now I'm just a spectator with a microphone and the best access."
After a brief career racing professionally, Matt transitioned into coaching and was approached by Ironman in 2010 to help with live coverage for Ironman Wisconsin. It turns out the self-proclaimed "shy" guy had a natural ease in front of the camera, and Ironman started sending him to more and more events, including the world championship in Kona, where he's become a staple of the annual broadcast.
"I think some commentators like to hear themselves talk, and I'm the complete opposite," he says. "I want to show people to cool parts of the race and have a conversation about it. And as much as I love triathlon, I think it also helps that I don't take things too seriously."
Bob De Wolf
Age: 39
Resides: East Grinstead, England
Job Title: General manager of the BMC-Vifit Pro Triathlon Team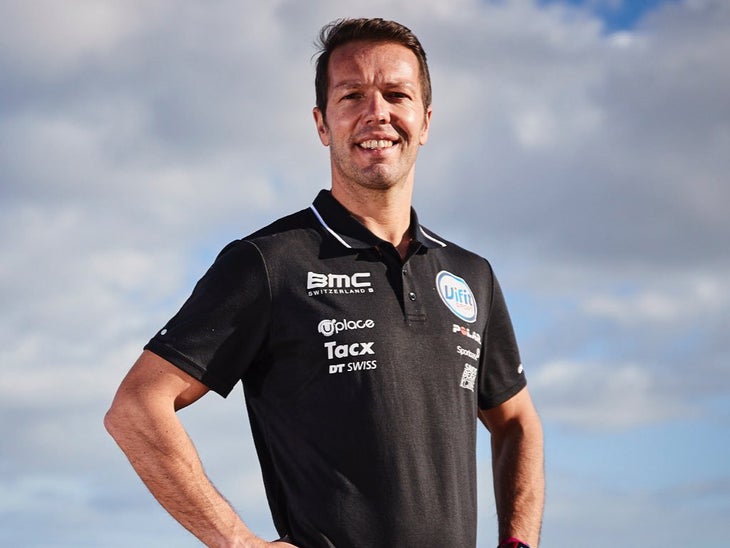 Professional triathlon teams come and go in a hurry, unless Bob De Wolf is the man running things behind the scenes. While squads like Tri Dubai and the Abu Dhabi Triathlon Team came in with a bang and seemingly disappeared overnight, the BMC team has been a staple on the Ironman circuit for nearly a decade, thanks in large part to De Wolf's tireless work ethic (and his love of travel).
Back in 2012, BMC had one of the premier road cycling and mountain biking teams in the world. The Swiss bike builder saw teams as offering a better return on investment, and the company had experience supporting them. At the time there was the BMC- Uplace tri team, but it was a strictly Belgian squad. The goal was to find someone who could transform that team into an international out t with steady sponsors. Bringing a background in everything from sports science to pharmaceutical sales, De Wolf was pegged as the man for the job, and in the seven years since, he's transformed it into the most successful professional team in the history of triathlon.
"My job comes down to making sure we have a budget to work with every season," De Wolf says. "It's a lot of work to maintain those relationships and keep bringing back sponsors year after year."
Between meetings with sponsors, training camps, and traveling to races to make sure the athletes have the support they need, De Wolf racks up plenty of air miles, but it's not something you'll hear him complaining about.
"I never see travel as a burden," he says. "Whenever I'm traveling—whether it's to visit sponsors or help with a big training camp in Lanzarote—there's always a buzz around it, and that keeps me going."