The Awesome, Goofy, Competitive World of Collegiate Club Triathlon
More than 1,300 athletes will race for individual and club titles this weekend at USA Triathlon Collegiate Club National Championships in Tempe, Ariz.
Heading out the door? Read this article on the new Outside+ app available now on iOS devices for members! Download the app.
The USA Triathlon Collegiate Club Championships are a whirlwind of school pride, fast feet, and unbridled enthusiasm. While triathlon is usually a solo affair, over 100 collegiate club triathlon teams gather each year and prove how a team mindset can be applied to swim, bike, and run.
This year, the event returns to Tempe, Ariz. on April 4 and 5. Collegiate triathletes have the options of competing in a draft-legal sprint, an Olympic distance non-drafting race, and a mixed-team relay super sprint.
I got the pleasure of chatting with representatives from three dominant schools in the collegiate tri scene—CU Boulder, Stanford, and Penn State—and they shared anecdotes about how these young athletes manage to keep collegiate triathlon goofy and maintain a competitive spirit.
Triathletes are known for having nutty pre-race superstitions, but nothing tops this ritual, as described by Roy Madrid, a junior on the CU Boulder Triathlon Team: "One of our teammates will do a practice swim in her wetsuit, but only if she wants the swim to get cancelled."
Hey, we're not judging… ok, maybe a little bit.
While CU Boulder has multiple national championship titles to their name, Stanford is revered as one of the fiercest teams to hit the course, but even with all the hype, they keep their egos in check.
Hollis Crowder, President of the Stanford Triathlon Team, shared the Trees' unique way of boosting teammates' motivations on race day.
"Something pretty funny we did at last year's nationals was a bet between the genders: whoever placed lower in school rankings by gender had to wear their nationals costumes home," Crowder said. "The TSA agents had no idea what to do with us."
(It is not uncommon for students to dress up in ridiculous costumes to support their teammates who are on the course. In this case, the Stanford men's team dressed up as traffic cops and traffic cones.)
Proving even more that Stanford has a sense of humor, Crowder graciously sent a photo of the men's team all gussied up as traffic cones on the trip back to Palo Alto.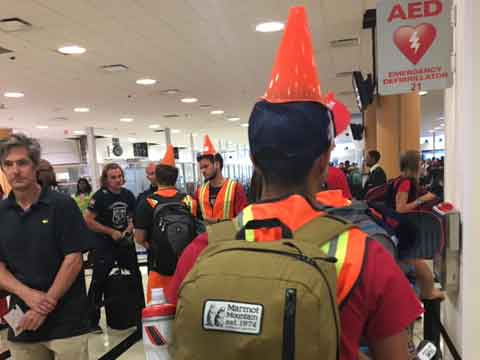 Keeping groups of collegiate triathletes focused the night before a race can be a difficult task—just ask Brad Seng, head triathlon coach at CU Boulder. To boost morale and capture the team's attention for a few minutes on race eve, Seng created a unique team tradition: reciting poems.
Yep, you read that right.
"[The poems are] a kaleidoscope of motivation and silliness," joked Seng. "[The poem is always] a variation of 'Twas the Night Before Christmas.'"
Seng tacked on with a chuckle: "The team ends up laughing at me, mostly."
With 18 national titles to their name, it seems the Buffs respond well to Seng's stanzas.
When the medals have been awarded, the cars have been re-packed, and flights have been boarded, all collegiate triathlon teams can leave nationals knowing they achieved something great.
For Penn State, this means handing out end-of-season superlatives at a team banquet, complete with In-N-Out burgers, fries, and milkshakes. Triathletes gotta eat, right!?
Stanford hangs up their racing hats with "Tri Prom," which is exactly like high school prom—the best night ever or delightfully cringe-worthy, depending on your experience. This special event involves breaking out dresses and suits, no spandex allowed, and celebrating by showing off only the coolest dance moves.
Everyone at Triathlete is wishing all schools competing this weekend in Tempe good mechanical luck, weather that isn't too hot, and safe travels to and from the race. Fans can follow the action at the USA Triathlon Live Twitter account this Friday and Saturday.