Suffer Camp: On Location With Team TBB
The trial-by-fire coaching method of Brett Sutton has created some of the sport's greatest champions and most spectacular burn-outs.
Heading out the door? Read this article on the new Outside+ app available now on iOS devices for members! Download the app.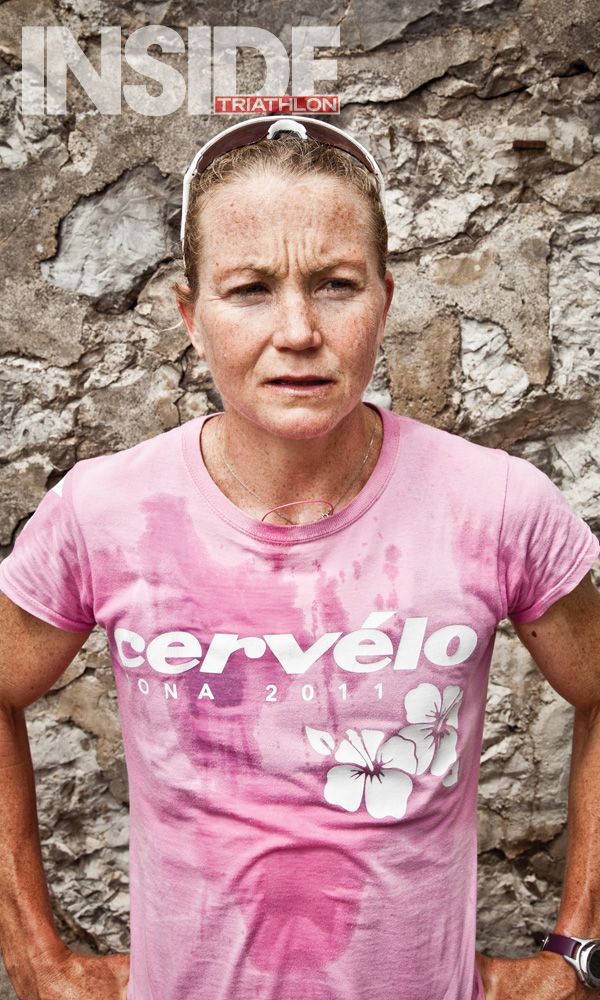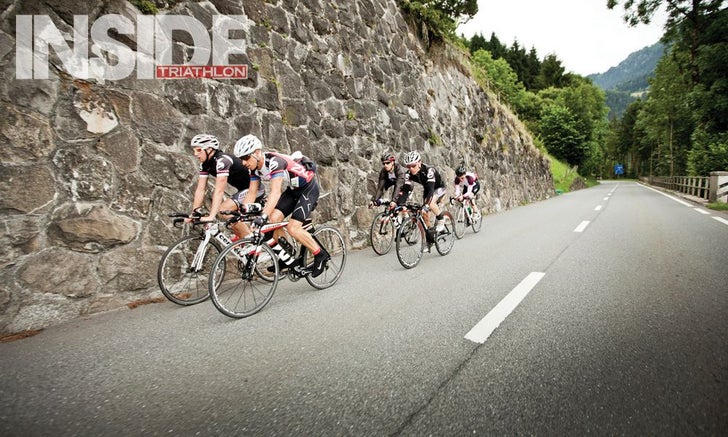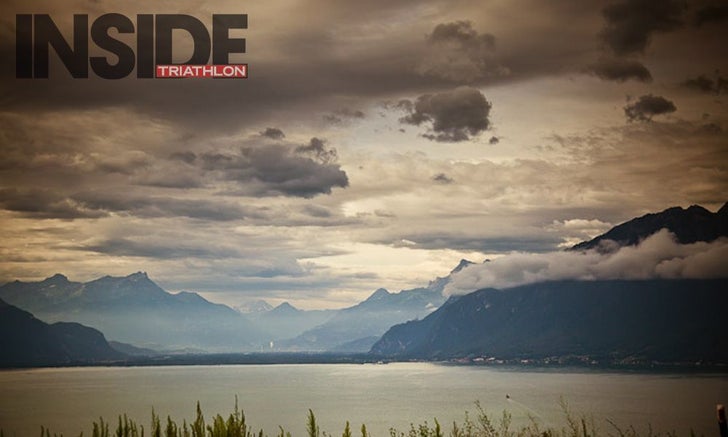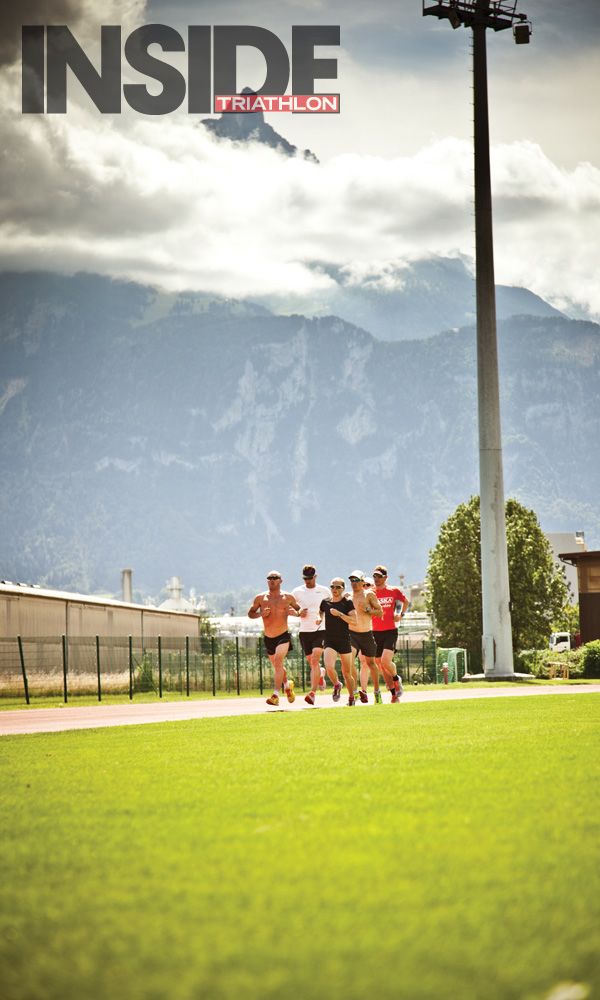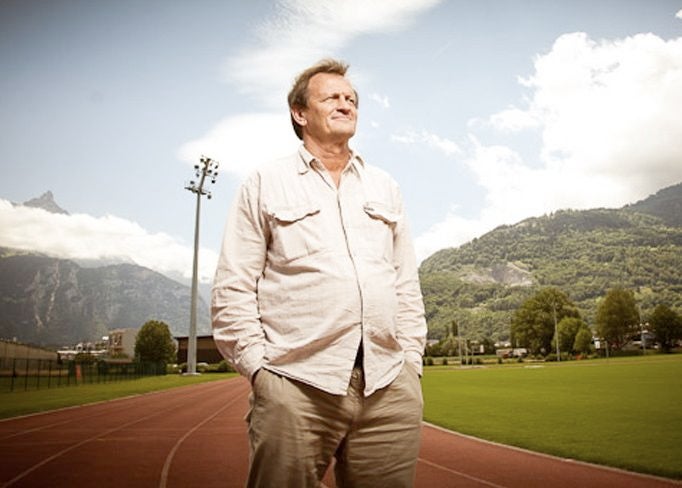 The trial-by-fire coaching method Brett Sutton applies at his Team TBB training camp in the Swiss Alps has created some of the sport's greatest champions and most spectacular burn-outs.
This article was originally published in the Nov/Dec 2012 issue of Inside Triathlon magazine.
Elite age grouper Brett Carter sits quietly in the back seat of the dented Subaru van as the snowcapped Bernese Alps glide by the windows. He is nervous. Beside him sits four of the world's strongest Ironman triathletes, all clad in running shoes and shorts. The men laugh as they guess the distance of the upcoming run. Ten miles? Twenty miles? Longer? He wouldn't do that, would he?
Nobody knows, certainly not Carter. Just four days earlier he'd landed in Geneva to begin his tryout with Team TBB and its Australian coach, Brett Sutton, whose history of molding champion triathletes is equaled by his reputation for crushing others. Carter has heard the stories of Sutton's meat grinder Swiss camp: the 220-kilometer rides around Lake Geneva; the mind-numbing track workouts; the two-day ride across southern France to race in the Alpe d'Huez Triathlon, followed by a two-day ride back. Sutton had told Carter that his first days in Switzerland would be an easy introduction to the TBB lifestyle. But as the van speeds farther away from the team's home base in Leysin, Carter assumes the pleasantries have ended.
Just outside the town of Martigny, the van abruptly stops. Sutton steps out from the driver's seat and greets his athletes. He gives simple instructions—run the 26 miles back home. The pace is to be conversational; nobody should be dropped. When the group hits the 6-mile, 3,000-foot climb back to Leysin, it is every man for himself.
"I remember thinking, 'Oh shit, this is going to be long,'" said Carter, a few days after the run. "I just kept thinking about that hill."
Sutton drives off, and the group begins jogging, Carter running alongside James Cunnama, Stephen Bayliss, Mathias Hecht and David Dellow. An hour in, they round a bend and see the dented white van parked next to the road. They hear Sutton yelling. The pace is conversational, he reminds them, so why isn't anybody talking? Twice more Sutton appears by the road, each time yelling at the group to slow down.
At the base of the climb to Leysin the group shatters, Carter falling back as the others surge up the hill. Volkswagens and Mercedes speed by on the narrow road, which twists along the mountainside like a bobsled track. Carter plods forward. He catches the others at the Leysin Subaru dealership and looks at his watch: They had run the marathon in three hours and eight minutes.
Carter can't quite recall what he thought about during the run. It's a safe bet, however, to assume Carter contemplated his decision to email Sutton several weeks earlier, asking if there was room on the TBB squad for a 31-year-old age grouper with an 8:44 Ironman time. Sutton responded with a very public rant on the TBB website, analyzing the pros and cons of admitting age-group triathletes into his ranks. He finished the post with a challenge.
"If you're listening, Brett, get your arse down to flight-centre and get a ticket to Geneva then go and quit your job," Sutton wrote. "If you're here within two weeks, you are getting your shot."
Carter had immediately resigned from his lifeguard job on Australia's Gold Coast, sold off his furniture and belongings and borrowed $5,000. He arrived in Leysin with his bicycle, a small bag of clothing and the understanding that Sutton was now in charge of his life.
"I told Sutto I'm ready to smash myself," Carter said. "I told him I know I can make it."
It's been five years since Chrissie Wellington's surprise first Kona victory vaulted Sutton's name into the lexicon of mainstream triathlon. He'd previously trained a dozen world champion triathletes, but almost overnight Sutton became known as the coach who'd molded an age grouper into the world's best in just nine months. Everyone wanted to know how he'd done it.
The popular narrative said Sutton simply made Wellington and his other athletes swim, bike and run more than everyone else. Stories of his grueling training camps in remote parts of Switzerland and the Philippines circled the endurance community. Sutton became synonymous with the Soviet-era method of coaching: He hurled the carton of eggs at the wall, and the one that didn't crack became Chrissie Wellington.
Looking out at a rainy July morning in Leysin, Sutton laughs at the rumors.
"Look, it's not some Gulag-type camp we run. Yes, we do outrageously hard sets, but we don't do them all the time," he said. "People saw someone like Chrissie and thought, 'That could be me, I just have to put in the work,' when really she's a phenomenon for any sport."
Sutton is 52 now, and his hair has thinned into a messy widow's peak. His scrunched face bears a lattice of deep creases, the result of a lifetime spent coaching outdoors on swimming pool decks, dog tracks and horse stables in Australia. He shrugs off the idea that he's discovered the holy grail to triathlon coaching. He says his method is simple: organize a training squad of talented, dedicated athletes, and then create an atmosphere where the athletes push each other toward otherworldly fitness.
"My ethos is to create an environment where winning becomes inevitable," Sutton said. "I'm more interested in making the environment work than having superstar athletes."
The explanation greatly oversimplifies Sutton's nuanced leadership. It would be easy for Sutton to simply send his athletes out on monster rides each day with the order to slaughter each other up every climb. Instead, he trains by specificity, and splits his 15 athletes into four or five different group workouts each day. Whether an athlete is punching his teammate into shape or resting on a recovery ride depends on Sutton's schedule.
Sutton does not share the schedule, nor does he negotiate sets with his athletes. The overriding rule of Team TBB is to follow Sutton's direction, no questions asked.
"He tells us, 'I want a team of morons' because he wants us to do what he tells us to do," said Stephen Bayliss, who has been with Sutton since 2007. "He says it as a joke, but really, there's no point being here if you don't trust him."
In a sport where elite athletes regularly seek advice from nutritionists, physiologists and multiple coaches, Sutton's my-way-or-the-highway attitude can feel tyrannical. He forbids most technical training tools like power meters. He guides through philosophical emails or private confrontations. The exchanges are always short and blunt. In interviews for this story, multiple former TBB athletes said they were partially turned away by Sutton's controlling style.
"The snap judgment Brett makes when he first meets you, it can be spot-on but it can also be off," said Brandon Marsh, who left Sutton after two years on Team TBB. "Whatever it is, that is the judgment he's always working with."
Sutton is unapologetic about his coaching techniques.
"People say I'm a control freak; they say I brainwash my athletes," he said. "They're right. I wash the shit right out of their heads."
Sutton's coaching touches all aspects of his athletes' lives, including their geography. His top athletes follow Sutton around the world, largely on their own dime. He has held his pre-Kona training camps on the Korean island of Jeju and on an abandoned U.S. Navy base in Subic Bay, in the Philippines. Leysin sits atop an Alpe d'Huez-style switchback climb, a two-hour drive from the nearest major city. But in these far-off locations, Sutton can coach his athletes in a bubble, devoid of outside influence.
"Why would I go to Boulder? There are 450 triathlon geniuses there, and none of them know what the hell they're talking about," Sutton said. "This is triathlon—wherever you go you'll have some four-hour short-course guy telling Mary Beth Ellis how she should run."
PHOTOS: Behind The Scenes With Team TBB

Submission to the Sutton school of training isn't the only requirement for TBB athletes. They pledge 20 percent of the winnings from their top-three finishes to their coach. They call Sutton "Boss" or "Doc," and he signs his emails with these names. They must also maintain a level of humility within the squad, and live within a semi-militaristic top-down social structure. Sutton sits atop the pyramid, with the ensuing hierarchy determined by an athlete's race results and history within the squad. Confidence is tolerated, but only to a point. Even world champions can receive a public tongue lashing at the morning swim practice, a blunt email exchange, or worse: a one-way trip home.
"I would definitely call it mind games," said Wellington, who spent two years with Sutton. "It might not work for everyone—it might be detrimental to some."
James Cunnama, who joined up with TBB in 2008, said the informal hierarchy is the toughest pill to swallow for many new athletes. Newcomers like Brett Carter, he said, must help Sutton with menial tasks, such as moving bike bags or laying out road cones for running workouts. They must also fall in line behind the veterans on group training sessions.
"You get tension when some guy feels good and smashes everyone on an easy day," Cunnama said. "Some people get caught up in the petty stuff, so it isn't tolerated."
Sutton says the hierarchy keeps the peace within his team. Despite their physical prowess, triathletes are emotionally fragile creatures, he says, and he can't let the egos override the training. If Mathias Hecht punished the boys on the bike yesterday, then Sutton would allow Cunnama to have his revenge on a run set a couple of days later. The training battles are fought on a daily basis, so an overactive ego, a personality conflict or hurt feelings could easily shatter the squad's delicate balance. The social structure, Sutton says, lets an athlete know exactly where he or she stands.
"Nobody is an all-star here," he said. "And the only way you do that is by cutting the heads off the ones that stick up and don't understand the environment."
Sutton shoots down any critique of the social structure he's created. The hierarchy, he says, is what incubates athletes as they develop. He points at Cunnama and Caroline Steffen as the squad's current top athletes, and says both have risen through his system. When Cunnama showed up, Sutton says, he could barely swim, and he was at the mercy of the other pros. But he pushed himself to improve. Sutton points at Brett Carter, and acknowledges that in 2012 he's a nobody, but after two years of testing himself against Cunnama, he might win an Ironman.
"People get upset because I say Dave Scott and Mark Allen aren't real coaches because they coach a bunch of age groupers," Sutton said. "You know why? Because nobody can develop an elite athlete from nothing the way I can."
Sutton patrols the green infield at the community running track in the Swiss town of Monthey as his athletes run sets around the unique 300-meter brown oval. Just days after their respective wins at Challenge Roth and Ironman Frankfurt, Cunnama and Steffen jog easily alongside Bayliss, who finished fifth at Roth. Mary Beth Ellis leads Carter, Dellow, Andreas Castillo and Aaron Farlow through a series of longer, endurance-paced runs. Swiss ITU racer Nicola Spirig sprints through a series of anaerobic sets, her pink running shorts flapping like a flag as she speeds around the track.
"Come on, push girl! Hubba hubba hubba!" Sutton yells after Spirig, who sprinted to an Olympic gold medal in London just three weeks later.
Running slowly in the opposite direction is Australian Carrie Lester, who has battled illness and injury since winning Ironman Cairns in early June. Sutton separates her from the group in hopes that her body will recover with a lighter load. Lester brushes away tears as she trots by.
"Competition can be a good thing; it can also be a bad thing," Sutton said. "Some of these girls are so competitive they can hurt themselves in training."
Like every TBB workday, the day started at 7:30 at the small Leysin community swimming pool. Sutton had walked along the deck, holding Bella and Stephen Bayliss' infant son, Charlie, while simultaneously looking for signs of fatigue in his athletes. He oversaw three different swimming workouts during the session, with his ITU athletes working on faster sprints and the long-distance athletes swimming with hand paddles.
After the swim, Sutton doled out the day's workout. Half the group would ride down to the track, complete their track session and then finish with a two-hour ride, which concluded with the climb back to Leysin. Sutton's ITU athletes would drive down to the track for a speed workout, followed by a long and painful run back home.
Ellis, who joined TBB in 2010, says it has taken her time to adjust to Sutton's day-of coaching style, but that she now prefers not knowing the day's workout until it's upon her. "I have less time to obsess about it," Ellis said.
Ellis had previously worked with athletes-turned-coaches Siri Lindley and Dave Scott, and says Sutton's coaching approach centers heavily on holding his athletes back in their workouts. She says the group would race each other every day if they could, but Sutton's authority actually keeps them from destroying their bodies during training.
"He has athletes that are all self-grinders; maybe he just attracts that type," Ellis said. "I don't think he has to push anybody here."
Ellis sought out Sutton after struggling with chronic injuries for two seasons. Sutton says Ellis' story was similar to other elite athletes who had contacted him at the midpoint of their respective pro careers. For their entire lives as athletes, Sutton says, they'd been coached to push themselves too hard during their workouts. Despite the commonly held belief that Sutton is a whip-cracker, his job was to calm them down during training.
"Why are you always injured—you're built like Conan the Barbarian," Sutton said about Ellis. "She was mentally choking herself in training, and she couldn't race."
Wellington and Sutton parted ways in 2008, but her ghost still lingers around the TBB training camp. Team veterans still talk about Wellington's prowess in training sets, and of the hot and cold relationship between the coach and his premier athlete.
Sutton doesn't hide his displeasure with Wellington's decision to leave triathlon in 2012, and says he does not believe she will return. But Sutton lays blame on the coaches and managers surrounding Wellington for fueling her push to achieve records instead of notching victories.
"She could be winning until she's 45—she's that superior. And where is she now? She's burned out," Sutton said. "She was never allowed to go as hard as she wanted in my training. I knew everything physical was tied up with her mentality."
In her book A Life Without Limits, Wellington chalked up her departure to a blend of philosophical differences with Sutton, and the fact that the TBB financial structure was unable to pay her the market rate for a two-time world champion.
"I had a manager and sponsors that I wanted to retain, and that didn't fit with the wider team framework," Wellington said in an interview in May. "As you mature as an athlete, you start to need more."
Wellington's book also discussed Sutton's infamous past. In 1999 he confessed to having had sex with a teenage swimmer he coached in 1987, and he received a two-year suspended jail sentence and a three-year sanction by the ITU. Sutton has spoken publicly about the incident—and his great sense of remorse over it—before, and says that he gave Wellington the thumbs-up to include it in her book.
"It has shaped my life in a profound way, every day, and nothing has changed in terms of remorse," Sutton said. "I tried early on to not think about it, to not be me, but it didn't work. It is part of the package."
At the time of Wellington's departure, TBB had a handful of sponsors, including bike company Cervélo. But none of the marketing agreements included bonus structures that would allow the team to pay its athletes up to market value, should they win a title. Alex Bok, the Dutchman who owns The Bicycle Boutique (TBB) bicycle stores and co-owns the team with Sutton, says the team's new sponsorship agreements have incentive plans to pay the athletes based on their market value. Caroline Steffen, Bok says, will earn approximately $150,000 a year as a base salary—with winnings and prize money pushing that number substantially higher.
"Brett told me we had to double the budget for this year because he doesn't want to lose athletes," Bok said. "We will get that done."
But Bok says the goal of the team is to retain its collection of both top-end and up-and-coming professionals. Just having stars, Bok says, does not give age-group triathletes an incentive to follow the squad. In July he unveiled a dealer affiliate program that would allow the lesser athletes to boost their salaries by referring age groupers to purchase sponsored product.
"We could have another million in sponsorship if we just kept the top six athletes and sent everybody else home," Bok said. "That's not our structure."
Bok also wants to groom a new generation of coaches to pass on Sutton's methods to age groupers, so the prospect of being a future TBB coach is also an incentive for the newer athletes on the squad. Bok and Sutton have ambitions of growing the TBB brand into a large-scale training umbrella for amateurs, with the most talented amateurs being funneled upward into the elite squad. Sutton has his American athlete Scott DeFilippis oversee the amateur TBB network, which currently has eight coaches and about 50 amateur athletes.
"I think we could have 500 athletes in the U.S.," DeFilippis said. "We're not selling some cookie-cutter 12-week plan," he said, explaining that in the TBB model, the plan isn't laid out from the beginning. Rather, it's adjusted throughout the season based on an athlete's performance in training and racing. "We look at coaching as an art, not a science."

It's an ambitious plan for the squad, and one that Sutton doesn't have the time or energy to directly oversee. But Bok says all TBB brand extensions—be it through dealer incentive programs, a blog network or coaching—are what will help the squad prove its value to sponsors, and ultimately survive.
"Just buying top athletes doesn't sell more bikes," Bok said. "We want to provide hope and opportunity to age-group athletes."
The model of hope is working. Since Wellington's victory, Sutton's been sought out by an army of young pros and age groupers, and he has developed a system for weeding out the chaff. He asks for a racing résumé and a detailed history of their athletic past, all the way back to high school. ("The guy was a champion swimmer? I can knock the rust off of that.") He wants to know about their current training, their hobbies, even their personal life. ("Married? With a 2-year-old? Sorry mate, it's never going to happen.")
Athletes who survive the weeks of communicative scrutiny are invited to a two-week trial period in Leysin. Sutton sends the recruits on crushing rides up the nearby Col de la Croix Jura and the other monster passes dotting the surrounding Alps. He says the coup de grace usually involves a lengthy running session at the track, followed by a run back up the mountain to Leysin.
"They turn up here and after two days they're gone," Sutton said. "They tell me this type of riding isn't good for them. They say, 'Oh, track workouts aren't for Ironman.' I just say bye-bye."
Not all of them leave. Every few years, some unknown turns up and guts it out through the bike rides in the Alps, the hellacious track sessions and the endless climbs back to Leysin. He usually shows up, just like Carter, with little cash in the bank but an endless desire to test himself against the world's best triathletes.
But the real test, they'll learn, is Brett Sutton himself.
Sutton Unplugged
Always controversial, "Doc" isn't one to hold his tongue.
"Most triathlon coaches do it because they can't make a living as a pro, so they need 10 age groupers to pay for them to travel around the world and drink coffee."
"In other squads you'll have 10 in the group and eight of them are mediocre, because what works well for the marquee girl doesn't work for the others, but the coach has everybody do what she's doing."
"I'm the boss. I train them like animals because I'm an animal coach. Shut the fuck up and just do the training."
"Chrissie was a beautiful thing because she had never been a triathlete, she didn't know any triathletes, she didn't hang out with triathletes, so when I put the times up and painted the picture, and said this is the training, she had nobody to tell."
"Dave Scott for me is the best triathlete that ever lived in Ironman, because what he did with what he had was fantastic. Mark Allen was the talent and Dave Scott had nothing, but he made himself into a talented athlete."
"In America it's all about the fluff. They don't race enough. It's nice to try and win Hawaii, but I'm trying to get my athletes to the point where they can afford to buy houses."
"I'm disgusted with the way the sport is run. These people should be getting paid superstar money, and they aren't because people are under the false pretense that the sport is boring. There are a lot of boring sports where people earn lots of money."

Click here to buy the digital version of the newest Inside Triathlon.