Skin Care Tips For Triathletes
Heading out the door? Read this article on the new Outside+ app available now on iOS devices for members! Download the app.
Dermatologist Dr. Monica Scheel, MD provides tips for avoiding and treating some of the top skin ailments involved with the sport of triathlon including sunburns, blisters, saddle soars, chlorine and chafing.
Written by: Monica Scheel, MD
As a dermatologist in Kona, Hawaii, I take care of many triathletes, treating skin problems that occur from sun exposure and from friction between the athlete's body and their gear. To keep you comfortable, happy and on the road to training and racing, here are some common skin issues that affect triathletes and my recommendations for preventing sunburn, skin cancer, blisters, saddle sores, chlorine and chafing.

Sunburns, Skin Cancer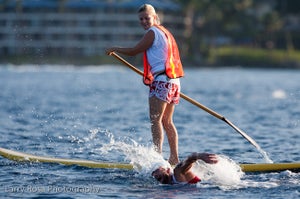 Skin cancer and precancers are serious concerns for triathletes. Patients often have "a sore that won't heal," "a mole that is changing" or "scaly spots that keep coming back." With some judicious protection, these can all be prevented or mitigated.
Your skin is especially important in racing and training because it regulates body temperature. Sunburn decreases your ability to race at your best because of increased dehydration, increased temperature and discomfort. Factors such as fair skin, total time outside, diet, number of sunburns and moles, plus genetics influence how skin copes with the free radicals produced by the sun and skin cancer risk.
Skin cancer is the most common cancer, and one in five people develop it. Most cases are basal cell carcinoma, a skin cancer that rarely spreads but usually requires surgery to cure. The most deadly skin cancer is melanoma, which can occur in areas that are mostly protected from the sun. It is the sixth cause of death in men and the seventh in women and presents in one in 60 people.
• Use a sport sunscreen with an SPF of 30 or higher on your body before you leave the house.
• Spraying sunscreen on your scalp helps when sun comes through bike helmets.
• Wear caps when you swim and hats when you run.
• Work out before 10 a.m. or after 4 p.m. to avoid the most intense sun.
• Remember that speedsuits offer more than just extra glide—they offer extra cover.
• Long-sleeved bike jerseys in breathable fabrics let you bike without overheating.
• Sunscreen is 50 percent gone in two hours and 100 percent gone in four hours, so reapply your sunscreen every two hours.
Blisters
Blisters are a common injury and rarely one for which athletes seek medical attention. They are most often found on the feet and are more likely to occur during longer runs. To prevent blisters, decrease the friction between your shoes and your feet by wearing socks on anything longer than a half-Ironman as well as in shorter distances if you are prone to blisters. If you develop a blister that is not painful, just leave it to heal on its own. If it hurts only when you run, a protective covering such as moleskin to put over the blister during exercise can help. If it hurts to walk on it, it might be best to drain it.
Here are some tips to keep you blister-free:
• Buy properly fitted shoes for your feet and running style.
• Use a vegetable-based lubricant on your feet and between your toes.
• Wear socks made without seams that fit well and breathe, and that are either synthetic or wool.
• Make sure your laces are snug to minimize movement in the shoe.
• Keep your shoes and feet free of debris by taking time to rinse your feet.
Saddle Sores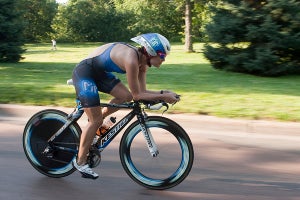 This is a group of skin irritations or infections that can occur when you put your backside on a saddle for long periods of time. Saddle sores can start out as a mild frictional irritation but have the possibility of turning into a serious infection if not cared for properly.
Hot spots (red areas), abrasions (scrapes) and raw skin, include red areas that turn into open sores from the friction of your groin and buttocks rubbing on the saddle. These are best treated with an antibiotic ointment Band-Aid until they heal.
Folliculitis, an irritation or infection of the hair follicles, is more common after shaving or waxing and made worse by friction and bacteria. Using an antibacterial soap such as Cetaphil Antibacterial or Lever 2000 and applying an antibiotic ointment can offer relief. Products made for ingrown hairs, such as TendSkin, are also helpful in mild cases.
Boils are infections that feel like a lump in the skin and are tender, red and sometimes drain pus. Treatment might require a doctor, and it's possible that you might need a prescription antibiotic. Resistant Staphylococcus bacteria could be involved, so make sure your doctor does a culture. If the boils are recurrent, you could be a staph carrier, a situation that requires treatment.
To prevent these problems:
• Have a professional bike fit.
• Choose a saddle that works with your undercarriage.
• Take your time building your mileage.
• Wear well-fitting bike shorts with a high-quality chamois.
• Practice good hygiene by getting out of your shorts immediately after a ride and taking a shower.
• Wash your shorts after every ride.
• Use a good lubricant such as Chamois Butt'r on your shorts and your body.
• Avoid wearing underwear under bike shorts.
Chlorine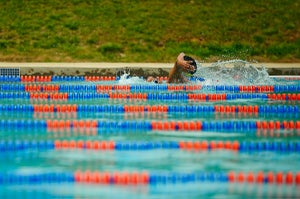 Swimming in chlorinated water can be hard on your skin and hair. If you have the opportunity to alternate pool workouts with ocean or lake swimming, or if you have access to an ozonated pool, this will minimize the exposure to chlorine. Avoid the pool the day or two after super chlorination, when chlorine levels are at their highest. Chlorine dries out the skin. In some athletes this will lead to white spots on the skin, a type of eczema called pityriasis alba or increased bumps on the upper arms called keratosis pilaris. Chlorine can also dry out and damage hair, sometimes turning a nice blond to green. The green color comes from copper elements in the pool that interact primarily with hair that has been bleached. Some athletes are sensitive to chlorine and can get a chemical dermatitis, which can be a full-body rash of tiny, itchy bumps.
To decrease chlorine effects:
Rinse your body and hair before getting in the pool.
Wear a swim cap to keep chlorine from damaging your hair.
Shampoo and condition your hair and wash your skin with a mild cleanser after your swim.
Consider a chelating shampoo to remove the copper elements from your hair.
Use a gentle soap—the Cetaphil bar and Dr. Bronner's liquid soap are kind to the skin.
Select a lotion- or cream-based sunscreen to apply 20 minutes before your workout. Your skin will benefit from the added moisture.
Apply a good moisturizer to the skin before bed. Creams and oils are more effective than a lotion base.
If a rash or skin condition doesn't resolve in one to two weeks, see your doctor.
Chafing
Friction is the main culprit here—the result of your skin rubbing on clothing, especially around the neck, armpits, groin and nipples. From the swim, chafing mainly occurs on the neck from wetsuits and speedsuits and in armpits with sleeveless suits. A properly fitted suit, which means a suit that fits your neck-to-groin length and is also the correct size for your body weight, can help prevent chafing. But even with a properly fitted suit—or no suit—chafing can occur when mileage increases. Use a non-petroleum-based lubricant to decrease friction around the neck, axilla and even legs to help you get your suit off after your race. Petroleum-based lubricants can break down your wetsuit more quickly.
Cycling friction can be minimized with the use of well-fitting cycling shorts with a high-quality chamois. Apply a lubricant to your skin as well as your chamois. Use a saddle that fits your body, and make sure you have a professional bike fit.
In the run, friction occurs most often in the armpits, feet and, in some athletes, the inner thighs or nipples. Wearing a well-fitting technical shirt and shorts helps because they don't have seams that rub. Applying a lubricant to these delicate areas before a race or training decreases chafing.
Sunscreen Picks
A great option for sunscreen is the Mission Skincare Products. I love the fact that they are easy to apply, non-greasy, effective, water resistant and paraben free. The folks at Mission Skincare have done an excellent job on developing a sport line of skin care products for athletes. Another good option for all-around protection for all three sports is Skinceuticals SPF 45 sport screen. For the least amount of chemicals and full protection, I like Badger Balm SPF 30 or Soleo Organic SPF 30-plus. They are both water-resistant and contain more than 20 percent zinc oxide. For convenience and price, consider Neutrogena Ultra Sheer and Cooling Mist with Helioplex (a UVA stabilizer) and Banana Boat Sport Spray with Avoplex. For lip protection I prefer the high SPF, chemical-free, clear zinc of Liptech Solar 45. For a sunscreen stick that is easy to carry and apply, try Vectra and Shiseido balms.
Dr. Monica Scheel is a board-certified dermatologist and triathlete in Kona, Hawaii. Last year she offered free skin cancer screenings at the Ford Ironman World Championship Expo. On race day, you'll find her volunteering in the medical tent at the Hawaii Ironman. Visit Drmonicascheel.com.