Race Report: The Kona Beer Mile
The Kona Beer Mile is like bizarro Ironman World Championships, writes Chis Foster.
Heading out the door? Read this article on the new Outside+ app available now on iOS devices for members! Download the app.
The Kona Beer Mile is like bizarro Ironman World Championships. It's held at the site of an old airport— next to a giant dilapidated, broken glass-filled parking lot just outside of Kona on the evening before Ironman World Championships. It got its start in 2014 with a star-studded cast including multiple Wildflower winner and first time 2016 Kona finisher Jesse Thomas.
The call to arms was put out by the crew at TRS Triathlon, and they were on hand to document its glory. The course itself is mostly a circular loop on a winding paved path with a short, cutacross section that has runners slipping over loose lava rocks, past shin-level water spigots and wooden stakes. The course explanation involves statements like, "Take a left at the coiled hose on the ground," and "It's pretty close to 400m." The race is loosely organized via word-of-mouth and the participants' Twitter accounts as a way for Kona racers' friends and family to get a break from supporting their Ironpeople 24/7.
The basic rules of the beer mile are simple, in theory: Four laps with one beer at the start of each lap. The beer must be over 5% ABV, and it's supposed to be in a can (however, many weren't). Each beer needs to be completely finished before the runner can cross a designated line (however, many weren't), and if you throw up, you take a penalty lap (a few did the former, none did the latter).
The contrast to the next morning's event is stark. Instead of 2,300 racers, there are about 20. Instead of thousands of fans and NBC coverage, there are a few spectators holding surplus beers and a guy recording on his phone. No one is wearing compression socks, and when the race starts, the beer that most of the runners chug definitely isn't their first of the day.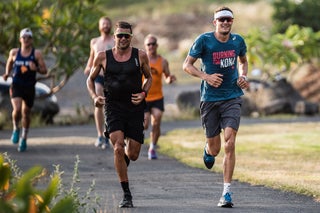 It's a motley crew to be sure, and it feels millions of miles away from The Big Race nearby. As if to highlight the psychic distance from the next day's event, just moments after the warm-up jog, a motor scooter rides through the group, followed by none other than the soon-to-be 2016 Ironman world champion Jan Frodeno out on a pre-race run with Terenzo Bozzone. They give a quick wave and laugh at the sad scene, just 12 hours before the start of the biggest race of the year.
This year's Kona Beer Mile is reportedly smaller than the one in 2015 but has returning champions from previous iterations. In the language of commentators, "The field is narrow, but deep." Some notable contenders include ITU pro Alex Libin, pro AJ Baucco and U.S. Olympian Ben Kanute. And me.
I had done my best to research the dynamics of the race, but hadn't really prepared very well. I knew I had run fitness on my side, but the beer part was a question mark; it had been a very long time since I'd chugged a drink of any kind. I read up on what to do from the legends of the game (both Nick Symmonds' guide and an article from Competitor seemed to be the most thorough) and had a sound plan.
My original strategy was to drink super fast, start slow to release the gas in my gut and gently build into a sustainable pace. As I approached the end of the lap, I would slow down and catch my breath before trying to chug again. Repeat from there and win comfortably with a huge lead and endless glory.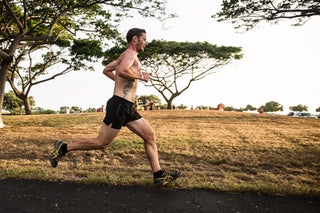 When the gun finally goes off, I lift the beer to my face, and within seconds the field takes off running. I'm stuck relatively sipping my way through my first beer, and they've almost rounded the first corner at the aforementioned garden hose. The plan goes right out the door.
So I choke down the rest of the foamy garbage and take off, deranged. I go nuts. I go like sub-60 seconds per 400-meter pace. I run all the way through the entire field and almost overtake the lead motor scooter. I come in to grab the next beer with a nice lead and the confidence that I will destroy this misfit clownshow.
The moment I put the second can to my lips, I realize I had made a huge mistake. I almost drown in the now-disgusting poison; I literally almost asphyxiate on cheap, American beer. I envision the sad epitaph that my former friends will be forced to pour 40s on, written on a grave that my mother will never visit out of shame: "He died like an idiot."
But I choke it down because pride. The rest of the run goes about the same, with me getting slower and slower as I get closer and closer to throwing up/death. On the last lap, I almost lose my lunch, but remember someone saying that the only runner to throw up last year was a girl (yes, he said it that way). I don't want to be this year's Girl.
I don't know where I finished (it was nowhere near the podium) or what time I got (which seems irrelevant given the loose interpretation of the course and the sobriety of the measurers), but I know that after everyone caught their breath and grabbed another beer (another!?), I spent the next hour sweating inappropriately and alternating between nauseated and flat-out vomity. I never actually barfed, but I bet it would have been great.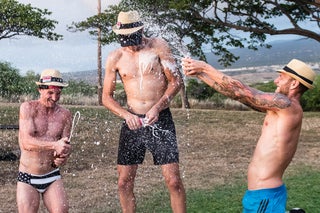 I think Alex Libin won the thing, with Nathan Killam and AJ Baucco in second and third respectively, but it was hard to pay attention while focusing on keeping my guts down.
If I had stuck to my plan, would I have finished better? Probably not. Would I have felt better? My God, I sure hope so.
Our impact on triathlon as a whole? I think Jan Frodeno said it best in his victory speech*, moments after his win. "There was a time out there, when I was really hurting, and I really had to dig deep. I looked inward at the depths of my psyche and asked for inspiration. I instantly pictured Chris Foster from last night—standing at the starting line of the Kona Beer Mile, Budweiser in hand, ready to slam it into his grill.
"I visualized the guts it took for him to run so very fast for such a very short distance and to feel so very ill afterward for literally no reason at all. I realized that sometimes plans go out the window, and you have to keep going, no matter what you've done to yourself. That was where I found my will to win."
You're welcome, Jan.
*Jan said this entirely in my still-damaged brain.