Pro Q&A With Heather Gollnick
Heading out the door? Read this article on the new Outside+ app available now on iOS devices for members! Download the app.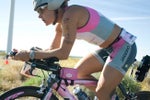 Written by: Holly Bennett
Triathlete sat down with Heather Gollnick to learn how she balances being an uber-mom and an uber-pro.
Triathlete: Let's see: You're a five-time Ironman champion, a mother of three, a triathlon coach and camp director, and most recently, one of a team of producers of the new Rev3 Triathlon. Do you ever just get really tired and cranky?
Gollnick: Maybe that's a better question for my husband! Actually, I wish there were a lot more than 24 hours in a day. I'm not even sure if 36 hours would be enough some days. It's definitely been a challenge to balance it all. My personality is such that I want to do a good job at everything, and when I don't feel like I'm doing my best, I get stressed.
Triathlete: What are your tools for combating stress?
Gollnick: I try to let go and live in the moment. When training is done and work is done, it's family time with the kids. I enjoy playing with them, really being with them. I [don't like] to be on the phone and doing work at the same time [I'm spending time with the kids]. And I truly enjoy all my roles, which is sometimes a bad thing because I try to do too much. I know most people probably don't see that side of me, but there are times when things get overwhelming.
Triathlete: Do you cook and clean? Do you make brown-bag lunches for the kids? Or do you just drop to the floor at the end of the day and let Todd take care of the household chores?
Gollnick: Todd is really good at helping out—it's crucial that we are on the same page. It's just about balancing what works. The schools here are great, and right now the kids are in baseball, tennis and a variety of different activities. I like to be there as often as I can. So some days there may be a few things on my training schedule that I miss, but I usually get the key workouts done.

Triathlete: Has there ever been a time when you've had to put yourself first and therefore let your kids down in order to focus on triathlon?
Gollnick: I think honestly I miss them more than they miss me. If I go somewhere to train for a week or travel to a race, it kills me to be gone. But my parents or Todd's parents come and stay at the house with our kids, so they're in their own house, with their friends, at their school, in their sports, with their toys—they don't really miss a beat. They probably get to stay up a little later. We miss them, but they're having a great time!

Triathlete: You obviously have a finely honed maternal instinct. But what about on the race course— do you ever feel that motherly compassion towards some of the younger athletes you're racing against? Or do you pretty much just want to kick their butts?
Gollnick: Yeah, I don't so much feel that way. When I'm racing, I'm a completely different person. It's that very competitive nature that kicks in.
Triathlete: Tell me more about you and Todd. You were high school sweethearts, right? What was your first date? Did you go to the prom together?
Gollnick: We did go to the prom together! On our first date, I was 14. My parents were strict, so they wouldn't allow me to actually go out with him. He was this older man—he was 16 and he could drive. So I made him dinner. It was steak. It was the most disgusting thing ever. I burned half the stuff, but he was really polite and ate it all, and my parents thought that was pretty nice.
Triathlete: Do you think he knew then what he was getting into?
Gollnick: No, no idea!
Triathlete: Could you beat him in a push-up contest?
Gollnick: Oh no way! He's really strong.
Triathlete: I remember talking to you the day after you took third at last year's Ironman Arizona. You were hiking the Grand Canyon with your family. Is that a normal "recovery" activity for you?
Gollnick: Well, it wasn't strenuous hiking. My daughter [Jordan, age 12] has cerebral palsy, so it was about spending quality time together. But my recovery week and someone else's are like night and day. Recovery to me means not swimming, biking or running. It's taking my daughter to do this, taking my son to do that. I love triathlon, but I do look at it like work. So I look at recovery as a day off from work where I can do other activities, not a day off where I can lay on the couch. Most athletes I know, even the age-groupers I train with, finish training and go home to take a nap. I'm like, "Let's go play kickball!"
Triathlete: Is there anything you're afraid of?
Gollnick: Snakes? Actually, I'm very fortunate, in that my parents taught me to go for what I want, which is what we try to instill in our kids, especially Jordan. Go for whatever you want in life; don't let a physical disability stop you from doing anything. So no, no fears.
Triathlete: Let's play the "would you rather" game. Would you rather win 100 percent of the time with 50 percent effort, or win 50 percent of the time with 100 percent effort?
Gollnick: Oh the second one for sure! I kind of feel that's what I do. Besides Kona, the last 14 Ironmans I've raced I haven't been out of the top three. I don't think I'm necessarily the best athlete, but I think mentally I always give 110 percent.

Triathlete: Would you rather win Kona but miss your daughter's prom night, or be there to help her get ready and sacrifice the Ironman crown?
Gollnick: I'd rather be at my daughter's prom. That's part of the problem, the sacrifice that would go into winning Hawaii. But that's a choice I make because that's where I find the balance.
Triathlete: Would you rather always lose or never play?
Gollnick: I wouldn't do either. Because if I always lost, I'd practice enough until I won!