Two Of A Kind: The Wassner Twins
Heading out the door? Read this article on the new Outside+ app available now on iOS devices for members! Download the app.
The Wassner sisters have been on an extraordinary run the past two years, and if their early season training is any indication, each could have her best year yet in 2010.
Written by: Brian Metzler
It's a sunny afternoon on the outskirts of Tucson, Ariz., and Rebeccah Wassner has her Cervelo S2 road bike moving at a good clip up Mount Lemmon Highway.
At 5-foot-2 and 105 pounds, she's built for climbing, and she's on top of her pedals as she hammers up the 26-mile climb to the top of one of Tucson's iconic peaks. It's not a race, but starting last among the women in coach Cliff English's elite training camp, the diminutive Wassner efficiently spins her way past fellow pros Samantha McGlone, Kim Loeffler, Amanda Lovato and her twin sister Laurel Wassner. She hangs onto Ironman pro T.J. Tollakson for about four miles before finally falling off his wheel and cranking the rest of the way to the top on her own.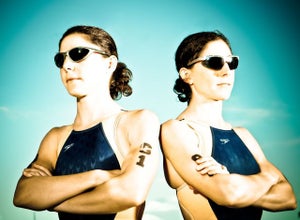 Although slowed by a foot injury over the winter, Rebeccah is starting to show the form that made her the 2009 USA Triathlon Athlete of the Year in the non-drafting category, helped her secure a come-from-behind victory at St. Anthony's Triathlon and win big races in Philadelphia and New York City.
"It's probably the highlight of the year as far as training goes," Rebeccah says of the 5,689-foot climb to the summit. "Being around other professionals who are here to work out hard and get fast is  inspiring."
Laurel reaches the top about 15 minutes later, and Rebeccah is the first to congratulate her. Although overwhelmed by the more seasoned pros on this day—something that would repeat itself several times during the three-week training camp—Laurel is not defeated.
Entering her third year as a pro, she's made enormous strides since taking up the sport in earnest in 2007. She was inspired to become a triathlete after watching her sister excel for many years, and if it weren't for a bout with Hodgkin's lymphoma, Laurel might be right on her sister's wheel.
Last year at the elite training camp, Laurel made it only to Windy Point, about halfway up the mountain.
"I'm definitely a lot less experienced than everyone else out there and am still learning," she says. "I can't really compare myself to other people who have been riding for 10 years. Sometimes I'm frustrated that I'm not as fast as those people, but then I just remind myself that this is new for me, and if I can be better than last year, I'm happy."
The Wassner sisters have been on an extraordinary run the past two years, and if their early season training is any indication, each could have her best year yet in 2010. Rebeccah won six races in 2008 and six more last year—including an ITU victory in Ecuador last spring—by vastly improving her ability to run off the bike.
With 35-minute 10K run splits becoming commonplace last year (and a blazing 34:36 split at the New York City Triathlon), she finally started to engage and maximize the natural running speed that made her a four-time high school state champion and a record-setting collegiate runner at Mount St. Mary's University in Emmitsburg, Md.
English thinks Rebeccah could ultimately be a strong contender at the Ironman 70.3 World Championships. She entered it last year after two solid half-Ironman races (second at both Rev3 and Muskoka), but didn't start because of a plantar fascia injury.
"Bec is really strong in all three disciplines," says English, who began working with Rebeccah in 2006 when he was a USAT staff coach. "Physically, she has very little weakness, and she's quite competitive. She's always been a great runner, but it takes a couple of years to be able to run well off the bike. She really came into her own last year, and I think she'll continue to build on that this year."
Laurel, meanwhile, continued the momentum of her 2008 USAT Pro Rookie of the Year campaign. She was a consistent top-10 finisher in some of the biggest domestic races last year, often not far back from Rebeccah, and also did her first two 70.3 races. She's still improving in all three disciplines, but there are plenty of signs that show she'll soon be fast on Rebeccah's heels.
Obviously, as twins, they have comparable makeups—Rebeccah is 5-foot-2, 105 pounds, Laurel's 5-foot-3, 110. But they also have a similar competitive spirit and relentless work ethic, initially developed as adolescent swimmers and furthered the last several years as primary training partners in New York City and New Paltz, N.Y., where Rebeccah and her husband, John Heppolette, built a home in 2008.
Rebeccah is a better runner, thanks to her competitive background in the sport, while Laurel, who swam competitively for George Washington University, is potentially the better swimmer, although she admits she needs more open-water experience. Interestingly, Laurel matched her sister's rookie of the year award (something that Rebeccah predicted a year before it happened) and she's equaled or surpassed some of Rebeccah's race times at the same points in their careers.
For example, Rebeccah clocked at 2:10:32 at St. Anthony's Triathlon as a first-year pro in 2004, while Laurel turned in a 2:10:59 during her rookie season two years ago. It's hard to compare year-to-year times or placings (Rebeccah was ninth in 2004, Laurel was 17th in 2008), but what's poignant is that Laurel's swim, her strongest skill, was considerably slower than Rebeccah's 2004 split, but her bike and run, her weaker disciplines, were much faster.
Furthermore, in winning St. Anthony's in 2009, Rebeccah dropped 30 seconds off her overall time of a year earlier, while Laurel, who finished 14th, dropped 3.5 minutes. English believes Laurel will continue on her fast upward curve as she gets more experience, improves her time-trial cycling and warms up to the ITU style of racing that allows drafting and encourages tactical, high-energy racing.
"Even during races we're in together, I always wonder how she's doing," Laurel says. "I want her to succeed, just as much as she wants me to do well, and that's pretty cool. We're competitive, but we're not trying to beat each other too much. It's pretty cool that I get to work out with one of the best triathletes in the world every day, and it definitely helped when I started. I think it helped elevate her game as well."
A year after graduating from college, Laurel moved to New York City to start adulthood in earnest. The self-motivated competitor in her, thinking her background as a collegiate swimmer and undeveloped talent as a runner might benefit her, quickly veered toward triathlon.
She bought a $400 bike, started running with a group in Central Park and was really enjoying her new fitness. Her first triathlon, though, wasn't really a triathlon but more of a contrived Rollerblade/bike/run event around Prospect Park in Brooklyn. She raced well for a newbie, but made the novice move of wearing a heavyweight cotton sweatshirt. And it poured.
"It was 50 pounds by the time I finished," she says with a laugh. "I had no idea about performance clothing back then and no idea what I was doing. I think I managed to do pretty well, but I had this giant, heavy sweatshirt holding me back."
Despite the awkwardness of that first race, that could have been the start of a flourishing triathlon career. She would have soon upgraded her bike, fallen in step with a group of serious triathletes in the city, gotten direction from a top coach and probably snagged some sponsors. And that would have sent her on a path that would have quickly led her up the pro ranks.
But that's not how life turned out for Laurel. She would eventually become a successful pro, but in a roundabout way.
One morning while enjoying a summer weekend with friends on the Jersey Shore, she woke up with a sore neck. She thought it was just the kind of stiffness one would expect from sleeping on the floor, or at least lingering stiffness from running, swimming and training so much. But when she finally went to a doctor a few weeks later, she was diagnosed with Hodgkin's lymphoma.
"It came out of the blue," she recalls. "It was really hard to hear that I had cancer and that I was going to have to go through chemo. I remember walking down into the subway after I had been diagnosed, and thinking 'Wait, I'm just starting out. I just got to New York. I'm healthy. How can this be happening to me?' And that's when it sank in. I knew I had a totally different life all of a sudden."
The fact that Laurel and Rebeccah were, in the fall of 1998, living apart for the first time in their young lives was a bit strange for them to say the least. They'd been together, or at least in close proximity to one another, their entire lives—in the womb, as toddlers, on numerous youth softball and basketball teams coached by their dad, Irving, for 12 years as teammates on a YMCA swim team, on their middle school cross country team, on their high school swim team, and virtually every single day through their graduation from Watkins Mill High School in 1993.
Sure, they went to different colleges, Rebeccah to Mount St. Mary's and Laurel to George Washington, but even then they were only a 90-minute drive apart and would often visit each other on weekends or wind up back at their parents' house in Gaithersburg, Md., when time permitted.
"We were always close when we were young, but when we got out of college and started working, we were kind of going our own ways," Rebeccah recalls.
Still, when Rebeccah got the call, it was surreal. A million thoughts of their childhood flashed in front of her, and she knew that she had to move to New York to be with Laurel.
"I called my supervisor [at Deloitte, where she was working as a CPA], and he said, 'OK, we'll transfer you to New York,'" Rebeccah recalls. "I didn't realize until later what a big deal that was and that there were people who had been waiting for years to get into the group they transferred me into. But I knew right away there was nothing more important than being with her."
Within days, Rebeccah was on her way to New York, to reunite with Laurel and start her new job at the World Financial Center. They found a basement apartment on 12th Street in the West Village, only a couple of doors down from their older sister, Aliza. Together again, they were about to face the biggest obstacle of their young lives.
"Even though we talked all the time and were still close, having her move to New York to be with me meant everything to me. It made us a lot closer," Laurel says. "I don't think she ever questioned it, and I don't think I ever asked her to move. She just did it."
Not long after Rebeccah and Laurel were reunited in New York, a friend Laurel had met in a New York Road Runners training group called and said she'd heard about something called Team in Training. She wanted to know if Laurel would join with her to raise money for the Leukemia and Lymphoma Society while training to run the London Marathon the following spring.
"I had to say, 'Well, um, I didn't tell you this yet, but I actually have lymphoma,'" Laurel recalls. "That was difficult, but it was a perfect situation for Bec, and she signed up immediately."
Hodgkin's lymphoma is a type of cancer that originates from white blood cells. The survival rate is about 90 percent or higher when it's detected early, as it was with Laurel, making it one of the most curable forms of cancer. But it's still cancer, and vigorous chemotherapy or radiation treatment is necessary to beat it.
So juxtaposed against Rebeccah training for her first marathon to raise money for the Leukemia and Lymphoma Society, Laurel was beginning what would be six months of chemotherapy. As Rebeccah was doing hard interval workouts and tempo runs in Central Park, Laurel was getting crushed by heavy doses of potent chemicals every other Tuesday. As Rebeccah was increasing her long runs, Laurel was losing her hair. As Rebeccah was hanging out with other healthy young people who were energized about life and their upcoming races, Laurel was getting treatments at Memorial Sloan-Kettering Cancer Center with other patients much older than her—she never saw anyone her own age at the hospital. And as Rebeccah was starting to get super-fit and discovering her latent endurance prowess, the mostly bald and very weak Laurel was increasingly feeling the debilitating effects of the noxious chemicals in her body.
But as with everything else in their young lives, the Wassner twins endured it together.
"I worked out with a group every Tuesday night in Central Park, the same day Laurel went in for her chemo treatments," Rebeccah recalls. "I knew if I was out there working hard and came home exhausted, maybe that would somehow inspire her."
It did, but what also inspired Laurel was that Rebeccah was there for her every waking moment. She made meals for her, did laundry for her, cried with her and sometimes just sat next to her without saying a word. Jointly, they organized a letter-writing campaign and raised more than $10,000 for the Leukemia and Lymphoma Society.
As fate would have it, Laurel's last chemo treatment fell on the Tuesday before Rebeccah was going to run London. Their mother and grandmother were planning to go, however doctors told Laurel she shouldn't fly. But she wouldn't have missed it for anything. So, despite not feeling great, she got on the plane. "I had to be there," Laurel recalls. "There was no way I wasn't going."
Rebeccah put in a strong effort with a 2:58 in her first marathon. In a roundabout way, it would serve as the launching point for her pro triathlon career, but the entire experience would also be the first of many inspiring cornerstones in Laurel's long road to recovery and even longer road back to athleticism.
Chemotherapy beat Laurel's Hodgkin's lymphoma, but it took several years for her to feel healthy and want to exercise regularly. There were countless doctor visits, more medicine and an ongoing lethargy that made her diet suffer. Her grandfather felt strongly about helping Laurel return to athletics and helped her with the cost of membership to Chelsea Piers Sports Center, where she worked out a little. But most days she just didn't feel up to it, and when she did, she didn't have much stamina.
Rebeccah, meanwhile, had been on the marathon fast track, lowering her PR to 2:55:32 at the 2001 New York City Marathon while part of the FILA Discovery USA training team. But she eventually switched to triathlon and found even more success, placing second at the New York City Triathlon in 2002 and 2003, winning a USAT 25 to 29 age group national championship in 2003 and being highlighted in Sports Illustrated's "Faces in the Crowd" section.
In 2004, she turned pro and quit working to focus as much time as possible on training. After a first successful first season, she was named USAT's Elite Rookie of the Year in 2004.
Naturally, Laurel was one of her biggest fans. She went to as many of her races as possible, but athletes, friends and fans would always ask why she wasn't doing triathlons. She never told her story, usually just politely deflecting the conversation toward Rebeccah's success. But deep down, she wanted to compete.
"I didn't really have the confidence in my body, and I didn't know if my body could handle it," she says. "I still wasn't feeling that great because I was tired for so long. I went through years of being nauseated. I couldn't run for more than 40 minutes."
Just for fun and without much training, she jumped into a sprint triathlon in 2005 and did OK, but it wasn't until after a clean bill of health at her five-year check-up the following year that she felt ready to train.
Rebeccah helped design a modest training plan and pick a few initial races and, although her results were modest at first, Laurel was finally a competitor again.
"When I went in and heard the doctor say, 'You're done,' it was like a huge weight off my shoulders," she says. "That coincided with traveling to see Bec compete in the 2006 ITU World Championships in Lausanne, Switzerland. It was really exciting to see the sport at such a high level. I had never seen such a competitive triathlon. I thought, 'Wow, I can do this.' That made me want to get into shape."
In the spring of 1999, as Laurel was finishing her treatment, her older sister Aliza told her about a cyclist who had come back from cancer and was going to ride in the Tour de France. Lance Armstrong would become a beacon of hope for Laurel, a bright shining example of a 20-something who not only beat cancer but returned to competition and pursued his dreams.
Not only did Laurel not have any 20-something role models who were fighting cancer, but the screaming desires of her inner athlete were being muffled to silence.
"When I was sick, to know that Lance got back on his bike and started winning races again, that was inspirational to me," Laurel says. "It definitely helps to have an example, but I didn't really have any. Everyone I met who was going through the same thing or the same diseases, they were older or had already been married or had already had a good job. I felt like I hadn't gotten to do that kind of stuff yet, so that was hard to deal with. But really, I didn't have anyone as a mentor that was my age."
"What I went through is hard to put into words," says Laurel, the first cancer survivor to earn a USAT elite pro license. "It was bad. You're always thinking that you're never going to be able to do anything that you want to do again. I had great support from my family and friends, and that helped me get through it, but not everybody has that."
And that's one of the reasons Laurel and Rebeccah got involved with the Ulman Cancer Fund for Young Adults in 2007. Started in 1997 by Doug Ulman, now the chief executive officer of Armstrong's LiveStrong organization, it's a non-profit that provides support, education and resources to young adults, their families and friends who are affected by cancer. Ulman has survived three bouts of cancer, the first of which was while he was a freshman soccer player at Brown University.
In the past 3.5 years, Laurel and Rebeccah have used their status and exposure as professional triathletes on behalf of the Ulman Cancer Fund's initiatives. They race for Team Fight, which raises money for the organization, connect with young cancer patients whenever possible and often speak to groups of young adults about cancer.
The twins were also featured in a multi-segment LiveStrong campaign that aired on major networks during last summer's Tour de France. Last winter, Laurel was highlighted in a LiveStrong print ad campaign with Armstrong, Boston Red Sox pitcher Jon Lester and dogsledder Lance Mackey, all cancer survivors.
"To be able to influence and help so many people out there is really important to me after what I went through," Laurel says. "Not everyone who is a cancer survivor is going to be inspired to do a triathlon, but maybe they're going to turn their life around and go after their dreams some other way."
Rebeccah and Laurel left Tucson with a bevy of workouts under their belts and optimistic about the upcoming season. Rebeccah will continue to energize Laurel, and as Laurel continues to improve and gain experience, she'll be able to push Rebeccah in their daily workouts. And their mutual inspiration and admiration will stoke their fires even more.
"It's going to keep Bec honest to have Laurel chasing her," English says. "And for Laurel, to see her sister win the major races she has, you can't really ask for more of a motivator than that. She's going to see that she's really close to Bec, and in some workouts beating her. And that's going to be good for her confidence when she's racing."
Rebeccah wants to keep moving up the ITU ranks and has her sights set on the qualifying process for the yet-to-be-announced 2012 Olympic trials races. Laurel is hoping to keep dropping time in all three disciplines and eventually race some longer races.
Their unique sister act has created an enormous amount of momentum, a unique and considerable asset their peers can't reproduce. Training, traveling, racing and sometimes living together has made them good friends. Surviving Laurel's cancer has made them almost invincible and nearly  unstoppable.
"It will always be a positive for me, and it will be for Bec, too," Laurel says. "We'll definitely always be stronger for what we've gone through."
This article appeared in the May/June issue of Inside Triathlon. To subscribe to Inside Triathlon click here.
For more information about Team Fight and the Ulman Cancer Fund for Young Adults go to Ulmandfund.org.