Heading out the door? Read this article on the new Outside+ app available now on iOS devices for members! Download the app.
Written by: Bethany Leach Mavis
While we imagine many professional triathletes spend quality recovery time on the couch after training, ITU athlete Sarah Groff is making salt dough, drawing with sidewalk chalk and painting pictures with elementary schoolers while volunteering at the Boys and Girls Club.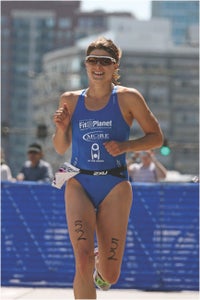 "Maybe it hurts my recovery, but I feel like it's worth it," she said.
Groff is driven, not just in athletics, but also in life. As a professional triathlete who double-majored in college—and still managed to graduate cum laude—she still finds time for community service.
"Being an athlete is a selfish pursuit because you're always working to go faster. Yes, you can maybe indirectly inspire people, but for me that was always too abstract a concept," she said. "I wanted direct involvement with the community."
For the last two years, Groff has been fitting community service into any free time she has between training and travel, and she feels that she's just now starting to really establish relationships with the kids. However, she's found that working with kids can be humbling.
"Most of the kids don't know I'm an athlete, and the ones that do know don't care or only have a mild interest," she said. "Working with kids is really grounding. No matter what your training is like or what your work is, they're the same. If you work with kids, it puts things into perspective."
Working with kids keeps Groff grounded, despite being ranked second in the U.S. and 17th in the world in Olympic-distance triathlon, making her one of the top American women in draft-legal racing. The 28-year-old is part of the USA Triathlon National Team and has represented the U.S. at the last four ITU Elite World Championships.
And she's done all this without much triathlon experience. She graduated in May 2004 from Middlebury College in Vermont after having competed "in a few triathlons, here and there." She then decided triathlon was something she wanted to pursue full time. "What I want is to say that I focused on just one thing, and that I tried to become as good as I could at that one thing," she said.
Groff believes that her idyllic childhood in Cooperstown, N.Y., has influenced much of her life. The town of about 2,000 people is situated on a "pristine glacial lake," she said, and it was where Groff first experienced nature while traipsing through the woods with her dog.
Starting around age 7, Groff even went through a four-year phase of bird watching, convinced that she would grow up to be an ornithologist. "It was pretty reliable for those four years that on Christmas and birthdays I would receive a bird-related item for a present," she said.
It wasn't until Groff had moved away from Cooperstown that she realized how much it had impacted her. "The more I travel, the more I realize that Cooperstown was a pretty exceptional place to grow up, with that kind of natural beauty," she said.
The small community she grew up in influenced her decision to go to a small school for college. She graduated from Middlebury College after studying biology and studio art. She believes that her appreciation of nature inspired her to study biology, but she studied art more by accident than intent, she said.
She enjoyed drawing and art as a child, but she put it aside in high school. She took an entry-level studio art class her freshman year, serving as a kind of outlet. But before she knew it, she was a double major.
Now, most of the art she does is craft projects with kids at the Pikes Peak Boys and Girls Club near her residence in Colorado Springs, Colo. She volunteers as part of the nonprofit organization In the Arena, which was created to promote community service among athletes. The organization places role model athletes in underserved communities in an attempt to effect positive change in those areas' youth.
Groff met In the Arena's founder, former professional duathlete Amory Rowe, at the tail-end of Rowe's career and the beginning of Groff's. Once Rowe started the organization, Groff applied to be a part of it. Her proposal for community service included spending time with children at a local Boys and Girls Club, and she hoped that, in some small way, she could positively impact the lives of children.
Community service is still a priority for Groff even as she strives to excel at triathlon. Groff's goals include representing the U.S. in the 2012 Olympic Games in London and reaching the top of the sport in ITU. Groff said she may end up competing in longer races including Ironmans. She likes to think she still has a lot of room for improvement.
Wherever her athletic career leads her, she's sure she'll keep her priorities straight. "I'm just as proud of the work I do with the community service," she said, "as I am about anything I've accomplished as an athlete."