Sneak Peek: Inside Triathlon Magazine's Look Into The Lives of the Brownlee Brothers
Alistair won the ITU short-course world championships in 2009 and Jonathan won the ITU sprint world championships last year.
Heading out the door? Read this article on the new Outside+ app available now on iOS devices for members! Download the app.
Inside Triathlon recently traveled to Great Britain to visit Alistair and Jonathan Brownlee, who are two of the fastest triathletes in the world today; Alistair won the ITU short-course world championships in 2009 and Jonathan won the ITU sprint world championships last year.
Below, check out a sneak peek of the article, available on newsstands now.
To subscribe to Inside Triathlon magazine, click here. Follow us on Facebook and Twitter.
Photos by David Tyrrell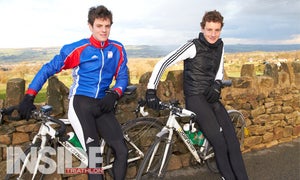 Alistair Brownlee, 23, gives new meaning to the phrase "I'd rather die than lose."
The 2009 ITU short-course world champion raced so hard at the ITU World Championship Series event in London last year that he drove himself unconscious. In fact, you could argue he nearly killed himself.
Nearing the final straightaway, he was in a familiar position: primed to outkick Spain's Javier Gomez. But suddenly and unexplainably, he let up. His face drained of all color. He began wobbling.
"My last memory was being right behind Gomez with about 300 meters to go and [my brother] Jonny just coming past me, and at that point I thought if I just hold on to Gomez, I can outkick him the last 100 meters. I'll win and be fine," Brownlee said. "And then my memory goes blank, like literally blank."
Unconscious for nearly 30 minutes, he says, with his temperature rising to about 109 degrees Fahrenheit, his next memory is waking up on a hospital bed, covered in ice and with wires coming out of his chest and drips in his arms.
"I just remember asking, 'Where did I come? Where did I come?'" Brownlee said. "And someone was like, 'I think you came in 10th. I'll just check.' I'm like, 'How the hell did I come in 10th?'"
As far as anyone could tell—because no one really knows what went wrong—he hadn't absorbed any food or water in the previous several hours, perhaps because he had some sort of stomach bug. So he had started the race already dehydrated and depleted of fuel.
That he was able to almost win that race on that summer day in London in 2010 is a frightening thought for all those who are looking for a weakness in Brownlee's armor.
"He's not afraid of blowing up, [of] making things happen," said Joel Filliol, who worked with Brownlee while he was head coach of the British Triathlon Federation from 2009 until he resigned from the position in March. "He's not afraid to do that, [which is] a fantastic way for spectators to watch, but equally it shows he's just not afraid—that's a real asset."
And what is perhaps more frightening for the professional triathletes out there who are gunning for gold or a medal at the 2012 Olympics is that Alistair Brownlee's brother Jonathan—the last person he remembers running past him in London—is primed and ready to join him among the ranks of the world's best short-course racers.
For more on the Brownlee brothers, including a look at how they train, pick up a copy of the May/June issue of Inside Triathlon magazine. It's on newsstands now.