Simon Whitfield On Training, Longevity, And Balancing Family Life
Canada's Simon Whitfield has a gold medal from the 2000 Sydney Olympics and a silver from the 2008 Beijing Olympics.
Heading out the door? Read this article on the new Outside+ app available now on iOS devices for members! Download the app.
Canada's Simon Whitfield has a gold medal from the 2000 Sydney Olympics and a silver from the 2008 Beijing Olympics. He's currently in pursuit of his fourth Olympic berth and his third medal. Inside Triathlon editor-in-chief Courtney Baird recently traveled to Maui, where Whitfield was training with the Canadian national team, to catch up with him. Check out the most recent issue of Inside Triathlon, available here, for what Whitfield told us in terms of training tips, advice on how to be a good parent and triathlete, nutrition tips, favorite workouts, and other pieces of advice. Although Inside Triathlon would have liked to print Whitfield's entire interview, we just couldn't fit everything in. Here's part of what didn't make it into the magazine.
Inside Triathlon: What would you say to people who say you're in the twilight of your career?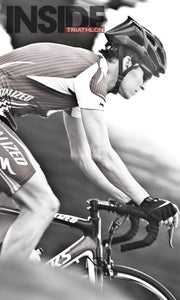 Whitfield: They're right. [Laughs.] There are certain advantages to it though. I have a certain balance and a certain perspective and I have a huge—I have sixteen years of training that they [younger triathletes on the circuit] don't have. That's the way I kind of look at it. I certainly have various challenges that they don't face. But that's the fun of being 21, 22, 23. But it's not like all those track sessions I've done for sixteen years are disappeared. I kind of see it as for every bit of youthful enthusiasm, and "ignorance is bliss," and "this wonderful opportunity" in front of them I have sixteen years of track workouts and long rides. I have more years between them and me then they have been doing it for.
Inside Triathlon: How many hours a week do you train?
Whitfield: We're between 25 and 30 hours, basically, if you call it honest hours, not like rounded up hours. Some weeks are in the low 20s and we'll try to get it up to around 30. I'm doing a better job now than ever before of logging it and monitoring it and keeping account of what I'm doing exactly. We run more than I ever have before, which I'm quite enjoying. The level just keeps going higher and higher. I mean, I would absolutely decimate the kid I was when I was 24. But the level just keeps getting higher and the Brownlees [Alistair and Jonathan of Great Britain] are the latest people to take that level up.
Inside Triathlon: What sorts of things do you do to recover?
Whitfield: We use different things. I used to ice in the ocean all the time. I don't do that as much as I used to. We use the NormaTec. We have one of those at home. In the season I get massages. My sister and I have a sleeping disorder that's my greatest weapon ever. My greatest gift that I was ever given was the ability to sleep anywhere, anyhow, and need so much less sleep than anybody else. … I think my sister and I definitely have some kind of sleeping disorder, and I actually think it's a benefit. Like, I would never want to solve it. The amount of REM I get in 5 hours it might take someone else 10 hours to get, and so I think that I'm able to recover back to back to back to back to back because I just get a very deep sleep, all joking aside.
During the interview, Whitfield talked a lot about how he balances parenting with triathlon, something he did before the 2008 Beijing Olympics, where he won a silver medal despite the challenges of being a new dad leading up to the race.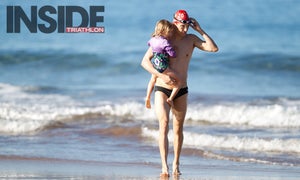 Whitfield: Routine is everything to us, so we just stay in a routine. I really have to emphasize to [the Canadian national team coaches] not to throw me for a loop, like changing one day to another. Like yesterday, for instance, it got flipped. And I can't do that—I can't say to [my wife] Jennie. She thought she had two hours for herself to go for a ride in the afternoon on Tuesday, so I can't flip Tuesday and Wednesday, so the other guys all did their workout on Tuesday and I did it on Wednesday. I just can't—I've learned because before when we first had Pippa [Whitfield's first of two daughters], I would have said to Jennie, "You know, I really need to do this." And she would have said, "Oh, absolutely, you're fine, don't worry about it." And then we would pay for it, you know, because it adds up.
Inside Triathlon: What do you attribute your longevity to?
Whitfield: Perspective. I maintained I think a very healthy perspective on it. And I don't quite know why I have that perspective but I've always had it.
Inside Triathlon: What's the perspective?
That it's about preparation. That winning, and medals and that stuff is an outcome. I understood outcome and process pretty early on. Like when I was a kid I understood it. My parents reinforced it without me even really knowing it. But I was never asked if I won. I was always asked, "Did I give a great effort?" And that really paid off because it taught me that everything was about the process and about the preparation I put in, and that the outcome was whatever it was, and that I would set a goal at the highest level. So I wanted to be an Olympic champion, and I'm very proud that I accomplished that. But really it was the process of getting there and the commitment it took to get there.
Perhaps Whitfield's greatest legacy to the sport is he started out as a fantastic runner who faked his way through the swim and bike but later became an all-around triathlete. During the interview, Whitfield spoke a lot about how he was able to go from a poor swimmer to one of the best in the sport with the help of his coach before the 2008 Beijing Olympics, Joel Filliol, as well as how he's attempting to improve his swimming today with the help of Canadian Olympic swimmer Rick Say. This past winter, Whitfield built a contraption that allows him to film his stroke so that he can study videos of what he's doing wrong.
Whitfield: Joel taught me the term "brute force." So you can either finesse it, or you can brute force it. But I truly believe you can't do both. You have to pick your poison. Either you're going to improve your swimming by brute force, which is the Sutto [Brett Sutton] method—you're going to just swim until you're a better swimmer, and that works, to an extent. Or, you're going to finesse it, which means you're going to relentlessly pursue improving your stroke. I used to think you could do it both ways, and then I learned that you couldn't. Then I tried to do the stroke [method], but we just didn't have resources or the people knowledge to do it. So it was a joke. So with Joel we just brute strengthed it. And we made it. I was first out of the water at worlds in Vancouver [in 2008], and that was one of the highlights of my career. And I was first out of the water in Kitzbühel [Austria] and that was one of the highlights of my career, because I didn't come from a swim background. But we did it through brute force. … I'm 35. I can't do that anymore. And it was also time to I enjoy the challenge of learning how to swim properly. I enjoyed the way Rick [Say] went about it. … So I bought the video camera. I built the swim cart. I edit all the videos. I watch all the videos. I'm f*&#ing Peyton Manning. He watches football. I watch swimming videos now. And I study. And so my swimming is improved. … So I watched the swim video, and then I would go back to the pool and I would say OK, I can see in my mind's eye what I was doing wrong. So now I know what I need to do. We video it. I change it. The whole time we're still swimming 5, 6K, but we would stop, like in the middle of a set. You've seen Rick on pool deck—he's got one arm up, two arms up. We would stop. If it's been too long in my stroke where my elbow has dropped, then he just stops me. So we're willing to stop in the middle of a 400 and make a correction. And it's paying off.
Whitfield also talked a lot about the importance of nutrition and diet.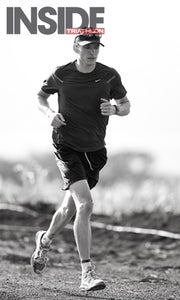 Whitfield: I try to eat really well—eat and not be flippant about my nutrition. To really not just say, "Oh, chocolate milk is fine." You know? Shrug, whatever is fine. I eat pizza—it's funny, ha ha.  You can get away with that for a certain amount of time. You can get away with that when you're 21. But you understand that you're getting away with it. It's not improving your performance. And so nutrition, realizing that it was so important and realizing that. We eat really well. We eat meat but we eat quality meat. We eat a lot of greens. It's not to say that I don't sneak in a Snickers bar here and there when I'm hungry. And I probably eat a little more processed food than I want to at times, through just the nature of being busy. But I really try to make sure that I'm very diligent about my nutrition. How much sugar I take in, and the quality of the food I take in.
During the interview, Whitfield spoke about what he learned from the 2004 Athens Olympics, where he placed a disappointing 11th.
Whitfield: Whereas with Athens it was just like, "Let's get this stupid thing over." It was awful—I mean, it was a great experience, but it was not a positive experience. I will say that I'm so glad I went through it, which is cliché, but I had to go through that experience. But we were just we were a wreck. You know, we were an absolute disaster. And I was just as to blame as anybody else was. I was not a good leader and not a good—I was a difficult person to coach, and I thought I knew more than I did. I was a classic 28-year-old smarter than I was, you know? And everybody, you know, most people go through that. And I was that guy.
During the interview Whitfield talked a lot about how lucky he was to have role models to look up to during his career, saying he has always been open to listening to others. He specifically talked a lot about Australia's Greg Bennett, who took Whitfield under his wing while Whitfield lived in Australia as a teenager, and New Zealand's Hamish Carter, who was the gold medalist in Athens.
Whitfield: I often find myself referencing Hamish [Carter]. Well, I want to do that like Hamish did, you know, because I really look up to Hamish, too. And I'm not afraid to say that. I really had great role models and great people to look up to and I still look up to them. I still call Benno [Greg Bennett] and ask him advice. And here we are—we'll have a pint together, but I'm still his little brother and we still argue, too. We still roll our eyes at each other, but I've had some great opportunities with those guys and to have Kyle to have that opportunity and to see that work ethic that a Kyle Jones has—it's fun to pass it along. [Editor's note: Kyle Jones is a Canadian training partner of Whitfield's who is about 10 years his junior.] … Kyle is also—he's an extraordinarily dedicated young guy. And if it weren't for him, I wouldn't be at the level I'm at now, either. He brings it. Look, the guy crashed, landed right on his head two days ago and he's out in the open water going as hard as he possibly can two days later. So he brings the work ethic that everyone else tries to live up to. … He's really receptive. He hasn't once pulled the "I know…I already…" You know? Athletes often [bristle] over, and they say, "I know what I'm doing." And I never did that with Greg. Even when I saw him, whenever it was, a couple of months ago, I didn't say to him, "I know…" When he's giving me advice I don't have the gall to say to him, "I'm 36, I know what I'm doing." I just listen.
Whitfield talked about what he'd like to do after he retires from racing. He believes he could coach age groupers and kids, but he would have a hard time coaching high performance athletes like himself.
Whitfield: Yeah I could coach that level [age group] too. I could do clinics and stuff for fun, but in terms of high performance Olympic sport, I would like to do it, but I don't think I could do it because I don't think I—unless someone was absolutely relentless in their pursuit of, I would be an absolute pain-in-the-ass coach. And they would not enjoy it, and I would not enjoy it. So I wouldn't do it. And athletes are few and far between. Like Benno [Greg Bennett] is relentless. [Alistair] Brownlee is relentless. [Javier] Gomez is relentless. Bevan [Docherty] is relentless. I mean, you spent time with him—he's relentless. He pursues high performance relentlessly. Kyle [Jones] pursues it relentlessly. Not a lot of guys do though. Like they think they do, but they don't. They don't even know what it means. So I would have a really hard time with the pretenders.