Samantha Warriner On Her Heart Condition And Her First Ironman Win
New Zealand's Samantha Warriner chatted with Inside Triathlon senior editor Jennifer Purdie about her first Ironman victory in New Zealand, her early-season heart surgery, her efforts to help earthquake-ravaged Christchurch and her plans for the rest of 2011.
Heading out the door? Read this article on the new Outside+ app available now on iOS devices for members! Download the app.
New Zealand's Samantha Warriner chatted with Inside Triathlon senior editor Jennifer Purdie about her first Ironman victory in New Zealand, her early-season heart surgery, her efforts to help earthquake-ravaged Christchurch and her plans for the rest of 2011.
Triathlete.com: Congrats on winning Ironman New Zealand. The weather was less than ideal. How did you deal with the conditions?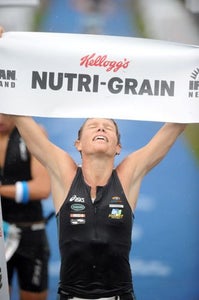 Warriner: The weather was pretty tough and not at all what I'd prepared for. We knew from about seven days out there was a high likelihood it would rain, but no one thought quite that much.
I do like tough conditions if I'm being honest; I like anything that's likely to get inside the other girls' heads. Back in 2008 we raced the ITU World Championships in Vancouver—the temperature was about 8 degrees Celcius and the water was bitter. Back then it was all about being mentally tough and Taupo, New Zealand was no different.
My big concern leading into the race was my choice of tires. I'd slowly introduced more and more aero gear throughout the simulations we'd done on the Ironman course, but they'd all been done in near perfect conditions. So when the heavens opened I had to decide whether I would go all out for speed or take things conservatively on the bike and opted for heavier tires. In the end we figured the Bontrager tires were going to be fast enough to justify using them. If I punctured one of them, I knew I could change one in 3 to 4 minutes max, but I knew from the simulations I'd done on the course that they were worth more than that in time gained.
Triathlete.com: You went to Taupo several times before the race. What other strategies did you use in your Ironman training?
Warriner: Power was the real key to my Ironman preparation. I've never really used a power meter before so we spent a lot of time figuring out exactly what power I could ride at on the course and still run.
I did seven sessions on the course to figure out what my race strategy would be–but to be honest, I did race above what I'd wanted to for the final 45K, by about 15 watts, and that's what led to me suffering on the run. I wouldn't say I fell to pieces, but it sure as hell wasn't pretty and if you've seen me running in an ITU race you'd wonder where that stride had gone in Taupo.
When I turned at the 135K mark, I saw the other girls at about 19 minutes back, but in with the age-group guys. I didn't want to concede any time and in hindsight I pushed too hard over that last 45K and blew my chances of running at the pace we'd practiced. In short, I reacted to the other girls and that's my one big learning curve from the whole event. You just can't react to anyone; it's all about racing your own race, or as my coach says "playing in your own sandpit."
Triathlete.com: In 2010 you were dealing with a heart condition in which your heart beat 230 beats per minute on a regular basis; you had heart surgery in December. Obviously you are doing well enough physically to race. How long were out of
training?
Warriner: Yeah I've had the condition since I was a kid to be honest; they really didn't know what caused it back then. Racing ITU it would come on maybe once every six months but it was very manageable in that I knew the triggers and could avoid them, and I knew how to slow it down when it went off.
But last year for some reason it just started going off more and more. At first I thought it was a fitness thing or maybe nutrition. I'd finish races absolutely white in the face. The scenario was usually the same. I'd lead the bike by maybe three or four minutes and then out onto the run I'd lose my advantage. If I weren't a runner, I could accept it, but running has always been my strength in ITU–I've run quite a few 33-minute 10Ks off the bike in World Cups.
By October it had gotten pretty bad and was affecting every race I entered. I flew home mid-October and had four weeks totally off training. That's the longest break I've had in eight years of being a professional triathlete. But within days of starting back training, it was going off every training session, usually around the 20-minute mark, and it would rocket to around 230 beats per minute.
I had a lot of tests done and was lucky that they diagnosed it very quickly. Although we didn't have health insurance due to an oversight on our own part, I managed to get a slot on the operating table the very next week for the procedure.
So on December 1, 2010, I went under anesthetic and had a successful ablation for SVT. Ironically our National Federation, Triathlon NZ, decided to officially de-card me (carding is the mechanism in New Zealand in which a national federation supports its athletes for things like massage, doctors, specialists, etc.) at the precise date and time I was on the operating table. I still look at the email from time to time and wonder.
The operation took place on a Wednesday and I was back swimming in Lake Rotorua by the Saturday. By the following Tuesday, Ironman prep started in earnest, and I haven't looked back since.
Triathlete.com: Are there any physical or emotional setbacks you are still dealing with from the heart condition?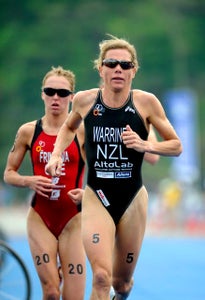 Warriner: I rang my heart specialist back in January to check up on something. I said when Rob picked up the phone, "Hey Rob I just wanted to talk to you about my heart condition." Rob's response was succinct and matter of fact. He said, "Sam I'll stop you there. You no longer have a heart condition, yours is the same heart as any other elite athlete."
I haven't given it a second thought since then.
I get no heart rate spiking, and to be honest, I just can't describe the feeling that I have. It's like my chest, and in fact my whole being, is just a whole lot calmer for want of a better word.
Triathlete.com: These have been a tough couple of years, so what keeps you motivated?
Warriner: Triathlon, plain and simple. I love it. Whether it's training, competing, commentating at events, helping run the kids races at local tri club or coaching my Sweat7 girls, I just love inspiring and helping others.
Triathlete.com: You are competing on Saturday in a swim-only event (2.6km Sand to Surf). What other races are on your schedule in your bid to qualify for Kona?
Warriner: This Saturday is just a training session with the added bonus the organizers paid for a hotel for a few nights for me and my husband, Stephen. I head over to the U.S. next week so the incentive of a weekend away in a nice hotel couldn't be overlooked.
Once I'm in the U.S., I'll be basing myself out of Los Angeles, as usual. Terenzo Bozzone will be there, too and we're doing a very similar race schedule, as Jon Ackland runs both of our programs.
I'll be at Kemlah for the T3 Olympic race next weekend, but this is just a warm up for Galveston and the Texas 70.3. After that Stephen will join me and we'll head up to Wildflower for some serious camping. We both love camping and spent the first three simulations in Taupo camped out next to the Hilton where they put up all the top athletes.
I plan on racing New Orleans, too and Eagleman—both races I won last year. And then after that it will all be about Ironman Switzerland where I hope to learn a little more about the Ironman.
Click "next page" to continue reading the interview.
Triathlete.com: You've been involved in charity work for the Christchurch earthquake. Can you tell me more about what you have done?
Warriner: Baking is one of my releases from triathlon–I love being in the kitchen. After the devastation of Christchurch unfolded on our TV screens, we all felt so helpless in the north of New Zealand. I was so focused on Taupo, but at the same time realized the trivialness of the whole race.
So as soon as the race was over, Stephen and I put our heads together and thought about how we could help, even in just a small way.
Teresa Adam, a young ITU athlete from New Zealand, had been posting pictures of her baking creations on Facebook. So I challenged her to a bake off. We held the event at a restaurant in Auckland, invited hundreds of people along who all paid to sample our baking and vote on their favorite chocolate brownie.
We raised over $4,000 for the Ironman Foundation, a charity generously set up by Ironman NZ organizer, Jane Patterson. The fund goes directly to triathletes affected by the Christchurch earthquake.
I'd love to say I won, but alas I can't be the best at everything and young Teresa took the Brownie Crown. Her baking will be on sale at the restaurant for the next month and all proceeds will also go to the fund.
Triathlete.com: Can you tell me about your Sweat7 team?
Warriner: Sweat7 is kind of my hobby at this stage, but I'd like to grow it into a business over the next few years. I love inspiring women to do things they never thought they could.
A lot of people don't realize this, but I was a school teacher until I was 33. I worked full time and didn't even start this triathlon roller coaster until I was 29. After doing my first season of racing I managed to get to age-group worlds and won the silver medal. The next year I raced elite and continued to teach full time.
I taught while, at the same time, winning my first two ITU World Cups. The girls on the circuit used to joke about what lesson I had to teach Monday morning.
I believe if you want something enough and you've got enough energy, attitude and willingness to put the training in, you'll get there. Hence Sweat7, Sam Warriner, Energy, Attitude, Training, seven days a week.
I advertised in a New Zealand magazine for seven "everyday" women to coach this past summer. I had over 350 applications and I honestly believe picking the seven was tougher than my Ironman experience.
I secured sponsorship for the girls from Blue Seventy, Asics, Thompson's Nutrition and Red8 Hydrate. Air NZ paid for their flights and Contact Energy paid for their race entries.
The girls got sucked in over the summer; we ended up with a couple of age-group national champions and two qualifiers for the World Age Group Championships. But the real highlight for me was seeing them do things they never thought they could. They inspired me everyday with their blogs (Sweat7.com) and their funny stories on the Sweat7 Coaching Facebook page.
It's been a journey I've loved so much and I'm just putting together next summer's concept at the moment. Needless to say it will be all about beginners again, with a slightly different twist.
[sig:JenniferPurdie]