Q&A With Lake Placid Champ Amy Marsh
riathlete.com caught up with Marsh after her most recent victory in Lake Placid.
Heading out the door? Read this article on the new Outside+ app available now on iOS devices for members! Download the app.
Last September at Ironman Wisconsin, then Texas resident Amy Marsh had a breakthrough performance, taking the race lead in the early miles of the 112-mile bike through the rolling country road outside of Madison and riding towards a convincing victory. Later that year, she and her husband – and fellow pro triathlete – Brandon Marsh, joined TeamTBB and began training for the first time in their careers outside of Austin, Texas. Triathlete.com caught up with Marsh after her most recent victory in Lake Placid.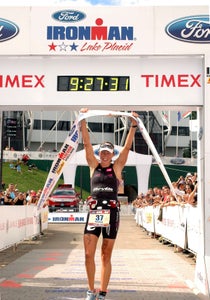 Amy Marsh: Every win has been special in some way. I would have to say that my first win at IM Wisconsin last year was definitely the biggest highlight so far as it was my first ever Ironman win and some of my friends from college were there to watch and celebrate with me.
Triathlete.com: As a collegiate swimmer, what was it like to win with Michael Phelps on hand at the race?
AM: I actually had no idea that Michael Phelps was at the race until someone told me after I had finished. I just hope he cheered for me since I cheer for him at least every four years!
Triathlete.com: You rode a scorching 5:07:44 on a difficult bike course and followed it up with a 3:18:27 marathon. Had you determined Lake Placid would be a key race for you at the beginning of the season?
AM: I knew I wanted to race IM Lake Placid some day. I've always heard it's a beautiful, challenging course and it certainly didn't disappoint. My coach, Brett Sutton, thought that the course suited my strengths so we decided to give it a go this year. Although, since I was in Europe training I was hoping to race a European Ironman, but after Brett saw my descending skills on the bike we decided that Lake Placid would probably be a better option! Training in Switzerland for six weeks leading up to Lake Placid definitely had its advantages as well.
Triathlete.com: Were there any specific instances that led Sutton to questions your descending skills?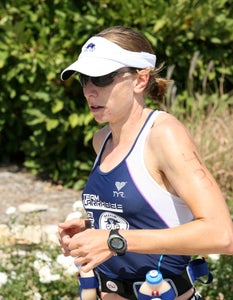 AM: Well, I did have two crashes in Switzerland within a week of one another but it wasn't because of my descending skills. I think Brett noticed my lack of bike handling skills when the whole team would have to wait about five minutes at the bottom of the hill for me before we would start a workout. I am getting better though as the team only has to wait about two minutes now!
Triathlete.com: You and Brandon are training under Brett Sutton at TTB now. How has this been different from what you have done in the past?
AM: It's definitely been quite a bit more volume than I was used to. I love the training camps and training with a group of such talented athletes from all over the world. You always have someone to push you in the swim, bike and run. The only dislike to the training is that Brandon and I don't train together as much as we use to. Also, sometimes Brett gives some long talks before and after our sessions – which most of the time I don't understand because of his Australian-English-Swiss language and have yet learned to bring a snack during these talks.

Triathlete.com: You based yourself out of Austin, Texas for nearly a decade. How has it been traveling all over the world for training camps and races?
AM: It's been a great opportunity to race and train all over the world. We've been to places that we only dreamt about traveling to. To be able to train in Thailand for three months and Switzerland for three months has been amazing.
Triathlete.com: What has been your experience adjusting your training while living in different countries and experiencing very different cultures.
AM: For the most part it's been pretty easy to adjust to training in different cultures. It was quite hot in Thailand but we were used to the heat living in Austin. The hardest parts have been the language barriers in both Thailand and Switzerland. Thai people drive on the other side of the road than what we are accustomed to in the US so that took a bit of getting used to. Not having Tex-Mex food for fuel after a hard session has been killing me.
Triathlete.com: You are originally from Rochester, New York, so did racing at Lake Placid feel like a homecoming?
AM: Unfortunately I was at Lake Placid by myself. My whole family lives in Texas now so they watched me race, but it was from a computer. Brandon was back in Switzerland training so I was on my own for this race.
Triathlete.com: It is rumored your father once dressed up as Maverick from Top Gun at one of your college swim meets. Has he ever dressed up at one of your tri's?
AM: Too funny! No my dad has never dressed up for any of my tri's but the season isn't over yet. Maybe he could dress up as Brett Sutton!
Triathlete.com: You spent a few years racing mostly short course drafting and non drafting races. Do you feel this had a positive impact on your Ironman racing?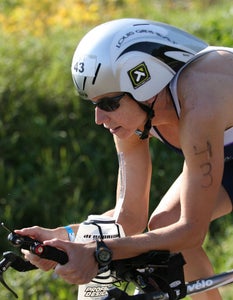 AM: I think I raced maybe three ITU races and a few Olympic non-drafting races before I realized that I just didn't have the speedy run to compete at the top level of short course racing. It made me realize that I didn't enjoy the dynamics of the draft legal racing at the time.
Triathlete.com: What is your favorite part about long distance racing?
AM: It's a long day of small decisions and anything is possible.
Triathlete.com: You swam in college. Do you still swim a lot in tri training?
AM: I swam at the University of Minnesota. Swimming in college gave me the discipline and strong work ethic that I feel has carried over to triathlon training. Although the workouts are quite a bit different these days as I was a sprinter back in the day. I still swim five or six days a week.
Triathlete.com: Your husband is a long-time pro and has been competing in triathlons for a long time. How has he helped you in your progression through the sport?
AM: When I first met Brandon back in 2001 at Masters swimming he told me I should try a triathlon. I thought he was kidding because I didn't own a bike and couldn't run to save my life. I eventually did my first sprint triathlon in 2002 and haven't looked back since. I have Brandon to thank for getting me involved in triathlons and teaching me everything I know about the sport.
Triathlete.com: What does the rest of the season look like for you?
AM: I will be heading to Rev 3 Cedar Point on September 12th and then Kona on October 9th. After that, maybe a 70.3 or another race to end the season.