Pro Q&A With Simon Whitfield
Heading out the door? Read this article on the new Outside+ app available now on iOS devices for members! Download the app.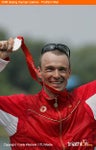 Having won gold in Sydney and silver in Beijing, Simon Whitfield stands as one of the highest profile athletes to grace the sport. We caught up with him to find out his thoughts on preparing for the new season, what it was like to win a second Olympic medal, and how he's balancing family life.
Q: Because your focus has been on the Olympics, you naturally break your career up in four-year stages. Can you talk a bit about this, the start of the fourth stage of your career?
A: Fourth? Yeah, you're right, it's the fourth phase for me. 2001 was a bit of a recharge year, or maybe I didn't take enough of a break after Sydney. 2005 was another recharge when I put on a bit of weight and turned up to a few races out of shape. This year I'm probably somewhere in between. I had a fun off-season, but I didn't get too carried away.
Q: You continued to train after the Olympic Games last year. Was that one of the lessons you learned from 2005?
A: No, for me I just love it. I love training, I love racing. In 2005, I took a break because I didn't love it anymore This year I love being out with the guys and I feel really blessed being able to do what I do.
Q: We haven't had a chance to see you since the Olympics, take us back to that incredible day last summer.
A: I've had to run it through in my mind a couple of times, just really from the regret of that sprint finish (where Whitfield lost to Germany's Jan Frodeno). But yeah, what a spectacular venue, the Games were amazing and the Canadian support has just been incredible. It hit me later just what we had accomplished, and I'm very proud of that. Everyone wanted a medal, everyone wanted to be there, and coach Joel (Filliol) and the team got us there and I'm really proud.
Q: Talk a little bit about making the Olympic plans a team concept. A lot of countries had talked about it, but it was a small Canadian contingent that got the job done.
A: Well New Zealand did it too, and Germany to an extent. Great Britain had such a great team that they didn't need think about it, as they had three true medal contenders. We had to do it and I felt strongly about that. More importantly, the high performance committee felt strongly about it. It will probably go back to more individual stuff now, but that was what we did. I'm not sure if it impacted too much on race-day, but in the build-up there was a great camaraderie and we felt like we were on a mission.
Q: With this now being a more consistent effort across a world championship series, is that something that plays to your advantage? Only you and Javier Gomez have won over ten World Cup races in the current fields.
A: Yeah, we'll see. I haven't spent too much time thinking about it. I've really spent my time focussing on getting into shape and enjoying training. I have to talk myself out of feeling old when [Alistair] Brownlee is running 29 minutes in local 10km races. I'll tackle that when it comes. It is going to take a consistent performance across the races and I'm not sure whether that suits me this year.
Q: You have gone from being a single guy with no responsibility to a married father with lots of commitments. Can you talk about that balance?
A: Yeah, it's more complicated. For instance this month I'm travelling to Europe with my family. In the summer, I've got to figure out how I can get back to Europe for races without spending more than a week away from home. It's a difficult situation and my email inbox explodes over and over again, and I feel like throwing my computer out of the window and starting all over again. But you figure it out, you balance it, and there are many people juggling much harder situations than me. If they can do it, than I can do it.