Pro Cyclist Adam Hansen on His Ironman Debut
Adam Hansen isn't your average endurance junkie.
Heading out the door? Read this article on the new Outside+ app available now on iOS devices for members! Download the app.
Adam Hansen has finished 25 of cycling's Grand Tours, and during a six-year stretch from 2012-2017, he finished all three Grand Tours (the Giro d'Italia, Tour de France and Vuelta a Espana) each year.
This season, the Australian racing for the Belgian professional team Lotto-Soudal "only" competed in the Giro, which meant his legs were fresh enough to try something he's always wanted to do: Ironman. The 38-year-old finished 38th overall at Ironman Florida on Nov. 2, good enough for eighth place in the very competitive 35-39 age-group. He swam just over an hour, rode a 4:15:23 bike split and finished the day with a 3:37:03 marathon to cross the line in 9:05:54.
We caught up with Hansen while he enjoyed a rare week of easy training to let his legs recover.
Triathlete.com: When did the idea of doing Ironman first come up and what was your teammates' reaction when you first told them? 
Hansen: I always wanted to do an Ironman; it was always on the cards. The idea to do it this year was purely not having enough races—I wanted to do something a bit extra. Telling my teammates was a bit of a no-no. I did not want to create a huge fuss over it. I just wanted to go, have some fun and really enjoy the time. I didn't want everyone knowing about it and making it a big thing. I really just wanted to enjoy the atmosphere.
[Lotto-Soudal teammate] Victor Compenaerts was a bit jealous. He will eventually do one.
Triathlete.com: Did you choose Florida just because of the timing or were you looking for a flat course? 
Hansen: I would have preferred a much harder course. Running uphill uses the same muscles as riding and a more difficult bike course would work in my favor. Also hotter and more humid temps would have been ideal as I am from Cairns. Malaysia was my first pick, but we had a Lotto-Soudal Team day that weekend. Florida had the best date for it. That was the only reason why I choose Florida. I was super happy with my time there. I actually would like to come back next year even though the course is not ideal for me.
Triathlete.com: You joked afterward that next time you'll do some run training. How much run- and swim-specific training did you actually do? 
Hansen: I would do things very different next time. Everything was very rushed. I did not do a single brick session. I did some running sessions but sprained my ankle badly a month before walking down some steps and almost canceled my trip to Florida. I even took 10 days off the bike because it was so bad. Time was my biggest problem and I did a lot of my runs on hotel treadmills. Even directly after the last stage of Tour of Guangxi, I did 10K on the hotel treadmill and then some 5K runs here or there.
With swimming, I did my training in a 25-meter pool. I was able to do some, not enough as I would have liked but enough to have a good feel for the water. Before Guangxi I was in Hong Kong for three days and I did three open water swims. Also, I was in Dubai and I did three open water swims there too. I knew I had the fitness from the bike to be able to hold a good pace, so I just worked on technique.
Triathlete.com: In terms of overall effort and exhaustion, how did it compare to the biggest days of a Grand Tour? 
Hansen: Totally different racing. Maybe even more so for me from other Ironman athletes. They are able to go much faster than me, so they are able to push themselves a lot harder. My limiting factor was handling the impact of running. I am fitter to go faster than I did from a cardiovascular point of view, but my running muscles can't handle the impact compared to the other Ironman athletes. So I was creeping and thinking "come on legs!" After about 25K, which was already my longest run I have ever done, my stride length shortened dramatically. I was fine, but my hip flexors did not want to play. I could not run faster and it was frustrating.
From an energy output point of view, I think I [burned] something like 6,600 kcals, which is way more than a hard day at a Grand Tour. I have done maybe one stage like that in my whole career. So from a single Grand Tour stage compared to an Ironman, you Ironman athletes are always having hard days.
I couldn't walk for a day. I struggled to get my bike in the afternoon from transition. I was OK, but my muscles were pretty shot. In a Grand Tour, a single day is not harder than an Ironman, but after three weeks we're pretty shot, too. Now, a few days later, I feel the same as I would after a Grand Tour.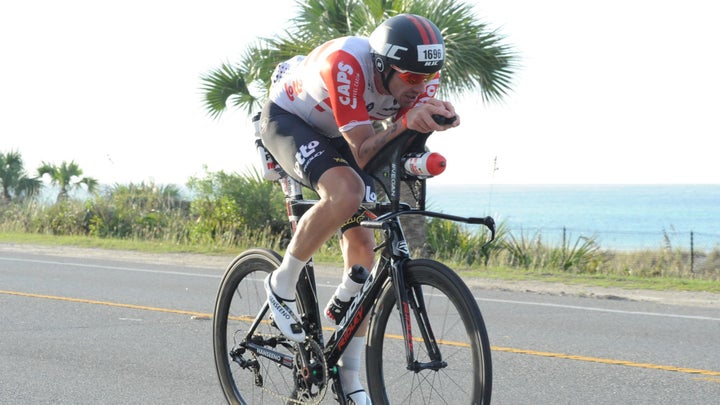 Triathlete.com: A few people on social media remarked that they thought you'd ride faster. Do you feel you could've ridden quicker and were you holding back to preserve your running legs?
Hansen: Well, my seat post slipped, so I did stop and play with that for a while. My TT bars were finished 1 am before my flight to the States, so the position was new. I made it very high just to be on the safe side to be able to run—next time the bars will be lower. I could have gone faster, but I felt pretty bad on the bike as I never really ride in a TT position. If I did it again, I'd go for 5 minutes faster on the bike, maybe 10 max. But never 14 minutes faster like the fastest guy did.
I would not have attempted to get fastest bike split. Maybe I could get it, but I would have a DNF on the run. I was a little scared as I knew I would creep. I just wanted to finish and limit the amount of creeping.
I didn't want to stress. I wanted to enjoy the whole thing and go home and I really enjoyed my memories [from Florida].
Triathlete.com: What was the lowest low of the day and the highest high? 
Hansen: The lowest low was watching my run pace from go from 4:20 to 6:30 (per kilometer) over the last 17K. My stride length shortened; I was on the brink of cramping. I just wanted to finish and the fear of not finishing something is not easy for me.
The highest high? Being at the start line with a bunch of super enthusiastic people; being in the open water; the spectators and support at the feed stations; watching the faces of the people who recognized me on the run course and asked if I was Adam Hansen and what the hell I was doing there. I'd answer back, "I am trying to do what you guys do!" Just being there, finishing it and feeling the good vibe!
Triathlete.com: Obviously your day job is going well, but do you think we might see more pro cyclists try their hand at Ironman—either part-time like you or full-time like Cam Wurf or Andrew Talansky? 
Hansen: That's difficult. Cycling is a very traditional sport and they don't like change. So I don't think there will be other guys jumping across. Plus, it's Ironman: it ain't a walk in the park. It's seriously a hard man's sport.
A guy like Cam Wurf—you can call him an ex cyclist—but he really isn't. He is a complete-package athlete who did pro cycling after rowing that now does Ironman and in three years he might be doing something totally different at the highest level. There are very few guys like Cam in the pro field.
I also think the biggest problem is that teams wouldn't allow it. I know EF (Education First Pro Cycling Team) has an alternative program and I heard they are looking for an Ironman/cyclist, so that team might accept it. But others would only allow it in the off-season.